Rick Kuhn Fell with a head Trauma
Message from Mel Kuhn ('70):  St. John, ND
Gary,
My brother Rick took a bad fall last week. He split his head wide open around his left eye. Maybe you will remember about five years ago he was in a bad accident and had bad head trauma. He was in a coma for some time and also suffered with amnesia. He also lost some movement of his right arm and leg. He is going through some of the same stuff again. When I was with him on Friday he wasn't awake very much. When he was he thought it was 1978. He knew his name and birthdate but didn't know where he lived. Both of his eyes were swollen shut but he could get the right one open a little. He didn't know who I was or my wife. He was having bad spasms of his right arm and his right leg didn't want to work. The news was a little better today. He was able to sit up and eat and the spasms had subsided some. He knew his wife and step daughter but he did not know his youngest daughter. He thought maybe she was his sister. I am going to Minot to see him tomorrow and hopefully he'll know me. So if anyone feels like sending a prayer his way I would really appreciate it.
Mel
Gary's comments
Mel, so sorry to hear this. Hopefully he will recover from this too. Where is Rick living now? What hospital is he in?
Shirley Blanche Morin Passed away
Eulogy and Obituary posted by Vickie Metcalfe ('71):  Bottineau, ND
Gary and friends,
In years past, I rode school bus.
The bus route stretched from the North.
It began the route West of the Peace Garden area and stretched miles South, meandering to and fro across highway #3.
A way  and beyond, the area of the Dunseith Day School.
Those of you who rode bus, should know,  rural  bus children devleop  their own little community,especially for kids who ride miles and hours.
Many kids ride a bus for   significant lengths of time beginning in wee hours of the morning and  late  afternoon.
We all  quickly learned nuances  of character and personality. Most of the kids riding our bus were well mannered and gregarious.
For many years, the Hunt family children rode the same bus as me.  Their family, lived North East of Highway #43 on the bus route.
Although Shirley was quiet, her siblings including two sets of twins were filled with great personalities,  full of good humor and always laughing.
This past winter one afternoon  at Wal Mart,  I happened to renewed acquaintance with Shirley Hunt Morin.  I had not seen her for years,
but she remembered me!
Through the winter, I had more marvelous discussions with Shirley. I  also met some of her immediate family.
We discussed her health and…..recalled long bus rides.
We also recalled when her mom, Blanche played the fiddle, making wonderful music  alongside her sister Lorraine, and  my cousin Lorraine (Metcalfe) Olson-Somers.
Through  discussions  with Shirley, I  heard,  the Poitra talent ( from her moms side of the family)  in music continues to  run  strong and deep!
I was sorry to hear of Shirley's passing. I so enjoyed our visits.
To each  of Shirley's children, grandchildren  and  her many  Hunt siblings, who also rode old  bus #9.
Sincere condolences and peace.
Vickie Metcalfe
Elick Funeral Home
Shirley Blanche Morin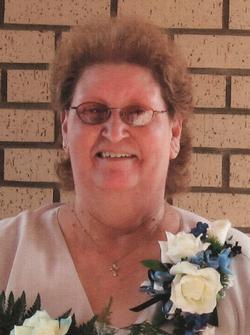 (November 22, 1950 – March 28, 2016)
Shirley Morin, age 65, of Dunseith, ND passed away on Monday, March 28, 2016 at the Belcourt Hospital, Belcourt, ND.
A visitation will begin at 5 PM on Thursday, March 31, 2016 at St. Anthony's Catholic Church, Belcourt, ND with a Rosary Service at 7 PM. Funeral Mass will be Friday, April 1, 2016 at 10 AM in the church with Fr. Tony Hession presiding. Burial will follow in St. Anthony's Catholic Cemetery, Belcourt, N
Unidentified Wedding Picture
Posted by Neola Kofoid Garbe:  Bottineau & Minot, ND
Do any of you recognize this coupe?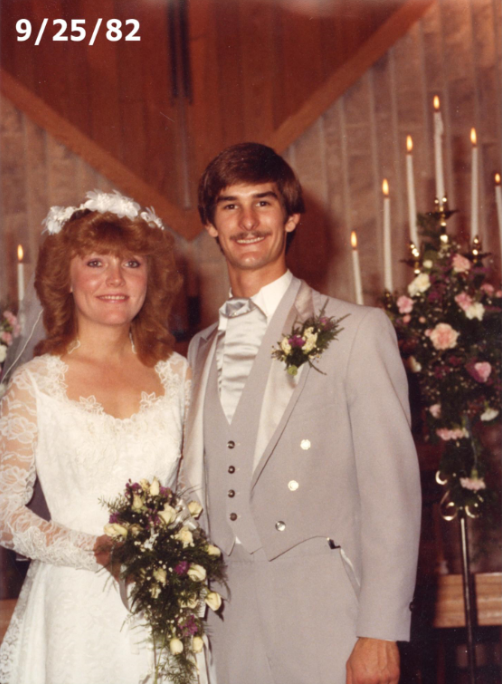 Posted by Neola Kofoid Garbe:  Bottineau & Minot, ND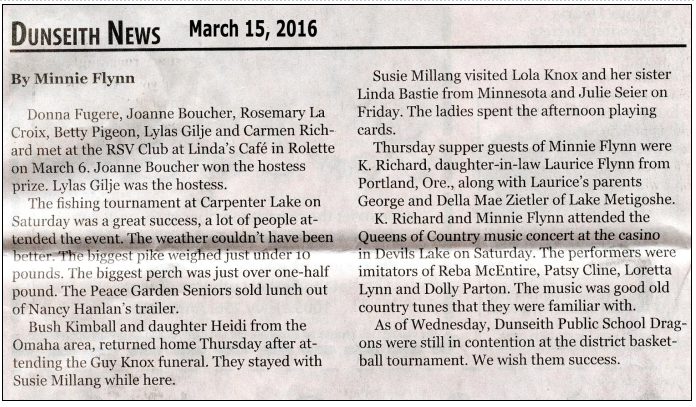 ====================================
Blog (436) posted on April 23, 2009
04/23/2009
Ethel Hiatt Peterson:
FOLKS, ESPECIALLY ALL OF YOU HIATT FOLKS. I HAVE LOCATED AND HAD A VERY NICE CHAT WITH ETHEL HIATT PETERSON. HER FATHER WAS HENRY, A BROTHER TO JOHN, WILL J., WALTER, GEORGE, AMOS AND THOSE GUYS. HENRY HIATT MOVED TO MEDFORD, OR YEARS AGO. I THOUGHT FOR AWHILE I WOULD NOT BE ABLE TO LOCATE ANY MEMBERS OF HENRY'S FAMILY, BUT WITH EVON LAGERQUIST AND I'M SURE A LITTLE HELP FROM HER MOTHER LEOLA AND NEOLA WITH ALL OF HER CONNECTIONS, I THINK I HAVE OR WILL HAVE ALL HIS FAMILY MEMBERS IDENTIFIED THROUGH THE 4TH GENERATION. ETHEL AND ALICE HIATT DALBEC ARE THE ONLY TWO SURVIVING CHILDREN OF 2 BOYS AND 6 GIRLS FROM HENRY'S FAMILY. ETHEL PROVIDED ME THE PHONE NUMBERS OF HER CHILDREN. I CONTACTED COLLEEN WHO LIVES IN OREGON AND GOT HER EMAIL ADDRESS. SHE WILL MAKE SURE HER MOTHER GETS ALL MESSAGES. HER NAME IS COLLEEN DOLAN, EMAIL COLLEEN TOLD ME SHE WILL PASS ALL THESE MESSAGES ONTO HER SIBLINGS AS WELL. ETHEL WAS VERY EXCITED WHEN I TOLD HER I WOULD PASS HER PHONE NUMBER AND ADDRESS ONTO YOU GUYS. ETHEL IS A SHARP 87 YEAR YOUNG LADY WHO WAS BORN AND RAISED IN THE ACKWORTH COMMUNITY. SHE TOLD ME THAT AT ONE TIME THEY LIVED ON THE STOKES PLACE, THAT LATER BELONGED TO ESTHER TANGEN, NOW THE PLADSON FARM. GARY
Ethel Hiatt Peterson
6881 Eisenhower St, Apt 8
Bonners Ferry, ID 83805-8545
(208) 267-2491
WINIFRED EURICH
Jan. 2, 1919-April 19, 2009
Winifred Eurich, age 90, of Dunseith, died Sunday, April 19, 2009, at a Bottineau hospital.
Wini-fred Eurich, a daughter of William and Ida (Thompson) Pritchard, was born on January 2, 1919. She was raised on a farm near the Canadian border north of Dunseith. She attended grade school at Loon Lake School at Ackworth and later graduated from Dunseith High School. Following high school, Winifred worked at San Haven.
Winifred married Dave Eurich Jr. on May 14, 1940, at Dunseith. They made their home on the farm west of Dunseith. Dave passed away in September 1971. She later worked for a time as a nanny at San Haven before opening at daycare at her home. She retired in the late 1990s, and in August 2002 she moved in with her daughter Eileen. In April 2008, she moved into Bottineau where she had resided since.
She was a member of the Peace Lutheran Church in Dunseith where she was active in the ALCW. She was also a member of the Happy Homemakers Club in Dunseith for many years. She enjoyed gardening and canning. She was happiest in her home surrounded by her family. She loved her grandbabies and always had cookies on hand for them.
She is survived by: her 5 daughters, Eileen Nelson, Mary Knutson and Sharon (Jim) Hanson, all of Dunseith, Dorothy (Art) Strietzel and Jean (Tom) Roland, all of Minot; son, Floyd Pritchard, of Lake Metigoshe; 23 grandchildren; 35 great-grandchildren; 5 great-great-grandchildren; and numerous nieces and nephews.
In addition to her husband and parents, she was preceded in death by her sons, Norman and LeRoy; grandson, Kevin Hanson; brothers, Robert, John, Corbin, Bill "Line" and Norman Pritchard; and daughter-in-law, Ann Pritchard.
Funeral: Thursday at 10 a.m. at the Peace Lutheran Church in Dunseith.
Burial: Riverside Cemetery in Dunseith.
Visitation: Today from 5 to 9 p.m. with a prayer service at 7 p.m. at the Peace Lutheran Church in Dunseith.
Arrangements are with Nero Funeral Home in Bottineau.
Myron LaFontaine's Obiturary
Provided by Eileen Brudwick (Neola's Cousin): ebrudwick@yahoo.comFargo, ND
Eileen, Thank you so much for providing this for us.
Myron LaFontaine
Myron LaFontaine, age 62 of Grafton passed away Saturday, April 18, 2009 at his home. Myron was born July 23, 1946 to the late Chris and Lillian (Burcham) LaFontaine in Rolla, ND. He attended and graduated from school in Belcourt. After his graduation he moved to San Jose, CA where he attended trade school. Myron returned to North Dakota and married the Love of His Life, Vickie Hiatt. The couple made their home in the Turtle Mountain area until moving to Grafton in 1986.
Myron was a jack of all trades; he was good with his hands.
He loved to work in his garage building things, he liked to rummage, and loved being outside. Myron spent a lot of time working on his yard; he took pride in his yard. He also enjoyed going to the casino. Myron loved spending time with his family, especially his grandchildren.
Myron was a member of the River of Life Community Church.
Myron will be greatly missed by his wife Vicki, Grafton, ND; children: Tony Hoerner and his two children and Rene McConnell and her child all of Montana; Trina (Russell Nielson) LaFontaine, Grafton, ND; Tara (Mike) LaFontaine-Rodgers, Grafton, ND; Cahla (Ricki Parisien) LaFontaine, Grafton, ND; grandchildren: Victoria, Vanessa & Cophia Nielson, Abigail Grimaldo, and Carter Parisien;
siblings: Frances (Philip) Belgrade, Belcourt, ND; Alvin (Viola) LaFontaine, Williston, ND; Leonard (Marie) LaFontaine, Belcourt, ND; Aaron Dcolon, Washington; and Irene Bear Runner, Belcourt, ND. He is also survived by several nieces and nephews. He was preceded in death by his parents, grandparents and several aunts and uncles.
Funeral services will be Thursday, April 23, 2009 at 2:30 P.M. at the River of Life Community Church, Grafton, ND.
Visitation will be Wednesday from 5-7 with a prayer service at 7:00 PM at the Tollefson Funeral Home of Grafton. Friends may also call at the church for one hour prior to the service. Interment will be at the Grafton City Cemetery.
The Tollefson Funeral Home of Grafton is in charge of the arrangments.
Reply to Cheryl Larson (71) from Bev Morinville Azure (72): Dunseith, ND
Cheryl, you got it girl just let me know when we can get together at Dales or my house if you would like. Just let me know who and when u will be in town the only day I can't is the 17th I have a Dr appointment in Minot with my cancer Dr. and the 16 is clarence and my 29th anniversary so we ususally do something.
I am looking forward to seeing u again. Bev
GOD BLESS YOU …………BEV
Susan Malaterre Johnson's (69) reply to Mark Schimetz message posted yesterday: Alvarado, TX
Haven't we caused a bit of surprise to her too? I also, seem to remember Mrs. Cook and the boomb, boomb. I think they may have defended us to the policer. Gee, look at the time. Love, Sis
Susan's follow up reply to Gary's question of her first reply:

So sorry, I'm still trying to get my mail sorted. I have a full day with the Red Cross tomorrow so my mail may not reflect the true addresses. I do apologize. Any way the message is all the same. We were all little "terrorists at that age." Sorry. I'm working the Red Cross again on Thur., Please Lord let this help to make up for my friends and I who thought we were having fun. Thank you for not sharing!! We never meant to hurt anyone, Gee, not even Mark. Love, Susan
All of the following pictures have been posted by Neola Kofoid Garbe: Minot & Bottineau, ND
This is one of the great pictures of the prom that was in the April 7, 2009 edition of the Courant.
Neola
Comments from LeaRae Parrill Espe (67): Bottineau, ND

Alison Coleman is the daughter of Nancy (McGuire) and Steve Coleman. Steve is the son of Patti Metcalfe Coleman Woods and Duane Coleman. Duane (Babe) Coleman, Class of 66 is deceased of cancer back when his sons were still in school. ( Patti is married to Jack Woods. ) Patti and Steve's other son is Stuart and he is married to Melissa Langhaug, daughter of Myron and Rhonda Eman Langhaug.

As for Brooke Parrill, she is the daughter of Rod and Ann Parrill. Rod is my double cousin, son of Thurman and Marie Parrill. Ann has been a teacher in Botno since 81-82 and she and Rod were married in 1988 I believe.
Brook Parrill (Rod Parrill's daughter) and
Alison Coleman(Patti Metcalfe Woods Granddaughter)