====================================
Blog (144) posted on June 27, 2008
Blog (144) posted on June 27, 2008
Reply from Shirley LaRocque Wendt (59): 
Reply to Dick's email saying Linda and Ronnie LaRocque aren't  twins. They are my cousins, I thought for a minute I had missed something even tho I grew up next door. Thanks again Gary ——-

Reply from Judy Allery Azure (65): 

Hi Gary,Yes, this is Peter Gillis' nephew (Rick Williams) and he does live in Belcourt.  He is married to Maureen Davis of Belcourt.  I don't believe that Eddie Nadeau's ex-wife is a twin of Ron LaRocque, however, they are brother and sister.  Think they had like 10 kids in that family.

Sharon Martin does live in Belcourt also.

I would love to go on the cruise, as that is a dream of mine to someday go on  a cruise.  Just don't think it will  happen next yr either.  Sorry for not mentioning this sooner.

Its seems unreal that you are still hanging on to that $10 bill lol.  Well Gary it is time for me to get moving as I have to go to work. Tell Neola she may contact me anytime.  Until next time take care.

Always,

Judy

From Dick Johnson (68): 

Gary and Friends,
Deb Morinville and Sharon Longie mentioned the old carnivals that came
to Dunseith every summer. It was a big deal to us kids and we looked
forward to it with excitement! One time there was this 'jip joint'
shooting gallery that had cork guns that knocked over wooden blocks that
had prizes tied to them with rubber bands. There were a few that had
dollar bills tied to them. Now, most of us kids had guns and knew how to
hit our target. The cork guns  this  guy had, shot to one side  or  the
other and were rigged to shoot crooked. We aimed at the dollar bills and
knocked over some 2 cent crap from China, that was next to the money. I
looked at the end of the gun and saw that they had put the muzzle end in
slightly crooked, intentionally! Ron 'Big Chip' Johnson and I went over
in the alley behind K.C.'s store and found a flat rock and brought it
back over to the front of the gallery and dropped it on the ground where
the guy couldn't see it, down by our feet. We each paid again and then
when the guy was looking at the other guy's shot, and as we were cocking
the gun, we tapped the end of the barrel on the rock and straightened
the muzzle out! We cleaned house on his dollar bills, and other stuff we
wanted, before he finally caught on and started figuring out his 'rip
off game' had been turned around on him! He ran us off and we watched
him looking at his guns trying to figure out how we did that!! I would
not have done anything to take advantage of the guy if he would have
been honest, but like folks used to say, what goes around comes around!!

Dick

Provided by Vickie Metcalfe (70):

Note: Della's husband  John is a brother to Mildred (Dean) Parrell, Marie (Thurman) Parrell, Erling Nelson, Carl Nelson and others.
Obituary
DELLA NELSON
JULY 24, 1922-JUNE 16, 2008
POSTED: June 20, 2008
Della Nelson, Minot, 85, formerly of Lansford, passed away Monday, June 16, 2008.
Della Evelyn Nelson was born July 24, 1922, in rural Nanson, to Carl and Ellen Lunde. She was baptized and confirmed at Ox Creek Lutheran Church in Nanson.
She attended grade school in Nanson and graduated from Rolette High School in 1939.
Della was once married to Donald Cobler of Rolette, and together they had three children: Dennis, Diane and Donnie. Don was transferred to Bastrop, Texas, where Della attended nursing school and worked at a local hospital in Bastrop.
Della returned to Rolette in the early 1950s and worked at the Rolette hospital. While living in Rolette, she met John Nelson and they were married July 3, 1955. They had four children: Sherry, Jana, Bob and Jeff. The couple lived in Rolette and New Rockford before settling in Lansford and retiring there. In 2003, they moved to their current home in Minot.
Della and her brother, Howard Lunde, owned and operated D&H Market in Lansford from about 1969 until 1973. Following the sale of the grocery store, she managed Broken Spoke Western Wear.
As a member of Trinity Lutheran Church in Lansford, she served on the church council and was active with the Ladies Aid. She was president of the Lansford Senior Citizens for several years, joined Eastern Star while living in Rolette, volunteered at Taube Art Museum and belonged to a birthday club. For many years, she was a member of the Potter's Bar bowling team.
Della had many interests and was rarely bored. She loved to cook, bake and entertain. She spent many hours in her flower gardens and enjoyed silk flower arranging. She was a member of a bridge group and loved playing pinochle with her family. She and John were avid Minnesota Twins fans.
She is survived by: her husband, John Nelson, Minot; daughters, Diane Botton, Great Falls, Va., Sherry (Tim) Coutts, Colorado Springs, Colo., Jana Nelson, Minot; sons, Dennis (Kathleen) Cobler, Muskegon, Mich., Don Cobler, Bob Nelson, of Craig, Colo., Jeff Nelson, Minot; grandchildren, Amy Cobler, Mike Cobler, Brian (Renee) Botton, Teresa (Pete) Gilbert, Carla (Brian) Safigan, Ilona (Ryan) Goltz, Tricia (Tom) Luebesmier, Charisse Cobler, Jake Coutts, Casey Coutts; and six great-grandchildren.
The family will be forwarding memorial contributions to various organizations in Della's memory.
Memorial service: Thursday, July 3, 2008, at 10 a.m. at Trinity Lutheran Church, Lansford.
Burial: Rosehill Memorial Park, Minot.
Visitation: There will be no reviewal, however, friends may sign a register book on Wednesday, July 2, 2008, from noon until 7 p.m. at Thompson-Larson Funeral Home, Minot.
Those wishing to sign the online register and share memories may access the online obituaries section at (www.thompsonlarson.com).
                        John Awalt – Class of 65 – July 12, 2007

Ernie Gottbreht, Cecile Berube & Margaret Metcalfe – Class of 65 – July 14, 2007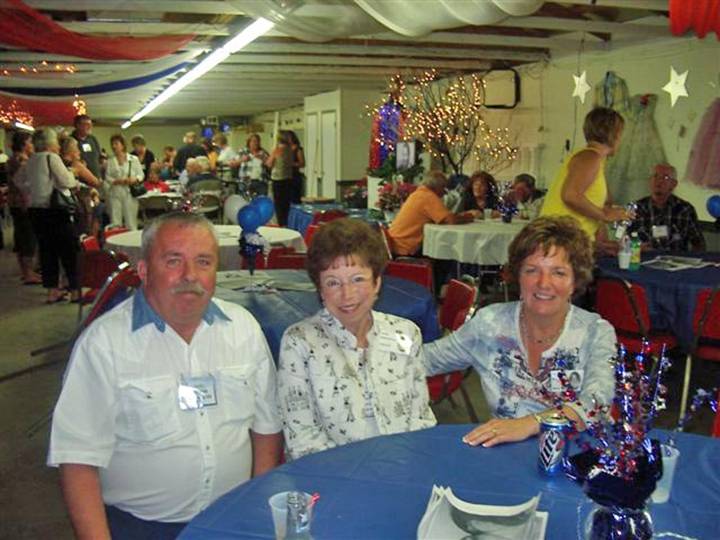 Susan Fassett & Angela Berube – Class of 65 – July 14, 2007