Reply from Dianne Lier Fletcher (DHS Teacher 1963/64): dnlfichter@outlook.com Summerfield, Florida
What an ordeal for you and the people in your area. Pray that you will soon be back to some semblance of normalcy.
Dianne
Gary's Memories of Miss Lier,
Thank you so much for this reply Dianne. It's always a pleasure hearing from you.
Those of you that were attending DHS in the school year of 1963/1964 I am very sure will remember Miss Lier. She was hired to take Mr. Don Corbin's classes when he was promoted to School Principle to replace Mr. Conroy who had suffered a heart attack. Miss Lier was a very pretty lady.  As I remember she was fresh out of college. She was my Biology teacher. Classes were held in the Science room. I remember Mr. Corbin giving our class a firm message to tone things down a bit or else. We all knew what the "Or Else meant too". He was very firm.
Kalk Family Update
Posting from Alfred Lopez:  Minneapolis, MN

Hi Gary,
I'm Kathy Barbara Kalk's husband and I thought you might be interested in an update of Dan and Rose Kalk's 10 children.  See attachments.
Gary Stokes Comment
Thank you so much for this update Alfred. Most everyone on this distribution is familiar with the Kalk family. They were part of the foundation of Dunseith and the Dunseith schools. Great folks too. Barbara and Lorraine were both in my class of 1965. So sorry to hear of Lorraine's recent passing too. Last I heard she was living in South Dakota.
Alfred; Barbara's ambition was to go to Hollywood to find a Movie Star. I heard she actually took a bus, I think, to Hollywood and in the process found the next best thing to a Movie Star finding you on that trip.   
Reply from Trish Larson Clayburgh ('73):  Livingston, MT
Hi Gary!
Sorry I have not been in touch for a while.  I heard about that typhoon and wondered about you.  So glad to hear you survived.  What a terrible experience to go through.  Glad you made it and are recovering.
Just wanted to say hi and say I for one am glad you're still kicking (as my Dad would say).
All good s well here in Montana.  Hugs to you and your great friends in Cebu.
Trish
Gary's Reply to Trish,
Thank you so much for this reply Trish. It's always great hearing from you. I am so glad that all is going well for you in Montana and I know with your horses too. I am so glad that we were able to meet in Bottineau in 2015 too. You are an interesting person. There is never a dull moment when you are in anyone's midst.
Take care and keep in touch.
Rita Langer's Brother passed away
Posting from Vickie Metcalfe ('70):   Bottineau, ND
Gary,
Rita Langer's brother passed away.
He was a veteran and former  respected County Comissioner of Rolette County.
Sincere Sympathy to Rita and Richard on the passing of her brother. 
Sincerely, Vickie L. Metcalfe
My 2nd grade teacher at Ackworth, Gary:
Geri Lafromboise Marcavage passed away
https://www.elickfh.com/obituary/geraldine-marcavage
Posting from Vickie Metcalfe ('70): dogdays@utma.com Bottineau, ND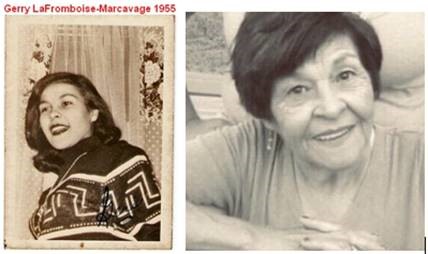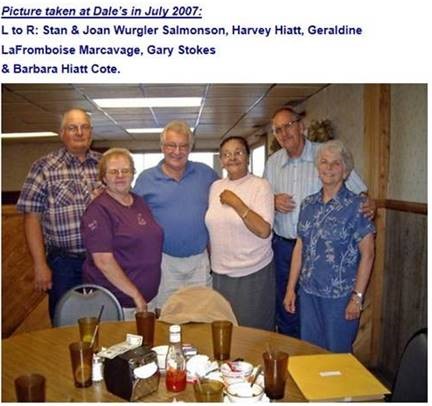 Thanks Gary,
Dunseith Friends,
I am so sorry, Geri Lafromboise Marcavage obit is at Elick Funeral Home Rolla.
Several of her grandchildren attended school in Bottineau while I was there.
The youngest, Mary now attends education and plays  hockey for The Bottineau College and is  also quite talented musically.   Her next older brother, Jair  working on his doctorate degree in California. Another brother works for Rock Solid Contracting here in Bottineau.
Cecilia and Leroy Cote were longtime staunch Dunseith folks of deep faith. They both  were always friendly and considerate  visiting, as were their children.
Dawn,  their daughter was in my third grade class in Dunseith.  I marvel how adept she is in her profession in computers, working for the state of ND.  When I taught  at the beginning of my teaching career years ago, computers were not in the picture.
Jeff,  a professional meat cutter works at Wayne's Grocery  Store in Dunseith.  That store is well known regionally for their fantastic meat dept …. helpful employees and goodies like homemade sausages!
Gary's Comments
Folks, Gerri was my 2nd grade teacher in 1954 at Ackworth. She stayed with us at our house the year she taught at Ackworth. I remember her as being a very pretty teacher.
I was so saddened to hear of her passing too.