Note to Phyllis McKay ('65)
From Pastor Oval Moran:  Coon Rapids, Minnesota
Hello:  Please forward this note to Phyllis:  I reminder you,
Happy birthday.  Bernell and I send our love.  Pr. Orval Moren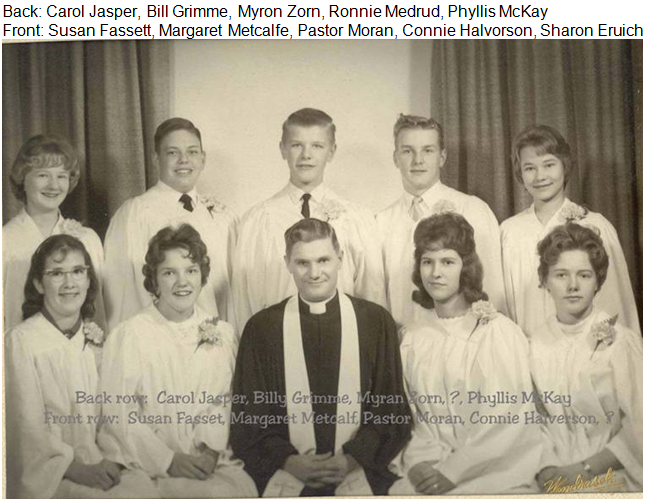 Martin Belgarde and Andy Patnaude Stories
From Travis Metcalfe ('76):  Mesa, AZ
I enjoy reading the old blogs you attach and thought for sure I shared a couple of stories about Martin Belgarde and Andy Patnaude but I searched the site and could not find them…
If I have already shared them I hope I am telling them the same as before….But hey..they are my stories so I can tell them any way I want…
I would go to the Powerhouse at San Haven and listen to the stories and remember Martin telling about how fast his old Chev pickup was.  He had a White 65 or so and said he got going so fast going home the other night he "overran" his headlights..yep…he had to slow down so they would shine out in front of the truck again……I remember thinking about that for months before I realized he was pulling my leg…I am sure he had a good laugh….
Andy was Marlene (Kraft) Armentrout's uncle and she tells a couple of stories about him…
First was the day a fellow came into the A C Bar that she owned and told her he was looking for the family of a soldier killed in WWII that was from Dunseith.  He had carried Andy off the battlefield and thought for sure he had died.  He wanted to talk to his family but he ended up talking to Andy himself….
The other story was when Andy was hit by a car in town and his glass eye was lost…Marlene was out helping look for it and she told him that he sure had bad luck…Andy said.."I am ok as long as they keep hitting me in the head-someday someone is going to kick me in the ass and kill me"….
TRAVIS
Fort Buford / Fort Union
Posting from Vickie Metcalfe ('70):  Bottineau, ND
Gary and friends,
WoW!
For me,  love of learning is never ending!
http://www.willistonherald.com/community/grandest-fort-and-the-grande
st-history-mondak/article_a9940498-4e90-11e5-8df0-87d808bb2e43.html
I love  the beauty of Eastern Montana.
I was  there for a number of years.
I was delighted to read this article this  morning about  my friend
Becky!
The years  I was  in Montana,  Becky was  one friend who shared my
love of history, reading, and learning.
Becky's undergraduate degree  is Archeology  and her graduate degree
is Reading and Elementary Education.
Her knowledge of history, teaching children to read and learn is
absolutely amazing!
I learned so much from Becky about respect of elders.
Especially, POW Veterans, Native American burial  sites and Native
American Medicine rings.
Before her dad passed away from  the treatment  he suffered years ago.
Becky, her husband and her elementary age children took her mom and
dad  to visit  Germany.
They visited where her dad was held.
Her Dad  a WWII POW veteran, was held in a German Concentration camp.
While in Montana, I was fortunate to have Becky as a friend and
share many interesting unforgettable adventures.
Among them, exploring the MonDak region, canoeing   the
Yellowstone, and visiting with Assiniboine elders at Wolf Point.
Thanks Gary.
Until Later. Vickie Metcalfe
Berry Picking time in ND
Posting from Vickie Metcalfe ('70):  Bottineau, ND
Gary and friends,
It is chokecherry season in ND. Today, a friend and I were discussing her recipe for preparing choke cherries.
As kids on the farm,in our family we rather enjoyed foraging for wild fruit.
We would go to fetch cows and end up side tracked in a  berry patch, greedily gobbling down raspberries or tiny wild strawberries.  Perhaps a handful might make it home to be shared  as a treat with  our mom and dad.
My mother canned many quarts of wild  and domesticated fruit.  How I loved to crawl down the steep steps into the depths of cool musty smell on a hot summer day. The root cellar  smelled of the good earth. Peering into  the darkness,one would  reach up, sensing  the  pull of the light string.   ah Light! Then, gaze  at all the colorful labeled jars., row by row back, back back and beyond.
====================================
Blog (339) posted on January 15, 2009
Reply from Monte Espe (68) to Martha Lamb Schepp's (68) Question: 
Gary, I have to let you know how much you are appreciated by
putting this all together. So much history is being recorded by
our own little group.  Here is what I found out.  Shane
Lester's Grandmother [Fern Wetherelt], was born at Kelvin in
1905. The oldest daughter of Thomas H Wetherelt. Thomas H
Wetherelt and my Grandmother Scelina Wetherelt House were
siblings. Fern Wetherelt moved with her parents to Broadus,
Montana in in 1922 and in 1928 married Joseph Lester [Shane's
Grandfather]  Shane's father [Lloyd Lester] married Charleen
Best[who grew up on a ranch west of Towner]. So yes Shane has a
lot of relatives from up in the Hill's.  Hope this answers your
question Martha.  Of course Martha and I go back to our first
grade as classmates at Hilltop School.  Gary, When I came in
from the shop tonight , the snow crunch'es under your feet like
it did when we were kid's.  It's -38 out tonight and clear as a
bell. WILL BE OUR COLDEST NIGHT IN YEARS !!! Hope it's years
till it returns. Also the coyotes are really howling it up.
Bring back any memories ?
Monte, It is so nice to hear from you.  I know many others will be excited to hear from you as well.   So things are kind of cold in Minot. I've gotten several other reports of this nasty cold front that is passing through your area. It got cold here last night too. It was 76F when I got up this morning. These folks had their coats on.
Martha, It sounds like Shane may have a whole lot of relatives he didn't realize he had.  Gary
Dwight Lang (61) – Colon Cancer: 
I think most of you know Dwight and knew his parents, Adam & Charlotte (Hiatt) Lang. Gary
Dear Friends,
2008 has finally ended, thank goodness!  Property values, retirement accounts and all other investments free fell as expenses, taxes and living costs, grew like pig weeds in early summer.  To cap off this wonderful year, I has a colonoscopy performed on the 31st of Dec.  Happy New Year!!  On the positive side of the ledger, this old tight wad finally splurged on a new LCD 47″ TV.  Merry Christmas to me!  Now I actually pay my Comcast bill each month knowing I enjoy watching their service.
Here we go with 2009.  As the Obama maniacs plan for their super blow out bash in DC, I awaited the biopsy results.  Got a call Friday and malignant was the verdict. Since moving to Tucson some five years ago, I have used the VA for my primary health care services.  Having had several health issues mainly back and hip problems these last few years, at times I have bitched and moaned about the delays in receiving services thru the VA bureaucracy.  I have found the care and the staff both to be great at the VA, but scheduling to receive them is usually another matter.  Well today being Tuesday, I got a call from the surgeons assistant, Mary, and I am set up for pre-opt testing and consultation within two week with surgery scheduled to remove the cancerous section of my Colin the following week.  Now how about that for service?  I know and trust Dr. Levine, the surgeon, and Mary, his asssistant.  Yes, I am relieved and hope for the best in the remainder of 2009.
I still have the area code 58319 (Lake Metigoshe) on my AOL welcome screen and as I logged on tonight, I see it is 25 below in Bottineau (hope the wind is not blowing).  The extended forecast for Tucson is for highs in the low 70's all this week.  Yes, there are some things to be thankful for even when this old body starts giving me fits.  This Internet thing is kind of neat too, isn't it?  Within a minute, my small sermon here, will find it's way to the Phillipines, Ukraine and Texas to North Dakota without a stamp.  Happy New Year to all of you and I wish to each of you the best life can offer through 2009.
Dwight Lang
Dwight, We are here pulling for you.  We know the thought of cancer is kind of a scary thing, but you can beat it. Our son Bernie had a spot of colon cancer a few years back and he's cancer free today. Don't let this get you down. We are here for your support. Please keep us posted.  Take your laptop with you when you check into the hospital so you can keep us posted with your condition.  In May you've got to be well and ready to head north to Lake Metigoshe. Gary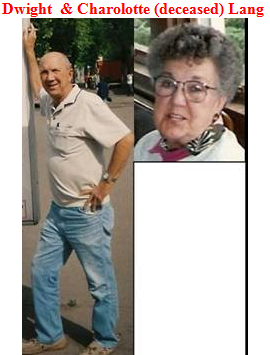 From Carmen (Leonard) Richard (Rolette): 
Our nephew, Bryan Schmeitz, son of Stella (Richard) and Louis Schmeitz. is truning 50 on Feb. 4th.  He has been battling Multiple Sclerosis for a number of years  and is a resident of the  Good Samaritan Nursing Home in Bottineau. He is pretty much confined to his room, as the heat and lights bother him. I am requesting a card or letter shower to help him celebrate this milestone birthday. It would brighten his day to hear from any of you.  Bryan graduated from Dunseith High School in 1977. His address is
Bryan Schmeitz
Good Samaritan Home
725 E 10th St.
Bottineau, ND 58318
Carmen, Bryan is on our daily distribution also.  I'm not sure how much of each of these daily messages he reads, but when I first added him to our list many months ago, his mail box was full at the beginning. Since then it's only been full a time or two.  I have pasted his email address and phone number below.
Folks, Please send Bryan a card. You can send him an email message too, but I think he'd really appreciate cards and a personal visit if you are in the area. Gary

Happy Birthday Bryan
Terry Espe (64) retires from the Head of the 'Home Land Security Office' at the Peace Garden Port of Entry.

Posted by Patti Metcalfe Woods (67):
Gary,
Jack and I will be attending Terry Espe's Retirement Party tomorrow night, Thursday, January 15th, at the Norway House in Bottineau.
Wish you could all join us. Terry's wife, LeaRae (Parrill)  and I started first grade together in Dunseith.  LeaRae's mother, Mrs. Millie Parrill was our first grade teacher.
Terry's brother, Dennis Espe, was my junior high teacher.  I road on the same school bus as Terry's sister, Claudia.  She had a beautiful long plaid coat and
would wrap our feet in her coat to keep them warm.  There were no radios or heat in Johny's bus.  These are all very fond memories of mine.
I have worked with Terry at the border for 22 years. He was a number one boss and we will miss you Terry.
His job is complete. He has given his best effort.  It is time to sweep up and turn out the lights on this career.  For the light
will come up brightly on the brand new adventures that await him.  Enjoy your retirement, Terry.
Best Regards, Patti and Jack Woods
Congratulations Terry!  I see they are celebrating your retirement today, 1-15-09, but I'm kind of thinking, like the rest of us Federal retiree's, your retirement was effect on the 3rd of the month.  Is your successor from in house or did they bring someone in from the outside?  I'm hoping Patti was selected for the position?  Enjoy your retirement.  We are looking foreword to seeing you and LeaRae, on our cruise and also at the Dunseith Seattle Alumni reunion, this coming July.  Gary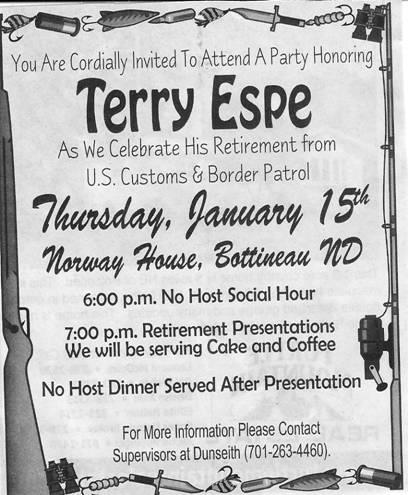 Terry and LeaRae (Parrill) Espe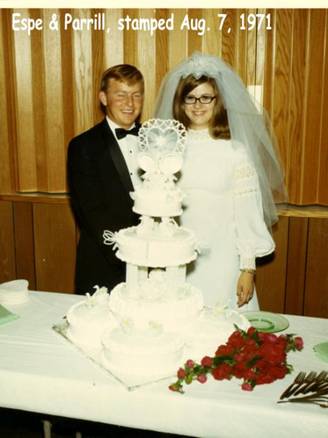 Reply from Dick Johnson (68): 
Gary and Friends,
Thanks to Jill Flynn Tinjum for the correct story on her uncle Harold
Flynn. This was great research and very interesting. Also thanks to
Ginger Larocque Poitra for her input on Martin Belgarde and Andy
Patnaude. If you find out more from Alfreda, please post it for us. Gary
Metcalfe—the John Belgarde I mentioned is the dad to 'Little Raymond'
and Chippie, and lives on the south side of Hwy 43 across from Carpenter
Lake. I think the boys even worked for you, if I remember right. I think
you have a couple stories about that too! Something about Richard
(Elvis) always sitting in the middle of the pickup so he wouldn't have
to open gates. You tell it! Thanks Gary!
Dick
Reply from Ginger (LaRocque) Poitra (65): 
Gary,
This summer the Wondrasek Photography lady and her daughter in Bottineau
decided to give to the people, pictures she had kept all these years, that
were taken at their studio.
They said that if we know who they were to take them and give them to the
people we knew.
I took a few of them and some were of this couple. Jeannie and Ron,
Jeannie lives in Belcourt and is the sister of Dave Jollie who owns
Jollie's Supermarket here in Belcourt. I talked to her one day about the
pictures because I wanted her to have them. She said that her children
would love to have them, since they are no longer married. I still haven't
gotten them to to her but I will.
Mrs. Wandrasek and her daughter are very kind in doing this, there were a
lot of pictures there. The lady at the museum was telling me that  a
couple of the older ladies stayed up until 4:00 in the morning at the
court house looking at pictures.
Ginger (LaRocque) Poitra (65)
Ginger, I am about 100% positive one of those ladies that stayed up all night going through those pictures was Neola. Do you have a copy of the picture Neola posted of this couple in Message #337?  Gary

Reply from Sharron Gottbreht Shen (59): 
Dear Gary,
In this very kind message from Neola she mentioned a picture posted of Ernest Tennancour. Could I have a copy or forward of the posting.
Ernest Tennancour was the great uncle of the children of Dale and Alma Gottbreht. Ernest, brother of Mary Louise Tennancour our great grandmother by her first husband John Levi Gaudette, was our neighbor across the street and up the block. Their home was near the steep Willow Creek bank. EJ and I were returning from a visit to Aunt Celia Evans late one spring, traveling along the creek shore. One could hear the rush of water under the snow covered ice and EJ decided she would check this out, we were 6 and almost 5. "Don't do it Emma Jo", but out she went and fell through about 8ft from shore. I fled up the embankment and started screaming for Uncle Ernest all the way to his home. He was out the door and rushed past me with a long shovel and was able to extend it to EJ and pull her off the ice. Lucky she was such a "light weight" and only lost boot and shoe from one foot. I am sure Uncle Ernest and Aunt Theresa must have tired of my frequent visits; a family hero. I've never had a problem believing in
Guardian Angels; he was one of those too.
Be well. You do good work Neola and Gary. Love the prospect of Gary's page in 2009.
Sharron Gottbreht Shen
I think this is the picture you are referring to?  Gary
The Robert & Dorothy Pritchard family from Dale Pritchard (63): 
Dale, I hope you don't mind me posting this.I know it will be of interest to many of our folks.
I've included a recent picture of your mother too.  Gary
Gary & Neola,
Shirley (#1) was married to Alvin (Howard) Wagner from Bottineau.
Divorced and remarried to a Zahn.  All three deceased.
Lorraine (#2) is married to LeRoy Tohm from Kramer.  To show how we all
get tangled up with shirt-tail relations, LeRoys brother, Melvin, was
married to Fay Hiatt (Deceased).
Lois (#3) was the one married to Lyle Draveland from Bottineau.
Divorced and remarried Allen Beckman from Bottineau.  I'm not sure if
they are divorced also or just gave it up but they don't live together.
They both live in Golden, Colorado.  I think Lyle passed away two or
three years ago.
Carol (#7) is married to Don Corzine from Texas, currently the Sherrif
of Yokum County, Texas.
Neola – We had 7 in the family.  Shirley, Lorraine and Lois then Darold,
John (Deceased), and myself, then we had a tie-breaker with Carol.  The
first four went to Bottineau High School.  I don't have any idea which
ones stayed long enough to graduate.  Lois also went one year to high
school in the Washington DC area.  Our Uncle John, who lived there at
the time, somehow persuaded our folks to let her go back with them.
Dale
Dorothy Pritchard several weeks before her 96th Birthday this month – 01/09