From Jan LaCroix Kester (59):
Hi Gary!  Our network was down for about a month so have a lot of catching up to do.  I came to #156 – regarding whether this is Mick Kester or Jackie Spaeth.  That is Mick Kester, definitely!
Jan LaCroix Kester?
From Neola Kofoid Garbe:
Hi Gary,
Thanks to Susan Fassett Martin and Evon and Eric Lagerquist for sending Betty Nerpel's address to me.  I delivered the picture to Betty earlier today.  She was thrilled to receive it.
Thanks again, ladies. 

Neola
Picture/message from Neola Kofoid Garbe:
Gary,
I'm quite sure this is Sophie/Pete Schneider, parents of Doris, Betty, Stanley, and Larry.  Agree?  I'm sure you remember Doris was married to my uncle, Kenneth Brudwick.  I know Betty is married to a Lamb; Stanley was married to Rochelle Pigeon (right?)–think he has passed away a few years ago.  They lived in the Black Hills, right?  Deadwood area? I think Larry lives in Bismarck, or did.  I saw a segment about him on TV a couple of years ago.  It seems to me he is a coin collector and has a business in Bismarck.  Do you know if it's in Kirkwood?
When I have accurate information, I'll send the picture/information to Eileen.
Thanks, Gary.
Neola
Neola, I think you have everything correct as far as I know.  Betty & Larry please let us know if this is all correct.
Larry, You may be surprised to learn that a good friend of yours, Jared Steele,  is currently visiting us here in Cebu, Philippines.  He arrived June 10th and will be going back to Bottineau on August 1st.  We got connected with Jared through your good friend Terry Moe.  Terry graduated with the class of 72.  Jared is such a nice young man.  I know Terry has a good employee, with Jared, working for him in his Yamaha delership/store in Bottineau.
Actually Jared is here to get married.  We introduced him to several nice young ladies and he has connected well with Geraldine.  They have been communicating since February via lots of email messages and phone calls.  Geraldine is 22 years and a recent college graduate with a BS degree in teaching.  Jared is 27.  There is no doubt that they are very compatible and get along very well together.  Their wedding will be July 28th.  It will take 6 to 8 months, after they get married, for Geraldine to get her visa so she can go back to Bottineau.  Gary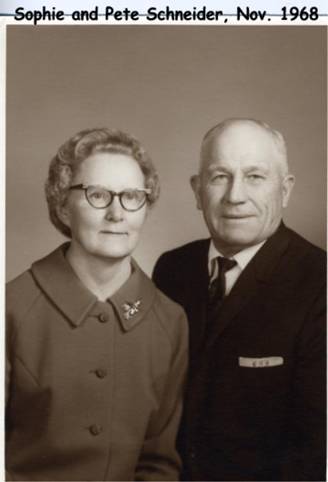 Picture from Neola Kofoid Garbe: 
Gary,
Gary's Cota's information is probably in the Dunseith book.  What was his wife's maiden name?  Can you identify the boys–which is which?  Gary is related to Martin Berg, but I've forgotten how.  I'm sure you can tell me.

  I think it's through his mother, right?
Neola
Neola, I was unable to make contact with Gary when I was putting his class list of 56 together.  I pulled out the Dunseith book see just how Martin Berg and Gary Cota are related.  Their mothers are sisters.  They are also sisters to Dick Johnson's grandmother and also Freddie Hiatt's mother.  Dick's mother (Bernice), Gary Cota, Freddie Hiatt and Martin Berg were 1st cousins.  That's the way I interpreted it when I read it. Shirley Olson Warcup, Dick's mothers sister, would also be a cousin.  She is on our Distribution list as well. Gary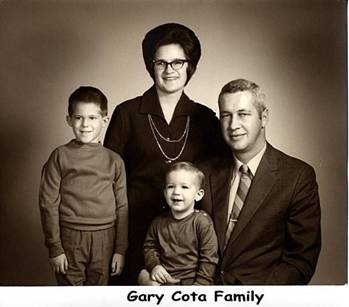 From Leland Hagen (50): 
After seeing Susan Fassett Martins reply to the ccc camp picture I beleive she is right. There are no trees anywhere in the picture, not even in the background. The layout of the camps and the buildings were probably pretty standard at all CCC camps.
Leland Hagen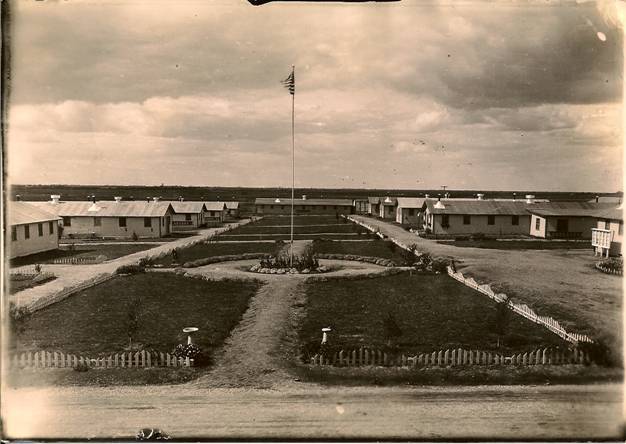 Picture Name Correction from Neola Kofoid Garbe: 
Hi Gary,
I hope everything is correct now. 

 Check to see if I spelled "Bakken" correctly, please.
Neola