Happy Birthday Gary Morgan ('54): Garrison, ND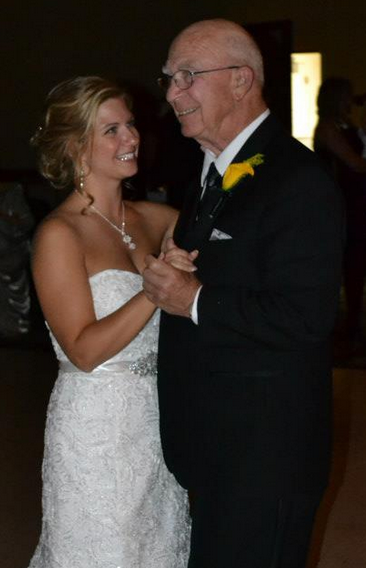 Lillian Thompson Cain Bergstrom ('36)
Message from her son Ron Cain:  Superior WI.
Thanks to the power of the internet (and Mr. Gary Stokes exceptional blog)-I was recently introduced to another 2nd cousin-Ms. Mary Knudson. Gary was the first.
I am a fairly new member of the computer world but have figured how to enter this site on a daily basis and I suspect I will find more genealogical connections in the future.
Your effort in taking up the challenges in maintaining your site reminds me of one of my favorite quotes:
"I expect to pass through this world but once.  Any good therefore that I can do or any kindness that I can show for any fellow creature, let me do it now.  Let me not defer or neglect it, for I shall not pass this way again.
-RALPH WALDO EMERSON-
Ron Cain
(aka R.D. O'Cain)
(don't forget the Irish!)
Gary's Reply
Ron,
Your mothers, mother was a Stokes, sister to my granddad. Mrs William Pritchard was a Thompson, sister to your mother's dad.
Yes indeed, Mary Eurich Knutson is one of the finest, sweetest and nicest persons on the face of this earth. With this picture I thought I'd introduce you to the rest of the Eurich family too, all great folks.
Gary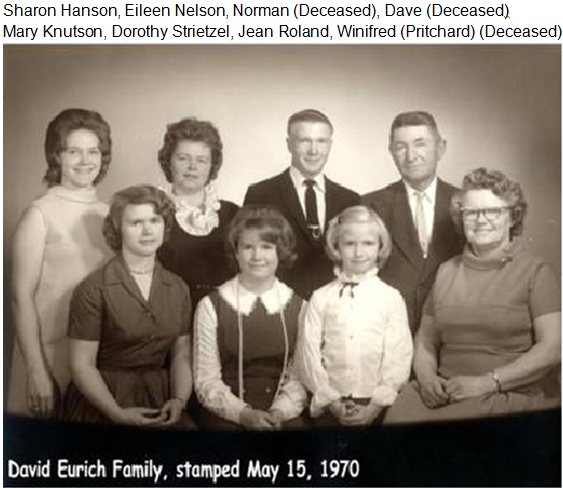 Postings provided by Neola Kofoid Garbe:  Bottineau & Minot, ND
Angus Campbell's 90 Birthday Celebration
Folks,
As most of you know, for the past 40 years Angus has been pretty close to my brother Darrel (Bud) and his family. It is truly a father son relationship.
Angus fell in his house this morning, breaking his leg below the knee. He is currently in St. Andrews Hospital. Angus' main concern was his birthday celebration Tomorrow (Sunday). The hospital has made arrangements for him to celebrate his birthday in their cafeteria. Needless to say he is a happy camper looking forward to this big celebration.
Happy Birthday Angus. – St. Andrews is on my distribution so hopefully they will see this and give you a copy.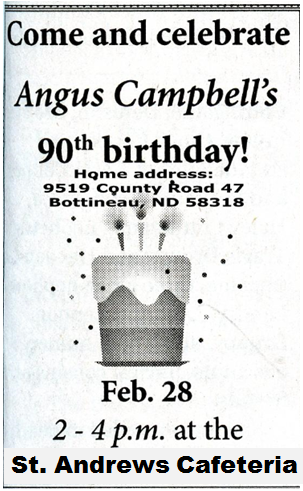 Les Halvorson with his son Lance at the Bottineau Gun show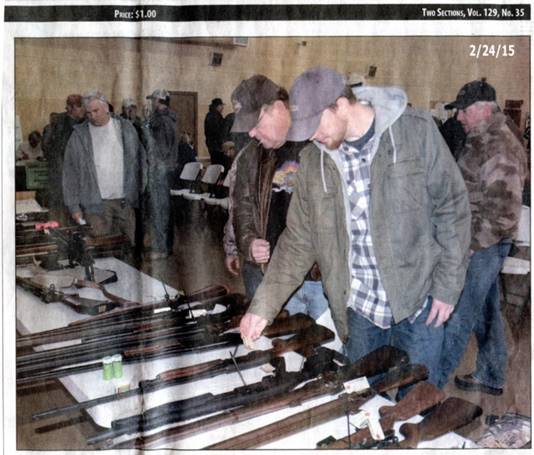 MADELINE PELTIER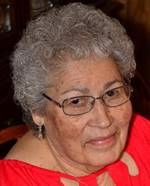 (May 8, 1932 – February 24, 2015) 
Madeline Peltier, age 82 of Dunseith, died on Tuesday, February 24, 2015 in her home. Funeral services will be held on Friday, February 27, 2015 at 10:00 A. M. in the St. Michael's Catholic Church in Dunseith. Burial will be in the St. Mary's Cemetery of rural Dunseith. A wake will be held on Thursday beginning at 6:00 P.M. with a prayer service at 8:00 P.M. in the Church.
Madeline Peltier, a daughter of Frank and Virginia (Delorme) St. Claire, was born on May 8, 1932 at Dunseith. She was reared and educated in the Dunseith area. On November 15, 1950 she was married to Edward Peltier at Dunseith. Madeline began working at San Haven as a nurses aide. She worked there for 32 years. Madeline later worked at the Dunseith Community Nursing Home for 10 years.
Throughout her life she enjoyed baking, crocheting, embroidering, playing bingo, playing kings corners with Dad, visiting with Betty on the phone each night, going to mass, family gatherings, sitting outside on nice summer days, sharing recipes, and trying new recipes.
She is survived by her husband, Edward Peltier of Dunseith; children, Ruby Peltier of Dunseith, ND, Curtis Peltier (Delema) of Dunseith, ND, Carmelita Hunt (David Hunt) of Dunseith, ND, Darrel Peltier (Rachelle) of Wasilla, AK, Barbara Eaglestaff (Bill) of Eagle Butte, SD, Brian Peltier (Angela) of Wasilla, AK, Joan Wall (Ken) of Dunseith, ND, Lisa Graham (C.J.) of Grand Forks, ND, Mark Peltier (Sarah) of Seattle, WA, Kevin Peltier (Julita) of Tacoma, WA; 30 grandchildren; 39 great-grandchildren; 2 great-great-grandchildren; sisters, Elaine Thompson (Francis) of Westminster, CO, Roger St.Claire (Dawn) of Bothell, WA, Veronica Hensley of Ashland, KA, Genny Egger of Denver, CO, Jeanie Valentine (Jim) of Edgewater, MD, Katleen Azure (Pat) of Belcourt, ND; brothers, Richard St. Claire (Betty) of Belcourt, ND, Jim St. Claire of Belcourt, ND and Norman St. Claire of Great Falls, MT.
Madeline was preceded in death by: 2 baby boys, parents, Frank and Virginia St. Claire; two brothers, Dwight St. Claire and Michael St. Claire; sister, Connie DeCoteau and one grandchild, Jessica Eaglestaff.
Condolences to the Edward Peltier family on the loss of  Madellne.
From Vickie Metcalfe ('70):  Bottineau, ND
I knew Madeline as a wonderful gracious  lady!
She was warm, kind  and friendly to all.
For a time Mrs. Peltier  also worked  at the Dunseith School with absentee students.
I remember  the  students loved and respected her immensely.
Sincerely,
Vickie Metcalfe
Don Corbin (Teacher/Principal DHS)
Picture provided by Pat Corbin Miller, Tempe, AZ
Do with his brother-in-law Ernie Miller.

Joke of the Day
Posted by Don Malaterre ('72):  Sioux Falls, SD
There was this old lady that loved her dog very dearly. When her dog passed away, she was devastated. After mass she pulls the priest aside and asks if he could do a funeral for her dog. He replies, I'm sorry mam, but we don't do funerals for dogs. The lady says, but he was the only one I had left, he was part of my family! He still kept on saying, I'm sorry we don't do funerals for dogs. The lady finally asks, well, do you know where I can find someone to do a funeral for him, and do you think that $1000 would be enough to pay him? The priest jumps in and says, Oh, you didn't tell me your dog was Catholic.
====================================
Blog (258) posted on October 21, 2008
Reply from Eleanar Nerpel Bishop's (38) duaghter Ann Myers: 
Hello Gary –
Thanks for the email about my mom's class. I printed it out and gave it to her.  I also printed out and gave the information on the cruise to my Uncle Gus Nerpel (my mom's brother). Don't know if he was interested or not.
Ann Myers
Ann, does you uncle Gus Nerpel have email? With the Bedard's, Anderson's & Nerpel's, you have a lot of cousins/relatives from Dunseith, a lot of whom are included with our daily distribution. Gary
Reply from Bernard Morin (76):
Yes Bev, I have to agree with you that Lyle is a great storyteller. I remember being in shop class & our assignment was to give a 10 minute speech. When it came to Lyle's turn his speech was titled " The Brown Cow". I don't remember the whole speech but I believe there were only 11 different words in the entire speech. By the time his 10 minutes were up the whole class was in stitches including Mr. Enander who I think was the shop teacher at the time. I don't know what grade Lyle received for his speech but it should have been 110% for delivery.                      In reply to Mel Kuhn, I'm also in the dark on the whereabouts of these gathering places that Lyle speaks of. I believe that these gatherings only involved classes from 71 to 75 as the class of 76 was very studious and the majority.
Reply from Dick Johnson (68): 
Gary and Friends,
Mel must be running for office. We all know he wrote the book on Beer
Can Alley, the Butte, and most other party spots! His old red and black
56 Olds and then his blue 55 Ford were seen at most of the parties. The
only conclusion I can come up with is that his memory has really gone
bad or he is planning a run for some political office. Mel, it won't
work–we'll blow your cover! Thanks Gary!
Dick
Reply from Allen Richard (65): 
To Mel Kuhn–
Like you I never quite figured out the name and location of some of the "hot spots."  There was one on Dad's land that was south of Ernest LaCroix's place and 1/2 mile east of the road from HWY 5 to the old Currie School.  I guess it got started sometime after 1970.  Anyway we had to clean a lot of cans from our sickle bar of the swather and dodge bottles to keep from cutting tires.
Dad got wind of the names of a couple people who were in — the class of '72— I think.  He knew one of the kids pretty well and asked him/her  if they could simply toss everything into a pile.  Next time we went to work the field, not only was there a big pile, but the whole area had been pretty well picked up.  Thanks guys — you saved us a few flats and broken sickle blades!
Allen
Reply from Diane Berg Rhealt (79): 
Lyle, I love your story.  I felt like I was reading a book, and I could envision all the places in my mind (well not all, the only lake I went to was Adams Lake-& with my cousin Sue Berg), but I used to watch you guys in a few of your games at Campbell's home when I was little.  & later, I learned about some of the other places mentioned.  Those really were the days!!  You really should write a book.  I would buy a copy!!  Love you, man!
Diane (Berg)Rheault
Reply from Rod Hiatt (69): 
Good morning all
When Lyle was talking about George, it reminded me of a song by Jimmy Dean about Big Bad John who with the blow of a big right hand sent a Louisiana man to the promised land. Well that could have been Big Bad George.
One night at a party, one of George's younger brothers and myself got
into a small altercation that didn't last long and I figured was all
over. Well a few days later a couple of us and dates were in at the
Garden Lanes bowling and George walked through the door. He came
straight over to me and with 1 blow put me either threw or over 3 rows
of chairs(good thing the chairs stopped me or I might have starved to
death rolling) George said nothing just turned and walked out. About a
week later I happened to be back over in Dunseith again(not claiming to
be the smartest one in the family) I think at Dales station when the
door opened and in came George heading straight over to me. I think my
life might have flashed in front of my eyes, when George stretched his
hand out to shake. He said" I'm sorry Roddy for the other day, but he is
my little brother and I just had to do it. I hope we're still friends"
George and I remained friends and I respect him still today as a friend,
a gentleman and a man with one hell of a big right hand.
Reply/Picture from Neola Kofoid Garbe: 
Hi Gary,
This is another courthouse picture.  Chances are slim this is George Malaterre, but you never know, so I thought I'd send it to you.

Neola
Unknown Boxer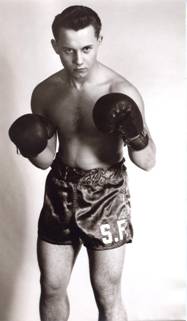 Vicky Bergan's picture provided by Neola Kofoid Garbe:
Glenda Anderson Bergan's (60) reply to Gary: 
HI Gary
Got your email with Vicky's picture, yes she is my daughter, she graduated from Dunseith in 1982, and the picture is when she was" North Dakota state Horse show association queen"  (NDSHSA) in 1983.
She lives in Princeton, MN  And her married name is, Vicky Bergan-Dietz.
and also I'd like to thank you for all the Dunseith memories.
Glenda Anderson Bergan
Glenda, this is a beautiful picture of Vicky.  She is for sure a queen. We'd love to get Vicky's email address if she has one. Glenda, I think I remember you telling me that you are a sister to Lorenzo Anderson (63)?  Have I remember that correctly?  Many of our readers remember your husband David's family too, the Clayton Bergan Family. They lived North and East of Dunseith on what think they call the Jack Rabbit Highway.  I could be out to lunch with the name of road, but I know exactly which road it is.  Gary
     Vicky Bergan – "1983 North Dakota state Horse show association queen"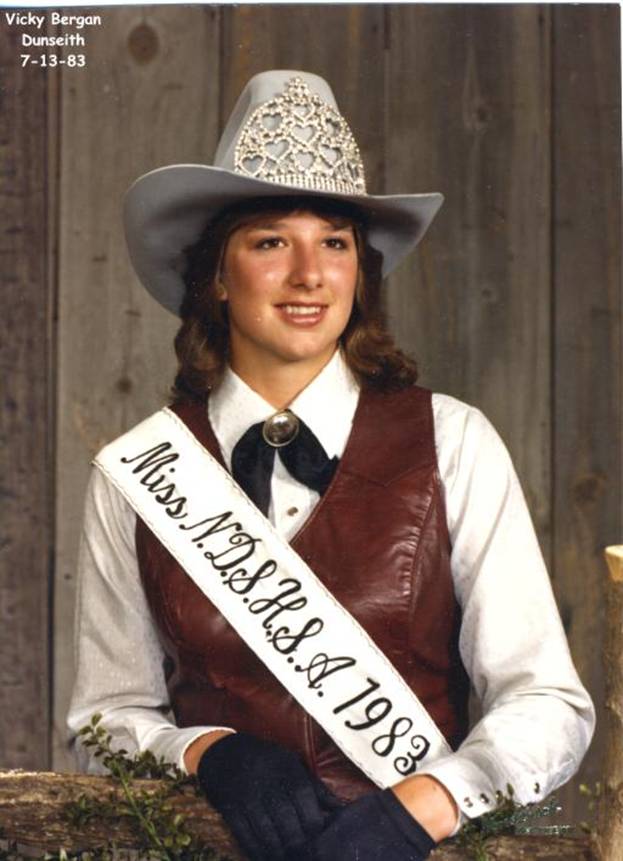 Dunseith High School Class of 1963
 
Last
First
Address
City / State / ZIP
Phone
Email
1
Anderson
Lorenzo
10250 County Road 49
Bottineau, ND 58318
(701) 228-3912
No email address
2
Bergan-Harris
Carol
2300 Maple Ave. # 122
Torrance CA 90503
(310) 320-3073
charris@hrl.com
3
Berube
Tom
1011 Kersten St, Apt 101
Bottineau, ND 58318
(701) 228-3660
No email address
4
Cuadrado
Manuel
2009 S 88th St
Omaha, NE 68124
(402) 680-1674
mcuadrado@tconl.com
5
Dubois
Dennis
3874 124th Cir NW
Minneapolis, MN 55433
(763) 755-4144
No email address
6
Evans
Jim
PO Box302
Dunseith, ND 58329
(701) 244-5710
evanscher@hotmail.com
7
Gottbreht-Dutra
Francie
5716 Thornbury Dr. SE
LACEY, WA  98513
(360) 943-9232       C 360-556-4317
atdutra@comcast.net
8
Henry
Bill
PO Box 584
Dunseith, ND 58329
(701) 263-4052
No email address
9
Hiatt
Laurel
9729 20th Ave NE
Bottineau, ND 58318
(701) 228-2389
hiattranch@srt.com
10
Houle
Gary
10944 MISSISSIPPI DR N
CHAMPLIN, MN  55316
763) 427-5673
No email address
Johnson
Mike
vbfjohnson@hotmail.com
11
Kalk
Julian
5415 Aurora Ave
Des Moines, IA 50310
(515) 334-5089
12
Lamoureux
Lyle
7290 Butte Vis
Prescott Valley, AZ 86314
(928) 772-5406
lamfgo@aol.com
13
Landsverk-Beckman
Sharon
1621 95th St NE
Bottineau, ND 58318
(701) 228-3041      C (701)-871-0483
dal@utma.com
14
Link
Joe
Born March 28, 1944     –     Died July 26, 1990
Deceased
15
McCloud-Gladue
Diane
RR #1
Dunseith, ND 58329
(701) 244-5957
No email address
16
Millang-Bostic
Linda
113 WILLOW ST NE
BUFFALO, MN  55313
(763) 682-4608
No email address
17
Moyer
Val
1469 Highway 5 NE
Bottineau, ND 58318
(701) 228-3372
vjmtruck@msn.com
18
Myer
Garrett
PO Box 66
Decker, MT 59025
(406) 757-2537
No email address
19
Peterson-Harmsen
Sharon
216 TORONTO DR
BISMARCK, ND  58503
(701) 223-0734
harm0825@bis.midco.net
20
Pigeon
Russell
64 Third Ln NW
Hazen, ND 58545
(701) 487-3388
bwpigeon@restel.net (Brother Bruce)
21
Pritchard
Dale
131 Magnolia Loop
Leesville, LA 71446
(337) 239-7426
dale.pritchard@us.army.mil
22
Quillinan-Larmore
Darlene
PO Box43
Bivalve, MD 21814
(410) 873-2869
darlar1@verizon.net
23
Quillinan-Halvorson
Denise
PO Box 628
Dunseith, ND 58329
(701) 244-5889
dhalvorson@securitystatebanknd.com
24
Salmonson-Helgeland
Kathy
RR #1
Dunseith, ND 58329
(701) 263-4630
kathyhelge07@srt.com
25
Shelver
David
2045 Pima Dr N
Lake Havasu City, AZ 86403
(928) 505-3873
annapeet@citlink.net
26
Smith
Eldon
14680 Wide Hallow Rd.
Yakima, WA. 98908
509-480-8009
No email address
27
Wenstad
Laurel
300 Hester St.E
Dundas, MN. 55019
(612) 205 9100
lwenstad@live.com
27
Wheeler
Rick
722 5TH AVE SW
RONAN, MT  59864
(406) 676-5525
No email address