.
For the record I did not get a blog posted yesterday.
.
.
.
.
Reply from Colette Hosmer ('64):  Santa Fe, NM
Diane and Gary,
The buck stops here for the misspelling of Boucher (Busher).  There's a local Santa Fe Politician named "Busher" and it doesn't take much to confuse me at this great old age.  Diane, I'll share any information that comes my way.
.
.
Reply from Kim Fassett:  Coos Bay, OR
It was so great to see "Aunt Cynthia" in the photo(s).  It was always a special 'treat' when she'd come over to visit Mom (Dorothy Fassett) in Portal.  She was a very special lady!!!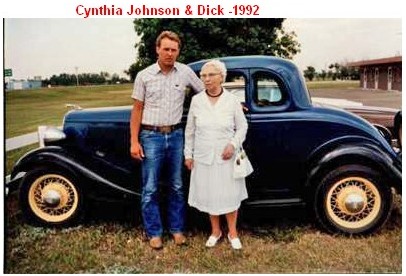 .
.
Reply from Lola Metcalfe ('68):  Dunseith, ND
Gary and all!!_  
Happy BIrthday Bobby Slyter  an old friend and classmate- !!-  and many more!!- 
I saw the posting on Les Halvorson's Birthday!- Happy birthday Les   ! 
 Jay and I were just talking about him last evening-  listening to be ball games!
What just amazes us  is that Les has been the sports broadcaster ever since we  could remember–!  on radio!—   year after year for how  many decades??   and i think he knows the name of every player on every team without reading it– after one game- !!  or else he has a tremendous apptitude for reading really fast!!!_  But he never misses a beat with who has the ball their number and name!!-  for how many schools- !!– and what they are doing every moment and all the plays- !!! —just a "natural"
I enjoy the sports okay  –usually listen just cause Jay listens to them-!    but listening to Les makes it so much more interesting-   and he is certainly easy to listen to!! – not like some of the monotone- pro-sports-  broadcasters!!–  
I don't know Les real well but do Myra–  as she was an "underclassman"  by a few years-  — and then as a Just Super  terrific school secretary for the Bottineau HIgh School———— again-!  – I think she knew every kid that walked in the door and could tell the parents exactly where they were in and probably after school– she was so gracious to give the kids messages from me or  for  them to me- to keep in  touch every day – with our hectic schedules-  and the kids just loved her!!!-  The Bottineau School sure lost an awesome lady and a tremendous asset – when they lost her to First National Bank- where again she is a just terrific lady–  what an asset to that institution and  community!!!
Glad to see Bernadette was up and out and having fun again!!_  and good to see Art and Rose enjoying themselves-  !  
they tell us spring is coming!!-  anyhow we can't complain as we are snug in our homes- and the animals are taken care of and sheltered- !!  it is NODAK  and that is expected-   and I am an eskimo – so i enjoy the cool fresh air – rather than the heat of summer- !!-  I can always dress warm- but in the summertime- i better be in the AC!!–  LOL!!- 
Course i don't have to work outside either- which makes a big difference-  
had a good visit with Brenda Johnson for her Birthday we always visit each other on our birthdays–  again!-  they had the Frozen Fingers Festival in February —  I forgot to ask her for a tape if they made one!!-  will have to do that- I just love to listen to their songs– 
best regards-LOla and Jay
.
.
Edward and Matilda (Ducheaneau) Boucher
Reply from Sharron Gottbreht Shen ('59):  Watertown, NJ
Matilda Duchesneau, daughter of Francois Xavier and Marie Lucier came to Dakota Territory shortly after the family was displaced by fire destruction of their MA home in 1884. FX and Marie Duchesneau with 13 of their surviving children embarked for DT the next year. Marie Deline Almaide, born in 1865, described their travel by train in 1885 to Devils Lake and then by wagon to Schell Valley where FX Duchesneau persuaded FX Dubois to sell him his newly build two story dwelling. Cash was a commodity hard to ignore and Dubois had interest in another site. It was here that Almaide accepted Euclide Lamoureaux and was married in 1886.
At the time Edward Boucher sought the hand of Marie Matilda Duchesneau, September 1893; he was the sole  Boucher of that family in Rolette Co. It may have been his neighbors or brothers of the bride who helped him build that first log residence since the second home of FX Duchesneau was located nearby. The log home was soon replaced by a frame home.
Victor Boucher arrived in 1896 and walked from Devils Lake. Edward's brother Olivier Boucher, arrived in  1897 by wagon. Edward and Victor helped build the first log home of Olivier Boucher, widower, and their mother Philomene Duchesneau Boucher who had the care of his three sons who came by rail ["Soo line"] in 1898. The first home straddled sections claimed by Olivier, Philomene and Victor.
Much more to share with Leona and family. What was the Soo line?? Sharron
PS
Uncle Ernie Boucher told me that his uncle Olivier Boucher was the better builder of the family. Olivier was no doubt on hand during the second construction of Edwards home and barn. Olivier led the Thorne community in the construction of St Michel's Catholic Church which is now Sacred Heart of Rolette. The cemetery that served Thorne is named St Edwards Cem. because Edward Boucher donated the land.
If you read the fine description Bena Dubois Fassett wrote of her home in Prairie Past, you will know about the excellent work of FX Dubois who built the first dwelling of young Matilda and her 13 siblings in Dakota territory.
enough already! Sharron

Reply to yesterday's (1972) posting "The Harmonica Man"
From Vickie Metcalfe ('70):  Bottineau, ND
The Harmonica Man is a  wonderful story!

What a great man, who those kids  will remember more than Bill Gates.

Spring is soon just over the horizon!

But music is in the "hear" and now.

Thanks Rosemary for the warmth you shared on this cold, windy February
Day.
Vickie
.
.
==========================================================================
Blog (37) posted on March 7, 2008
My heartfelt condolenses to the Millang family.
.
.
Gary, and Dunseith Friends,  Some time back, one of our networking folks
asked about examples of Colette Hosmer's art.  She has a web site:
Colette Hosmer.com       This has examples of her work, pictures of her at
different locations, including China.  There are many facets in the site,
biography, philosophy, and more.   I am very proud of her, and there will
be many who will find the site of interest.   Certainly, I find all the
correspondence and lore of our home land fascinating, and go to that
email, before any of the rest I get.  Vance Bailey started something very
special, and those who contribute are special in many ways.    Thanks,
Gary, for making life more interesting and bringing this community into
closer awareness, friendship, and appreciation for our common heritage.
Life is great.   Cheers, Bill Hosmer
.
Bill, As most of us know Colette is back in China this month on a work asignment with her Art.
She said if she has a chance she will send us a message and a few pictures, if she can, while she's there.  Gary
.
.
Gary and Friends

Paulette asked about the men dancing at Kelvin. I think it was
a Turtle Mt. Jig, popular in this area. "Little Raymond"
Belgarde was one of the best around.No matter how fast the band
played Raymond could jig, in time, without missing a step!

Ron Longie asked if we remembered the Buffalo from Mrs. Conroys
class. I remember making them from something like sawdust and a
homemade "binder agent" glue of some kind, am I right Ron? I
seem to remember they had an odd smell as we made them.

Diane Larson Sjol said she saw dead cougars by the gas station.
Leo Medrud shot a Lynx in the hills in about 1962 or 1963. I
wouldn't doubt he had it in town, probably at John Kofoid's
station to show people. Diane could this be the time frame?
There were more lynx then, than today. What we now are seeing
are mountain lions, a larger animal, as in Glen Williams photo.

In Gary Stokes message #22 he said the rolls at Hermans were
three for a dime and that is correct. Hard to believe. I think
it was mentioned earlier that they were a dime each and even
that would have been a bargain!

Susan Fassett Martin- I want to know when you will be here this
summer. We should get together with others who are interested
in our combined memorabilia. I am kind of a packrat when it
comes to old pictures so I seem to have many of interest not
only to me but to others as well. I would enjoy sharing them
with everyone who is interested.

To the Berubes-Muzette, Angela, or Robert, in a prior message I
said I thought Robert broke his leg while snowskiing in the
ditch, behind a car. Did that happen or was I mistaken? No big
deal but it has been bugging me. Can anyone else remember this
happening?

Dick Johnson
.
Dick, Ron Longie mentioned that he plans on visiting the Dunseith area again this summer too.  It would be nice if Susan was there at the same time.  We could put a message out announcing a time and a place for folks to see them whether they are there together or separately.  Gary
.
.
Dunseith Boys lose to Bishop Ryan 61/48.
This means Bishop Ryan will go to the state tournament.  I think these two teams played each other last year at the region also, and Bishop Ryan won then, and went on to state, too.  Bishop Ryan had only one loss this year during their regular season–to Dunseith.  The games weren't televised tonight, but on the news, they said Dunseith had 20 turn-overs, which really hurt their score.
I was hoping Dunseith would be the champs tonight. Then we would have seen them on TV next weekend and root for them to win STATE!!!!
.
.
Provided by Neola Kofoid Garbe:
August 29, 1919 – February 29, 2008
.
.
We've seen Raphael Poitra's name some in the last few days, so I thought I'd provide
a picture of him along with Pete Gillis
Picture L to R:  7/12/07
Repael Poitra & Pete Gillis (Class of 65)
.
.
This is from a farm directory of 'Rolette county dated 1948, 5th edition.