Condolences to the Johnson/Juntenun families
From Dave Slyter ('70): Sabin, Mn
Gary:
My condolences to the Johnson/Juntenun families.   I knew Linda quite well and her brother Albert graduated with us in the class of 70.
Praying for all.   RIP Linda
Dave Slyter (70)
Message to Bob Hosmer ('56) and DHS class of 55/56 Picture
Posted by Larry Liere ('55):  Devils Lake, ND
Bob
You once said you didn't remember me.  I just came across this picture today so I thought I would sent it to you.
The 1st three boys on the left are Barry, me Larry and then you Bob.  Is the 1st girl right of Barry a Leonard?  It would be fun to know all their names so I am sending a copy to Gary.  Hope he can put it out on the blog and see how many of the 1955 1956 class can name these little kids that are now in their late 70's & early 80's
Hope you are well & living the good life.
LARRY LIERE
Folks, I know we can identify all those in this photo? Thanks Larry for sharing this picture.
DHS Classes of '55/56
Back: Janice Leonard Workman, Barry Shelver, Larry Liere, Bob Hosmer, ???????
Front: ?????????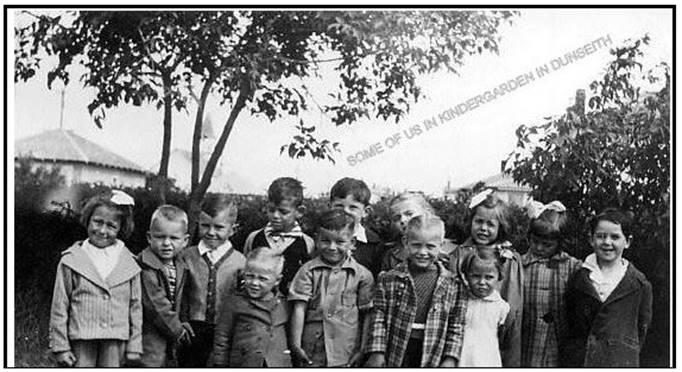 ==============================================
Blog (644) posted on December 6, 2009
Folks, I am a little slow getting this message out today. Bernadette's sister, Alot, arrived last night from Japan. She and Bernadette had things they had to do this morning, so I just got back from going with them. Bernadette's niece from Dubai is here too. Three of Bernadette's cousins (sisters) from a near by town came over last night too. These three sisters decided to spend the night. We have a guest apartment where they could have slept, but they chose to sleep with Bernadette's sister and her niece in one of the guest bedrooms in our house. This is a smaller bedroom too. Four of them slept on the bed and the 5th one on the hardwood floor. That's what you call togetherness. That's the Filipino way. They stick together like sheep. Gary
Harlan Salmonson passed away:
From Meryle Hoopman Vinje (74): Prescott, WI
Hi Gary
As you have all read recently, Harlan Salmonson has been sick, yesterday morning he passed away. With his children and LaDonna beside him.
Meryle Hoopman Vinje
Meryle, We are so sad to hear of Harlan's passing. I'm assuming LaDonna is your aunt, sister to your dad?

Our condolences go out to Harlan's family. I did not know Harlan that well, but he was a very close friend of my dads. Dad talked highly of Harlan, LaDonna and their family. When Dad and I were visiting through the hills a few years back we stopped in and visited Harlan. LaDonna was not home. When dad made his rounds around town (Bottineau), he often times passed through 'First National Bank' to shoot the breeze with Debbie Metcalfe, Harlan & LaDonna's daughter. She was one of his favorites. Gary
Email address change for Connie Peterson Lagerquist (74): Dunseith, ND
Hi Gary, Just to let you know that I've had to change my e-mail address. Someone has stolen my identity, so Yahoo has closed my account and I haven't been able to access for over a week. I've missed being able to keep up with the news. If you can send to the new address, I'd greatly appreciate it. Thanks, Gary.
Connie
My new address:
Aggie's reply to a personal message & to Randy Kelly (69):
From Aggie Casavant (69): Fort Mill, SC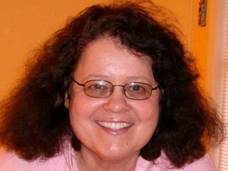 GARY…… That's a good idea, Although I did not graduate in Dunseith my last year, These were definately my " Homies", and exchanged pictures with everyone, but a very small few. It would be great to see all of them there. I was happy to see you reconnect with Randy Kelly.
For some reason I would always sit across from Randy in History Class,and my mind would always go into a blurr how he could remember all the dates and events in history. I remember two incidents that happened in class where Randy went crazy laughing,and yes both jokes were on me. I remember one time we were taking a test,and I'm pretty sure it was in Mr. Heppers class. The question on the test was about what the name of this famous person was…I didn't have a clue who or what this guy did,because I had made up my mind early on that I was going to "down size" my learning only to pay attention in class what was interesting to me at the time. So anyway the answer to the famous person was Lavouris. I don't even know if that was how you spell it. Anyway Mr. Hepper thought he would be generous that day of the test and give us a hint to the answer,and he said, a mouth wash was named after him. So I just wrote down Listerene…(So sure I was going to get "1" right on the test) when we were going over the test after we turned them in,I couldn't wait to get to that question so I could "Be Proud and Shout It Loud" well when Mr. Hepper asked who this famous person was,and I hollered out "Listerene" all excited,for sure that I knew the answer, Randy Kelly almost fell out of his desk laughing,he couldn't get a hold of himself, so I reached across and punched him on the arm as hard as I could. Later when I heard he went into politics, I saw him on the Nat'l News one night at the Capitol in Washington, I had some friends over that night,and I told them,I sat across from this guy in History Class in high school,and went on to tell them the "Listerene" story. I told them that even if we were not affilated with the same political party that I would campaign for him if he ever ran for president,so I could sell my story to the Nat'l Enquirer,that my claimed to fame was I punched "President Kelly" Come on Randy,times running out,you better throw your hat in the ring 2012. I promise I won't sell my story to the Nat'l Enquirer if I can be your running mate. I promise I won't "Go Rogue" on you like Joe & Sarah!!! LOL…..REAL LOUD!!! Aggie