From Ivy Eller Robert (74): 
Dick Johnson & Gary,
My sister Julie Eller Dahl had one of those Forest Service Towers on their farm for many years. It was located about 2 miles east of Lake Metegoshe on the south side of the road (Hwy 43). It was on the Dahl family farm. It stood there, what seemed  like forever.  Julie's husband Marly passed away about 3 years ago & his bother took over the farm and had someone disassemble it recently. They moved it to the museum in Bottineau on the north end of town. I was there a few weeks back & seen it. Of course it is not as tall as it was when it was first built. I remember climbing that thing many times through the years when Marly & Julie lived on the farm. My kids, when they were little, even climbed it a few times. It was exciting to climb it, but through the years it got dangerious from the deterating lumber on the stairs. But it was fun and Dick's story & picture reminded me of "Marly's Tower"!
Ivy Eller Robert
Ivy, Many of us remember that forest fire lookout tower located several miles east of Lake Metigoshe on the Dahl farm.  It was an icon to the hills and could be seen for miles around. I drove by that tower hundreds if not thousands of times in my growing up years.  That tower was built by the ND Forest Service back in the 50′s.  I forgot the year, but it was in the mid to later 50′s as I recall.  I remember it being built when they were seemingly having a lot of forest fires up in the hills.  During that time, my dad was designated a forest fire warden with a sign out in front of our approach.  They also erected a little forest fire building in our yard with tools to fight the fires.  I don't ever remember the building being unlocked and the tools used, but it was in our yard for many years.  Back to the tower, I too climbed it several times.  Several years ago there was a big article in the Bottineau Courant with the history of that tower. In that article they said, for safety/liability concerns, the forest service was having it dismantled. Gary
From Sybil Johnson: 
The picture of "Pa" Johnson, his mother and sister were amazing. Thank you Dick and I know Beckie and the family will enjoy it, as I did.
Sybil Johnson
Martha Lamb's (68) Wedding provided by Neola Kofoid Garbe:
Martha, this should bring back a few memories, not only for you, but for a lot of others that were part of your wedding and also for those that attended. Congratulation to you and Lynn on your 25th Anniverary last month. Gary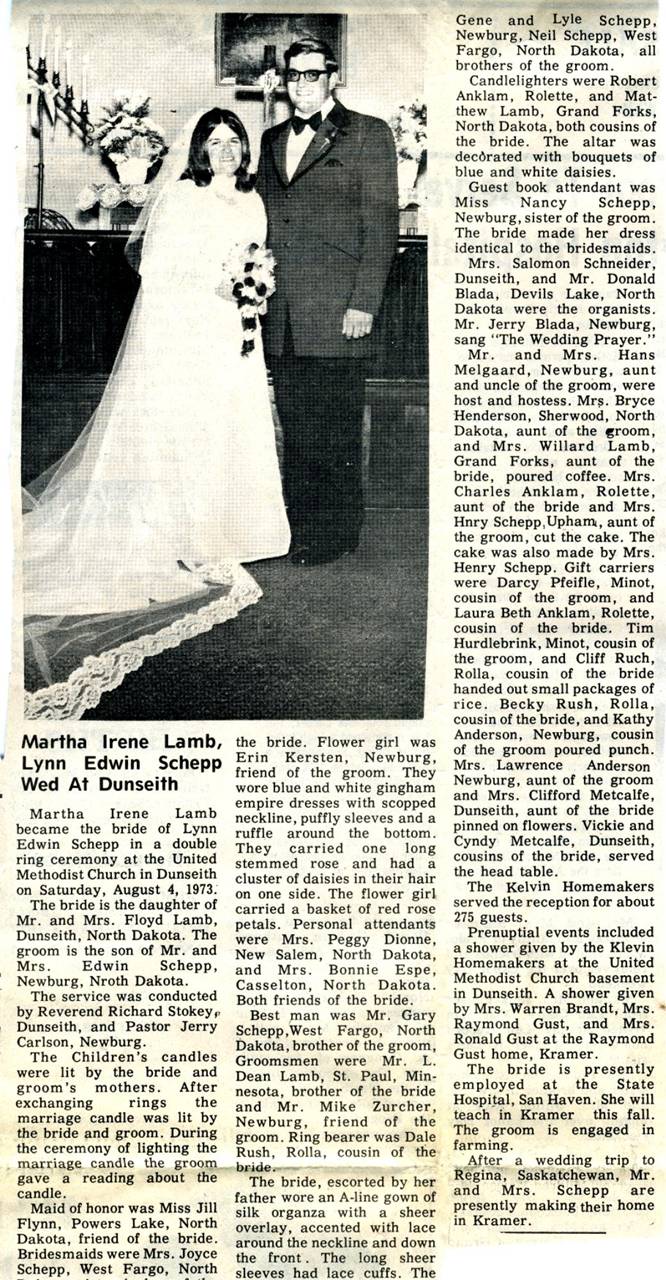 Dunseith High School class of 1933
 
Last
First
Address
City / State / ZIP
Phone
Email
1
Amundson Haagenson
Dagny
Born February 26, 1914    –    Died January 19,1984
Deceased
2
Anderson Smith
Audrey
Born August 28, 1915    –    Died March 29, 2001
Deceased
3
Bowers Chapin
Grace
Born September 25, 1913    –    Died June 29, 2001
Deceased
4
Brooks
Stanley
Born January 27, 1917    –    Died October 14, 1987
Deceased
5
Byre
Conrad
Born September 13, 1914    –    Died November 29, 2002
Deceased
6
Cassidy
Loan
Born August 20, 1913    –    Died February 1983
Deceased
7
Evans
Bill
Born August 20, 1916    –    Died March 3, 2005
Deceased
8
Fassett Halvorson
Laura
530 SE 42nd Ave
Portland, OR 97215
(503) 236-4462
No Email address Born March 1916
9
Gottbreht Solomon
Mildred
Born January 23 1916    –    Died March 2, 2008
Deceased
10
Halvorson
Arthur
Born August 26, 1913    –    Died August 21, 1993
Deceased
11
Kester
Ormal (Red)
Born June 11,1914    –    Died November 18, 1987
Deceased
12
Kotschevar
Donald
Born August 6, 1912    –    Died October 10, 2005
Deceased
13
Kotschevar Tilton
Lucille
Born November 5, 1914    –    Died January 31, 1999
Deceased
14
Myer Weaver
Clara
Born February 10, 1915    –    Died May 1, 1996
Deceased
15
Peterson Pine
Minnie
Unable to locate death record – Bill/Duane/Jack Peterson's aunt
Deceased
16
Sanders
David
Died in the spring of 1943
Deceased
17
Tennancour Harris
Dorothy
Died in 2008 – Sister to Alice Evans Berube
Deceased
18
Tooke
Doris
Unable to locate
Parents Bert & Ada Tooke – Moved to Tacoma Wa in 1944
19
Tooke
Arthur (Pete)
Born August 20, 1915    –    Died September 9, 1985
Deceased
20
Wicks
Marjory
Unable to locate