'Dunseith Days' Schedule Requested
Posting from Ginger LaRocque Poitra ('65): Belcourt, ND
Gary,
Would you be able to send me a schedule of Dunseith days? I especially would like to know when the parade is. Maybe I will take a few activities in as well.
Thanks Gary,
Ginger
Gary's Reply
I'm sure someone has a copy of the 'Dunseith Day' Schedule that they can send us. Thanks.
Marlene Armentrout
April 04, 1939 – July 15, 2017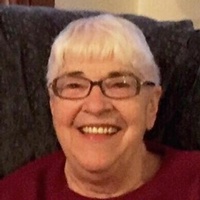 Sign Guestbook|
View Guest Book Entries|
Funeral services for Marlene Armentrout, age 78 of Dunseith, were held on Saturday, July 22, 2017 at 2:00 pm at the Peace Lutheran Church in Dunseith.  Officiating at the service was Gary Wendel.  Joan Richard was the pianist and special music was provided by Dick and Brenda Johnson.  Casket bearers were Jacob Metcalfe, Michael Metcalfe, Bryant Armentrout, Terry Halvorson, Gino Davis and Curt Hamen.  Burial was at the Riverside Cemetery in Bottineau.
Marlene Armentrout, a daughter of David and Bertha (Patnaude) Kraft, was born on April 4, 1939 at Dunseith.  She was raised there and graduated from Dunseith High School in 1957.  On September 22, 1957, she married Rodney Armentrout at Dunseith.  She purchased the A.C. Bar in Dunseith in 1970 which she operated until her retirement in 1990.
Marlene was a member of the United Methodist Church in Dunseith where she was active in the Willing Workers.  She later joined the Peace Lutheran Church.  She was a member of the Rolette Homemakers Club.  She enjoyed bowling, softball, darts and going to the casino.  She also enjoyed going fishing, her family is not sure if it was the fishing she enjoyed or the lunch that was always along on the fishing trip!  Marlene also wrote the Dunseith News for the Bottineau Currant and the Turtle Mountain Star for many years.
Marlene passed away on Saturday, July 15, 2017 at a Minot hospital.
She is survived by her husband, Rodney of Dunseith; 2 sons, Bryan (Sherry) Armentrout of Dunseith and Brent (Teri) Armentrout of Mesa, AZ; daughter, Debbie (Travis) Metcalfe of Mesa, AZ; 8 grandchildren; 3 great-grandchildren; 2 sisters,  Dorothy Schneider (Warren) of Bottineau and Bertha Handeland of Pocatello, ID and numerous nieces and nephews.  She was proceeded in death by her brother, Lester Kraft (Alice) and sister Annie Hills (Lloyd).
In Lieu of flowers, the family requests that memorials be given to the Riverside Cemetery.
Arrangements were with Nero Funeral Home in Bottineau.  Friends may sign the online register book at www.nerofuneralhome.net.
Seidel Murders
Reply from Ginger LaRocque Poitra ('65):  Belcourt, ND
Gary,
I found which County And the murders of Frank Seidel and his niece. On Internet I went to Seidel murders on June 21, 1908.
Somber (Bottineau County)
The location of the post office
Gary you will be able to find the article and put it on the blog.
Thanks,
Ginger
Seidel Murders: See the whole Article in The evening times., December 07, 1908
http://chroniclingamerica.loc.gov/lccn/sn85042373/1908-12-07/ed-1/seq-8/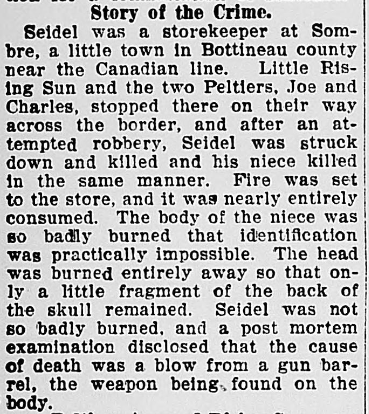 ==============================================
Blog (620) posted on November 12, 2009
Lovaas Family memories
From Vickie Metcalfe (70): Bottineau, ND
Gary,
Tis the Season…Ah memories, going outside,breathing and seeing the cold air, crisp and crunching, snow angels, walking up the hill to fetch the mail. Then with warm wooly mittens, carefully,carrying the treasured mail down hill to mom. When we were small children, many familiar names arrived on the much anticipated Christmas cards.
We'd gaze at the beautiful cards. Asking our mother, "Who was this card from?" She'd explain it was from this aunt or that friend, the wife of the pastor who officiated at her wedding in 1947. "A lady, who was very good, kind and sweet."
Years later,while working in Montana, I attended an intense, week long summer session, at Rimrock Foundation in Billings. One of the sessions was led by a counselor….. a familiar name from mom's card list from long, long ago. When time permitted, I inquired, "Your name is very familiar to me, as the pastor who officiated at my parents wedding in Dunseith, North Dakota had the same name. My mother exchanged cards with her for years." …… We had a nice visit and the classes continued……..After that week, I headed for the hills of home, arriving back at our family farm I told mom about my class and that one of the leaders I met was a son of Mrs.Grace Lovaas.
Vickie
From Vickie Metcalfe (70): Bottineau, ND
Gary and friends,
It is a lovely "fall" morning here, the leaves are gone from the trees, most of them have been raked and swept clean from the lawns around town. The Westies enjoyed our walk, wind, rain and snow free. Blue skies and sunshiny day.
The Red, White and Blue Flags are swaying ever so gently in the light breeze over highway # 5 , from the west end bowling alley, to the east end WalMart, and down Main street Bottineau.
Isn't it great to walk free!
THANK YOU VETERANS!
Vickie
Dad (Bob Stokes) & Lloyd Awalt carrying "Old Glory"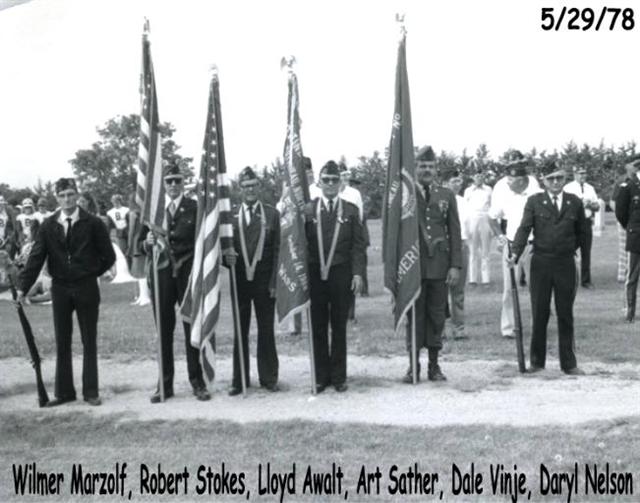 Correction
Folks,
I screwed up yesterday and labeled this article 1980. Wayne (61) & Rosemary Smith celebrated their 40th anniversary in 2008, not 1980.
Gary
2008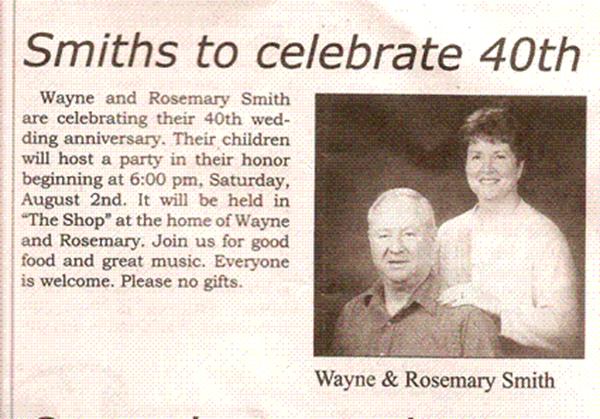 Folks, This is a recent picture that I captured of David Slyter from Facebook. It's kind of faded, but at least we can see the David Slyter today, that we all knew back in our younger days. David, you are looking great! It's been nearly 45 year since I've seen you. You have changed some, so I don't think I would have recognized you walking down the street. Gary.
David Slyter (70) Fargo, ND