Bernadette's sister, Berlinda, Passed away
She lived Next door to us
Bernadette's sister, Berlinda, passed away on May 13th. She had been on Dialysis for two plus years. With failing health and Zero quality of life, she chose to discontinue her dialysis treatments. She lasted 9 days. She was 67 years old.
With Philippine tradition, her body and casket are in her house, next door, with nine days of prayers and services. Her funeral and burial are tomorrow (Sunday). Her sister is here from Japan and other relatives too, from other islands. That combined with the local relatives, there are lots of folks here and staying in our house. Tonight, we will have 25 plus folks spending the night. We don't have bed space for them all, so they will just sleep on what ever floor space they find.  We are consuming lots of Rice, pork and Chicken.
Berlinda's final desire was to be reunited with her "Out of Wedlock 46-year-old daughter". Her Daughter was 4 years old when she last saw her. Out of the blue she remembered her Daughters adopted family name. Knowing the family name, her daughter Novie, was able to locate her living on the Island of Samar. Her out of wedlock daughter was very surprised and excited to finely know who her birth mother was. We were able to get her here two days before Berlinda died. Berlinda was very alert and conscience too. A fantastic reunion. This daughters name is Ma.Lette.  She went back home a few hours before Berlinda's death. She is here now with all five of her children ages 10 to 24. They have been here since Wednesday. They are all staying in our guest apartment.
Bernadette took the death of her sister very hard. Bernadette's condition the past few days, has not been good either. We have decided not to take her to the funeral tomorrow. It would be too difficult to get her there and into the church too. We doubt she'd be able to endure the length of time too.  Berlinda's final home service will be tonight with the priest and church folks. Philippine Catholic traditions and beliefs. They will all walk behind the Hearse from here to the church tomorrow, a distance of about one mile.  Following the funeral, they will walk to the Cemetery located very near our house.
Gary
Christmas letter From Pastor Orval Moren:
Former Dunseith Lutheran Pastor
Merry Christmas family and friends,
I would like to wish you a blessed Christmas to you and your family. I continue to miss my dearie, Bernell. We were married for nearly 65 years, she passed on February 23, 2018. Life changes entirely upon the death of a beloved spouse. This year has brought many changes. I experienced three bouts of pneumonia and was hospitalized for several months. Slowly, I made my recovery. I have since sold my house and my car, have dispersed our possessions among our family to use and enjoy and have taken residence at the Good Samaritan Ambassador, in New Hope, Minnesota. I had the opportunity to dismantle my library to many friends and family.
Jon and Bonnie Moren welcomed a new granddaughter, Juniper Grace, born to Nate and Erin on November 19th. She joins her big sister, Penelope, who will soon be 3 years old. Nate and Erin continue with their business,Tandem made, and also work with Target in the build and design area. Erin also teaches at Minneapolis College of Art and Design (MCAD). Ben is a professor at MCAD and Sara teaches at MCAD as well. Sara also does free-lance in graphic design. Jon is a Dentist and Clinic Director at the University of Minnesota Boynton Health and Bonnie enjoys retirement. They all live in the Minneapolis, MN area.
Becky and Ric Calhoun, living in Amarillo, TX are healthy and enjoying a very active life and their family. Ric is a capital project manager in the petroleum industry. Becky is currently substitute teaching so that she can visit me routinely. Their oldest, Daniel, lives in Lafayette, LA, where he is a concrete project manager. Rachel lives in Austin,TX and is working in the technology industry. She recently became engaged to Dietrich Schmidt, who is on pastoral staff of a Austin based church.  Joanna is in Little Rock, AR, and is a youth minister at a growing church. Noah is a project engineer in Houston and works in the oil and gas industry. Joel lives in Fayetteville, AR and is a junior in electrical engineering at the University of Arkansas.
Debbie and Jerry Higgins live in Maple Grove, MN. Jerry works at Sheet Metal Connectors. Debbie continues to be an adult foster care provider. Jenna and her husband, Mark Heise are excitedly expecting their first child, a girl, in April.  I hope they will name her Orvalena. Mark is a finance manager at Apple Automotive in Shakopee and Jenna works in operations management in the wellness industry. Jay and his fiancée, Kelly Niles, became engaged in September. She is a marketing project manager and Jay received his Doctor of Chiropractic in May and now works full-time at his practice at Orthology in Eagan, MN. Jesse is a Senior in electrical engineering at the University of Minnesota in Duluth and will graduate in May. Jesse is in a relationship with Alina Godyaeva, who is majoring in environmental sciences. Tony Higgins works at Best Buy, and his girlfriend is Sadaya Sutta, works at Chuck E Cheese and also attends school part-time.
My youngest daughter, Mary Beth Galey, who is helping me write this letter, continues to live in Minnetonka, MN. She enjoys her role at Optum, a health services division of UnitedHealthGroup, as Vice President of strategic client management. She travels extensively and yet we see each other often.
Now more than ever, I continue to enjoy visits by phone, email, letters or in person (We suggest you call before you come). In this season of Christmas, I wish you the Lord's blessings for a healthy and wealthy Christmas and 2020. I am residing at:
Good Samaritan Ambassador
Sunny Ridge, Room 114
8100 Medicine Lake Road
New Hope, MN, 55427
You can also reach me on my cell phone at 763-443-0777 and please forward email greetings or notes to my daughter Becky Calhoun at her email, zip55123@hotmail.com.
Continued blessings,
Orval Moren
==============================================
Blog (82) posted on May 11, 2010
Folks,
We got back home to the Philippines last night about 11:00 PM. When we landed they announced that it was 86F. That is about 4 degrees warmer than normal for that hour of the day. It's currently 94F at 4:00 PM. This is the warmest that I have ever seen it here in Cebu.
We most certainly had a great trip seeing so many of you folks. It was absolutely wonderful. We so enjoyed the many small gatherings before and after the reunion as well. Last Friday, the evening before we left ND, we gathered at the Pizza Inn, in Bottineau, with Dick/Brenda Johnson, Jim/Connie Halvorson Kester, John/Margaret Bedard and Darrel/Debbie Stokes for Pizza and some good conversation from years past. When we were leaving, one of the workers in the back said to Dick, "You guys are leaving". What was he thinking, we had only been there a little over 5 hours! We sure had fun reminiscing old times and stories from the past. Someday we'll have to pick up from where we left off. We weren't finished by any means, right Dick, Margaret & Connie.
I have not had a chance to down load any pictures from our camera that we took in the states yet today. I need to download and get them all separated. Hopefully I'll get that done later this evening so I can post a few with tomorrow's posting.
I have posted some pictures, at the bottom of this message from our Alaska Cruise, that Phyllis McKay provided. When we were in Federal Way on Sunday with our Grandkids, we called Phyllis to join us for dinner at the "Old Country Buffet". It's always a pleasure visiting with Phyllis.
Gary
Reply from Verena Gillis: Dunseith, ND
Gary, I went and cleaned up on Sunday and didn't find any camera so someone may have picked it up Saturday evening. They may respond to your posting on the blog, I hope.
Got everything all cleaned and put away and returned to key to George plus $100.00 to cover any electric expenses. He told me anywhere from $30.00 to $80.00 so I just gave him $100.00 and that seemed to satisfy him.
I have been getting so many compliments on the food, the organization, the decorations, etc. from people in the community that attended and this makes everything all worthwhile! I am so happy it was a huge success and this makes my heart soar like an eagle!
Later, Verena (*-*)
Verena, your heart has every right to soar like an eagle with the huge success of this wonderful reunion. You made it happen and we so appreciate you going the extra miles to make this whole event the success that it was. When I visited you at that school several days before the reunion, I can not for the life of me figure out how you manage to do all that you do with all the things that you have on your plate. To top things off you were tasked by the school to make up graduation announcements, banners, etc. for the DHS gradation the day following our reunion. How do you manage to do it all and so efficiently? You are most certainly a super woman. DHS will be lost when you retire someday.
We want to thank George Gottbreht too, for letting us use the Bingo Barn rent free. He only ask that we pay the utilities that were incurred for this event. Thank you, George. I was also pleasantly surprised to see my name on Dale's Bill Board out by the road too "Welcome Stokes Bogglers". Bernadette first noticed it when we drove into Dale's several days after we were in the area. Her words were "Look at that, your name is posted on that sign!" Sure enough it was and for three weeks too. Again, thank you George.
Reunion:
Reply from Brenda Hoffman (68): Greenville, SC
Thank you. Thank you. Thank you. What a great reunion. I missed talking to so many people- just ran out of time even though the lights were shut off on Dick, Brenda, me and Tim Hill! I thought Bernadette was probably a lovely lady but know so now – a entire week of listening to our stories PLUS manning the reception area. Way to go Bernadette. And I can't even begin to tell you how important the San Haven info at the Museum was/is to me. Kudos big time to Mel and Dick and Kudos to you for using the blog to tell us about it. Great weekend that I wish had been longer.
Love Brenda
You are so welcome Brenda. You were among those of us that were there to the most enjoyable end. We all had to leave about 12:30 AM so they could lock the place up. Brenda, you are a hoot and so much fun. I am so glad that you were able to attend. We enjoyed seeing Dave too, at the Museum. Gary
Message from Aime Casavant (66): Jamestown, ND
Gary,
Not sure if your checking your blog on vacation.
I have been assigned a bus charter run to Oklahoma City next week. Were supposed to be back around 1:00PM on Friday – I'm hoping for no problems so I can make it to Dunseith. Hope to see everyone there.
I drive charter tours in the so called semi-retirement.
Wild Weasel Mission in Viet Nam
Bill Hosmer's (48) reply to DIck Johnson (68): Tucson, AZ
Bill Hosmer wrote: > Dick, Thanks for your reply. Yes, the Wild Weasel mission is some thing that I, personally, initiated by way of recommendation to the general who asked each of us flight leaders what we thought of a mission the day before in 1965 when six of us got shot down attempting to kill SAM sites very near Hanoi. Forty eight F-105 "Thuds* attacked two sites. We had to fly at very low level in order to not be shot down by the missiles themselves, but the AAA guys had a ball. My wing man was hit and had to eject as we were attacking one of the sites. I was leading eight birds and were supposed to hit everything left standing after the other forty had attacked. My guy was the only one not killed or taken prisoner that day, out of the six shoot downs. I was pretty pissed when the general asked me what I thought of the mission. I told him it was the f—ing dumbest thingI've ever experienced in my life. He said, ok, you get a meeting set up with representatives > from all the units involved and give me a recommendation on how to kill SAMs. By the way, you will be leading the next effort to get them. Igot the other guys together and we put together a long range and short range plan to kill SAMs. The long range one was to get a group of fighterpilots, with stuff already on the shelf,trained to do just that one specialty and develop tactics to lead the attack force into those high threattargets close to town. The F-100 was the first bird they had available to do this. The commander of that first outfit was and is a good friend of mine, Gary Willard. Later F-105s were modified with more advanced avionics to try to do it better, and finally F-4s got into the act. I led a twelve ship flight of F-105s on the next effort after the bad day of losses. I was able to develop my own tactical approach to getting the job done. We damaged the site and guns around it and did not lose one bird. I got some recognition > for doing it, and was proud of the people who volunteered to go with me on that one, in the face of the bad day with all those losses. So, Dick, I got carried away when you mentioned Wild Weasel and got a little offthe track. By the way, I flew the F-100 my second time over there, and it was all strikes against targets in Laos, and close air support for troops in South Vietnam. The president called off strikes in North Vietnam which boiled my blood. Cheers, Bill
Dick's reply to Bill:
 Bill,
Gary Willard was the guy they we interviewing, I'm quite sure—Brig. Gen. Gary Willard–if my memory serves me. Thanks for the info and you can 'get off track' with me anytime—I love it!! It's too bad they didn't ask you guys the day BEFORE rather than after the black day. Thanks again.
Dick
Dick's reply to Bill: 
Bill,
I will certainly greet the reunion goers on your behalf. We will miss you and Pat . The news about Pat's improvement is great! This is a step in the right direction for her and just being home will be therapeutic in itself. Tonight, the Military Channel ran a documentary on the Wild Weasels in Vietnam. It told the in-depth course of action you guys did in the F 100s to decoy the SAMs ahead of the strike force. The entire NVA trick with 'off and on' radar to hide their sites was explained in detail. It was interesting but made me realize even more the danger you guys faced on a daily basis. It sounded like the Wild Weasels started the sorties in late '65. Were you in the initial? squadrons? We bought a new satellite TV system and now get some real good channels—-for history and aviation buffs, anyway. Hope things keep improving for Pat. Give her our best!
Dick
Mike Hill:
Reply from Neola Kofoid Garbe: Bottineau & Minot, ND.
Gary,
I think I've mentioned Wally's nephew was married this past Saturday. Once again, it's a small world. Shane's "best man" was Mike Hill, Tim Hill's son. I met Tim at the reception.
Neola
Message from Cecile Carbonneau Marchand (50): Kenosha, WI & Clearwater, FL.
Welcome t5o the states. I cannot be there for the reunion but I will be looking forward to hearing all about it. Wish you good weather and good times.. Cecile Marchand (1950)
Message from Marge Longie Langan Wilcox (56): Vancouver, WA.
Gary/ Bernadette,
hope you both have a great time at the reunion.
one of these years I will try and make a reunion.
tell everyone hello for me.
Marge Langan Wilcox tigerlady414@aol.com
Message from Donald Malaterre (72): Sioux Falls, SD.
Hi Gary,
This is Donald Malaterre from the class of 1972.
Would you please add my name and my wife's name, Joann Malaterre to the list of attendees of the Dunseith Reunion next week.
Joann is not a Dunseith alumni, but she thinks you are some kind of a legend.
We live in Sioux Falls, SD.
Thank you, and we will see you there.
Donald Malaterre
Donald, I am so glad that your were able to make it to the reunion. I enjoyed meeting you and Joann. It was nice of you to stop by at Dale's to visit with our class of 65 folks on Friday too, the day before the reunion. I noticed you knew a number of folks and they too were glad to see you. Gary
Message from Paulette LaCroix Chisholm (68):  Newark, Delaware
Gary,
Have a safe and pleasant trip back to the US! You and Bernadette should have a great time visiting family and staying in the area. Better bring a jacket, it's been downright chilly in the US. Thank you so much for keeping the blog going and for the opportunity for the extended community of ND to stay connected to their roots, memories, and old friends. You are a peach without the pit!
Paulette LaCroix Chisholm
Posted on the Dunseith Alumni Web Site:
From Beverly Hamnes Handeland (48): Bottineau, ND
From: beverly hamnes Phone: E-mail: Message: DEAR GARY; HERE IS MY EMAIL ADDRESS WE SURE HAD A GOOD EVENING WTIH EVERY ONE SATURDAY NITE. THANK YOU SO MUCH AND ALSO BERNADETTE. BEV
Reply to the pie postings sent from ND.
From Gwen Struck Dumas (68): Havre, MT
I just made my first ever angle food "pie"! Not sure how that happened, but it's definitely different!
Clint went outside to cut firewood. It's raining pitchforks and hammer handles and has been all week. I think he needed to get away to have a good ol' belly laugh!! I may do the same…..some day.
Reply from Vickie Metcalfe (70): Bottineau, ND
Thank You Gary for making things happen.
Your blog continues to be like the old General store where folks gathered or Central Telephone Exchange of yesteryear. Many folks use quite frequently (other folks just listen in /view). All of us benefit by the exchange of positive communication.
I sincerely hope you and Bernadette had a good vacation. I here stateside felt it was great seeing you both again.
Happy Trails to you until we meet again……….Vickie
Vickie, Thank you so much for this nice compliment. It was most certainly a pleasure seeing and visiting with you both at the reunion and at the Bakery hashing out days gone by. I am hoping you are enjoying your trip back to Scotland with your cousin Geri Metcalf Munro and her husband Chuck. You may be back now. Please fill us in? Gary
Note from Bob Leonard (51): Lake Metigoshe & Dunseith, ND.
Hi Everyone:
Just a quick note to let you know I will be moving my computer to Lake Metigoshe, effective today, 5-23-2010. I am assuming I will have my same Metigoshe e-mail address, which is
If I find that I have to use another address, I will let all of you know.
Plan on having it up and running tomorrow afternoon, perhaps best if you do not use it until Tuesday.
We plan on making our physical move this week, perhaps on Wednesday or Thursday.
Hope all is well with all of you, have a good summer.
Sincerely,
Bob
Trying to locate Jim Olson – Former Teacher
From Larry Nagel (Former Teacher): Shields, ND
I have been trying to locate Jim Olson for some time. He taught at Dunseith High School Business Department until the spring of 1966.
Thank you!
Larry Nagel
July 2009 Alaskan Cruise pictures:
Posted by Phyllis McKay (65):  Auburn, WA
Note: I think the date on these pictures must have defaulted to the wrong date when Phillis took these.
Class of 65 members:
Back: Gary Stokes, Patty Boguslawski Gottbreht & Phyllis McKay
Front: Bill Grimme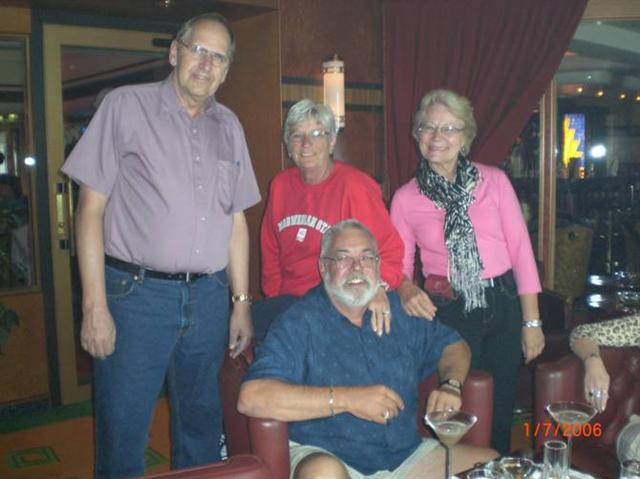 Gary Stokes & Phyllis McKay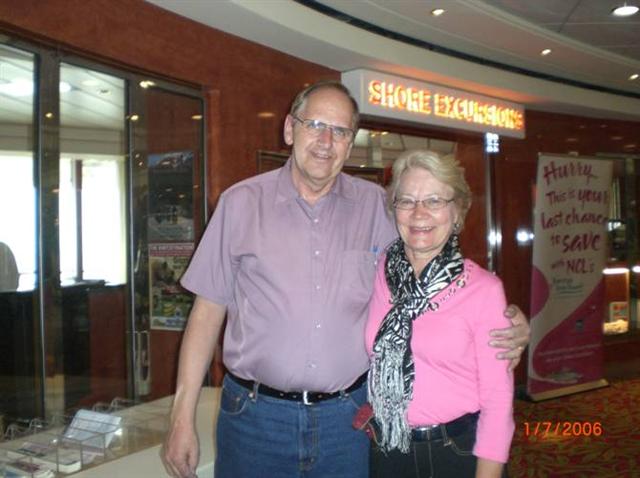 Darrel (Bud) 970)/Debby Stokes, Phyllis McKay (65) & Oliver/Marlene Reing
Note: Debby and Marlene are sisters.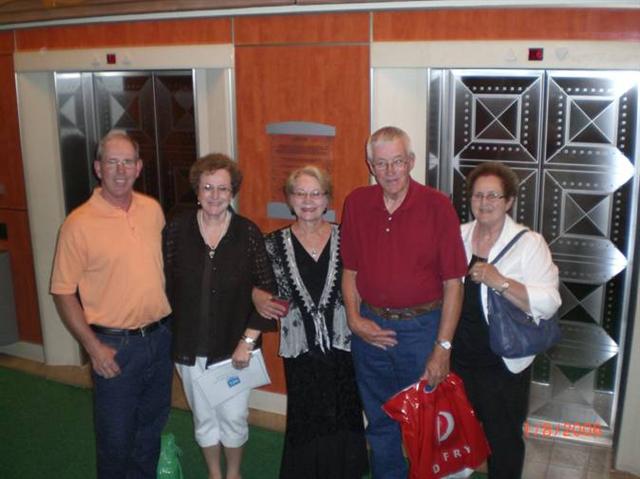 Gary (57) & Sue Metcalfe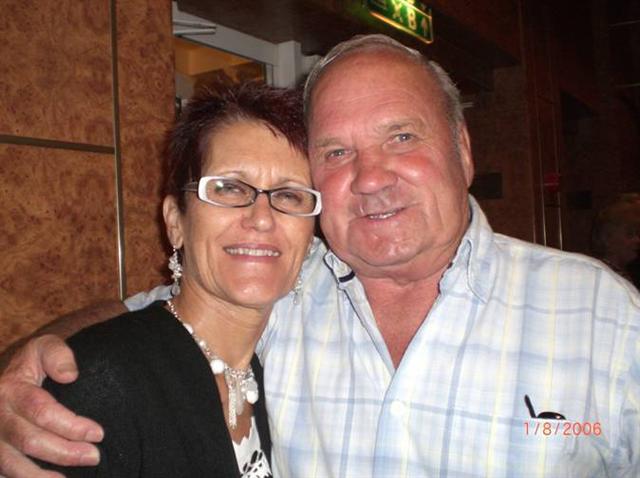 LeaRae Parrill Espe (67) & Terry Espe (64)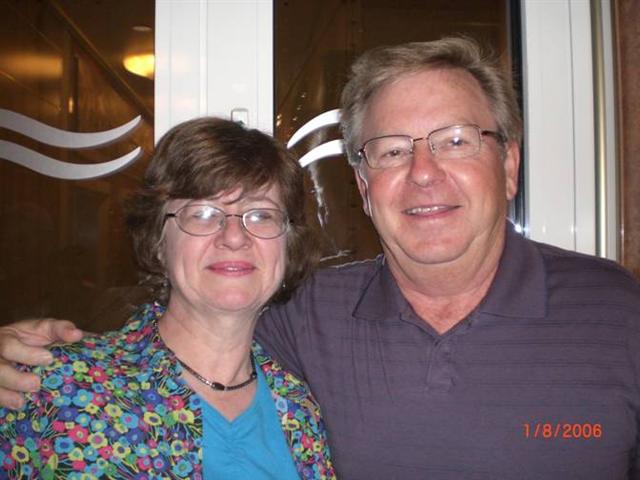 Cheryl Haagenson (71)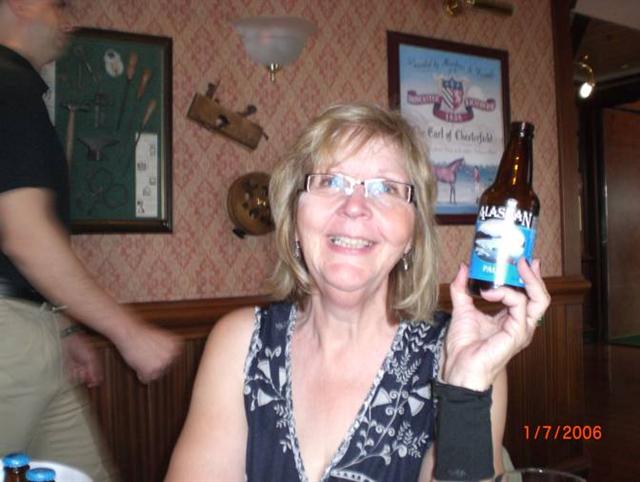 Cheryl Haagenson (71), Florence Pladson Sime (62), Becky Sime Coles (83) & Phyllis McKay (65)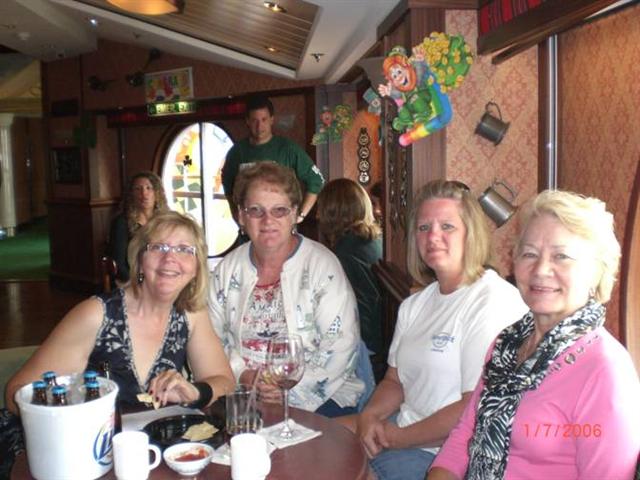 (Lee's Friend) Lee Stickland (64), Phyllis Mckay (65) & Gloria Pflepsoen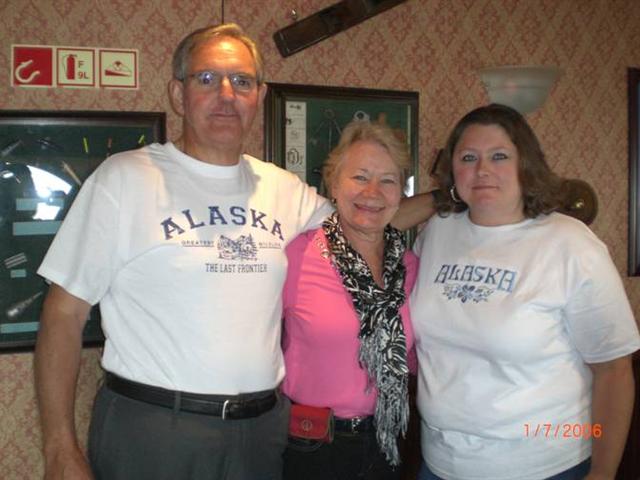 Patty Boguslawski Gottbreht (65) & Phyllis McKay (65)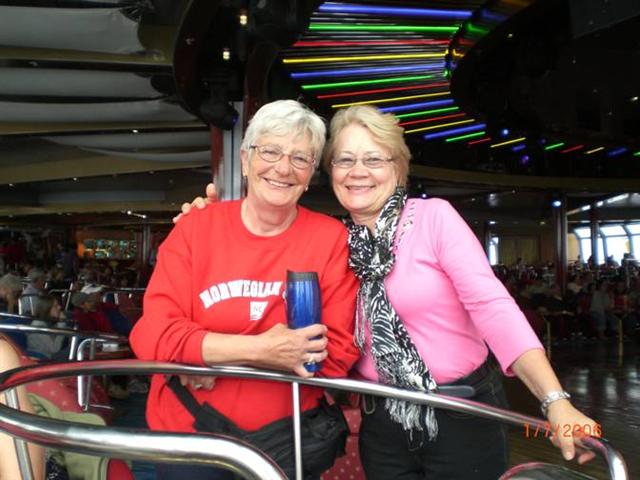 Minnie Knox Flynn (47), K. Flynn Richard (67) & Phyllis McKay (65)
Note: Minnie & K. are mother/daughter