MILDRED PARRILL'S 90TH BIRTHDAY
Posting from LeaRae Parrill Espe ('67):  Bottineau, ND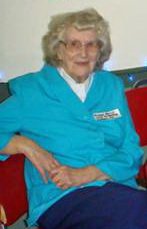 Saturday, December 5th 2-4PM
Oak Manor in Bottineau
No gifts or card.  Just come and enjoy cake & coffee & sign the guest register. If you can't make it, I know she would enjoy email messages or a note from her friends and former students.  Emails can be sent to me at  espe@utma.com.  Snail mail can be sent to 823 Railroad Ave., Apt #29, Bottineau, ND  58318.
Mildred (Mom) taught school a total of 36 years of which 28 were at Dunseith Public.  She began her career in Dunseith with 37 first graders in 1955. (This was my class of '67.) The following year they gave her 39 students (Class of 68).  She only lasted until Christmas as my brother Joel was born in Feb 1957.  Her break lasted three years and she returned to teach 2nd grade in Feb 1960 where she stayed until retirement in 1986.  In the early 60s the classes were split to have two and later three teachers per grade. Before Dunseith she taught country school near Sawyer, the Medrud and Butte schools in Bottineau County, at Russell, ND and at Wetherelt (Rolette County) the summer of 1955.
Mom (Mildred Nelson) graduated from 8th grade in 1938 (age 12).  She skipped a grade, but then had to stay home a year to earn money for books.  She and her sister Marie Parrill roomed in town at the Riverside Hotel and later at Mrs. Bedard's.  She graduated from DHS in 1943.  She attended Minot State where she graduated four times-with a 6 week rural certificate, one year rural, two year life time standard, and finally a BS in elementary education. Students from her earlier days remember her red hair.
Her favorite hobbies now are reading, reading, reading- mostly nonfiction and especially biographies, watching NFL (Vikings/Bears) and NBA (Lakers/Bulls) and playing whist.
====================================
Blog (388) posted on March 6 , 2009
Folks,

With all that Dick provides with these daily messges, The name "Dick Johnson" has become very familiar to most all of us. For those of you in the area, here's your chance to see Dick & Brenda.

I am reposting Dick's message as a reminder of the entertainment He and Brenda, along with the Frozen Fingers group from Minot, will be providing this Sunday at the senior center in Bottineau. There is no admission charge. What a deal for some great entertainment. Gary

Brenda & Dick Johnson

Dick Johnson's message (68): Dunseith, ND

Gary and Friends,I should have been more precise. The Frozen Fingers group from Minot,

which we belong to, is joining us for a

jam session in Bottineau, at the
Senior Center on Main Street every second Sunday of each month. The
first jam session is planned for March 8 at 1 PM.

It's open to the

public at no charge and the Senior Citizens will be providing the

lunch. At this time I'm not sure if the lunch is free will or if items

are priced, but either way it will be great! There will be pickers and

singers from all over the area taking turns playing all kinds of music .

It should be a good way to spend a Sunday afternoon. Hope to see you there!

Dick

Lee (Leland) Stickland's (64) permission to post:Dickinson, ND

Yes, do, Gary, on both accounts; Dad's obituary and my wordy last note.

Black ice this earlier am but now shows 34 degrees; just don't jump to conclusions about weather in March or any other time for that matter.

I find myself nearly turning to go to the NH some mornings. That is probably not unusual as the grieving process goes on. I once thought I knew a bit about aging, dying, grieving, etc. We are never ready.

I am so impressed by YOUR ability to ferret out information, Gary.

Again, yes, post what ever I write to YOU or that YOU are able to find rellative to the remaining Sticklands that grew up in Dunseith. We all started out in that locale, Grandmother May Striker grew up just south of the Peace Gardens, Grandfather Lee came to ND from Indiana.

Lee ( leland–stick–sticky)

Robert Elmer Stickland

The Dickinson Press


Published Saturday, February 28, 2009

Robert Elmer Stickland, 87, Dickinson, died Wednesday, Feb. 25, 2009 at the St. Luke's Home, Dickinson. Robert's funeral service will be at 10 a.m. Saturday, Feb. 28, at Ladbury Funeral Service, Dickinson with Mr. Martin Wilson and Mr. John Simons officiating. Spring interment will take place at the Dickinson Cemetery, with a military flag presentation to follow the service and will be provided by the Dickinson Honor Guard. Visitation will be from 8 a.m. to service time on Saturday at Ladbury Funeral Service.

Robert was born to Edward Lee Stickland and May (Striker) Stickland on July 6, 1921 near Dunseith.

Following two years of high school, Robert joined the Civil Conservation Corps and served in North Dakota, Arizona and Utah. During WWII he served in the U.S. Navy as an aviation metal smith in the U.S. and Panama. After the war, he worked as a Rural Letter Carrier for the U.S. Postal Service for 30 plus years.

In 1944, he met Irene Adams. They were married in Ayer, Mass. on May 3, 1945 while he was stationed at a Naval Air Base in Quonset Point, R.I. They later made their home in Dunseith where they lived for 31 years. In 1976 they retired to Bozeman, Mont., then transitioned to Dickinson in 1992 and have remained there ever since. Irene preceded Robert in death on April 17, 2002.

They have three sons, Lee of Dickinson, Darrel of Blaine, Minn., and Dean of Olympia, Wash.; four grandchildren; four great-grandchildren; one brother, Leonard; and three sisters, Doris, Joy and Marian.

Robert and Irene met God's servants in the fall of 1949 and made their decision to follow Christ's teachings in the spring of 1951. Their lives have been enriched with the love and care of family and many friends.

Lee (Leland) Stickland's (64) reply to Gary: Dickinson, ND

Gary,

I was Stick to many in HS, my grandfather Edward Lee Marchant' Stickland was called Lee. I found that saying Leland Stickland on the phone when attempting to successfully communicate with strangers was a mouth full.

The migration to Lee took some time and was assisted by my having nursing home in varying locales; three homes in ND/// Dunseith, Dickinson and Mandan. I worked with Dickinson and Mandan at the same time as they are less than 100 miles apart. I was in Wis with 9 different homes at the outset and also at Boise ID.

My self-imposed moniker was thought to be actual. Much of my mail is Lee. My passport is Leland as is the drivers' license; when we fly I must be sure to have all names as Leland or I could left behind.

Yes, there was an good obit of Dad, written by Dean, following the format of Mom's

Darrel's name is as appears here. He is Doc to many but his name in the MPLS area is Darrel; a reverse of circumstances that ensued for me.

I was and am Mr Lee much of the time, esp when I practiced MBWA (Management by wandering around) in the homes that I was responsible for. No one ever worked for me, we all worked with and together.

I will send a cc of the obit shortly, have not made all of the rounds yet locally to thank folks for all each did for Dad so have been doing that.

My apartment is a typical bachelor dwelling in order but not definitely so, thus things are here and there.

I will also send a cc of the editorial that I wrote and that just happened to appear in the local paper on the day of Dad's funeral, February 28, 2009.

There is no convenient time to die and it is not easy to say good bye.

Dad asked to see my girl friend, Gloria, on the morning of the day he died. He and she had shared some "secrets" and were fast friends.

Dad had recently been sent to the ER more often. At these time we would go to the hosp and meet him there. This time I was called for OK to send him to the ER. About 7 minutes later, I was called back to be informed that he had died at the nursing home.

And times moves on. Lee

Reply from Alan Poitra (76): Bloomington, MN

Hi Gary, Frank Poitra is my grandfather and if possible I would like to get a copy of that article written about him. I have listened to many artists from the Turtle Mountains and have to say there is so much talent that I would love to go to a jamboree with nothing but the Turtle Mtn Artists. For those of you who do not know me, my father was the late Gary Poitra, he was the youngest of Grampa Franks children and I am so proud of the music played by my father and uncles. I cannot tell you how many house parties, weddings, anniversaries that I have sat and listened to my father and uncles play their hearts out. They were well known around the Rolette County and other counties and played many a nights at many bars and events. Like the Metcalfe's, the Poitra's were a talented family and the gift was passed on down to many of the children (Rodney, Ron, Stuart, Daren, Timmy, Gary Jr). For those of you that knew the Poitra music, you can attest to the fine country sound that came out. As they grew older, they did not always play together but when a family get together was in place, you can be guaranteed that their would be some good old fashion music and we love to dance!!. Like the article mentioned, the Poitra family was quite huge and when we got together with relatives and friends it was quite the party. I would also like to mention that my father in his earlier years did play with a band from Bottineau called 'Cindy and the Turtle Mtn Boys', they were well known also, and recorded a album which was sold around the area. I did see that there was an article about Scotty Thompson also, his wife Cindy and Roger Thingsvold, along with my father were recorded on this album. At the request of my father I did reproduce this album on a CD so he could share with friends and relatives at their request. My uncle Darrel also recorded a 45 that was very good. I do live in Minneapolis and do get over to see my uncle Francis every now and then, and he still loves to play the violin and sing, so that brings back so many memories of my father and uncles. It can be very comforting to put on "Mule Skinner Blues" and listen to my father sing. I wish I could have taped many sessions of the family get together's. My hat is off to all those talented people from the Turtle Mountains, their music is and will be remembered for many years to come!

Thank you for bringing back some cherished memories!!!

May the music memories of my father Gary, uncles Darrell, Leo, Irvin, Lloyd (aunt Clarines husband), Dominic (aunt Mildred's husband), Francis, and uncle Alfred.and last but not least my Grandfather Frank live on forever..

Alan Poitra (class of 76)

Allen, You mentioned Thelma Thompson. Scotty and Thelma were very close friends, for many years, of my Dad's brother Emil (Lillian) Petterson. Scotty worked for about a half century at the Bottineau creamery. Scotty is deceased, but Thelma is still living in Bottineau. Are any of these recordings or CD's that you mentioned, available for folks to purchase. My uncle Emil did a little jamming with Scotty/Thelma, Ken Severson and Ole Bursinger over the years too. Gary

Reply from Lyle Olson (75) – Lorraine Metcalfe's son: West Fargo, ND

Gary:I sure have enjoyed the many memories of the greatest band to ever come out of Dunseith. I saw Travis Metcalfe's e-mail about the band and immediately remembered the band singing "It's a Family Tradition" by Hank Williams Junior. That was Travis' favorite song if I remember correctly, and the girls would play it as many times as Travis wanted to hear it. My favorite song from the band was "Peaceful, Easy Feeling" by the Eagles. Great memories to be sure.

I was surprised to see the newspaper clips of my mother and Uncle Jack. I note that one of the pictures encompassed a time when she played with Blanche Hunt, Lorraine Haggerty, Jack Metcalfe and others. That band's name was the "Country Travelers" and they focused more on bluegrass. Although my mother played in many bands, my favorite was the "Turtle Mountain Stump Jumpers". That band included my mother and Ole Bursinger as the corp and many others depending on who was home and available. Ole and Glynnis would always stop at the house for a bite to eat (and other libations) after the band got back to Dunseith and many times the music would continue until late in the morning. I especially remember the house parties at my grandparent's (Bill and Mary Metcalfe) home. The kitchen table was moved to the corner so people could dance and the grandchildren would gather around an air vent in the upstairs and watch everyone dance and have a great time!

Thanks for all you do Gary!

Lyle Olson

ND Video from Bill Grimme (65):BIRMINGHAM, AL

Gary,

Your friends in the PI will probably enjoy this. Actually, pretty funny.

Bill

Bill, This is very a interesting Video, so I decided to post it for everyone's enjoyment. The folks here in the PI have no idea what snow and cold is. March & April are the hottest months here. Instead of day time highs near 89F, it's closer to 92F for these two months. Surprisingly those extra couple of degrees are very noticeable. Gary