Dear Dunseith Alumni and Friends,
Sorry for the long delay with the postings. With the holiday season I have been very busy.
Overall we are having a good holiday season here in Cebu. Bernadette's sister, Allotte, is visiting from Japan.
We celebrated Christmas several days early on Sunday the 23rd with a gathering and reunion of five of Bernadette's siblings and their families.  This was the first time ever that these 5 siblings had all been together.
Also included were her two deceased brothers widows and their families.  We catered a dinner at our house for about 130 folks. Her sister, Erma, who lives is Bremerton, WA. Was the only one not present.  I was the only Expat (Foreigner).
Not knowing Bernadette's fate, they wanted to have this reunion. It was fantastic. Bernadette was outside, in her wheelchair, for about a half hour. The rest of the evening she was on her bed, in the living room, surrounded by family.
Facebook Posted pictures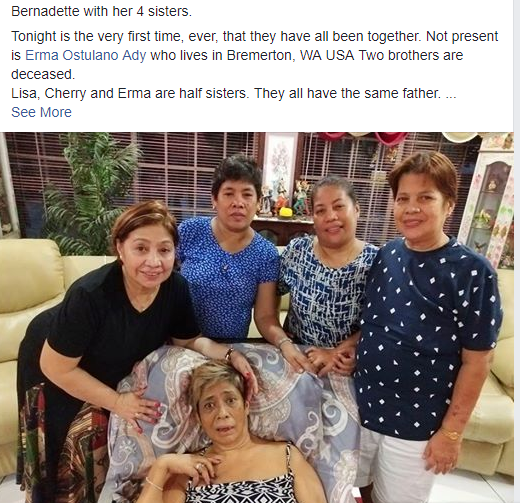 I  too believe in Santa Claus
Posted by Vickie Metcalfe ('70):
Gary and Friends of Dunseith!
             I  too believe in Santa Claus!
            The following  from an editorial has always been my favorite explanation of why I believe.
 Merry Christmas everyone!
Sincerely, Vickie Metcalfe
"Ah, VIRGINIA, in all this world there is nothing else real and abiding."
No Santa Claus! Thank God! he lives, and he lives forever. A thousand years from now, Virginia, nay, ten times ten thousand years from now, he will continue to make glad the heart of childhood."
The work of veteran newsman Francis Pharcellus Church 1897, New York's Sun
http://www.newseum.org/exhibits/online/yes-virginia/
Obituary/Sharlyn "Chi-Chi" Olson
Posted by Vickie Metcalfe ('70):
Sincere sympathy to the family of Chi Chi on her passing.
As an upperclassman Chi-chi always  carried a kind  friendly personality.
She was noted to  worked hard, and  always spoke so well of her children and grandchildren.
 incerely,
  Vickie L.. Metcalfe
Sharlyn Olson
January 30, 1950 – December 25, 2018
Send Flowers |
Sign Guestbook|
View Guest Book Entries|
Send Sympathy Card
Sharlyn "Chi-Chi" Olson, age 68 of Bottineau, died Tuesday at a Bottineau hospital.  A memorial service will be held on Saturday at 10:00 am at the Lake Metigoshe Christian Center.
Sharlyn Olson, a daughter of Kenneth and Esther (Renn) Evenson, was born on January 30, 1950 in Bottineau, North Dakota. It was here she was raised and graduated from Dunseith High School. Following her education, she was married to Gary Olson in Rolla, North Dakota and they resided in the Boundary Lake area. Chi-Chi worked at various restaurants in Bottineau as a waitress and cook. She later worked at the San Haven north of Dunseith as a nurses aide. She then moved to Jamestown where she worked at several restaurants for eleven years. Following her employment, she moved back to Bottineau where she has since resided.
Chi-Chi enjoyed sewing, knitting and crocheting. She volunteered many hours of her time supporting and working at various benefits for the community. Chi-Chi was very giving with her time, helping family whenever she could.
She is survived by one daughter, Sandra Olson of Bottineau; one son, Matthew Olson of West Fargo, North Dakota; 6 grandchildren; 1 great-grandchild; and one brother, Kenneth Evenson of Portal, North Dakota.
In addition to her parents, she was preceded in death by her husband , Gary.
Arrangements were with Nero Funeral Home in Bottineau.
Friends may sign the online register at www.nerofuneralhome.net
SERVICES
Memorial Service
Saturday, December 29, 2018 10:00 AM
Metigoshe Lutheran Church 10605 Lake Loop Rd E Bottineau, ND 58318
==============================================
Blog (759) posted on April 1, 2010
Holy Week:
Folks, In observation of "Holy Week" and with this being prominently a catholic country, most businesses closed their doors yesterday (Wednesday) noon and will remain closed until Monday morning in observation of the holidays. Another point of interest here too is that most larger department stores and groceries have a prayer that is played over their PA system everyday at noon, 3:00 PM and 6:00 PM. The prayers, spoken in English, last several minutes or so. During this time all employees and most customers stop what they are doing and everything pretty much comes to a complete stop. Gary
Condolences to the Berube Family:
From Dick & Brenda Johnson: Dunseith, ND.
Gary and Friends,
Our sincerest condolences to the family of Bill Berube. He too, left us with many good memories of times shared together while growing up in Dunseith.
Dick and Brenda Johnson
Condolences to the Berube Family:
From Bob Lykins (Former teacher): Hutto, TX
Gary,
Glad to learn that you and Bernadette had such a great time. Speaking of famous folks from the PI. Lea Solanga's (sp) aunt worked for us in Germany when I headed up the ESL program for DoDDS Schools in that part of the world. She was one of our ESL people in Nurenburg-Furth. As a result I got to speak with Ms. Solanga and with her mother on several occasions. My wife and I even saw her on stage in Miss Saigon in New York compliments of Lea and her mother.
The reason I asked about the cost of rice was because, with your permission, I would like to prepare something to present to the Hutto High Student Council soliciting their support to help out the people in your community. They are always looking for projects and this might just be a worthy one.
I am so sorry to learn about the passing of Billy Berube. I remember Billy as a young boy tagging along in the footsteps of his older brothers and being bossed around by his sister. The Berube Family have always been wonderful people and I remember them as a close family. My heart goes out to the survivors and I wish them God's peace as they go through the trial of this loss.
Bob Lykins
Happy Birthday Armand:
Armand Mongeon (40): – Dunseith, ND
From Bernard Morin (76): Dunseith, ND
Hi Gary,
I would like to send a 'Happy Birthday' to Armand Mongeon. His birthday is tomorrow April 1st. As a interesting side note Armand has been involved with the Dunseith hardware for the past 63 years and still going strong.
Thanks. Bernard
Happy birthday Armand. I remember you well in the hardware store in my growing up days. I remember you telling me several years ago, when I talked to you, that you and Art Rude were in the same class until he was advanced a grade. That put him a year ahead of you, even though you are the same age. I will for sure visit you at the Dunseith Hardware store, in May, when we are there. If my figures are right, you started in the Dunseith Hardware store in 1947? That's the year I was born. Hearing your name brings back so many great memories of our childhood days for so many of us. Take care and enjoy your birthday. Gary
Reply from Colette Hosmer (64): Santa Fe, NM
Dick,
I, too, have the defective history gene. I found your posted "theory" most interesting and am not one to rule anything out until I have had an opportunity to study the available information. I have many Icelandic friends and they tell stories of their Viking ancestors who didn't recognize obstacles unless the barriers were totally insurmountable. If there was a passable waterway from the Atlantic to the Turtle Mountains in or about 1400, I'm sure the Norsemen would have found a way to get there. Do you have any more information about these stone caves? I am wondering why they were still visible and basically intact less than a century ago but have disappeared since after supposedly holding up for centuries (?)
Thanks,
Colette
Dunseith News posted by Neola Kofoid Garbe: Minot & Bottineau, ND