Road trip with Dad 1983
Posted by Vickie Metcalfe ('70):  Bottineau, ND
Gary and Dunseith friends,
Road Trip Home 1983
One summer, while attending an orientation for the blind class with two other guys in Grand Forks Dad learned basic Braille. Thereafter he used a Braille wristwatch.  I relied on Dad and his Braille watch thoughout our trip to tell us the time.
The night before leaving his sister Jean's, his nephew Ric gifted his Uncle Cliff with a 'special box'.
My fondness for driving 'Blue Highways' found mid morning traveling to avoid traffic. At Everett, we turned onto US Highway #2 to take over the cool Cascades. Groves of  trees were ladened with multi fruit. Greens, reds, and yellows . Dad spoke of Sunday's long ago when he drove his bride, mom as a newlywed over the Cascades to  the fruit groves.         At a  Wenatchee fruit packing plant boxes of applets, cotlets and cases of peaches were purchased and placed in the back seat.  Dad enjoyed treating and sharing with others.
Crossing the mighty Columbia, meandering  south to pick up interstate across WA  to Spokane sweet peach aroma filled the car.  I couldn't avoid  the afternoon rush.  My nephew by then was into asking his grandfather about the navy. Grandpa had done basic Navy training at Farragut Idaho. Soon they were talking about what navy recruit guys on leave did when they saw pretty girls.  Navigating with teeth clenched, knuckles white and hair standing on end, lanes of traffic zipping through Spokane I was completely stressed.  The feat was accomplished with no help from the shotgun or middle seats where grandfather and grandson mimed how the Navy guys would  'freeze on the corner seeing girls! Urgh!
Cool easy Idaho and Western Montana driving, stopping to  walk and eat local meals.  With all the Navy talk, the next venture was to locate the ranch where Dad's navy buddy was now living.  The Springdale exit, had a rickety, much used bridge with old bridge planks many nails pulling out which made the loose boards clunk and groan over the Yellowstone. The A.C. was relief from the oppressing heat stirring up  brown dust on a long winding ranch road through swarms of grasshoppers  which  hopped, pelted  and smashed stuck on the windshield obstructing  our view of the Crazy Mountains.
Dad and George were true, solid friends who had endured years of war together watching the others back from basic training, to watching the coast for the enemy, and  on the vast Pacific.  But their  visit was about ranching,good horses, dogs and hunting the Crazy Mountains. Applets, cotlets and fruit for a pie were left with George's wife as  they said their last goodbye.
The final night of our journey found us staying at my Sidney home.  Once, I had been told native American Indians referenced that part of the valley to death valley  And it felt like it! One could never catch a breath of breeze from the summer heat to cool  down at night.
The cool Turtle Mountains and mom were waiting the next evening. We had built into our memories more moments to treasure and share.
The next day dad instructed me to take peach deliveries to his brother Bill, various friends, nieces  and nephews while he and his  eldest grandson drank peach shakes blended by mom .
He showed Mom how the,  'special box' from his nephew worked. It was then placed in a familiar place where he could always locate it.
Thanks Gary, until Later,
Vickie Metcalfe
Memories
Posted by Vickie Metcalfe ('70): Bottineau, ND
Gary , Dunseith friends, and Betty Lamb,
After Dad lost his vision in his mid fifties he attended blind orientation at UND Grand Forks with two other fellows who had also lost their vision. He learned various things one was how to maneuver with a white cane. Another was playing whist using Braille cards.
Through that training he became a bit more self-assured and the senior citizen bus picked him up for lunch at Senor Citizens 3 days a week.  The driver at that time was Ole Olinger. Dad knew several passengers including Dan Peltier, Moise Azure and others.
He knew most of the folks at senior citizen center. They visited, ate and played cards. After the cards, Ole would take bus riders to their homes. But he took dad to Dales.
Of the most consistent at playing whist were, Florence Cushing, Henry  and Melvina Schneider.
After Mrs. Cushing passed away Leonard told Dad of a promise he made to his wife. She requested husband Leonard 'to promise her if any thing happened to her. Leonard would take her in her place to be Cliff's partner playing whist' that he was now dad's whist partner.
While on our 1983 journey, dad received a 'special box'
One day he took it on the bus to dinner. He showed the people the silver square cube about four inches. He did not show them a small button.  He kept one finger over it.
The senior citizens were very curious about the special  box.  They asked what it was? He said, "It is an answer box. " One who expressed the greatest curiosity was Mrs. Pete Schneider.
With a soft voice, She said, "What does it do?" He replied, " It answers questions". Sophie said,  "What kind of questions?"  He responded, "Oh, any thing. Would you like to ask it a question?
Sophie said, "Yes, But, What question shall I ask?"
He said, " Ask it anything.'
Then,  "How about asking what time it is?"
Sophie bent down to the answer box.  Clearing her throat once, then twice.
Sophie 's gentle voice spoke at the box.  "Excuse me."  "Excuse me, Please, tell me what time is it?
The box answered clearly montone, "IT IS NOW 11:25.a.m."
The senior citizens started to giggle, and the room filled with laugher.  The question box was a talking clock with a push button.
Thanks Gary Until later.
Vickie Metcalfe
==============================================
Blog (547) posted on September 11, 2009
Posted on September 12, 2009
John Norman Nelson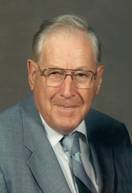 Obituary posted by Neola Kofoid Garbe: Minot & Bottineau, ND.
John Norman Nelson, 87, Minot and formerly of Lansford died on Thursday, September 3, 2009 in a Minot healthcare center.John was born on October 2, 1921 on the family farm in Homan Township of Bottineau County near Dunseith, ND to John H. and Marie (Berg) Nelson. He was reared on the family farm, attended Beaver Dam Rural School and graduated from Dunseith High School in 1941. He excelled in football and basketball and participated in drama and music. As a young adult, he was employed by Boeing Aircraft Corporation in Seattle, WA prior to enlisting in the U.S. Coast Guard on September 11, 1942. Following his honorable discharge as a Carpenter's Mate First Class on March 20, 1946 in St. Louis Missouri, he returned to North Dakota and resided in Rolette. While in the Coast Guard, he was trained in Chemical Warfare and was awarded a Good Conduct medal. He served in both the European and Pacific Theaters.
John married Della (Lunde) Cobler on July 3, 1955 in Rolette. They made their home in Rolette and New Rockford where he owned and operated Nelson Plumbing and Heating prior to moving to Lansford in 1961. While residing in Lansford, he was employed by Honeywell Corporation as a master plumber and pneumatic service specialist. He worked construction projects at the Minot Air Force Base, Garrison Dam and many projects throughout western North Dakota. He retired from Honeywell Corp in 1983 and was recently awarded a 50 year certificate as a member of the Plumbers and Pipefitters Union Local #300. John and Della moved to Minot in 2003. Della died on June 16, 2008.
John was a member of the Trinity Lutheran Church, American Legion Post 279 (60 year recognition), Senior Citizens, and Community Club all in Lansford. He was a member of the Masonic Lodge of Rolette, Elks Lodge and Eagles Aerie both in Minot and was a delegate to the ND Silver Hair Legislature. He especially enjoyed bowling and tournament play and was a member of teams in Lansford and Minot. In addition, he loved hunting trips in the Badlands, fishing in Canada in his younger years, local sporting events and Minnesota Twins baseball. He was an avid collector of stamps, coins and arrowheads and enjoyed metal detecting. As a carpenter, he spent countless hours during his retirement building furniture and various gifts for family and friends. He was especially known for his unique footstools.
Survivors include: children, Sherry (Tim) Coutts of Colorado Springs, CO, Jana Nelson and Jeff Nelson both of Minot and Robert Nelson of Craig, CO; stepchildren, Dennis (Kathleen) Cobler of Muskegon, MI and Don Cobler; grandchildren, Amy and Mike Cobler, Brian (Renee) Botton, Teresa (Pete) Gilbert, Carla (Brian) Safigan, Ilona (Ryan) Goltz, Tricia (Tom) Luebesmier, Charisse Cobler, Jake and Casey Coutts; and six great- grandchildren. Sisters, Eugenie Walker, Mildred Parrill and Marie Parrill all of Bottineau and several nieces and nephews.
John was preceded in death by his parents, wife, stepdaughter, Diane Botton; grandson, Erik Coutts; sisters, Jennie Metcalfe, Nellie Bloomquist and Olga Edinger and brothers, Carl and Erling Nelson.
Funeral Service: Saturday, September 19, 2009 at 11:00 a.m. at Trinity Lutheran Church – Lansford. A Fellowship Luncheon will follow at the Lansford City Hall.
Graveside Service: Saturday at 2:00 p.m. in the New Veterans Section of Rosehill Memorial Park – Minot.
Visitation: There will be no reviewal but friends may sign a register book on Friday from noon until 7:00 p.m. at Thomas Family Funeral Home – Minot.
Memorials will be forwarded by the family to various organizations in John's memory.
Thank you, from Aggie Casavant (69): Fort Mill, SC
I would like to say thank you all for the kind words at the passing of our sister-in-law Janice. She was a very good wife to our brother Gerald, a great mother to her 3 sons,Bevin,Micheal,& Matthew,and such a nice sister-in-law. Our family is better for having her a part of our family as long as we did. She broke all our hearts when she left us. Thank you all once again. Sincerely, Ms. Aggie
Reply from Vickie Metcalfe (70): Bottineau, ND.
GARY,
On today's DUNSEITH BLOG there is a photo submitted by Dick
Johnson given to him by his maternal grandmother. CYNTHIA (STRITZEL)
JOHNSON. Dick also shared the THE BIG FOUR.
Carroll Carlson and Art Seim always told our family , "BIG THREE."
"LUDE PETERSON, PEDER CARLSON and JOHN SEIM were the BIG THREE. "
The Seim children, Art, Alvin, Morris, and Bernice Seim, the Calrson
children,Carrol, Leonard,Clarissa, Urssulla and Melba,and the
Peterson children…Max. were neighboring children and schoolmates at
Oakes…(Seim ) school.
Whenever any of the Big Three borrowed from another, each had a
notebook and wrote the transaction down . In late fall, after falls
work, ie threshing, fall plowing, butchering etc, the THREE would
get together on a Saturday or Sunday afternoon. Each with his
notebook. After a fair amount of discussion and ciphering. They' d
conclude, usually after a little lunch… over Norweigiann coffee and
maybe one of Mrs. Carlson's Cardomom cookies, or Ingrid Seims lefse
or roulepolse or Lilly Peterson's cookies. Once again,after talking,
borrowing, trading, sharing,ciphering and working things out,they'd
call it even on a handshake.
Good Neighbors.
They were literate, assertive negotiators, honest and hardworking
rural neighbors who lived on the same road. Each with many other
positive character attributes and sometimes after heated discussions
continued to respect the others opinions . Both Art and Carroll
told me in separate conversations about the decision to help out
William Metcalfe to the south of them when a house fire destroyed
the Metcalfe home. One of the group said, "Lets give him some
cash. another said, "No he will drink it up, lets start an account at
the store in Dunseith with conditions on what he can buy. John Seim
spoke up and said, " William Metcalfe won't accept a gift with any
conditions. If we're going to give him something we should give him
the donation straight out." " Aye." And that is what the Big Three
decided to do. William Metcalfe accepted the charitable donations
and built a tarpaper shack.
One one of his last summers, Art came back from California and stayed
at the Dunseith Nursing home I went and got him several times for
drives through the hills. We'd drive the back roads and he'd tell me
the name of every lake we went by and about who lived where on
places throughout the hills from Dunseith to the Canadian
border….Long ago….ie The Byres now the DeMar's and Jack
Petersons to the Peace Garden,the original John Seim homestead.
Art was happy that the Seim meadow did stay in the family…..My
brother Shanon and Debbie as young newlyweds purchased it. I'd hear
about it time and again, he'd point to it we'd drive by and again
proudly tell me how Shan and Debbie paid for it. And say, " Thats one
piece that stayed in the family." He didn't choose to go into the
Seim buildings or farmyard. He wished it to remain as pristine and
immaculate as in his memory. "A big white farmhouse built by
Norweigan craftsman from Iowa." …..We'd go to my mothers and have
coffee and a little lunch.
Thanks Gary and thank-you Dick for photos of folks …. North on
Highway #3., turn east at Snuice Box Junction, gravel road over Seim
and Metcalfe meadow, over the Oak hills….HOME to the Carlson's,
Seims, Petersons, Smiths, Johnsons. GENERATIONS OF GOOD NEIGHBORS.
VICKIE
Message from Margaret Seim Lawston (54): Citrus Heights, CA
I read a blog or two about our telephone system in the hills.
This may interest some of you. I have the phone from the farm and
asked my Dad for the history. The hill people sure knew how to work
together!!!
The Mountain Home Telephone Co. was organized in the winter of
1916-17. The lines were built in the sumer of 1917 to 128
subscribers at the cost of $125.00 per share. The farmers doing all
the labor free.
Anton Julseth was one of the leading organizers and its first
President and Mrs. Julseth its first central operator. Other
operators were Mrs. Berg, Mrs.Hans Johnson, Mrs. John Seim, Mrs.
Brennan, Mrs.George Gregary, Mrs. Art Plaudson and the last Mrs.
Hazel Foss. It served its purpose well for 35 years!!
Margaret Seim Lawston

Reply from LeaRae Parrill Espe (67): Bottineau, ND.
Regarding the picture of the "Gang of Lazy JS" : I know that Frances Smith Espe (Terry's mom) and Jennie Nelson Metcalfe (Mildred and Marie Parrill's sister & my aunt) both worked at the Seim farm. I am thinking the one by Elmer might be Jennie. Maybe someone else could comment. Maybe the other guy is Art's brother Alvin, but that is only a guess. We have very few pictures of Elmer at that age so it was a special treat to see . Thank you, Dick Johnson.
Posted yesterday by Dick Johnson:
'Gang of the lazy J.S.' (John Seim). The middle guy is
probably Art Seim and the short guy on the right, I think is Elmer
Espe who is Art's cousin. Not too sure of the others. Thanks Gary!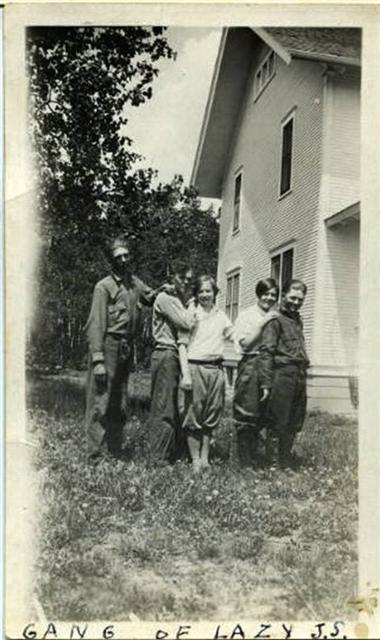 Message/Pictures from Sharron Gottbreht Shen (59): Everett, WA.
Good morning Gary,
The date should not pass without sharing a few memories. Most if not all of your viewers will know Jeff Gottbreht, son of George and Patty. Jeff and two other firemen of Nebraska received advanced training as immediate responders following such disasters as we suffered September 11, 2001. They were paired with three firemen from the community of Dobbs Ferry, NY.Several such teams from all corners of USA were called up and served at the Twin Towers site shortly after this tragedy, Jeff and his Nebraska "brothers" among them. The Javits Center served as barracks for the visiting teams and in the course of Jeff's stay the Dobbs Ferry fire engine in full splendor pulled up to the Hudson pier and called for "Big Jeff" to come out and receive a personal thanks and welcome. About 2006 Jeff was invited to attend ceremonies commemorating all those who had given their lives and service to NYC. George and I get rather tearful each time we recall these harrowing days when my son Ivan and his now wife Nora escaped and Jeff arrived to serve.
As ever any morning, I was up early playing Spider, having coffee. EJ called asking where Ivan worked and I responded the Twin Towers. "Turn on the TV now; terrible events are happening right now." What can I say, it was all so unbelievable. I roused Victor barely able to speak, "Where does Ivan work, where does he work." God love a duck and mamas who are so clueless. Ivan worked in the Financial Tower 3 located nearby and attached to the towers in question by a bridge. He was in a closed meeting that morning and went down to the Towers plaza with two others when they were interrupted by a secretary announcing the first plane "mishap".A crowd soon arrived and the cries and sobs of the helpless group is what Ivan remembers today. When the second plane struck, everyone [hundreds, thousands] fled, were herded away. Ivan had run the mile and a half to his apartment and after the 6th try was able to route an email to his dad. After all, his palm pilot was at his desk! It was a long two hours wait. Victor might even have had time to put his sox on.
It took me a month to unpack our suitcases. We were schedule to meet Ivan in Kennedy September 13 for a five country cruise of the Mediterranean. Man proposes God disposes; how absurd our little plans can be. Victor and I were with Ivan for Thanksgiving. We met with Ivan and Nora and about 18 of his fast friends, the same crowd that sat down to an Italian feast with Jeff and a fellow Nebraskan two months earlier. Jeff thought it must be the best Italian in the city. No, Ivan said, it was the only place that would seat the crowd who wished to meet you Jeff and say thanks.
Ivan and Nora were married 24 Sep 2005. Jeff could not be there, he was in New Orleans responding to the aftermath of Katrina.
Sharron
Jeff Gottbreht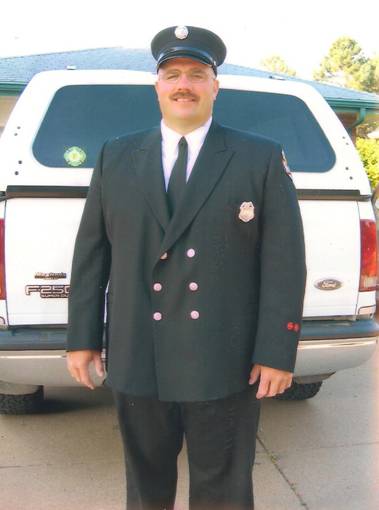 Jeff with George and Patty 1988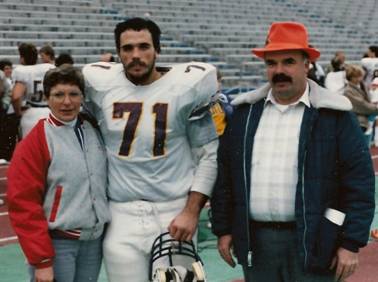 Ivan and Nora Nov 2001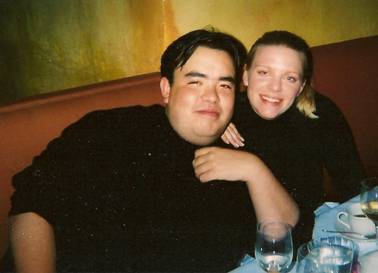 Posted byNeola Kofoid Garbe: neola@min.midco.net Minot & Bottineau, ND.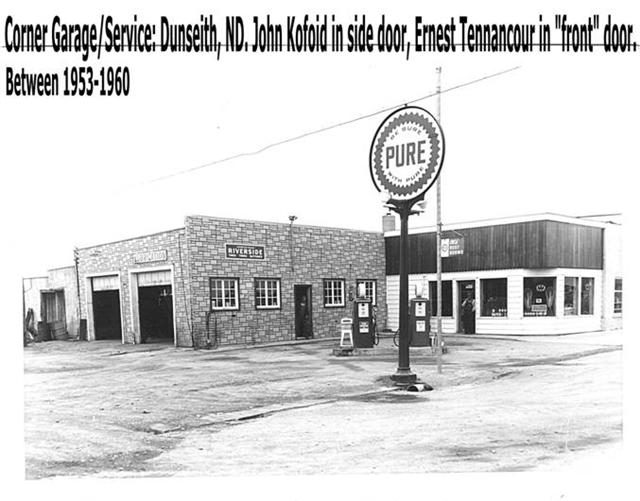 Posted by Neola Kofoid Garbe: neola@min.midco.net Minot & Bottineau, ND.
Folks, I am not sure of Emily Nelson's family. I'll bet some of you can tell us though.
Jim Kofoid is Neola's Brother.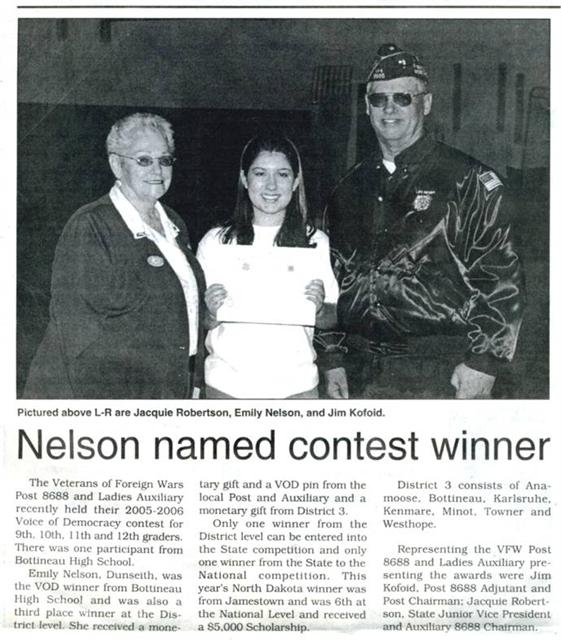 Posted by Neola Kofoid Garbe: neola@min.midco.net Minot & Bottineau, ND.