Condolences to John Leonard's family
From Ginger LaRocque ('64): t Belcourt, ND
Hi Gary,
I was surprised to hear of the passing of John Leonard.
I am so sorry for John's family. I knew a couple of his sons and I of course knew his wife Judy. I Don't know her well. We would cross each other's paths occasionally.
I send my condolences  to John's family.
God Bless all of you !
Ginger Poitra
John Lenard ('64) Passing
Reply from Allen Richard ('64):  Grand Rapids, MI
Sorry to hear this.  Johnny was one of the good guys.  we not close friends — but we made a citizen's arrest on a guy that stole my pick up.  I guess that makes him a good friend.
John Lenard ('64) Passing
Reply from Sandy Lopez ('64):  Rockford IL
Gary
Thank you for your continued effort to keep the history of DHS.
It just occurred to me that with the passing of John Leonard, that there aren't many of us    from the Class of 1964 left….there weren't that many of us to start out with (27).
Do you have a list of the original 27?…..and, ideally, who is still alive?
Best Regards
Sandy Lopez
Gary's Comment
Please see list below.
I have pasted the Class of '64 at the bottom on this list. Please ignore the email addresses, I only have them updated on my master distribution list. There may be a few deaths that I forgot to record too, so folks, please let me know.
Class of 1954,55,or 56 Picture
Posted by Larry Liere ('55):  Devils Lake, ND
Gary.
Please post the picture to see if anyone can identify these Dunseith kids. Class of 1954,55,or 56.
I am in the picture,
LARRY
Gary's comments
Larry, Nice picture. Thanks for sharing.
I am very sure our folks will be able to identify these kids.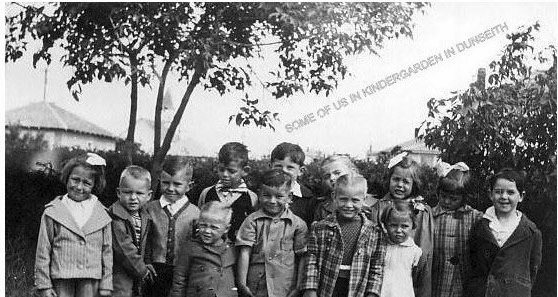 Condolence to the Mildred Parrill Family
From Ginger LaRocque ('64):  Belcourt, ND
 Good morning Gary,
 Yes, I have been looking for a blog but if you don't get any news ….
I really don't have any news.
I am so sorry to hear of Mildred Parrill's passing, I did not know her personally. I know her daughter LeaRae and husband.
LeaRae I am sending my condolences to you and your family for your loss. Very sad to lose a mother.
Your mother is loved forever.
God Bless you LeaRae
Ginger Poitra (LaRocque) class of "65
Full Obituary for Mildred Parrill
With my last posting, It wasn't yet available
Mildred Nelson Parrill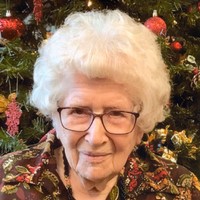 Dec 6, 1925 – September 24, 2022
Mildred Parrill, age 96 of Bottineau formerly of Dunseith, passed away on Saturday, September 24, 2022 at a Bottineau hospital.  Her funeral will be held on Saturday, October 1, 2022 at 11:00 am at the Peace Lutheran Church in Dunseith.  Visitation will be Friday from 3:00 pm until 8:00 pm at the Nero Funeral Home in Bottineau.  Burial will be at the Rendahl Cemetery at 1:30pm.
Mildred Eleanor Parrill, daughter of Norwegian immigrant parents John Herman Nelson and Marie Sigrid (Berg) Nelson, was born December 6, 1925, on the family homestead in Homen Township in Bottineau County. She was the youngest of nine children living in a log cabin built by her father with local timber.
When "Millie" was a baby, the family moved to Rolette County about six miles North of Dunseith. She attended Beaver Dam country school three miles from their home. Millie, a year younger than her sister Marie, finished two grades in one year and ended up in the same grade.  In 1938 she graduated from 8th grade at age 12 1/2 as salutatorian of Rolette County. They stayed home one year because of lack of funds for textbooks and room and board in town. Their oldest sister Nellie sent money for them to start Dunseith HS where both sisters graduated in 1943. While in high school, Millie participated in basketball, band, glee club, and worked on NYA after she turned 16. Mildred graduated valedictorian of her class.
Mildred enrolled at Minot State Teacher's College where she graduated four times. She earned the 48HR and the 60HR rural certificates in 1944, 2-year standard in 1950 and a BS in elementary education in 1979. She attended several summer sessions and took night and correspondence classes.
At age 18 her teaching career which spanned 36 years, began in 1944 at Grassland Country school near Sawyer with 25 students in all eight grades. Firmly ready to call it quits after a year, she received word that she was needed at Medrud School near Long Lake in Bottineau County. This school had only 9 pupils and she taught there three years. After her marriage she moved to the Butte school near Butte St. Paul for one year. Later she was a long-term substitute at Beaver Dam and Wetheralt country schools.
On June 18, 1948, she married Cecil Dean Parrill. They lived in several towns in western North Dakota while Dean worked trucking and hauling gravel for various road projects.  Millie taught grades 1-4 in Russell, ND for two terms from 1950-1952. Dean began farming in the Turtle Mountains near Dunseith in 1952. Mildred began teaching first grade at Dunseith Public in the fall of 1955. The first-grade class had 37 students the first year and 39 the second year. She then took time off when Joel was born. Mrs. Parrill returned to a second-grade classroom for 26 years from 1960 until her retirement in 1986. As a teacher she stressed historical events and timelines and she worked hard to get each student to read and do math at grade level. As a farm wife she enjoyed delivering meals to the field, tending the garden, picking wild berries, canning, and milking the cow. She was an avid reader, and a common sight would be to see her frying meat and reading Time magazine. The farm kitchen was always open to extra guests for meals and coffee.
Mildred was a past member of Rendahl Lutheran Church and a current member of Peace Lutheran Church of Dunseith. She was active in the WELCA ladies' group and served as treasurer for 18 years. When asked to read the Bible lessons at church, she never refused. Mildred belonged to Happy Home Homemakers, Peace Garden Senior Citizens, DEA, NDEA, NEA, and Turtle Mountain Retired Teachers.  Mildred was an accomplished whist player, loved to read biographies and other nonfiction, do Sudoku and cryptoquote puzzles, write letters, and make braided rugs.  She was an avid sports fan. Her favorite teams were the Chicago Bulls, Minnesota Vikings, LA Lakers, Golden State Warriors, the Dunseith Dragons and later the Minnesota Twins.  She followed the trades on the pro teams and was always commenting about so and so showing up play for the opposing team.  Her favorite thing was spending time with her children, grandchildren, and great grandchildren.  She loved to receive notes and cards in the mail.
Dean passed away October 3, 1998. Mildred moved to Oak Manor in Bottineau in 2008 and resided there until she broke her hip and entered St. Andrew's in Bottineau for long term care in March 2018.  Her days were filled with activities of Bible Study, card playing, reading, BINGO, watching sports and visiting. She loved her caretakers and was an easy patient to please except when her telephone rang, and it was out of reach. She was a lifelong learner and teacher.  Mildred will be remembered for her story telling of olden days. Her memory of dates and events was amazing.
Mildred is survived by daughter LeaRae (Terry) Espe, Bottineau and her son Joel of Grand Forks, her daughter-in law Nora Parrill of Roseau, MN; her grandchildren: Brady Espe, Bismarck; Marty (Heather DeCoteau) Espe, Bottineau; Joshua (Emily) Parrill, Grand Forks; Jude Parrill, New Hope, MN; and Eva Parrill of San Diego, CA. and great-grandchildren Elsa and Cora Parrill and bonus great-grandchildren Rebecca and Rylan DeCoteau.  She is also survived by brother-in law Ben Cox, Cavalier and sisters-in-law Judy Cox, Cavalier, Roberta Cox, Grand Forks and many nieces and nephews.
She is preceded in death by her parents and husband; her son Clark Cecil Parrill (10-30-2006); all of her siblings and spouses: Nellie (Frank)Blomquist, Jennie (Lucky) Metcalfe, Erling (Helen) Nelson, Carl Nelson, Olga (Howard) Edinger, Eugenie (Hugo) Walker, John (Della) Nelson, Marie (Thurman) Parrill; nephew Bill Blomquist; nieces: Gladys Blomquist, Carol Walker, and Mary Metcalfe Bradley. She was also preceded by Dean's siblings: Thurman Parrill, Avis Vivitson, Shirley Johnson, DeeDee Anderson, Grace, Don, Darry, Joe, and Paul Cox and Dean's nephew Robert Anderson.
Memorials are preferred to Rendahl Cemetery or Peace Lutheran Church.
Arrangements with Nero Funeral Home in Bottineau.
Janice L Hanson former Dunseith Teacher
Obituary posted by Vickie Metcalfe ('70): dogdays@utma.com Bottineau, ND
Hello Gary and Dunseith School friends,
Sincere sympathy to the Hanson family.
Mrs. Hanson taught a combination 1st and 2nd grade classroom  on the old stage  at Dunseith School.
Nine of us from mightily class of '70, along with about 20 class of '71 for a year, were in a classroom hastily built creaky floored room  on  the stage. ……….We were segregated from our 1st and 2nd grade  peers.
1.Of the hills or prairie farm kids rode school buses.
the exception' were  town brothers whose mom walked  2  beautiful sisters  up the street  to school seemingly every day.
I thought, "What a special mom would walk 2 preschool children to meet and walk the brothers home."
2.The combo room was many feet  and steps away from others peers classes located in the big white school building.
But, we grew close.  We met and knew who was connected to who. Many  were siblings  in that combination room.
I wonder how many can recall that combination room?
Until Later,
Vickie Leona Metcalfe
Oct ,2022
Janice L Hanson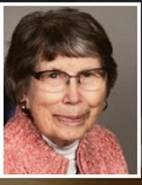 6/28/1930 – 10/6/2022
Janice L. Hanson, the daughter of Leedina A. E. (Nelson) and Jason E. Skotland, was born June 28, 1930, in Willow City, North Dakota. She died peacefully at the age of 92 on Thursday, October 6, 2022, at the Rolette Community Care Center in Rolette, North Dakota.
Janice was raised and attended school in Willow City. She continued her education at Minot State University, earning a teaching degree. On July 20, 1950, she and Henry L. Hanson were united in marriage. Jan and Hank initially resided in the Willow City area and were blessed with two daughters, Heidi and Becky. The family moved to Minot for three years, returning to Willow City for a year. They then lived in Dunseith for three years before purchasing Henry's family farm in rural Willow City in 1960.
Janice was an accomplished pianist and an organist for churches in Minot, Dunseith, and 50 years in Willow City. She provided piano lessons for many students and shared her music at the Veterans Home, other care facilities, weddings, funerals, schools, and special events. Janice was a teacher of elementary students in Dunseith and Willow City, continuing to substitute teach after retirement. She thoroughly enjoyed resuming her educational career by teaching kindergarten students for several years in Willow City's "Little White School House".
Janice and Henry enjoyed traveling, from tent camping to campers, bus trips, fishing in Canada, to visiting relatives across the country. She was an avid outdoorswoman and a smart hunter, beginning with her father and brother and continuing with her husband and girls. She knew and respected nature, whether it be appreciating birds, animals, plants, flowers, or long walks in the country. Janice was an impeccable seamstress and quilter. She enjoyed gardens, flowers, and bird watching. She was quiet, reserved, creative, and artistic, with a wonderful sense of decorating her home. She was talented in the kitchen making delicious meals, baked goods, and especially desserts. Her family meant a lot to her, and it was reciprocated because Grandma Jan was so thoughtful, patient, and incredibly kind.
Janice is survived by her husband of 72 years, Henry of Willow City; daughters, Heidi (Bob) Danielson of Willow City and Becky (Terry) Ellingson of Devils Lake; grandchildren, Skot (Mindy) Danielson of Sartell, Minnesota, Troy Danielson (Melissa Maher) of Willow City, Tristan (Josh) Johnson of Valley City, Erika (Kelly) Hamre of Hampden, and Emily (Kurt) Ellingson Wensmann of Devils Lake; great grandchildren, Olivia and Lily Danielson, Jayden, Rylyn, Piper, and Kambry Johnson, Elly and Emma Hamre, and Henry and Oliver Wensmann; sister-in-law, Ethel Estenson of Lakeville, Minnesota; nephew, Bruce (Bev) Skotland of Selah, Washington; and other nieces, nephews, relatives, and friends. She was predeceased by her parents, in-laws, and brother, Calvin (Opal) Skotland.
indigenous jacket found in a  U.K. thrift shop
Posted by Vickie Metcalfe ('70):  Bottineau, ND
https://winnipeg.ctvnews.ca/really-beautiful-indigenous-jacket-with-ties-to-red-river-region-discovered-by-u-k-thrift-shop-1.6104260
Hi Gary and friends of Dunseith,
I frequently read Canadian news.
I know there are  many former DHS graduates from the Turtle Mountain area,
who have ancestor origin in Red River area of ND and Manitoba.
I found this article about an indigenous jacket found in a  U.K. thrift shop.
I thought some of the the blog readers may find this interesting as I do.
Mr. Klundt's History class was my favorite class!
(Once upon a time, I wanted to major in archaeology.)
Vickie L. Metcalfe
October 12, 2022
my ….Sister's first day at Seim School
Posted by Vickie Metcalfe ('70):  Bottineau, ND
Hi, Gary and Dunseith Alumni friends,
Unlike some of the other "OF the HILLS" Kids,
I did not go to  school at a one room school house.
However, my eldest sister began at the "Seim" aka Oakes Country School.
It was  located South over the fence of the John and Ingrid (Espe) Seim  / Arthur and Eva (Berube) Seim Family Farm.
Adjacent to our family farms South pasture and  sweet hay meadow.
My sister, was taken to her first day of school by our cousin Jack.
Jack had just returned  to the Hills of Home.
He and his  brother, Billy served the USA Navy on the same ship in the Pacific.  During…….Korea.
Cousin Jack was coming over our farm and helped mom  feeding cattle, milking cows, watering  cows and horses, pitching  and mucking the barn etc.
Our Dad was working and plastering out of state.
Jack was one of my older cousins  who built a warm place in my heart.
Jack  was genuine!
(as a child I knew)  Jack was patient, kind, smiled, laughed never mean teased kids, animals, or folks who were "different".
When he wasn't  outside chore-ing,  helping mom and Jack practiced beginning banjo.
He wasn't good to begin with…but (I believed he was. ) He methodically kept time and was focused.
" Play a song for me Cousin Jack!!!"  He'd pick and I danced….
Rural Country school started in March.  Jack kept the harness on Barney and pitched in fragrant hay.
He picked up my sister snug in winter gear,  hands on her lunch box and put  her to sit in  a snug nest of hay.
in quite a different boat than a  one of those BIG navy boats or clipper ship that hung on a picture on the wall.
It was the stone boat.  I  could see their  frosty breaths.
White Barney horse, Jack in bulky winter gear, and a little girl  sitting on the pile of hay.
Away, away and away they went through the  fluffy snow banks down the cattle trail, across the pasture.
I hung my lower lip and watched them glide away, through the peep hole in the frosty window.
After a time I watched Jack return  Barney to the barn.
Later mom made lunch and Jack came in snowy cold .
Warming his hands  by mom's combination wood /electric cook stove.
After we ate dinner. "'Play a song for me Cousin Jack".
And he'd pick and play.
I would dance and forget the wondering …what kind of FUN sister was having at school.
As day grew close … off Jack would go with Barney to bring sister home.
Hmmm. I'd think , j"ust What did those kids do at school??"
Until Later, Vickie L. Metcalfe
Dunseith HS Class of 1964
Belgarde-Azure
Shirley
Born November 25, 1946    –    Died May 5, 2005
Deceased
64
Boguslawski
Philip
102 SPRING RIVER RD
SHERWOOD, AR  72120 
(501) 834-8971
pbogusl@comcast.net
64
Bott
Robert
10019 24th Ave NE
Dunseith, ND 58329
(701) 263-4841
brown_wcnd@msn.com
64
Decoteau-Belgarde
Shirley
Box 304
Dunseith ND 58329
(701) 263-4999
Turtle Mountain Times
64
Duran
Conrado
We are thinking that Conrado may be living in Puerto Rico or Cuba
64
Espe
Terry
401 Alexander St
Bottineau, ND 58318-
(701) 228-2911
espe@utma.com
64
Faine-Norman
Betty
PO Box 473
Dunseith, ND 58329
(701) 244-5544
No email address
64
Fauske
Russell
RR 1 Box139
Dunseith, ND 58329
(701) 263-4742
rfranch@srt.com
64
Hackman
Anton (Tony)
101  31st Ave SE
Minot, ND 58701
(701) 852-7215
No email address
64
Halvorson-Kester
Connie
824 East 7th St
Bottineau, ND 58318
(701) 228-5287 S 701-263-4705
jimconniekester@gmail.com
64
Henriksen
Lynn
2290 Spanish Trail Rd
Tiburon, CA 94920
(415) 435-5969
Lynnhk@sbcglobal.net
64
Hoffman
Dale
13771 No. Fountain Hills Blvd. #114-208
Fountain Hills, AZ   85268
(480) 203-7382
hoffman908@hotmail.com
64
Hosmer
Colette
1558 Avenida de las Americas
Santa Fe, NM 87507
(505) 471-3725
colettehosmer@gmail.com   www.colettehosmer
64
Houle-Deschene
Doreen
3216 Williams Dr
Burnsville, MN 55337
(952) 890-2691
dee.deschene@hotmail.com
64
LaCroix-Allard
Donna
10849 274 Ave NW
Zimmerman, MN 55398
(763) 219 8558 C763 458 1769
allard.donna@gmail.com
64
LaCroix-Allard
Donna
14801 Park Lake Drive,
Bldg.Park 4, Penthouse 5
Fort Myers, Fl 33919 (Jan-Mar)
(763) 219 8558 C763 458 1769
jdallard3@gmail.com
64
LaRocque-Ueke
Lana
205 N Lowell Ave
Sioux Falls, SD 57103
(605) 334-6583
lUeke@me.com
64
Leonard
John
Born May 28, 1944    –    Died Sept 24, 2022
64
Lopez
Santiago  (Sandy)
973 Palau Park Way
Rockford IL. 61108
(815) 397-9110
svlopez@insightbb.com
64
Medrud
Ronald
Born March 7, 1946   –   Died May 23, 1994
Deceased
64
Murray
Ahmad (Muff)
Born January 15, 1945   –   Died October 4, 1967
Deceased
64
Nerpel
Wilfred (Kutch)
Born October 31, 1945    –    Die June 6.2020
64
Nerpel-Bixby
Carol
503 Elwood Ter
Shakopee, MN 55379
(952) 402-9340
dlrodriq71@msn.com (Danette Carol's daughter)
64
Nerpel-LaCroix
Kathy
PO Box 212
Nortonville ND 58454
(701)-
uspsrt@dvl.midco.net (Kenny Nerpel)
64
Olson
Terry
115 10th St E
Born August 9, 1946   –   Died January 13, 2022
64
Pladson
Floyd
9540 Highway 60
Bottineau, ND 58318
(701) 228-3943
No email address
64
Poitra
Marlin (Virgil)
PO Box 426
Dunseith, ND 58329
(701) 243-4747
virgilpoitra44@hotmail.com
64
Rousseau-Metcalfe
Lise/Larry
3029 34th Ave SW  #230
Fargo, ND 58104
(701) 364-5410
No email address
64
Schnieder-Bowman
Karen
408 1st St. SW
Bowman, ND 58623
(701) 523-1249
ksbowman2000@yahoo.com
64
Stickland
Leland
Died in 2020
64
Wenstad
Arlan
Box 31
Lansford, ND 58750
(701) 784-5871
acrepair@srt.com
64
Wurgler
David
Died 2018
Deceased
64