Happy Birthday Colette Hosmer ('64): Santa Fe, NM
Happy Birthday Colette Hosmer ('64)
From Eve Gottbreht ('65): Irvine, CA
Happy Birthday Colette today is the day if I remember correctly…..
Donald Johnson Passed away: Two Harbors, MN – Note: This message was received yesterday
Posted by Sybil Johnson: Chippewa Falls, WI
Hi all this is August Johnson's Daughter, Beckie. I am sad to pass the following. If you remember Augie, then you should remember Donald, Bronco, Johnson. He passed away about 2:00 this afternoon. Mom, Sybil Johnson, will pass on all of the information. I just want to say thanks to all of you for your support when dad died last March. Please keep up the support for my family again in this time of tragedy.
Sybil Johnson's reply to Gary
Yes Gary, Doni was Augie's younger brother. Their parents were of course, Axel and Bernice Johnson. I guess, he had been snow blowing and went inside to find that
Carol had fallen off of the couch. You see, Carol has had several minor strokes and some how she had fallen off. He went to get her settled back on the couch, when he
had a massive heart attack and died in Carol's arms.
I will keep everyone informed over the next few days.
Dick Morgan ('52) & Harvey Hoffman memories
Reply from Gary Morgan ('54): Garrison, ND
Gary & All,
This is the first time I have had access to internet since the first of November so I have some catching up to do.
First, I want to thank Junner Williams for his kind words regarding brother, Dick. Junner's words were probably exemplified by the fact that some of Dick's ex-students made the trip from the Denver area for Dick's funeral in Washburn.
I was saddened to see of the passing of Harvey Hoffman. I was about 17 and working weekends at the San pastuerizing milk. Early one morning in the early 50s, as I passed through the kitchen to the pastuerizing room, I was greeted with a cheerful "Good Morning, Young Fella!". Here was a new fellow working in the kitchen. Later, I learned that his name was Harvey Hoffman and he always had a cheerful greeting for me and always seemed genuinely glad to see me. I have never known anyone as upbeat as Harvey Hoffman. His mere presence seemed to lift the spirits of the entire kitchen staff.
A couple of years ago, his daughter, Brenda, told of what a dark, sad and scary time that had to be for him. His wife and infant daughter were patents at the San. At that time, that was practically a death sentence. His young son was being raised by grandparents and who knew what future this new job held? Yet, one wouldn't know he had a care in the world.
Years later, when I was teaching in McClusky, I had the privilege to meet his dad.
It is heartwarming to know that life turned out well for Harvey. He deserved it.

Gary Morgan

A few of my memories of my Buddy…Dick Morgan…

From Glen Williams ('52): Missoula, MT
Memories of My Pal since the 6th Grade
You may wonder why I used "My Pal Since the 6th Grade" in the title.It is because that term was first used by my Pal Richard Lee "Dick" Morgan. Last year he sent me a card that on the outside page read "Clean living, pure thoughts, good morals all make for a long life"…when you opened the card inside it said "You're a goner…Happy Birthday". He signed the card "your pal since the 6th grade". That tells you the kind of friendship we had…a friend who could make me chuckle and enjoy life.
I first met Dick when his family moved in across the street from my family's home in Dunseith.We were both in the 6th grade and have been friends ever since.We knew each other so well that we could almost predict what the other was thinking. Letters were exchanged whenever we were not living in the same town or city.That custom began in 1952 while I was a patient in the State Tuberculosis Sanatorium and Dick was a student at the University of North Dakota.This practice ended when he sent his last letter on January 7, 2012 and I sent a return letter on January 19, 2012.Of course we visited, either in person or on the telephone, whenever we could, but letters were our primary means of long distance communication.
Dick was an accomplished actor and published author. However, when I say that I think Dick would want to be remembered as a Proud Family Man, Teacher of History, Storyteller, and Turtle Mountain Boy, I do it with a great deal of knowledge of things that were important to him. Let me elaborate.
Dick was very proud of his Children and Grandchildren and all that they had accomplished in their varied lives.But he was especially proud of his wife Shana, who tolerated his sometimes unusual behavior.She provided thoughtful guidance to him during their many years of marriage. She was especially good to Dick during his last illness. His wish was to never be confined to a hospital or nursing home.Shana honored his wish, even though I am sure, at times, it would have been much easier just to have him admitted to a hospital or hospice. She, with a lot of kindness, nursed him through his last illness in a way that I am sure made Dick feel proud and thankful.
Yes, he enjoyed being a History Teacher…I use the term teacher, rather than professor, even though he taught at the college level.That implies that he had his student's interests as a primary concern, not a title. He could make history come alive.That goes along with his storytelling.He could make a dull history lesson into an interesting, fascinating and memorable story.He created a love of history in his students at the community colleges where he taught.
A great number of his students became lifelong friends. Over the years he remained in contact, with many of his students, through letters, phone calls and personal visits.Not many teachers are able to say that.
This leads us to his Story telling. He enjoyed dressing up in his Mountain Man regalia. Dressed in his buckskin leathers and with his signature beard, he did look like a mountain man of the western frontier. He wowed his audiences with stories of the Wild West. He had tales of unusual historic happenings that would keep those listening, interested and bring an audience from their seats with cheers and hand clapping.Dick enjoyed telling tales of western history as much as his audience enjoyed listening…
Dick never forgot the area where he grew up. He traveled extensively and had lived in many places across this great country. However it was Dunseith, and the Turtle Mountains that often brought back fond memories…Dick and I spent many a day just hiking, camping, swimming, fishing and hunting in those Turtle Mountains.We liked to be referred to as Turtle Mountain Boys, or in our younger days Turtle Mountain Volunteers, rather than residents of Dunseith.The Mountains, or the Hills as known by the locals, always seemed rather mysterious; heavily wooded, hidden trails, many lakes, abandoned CCC camp, cold water springs, buffalo jumps and beaver ponds. Dick was interested in why the coal mine was abandoned, what caused mineral springs, were there really native artifacts buried in the Indian mound, why the mill was closed and stories of bank robbers and other old timers.It is true that he always said that we grew up in the "Golden Years" of Dunseith, in the foothills of the Turtle Mountains. The mountains were very important in shaping our lives.
Ah…Memoires of a pal since the 6th grade, gone to the spirit world on January, 24, 2012
Dick, I will always remember you, now and forever…
Your Pal Since the 6th Grade…Glen I. "Junior" Williams
Reply to Travis Metcalfe's ('76) space station photo
From Mark Schimetz ('70): Rolette, ND
Reply to Travis: There are a great number of Homes that light up the Southern side of the Turtle Mountains all the was North. This is seen when coming North on Hwy 3. On the Lights I was guess that it is Natural Gas hitting the lower Atmosphere reflecting from the lights of Cities in its wake. Just a guess. Another Weather incident I viewed was a lightning storm over the Western ridges of the Missouri River at Medora. The Lighting would spider web the horizon above the Ridge, and would sizzle for a minute or even longer at times, as the Rain poured.
Reply form Allen Richard ('65): Midland, MI
About the current boom in ND. We have had them before, and if those who are the natives are made of the same salt us our ancestors things will work out. Of course — a re-incarnation of the Teddy Roosevelt Rough Riders might be good!
Some of you met my youngest daughter, Alaina, at the '65 reunion. She is now 18 and has been accepted to the two colleges she wanted. (scholarships–show me the money) She needs to provide a musical CD to get more scholarships. We will make it available when we can.
Those of you who had to tolerate me in HS choir will wonder how she could be that good. Trust me—I've been searching the gene pool for some time. Seems musical talent skipped my generation. Have to go back to Grampa George —-
Prosperity in North Dakota
North Dakota Oil Boom Brings Blight With Growth as Costs Soar – Please see attached message.
City Sports Club Cebu (CSCC) Name correction for yesterday's posting
From Rose Hohl: Cebu City, Philippines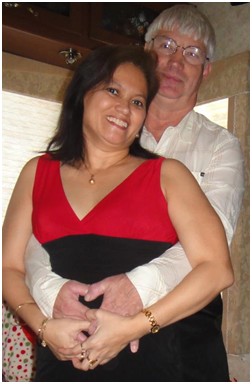 Hi Gary,
Just want to make correction on the name of the club that you put on the blog where we been … coz there is another place that is called Cebu City Sports Center, and that is the one in Abellana where the Sinulog festival is being held every year, at the grandstand, its a Cebu city government sports center…. and anyone can come and use where as the CITY SPORTS CLUB CEBU = CSCC is a private sports club owned by Ayala properties and its members only facilities
thanks
Rose, I get these names mixed up all the time. Hopefully I will keep them straight now. Thanks, Gary