Gary Weaver passed away
Comments and Obit posted by Vicky Metcalfe ('70): Bottineau, ND
Gary and Dunseith friends,
My sympathy to the Weaver family on Gary's passing.
Dad and Art  called him 'Swede'. They had another  pet name for his brother, Walter. Art Seim and Swedes mother, Clara (Myer) Weaver were first cousins.  Art, my dad and Uncle Archie were neighbors and  good friends with his dad Glen.
For one or two summers, Walt came and worked for Art and Eva. Gary Weaver worked for mom and dad in his youth. I believe he was only about 13 or 14 when he was there two summers. He would go back to St. John with his mother on weekends or go with his dad Glen.
Gary was the first person I heard  saying,
"That looks like something the cat drug in".
I thought Gary was rather clever to have made that up!
Mom told me, "Gary wouldn't  eat any  meat except hamburger. " So she'd  pull out the meat grinder and grind his beef by hand. Mom's meat grinder got a workout that summer as she put a steak or roast through it. Then, fry it  in the cast iron frying pan.
Years later, Gary told my mom,, "I don't know why you let me get by with that." "He told her I eat steak now, that was a waste of a good steak". Mom said,  "She did it because he worked hard, was a good farm hand, and was having a tough time. 
Gary was especially helpful in the hay field and  choring around the cattle.
I  finally got old enough to drive the John Deere and  sweep rake during haying, When ever I messed up. Dad would let me know how much better 'Swede' aka Gary was at driving.BAH!
Through the years,  whenever Gary passed through North Dakota he'd always make time  to visit mom and dad at the farm. My parents  enjoyed his visits and always were ever so  fond of Gary.
May Gary Weaver rest in peace.
Thankyou.
Vickie Metcalfe
http://ballardfh.com/sitemaker/sites/Ballar1/obit.cgi?user=75295268_GWeaver
Gary Dee Weaver, 74, of Powell, passed away at the Spirit Mountain Hospice House in Cody on February 21, 2017.

Gary was born on August 12, 1942 to Claire Myer Weaver and Glenn Weaver near Dunseith, North Dakota.  As a young man he helped around the farm.  He graduated from St. John High School.  He joined the army 1961 and served overseas in France.  Gary was honorably discharged in 1964.

Gary then followed his father to the oil fields in Wyoming. Gary started at the bottom of the industry and worked up to drilling consultant. He worked on many off shore rigs throughout his career.  He enjoyed ice fishing, fishing, hunting and helping on his best buddy Doc's ranch.

Gary is survived by his life partner and best friend Cathy Potts, brother Walter (wife Donna) daughter Amy and daughter-in-law Bev.  He is also survived several step children, grandchildren, step grand children and nieces, nephews and cousins.  He is also survived by the EO Bischoff family that adopted him as one of their own.

He was preceded in death by his parents, sister Judy, son Charlie and his best friend and running mate Doc Gene Bischoff.

A memorial service will be held at Eagles Lodge at 1:00pm on Saturday February 25, 2017, with the spreading of ashes at a later date.

An online memorial is available at www.BallardFH.co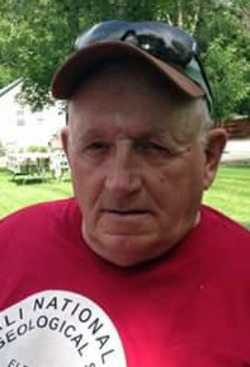 Looking for the Pilloud Dunseith family history
Message from Pamela Pilloud: 
Hello There—
I go on your siyte now and then but never came across photos of my family who were from Dunseith & Bottineau/
I know little about thier bithplace , where the family attended school-  I have next to none of the pictures of my family.  I was born in Bottineau at St Andrews Hospital====
Could you p;ease get photos of the following people of my family:
Henry Pilloud ( Earl Sr-)—my Father
Frances Kjensrud Pilloud   my mother—
Their children—-Baby Robert —-Lavern, Gloria, Earl Jr , George, even me Pamela as a baby  or where baby Robert is buried—-I searched for Robert many years/
Then my Aunt Theresa Krieg who own the Gas Stastion  in Dunseith. ( the one in the wheel chair )
Thank you for helping me—I am Henrys daughter ( Earl Sr ) and I would love to find any photos of my family—-if you know where Robert is buried please let me know—-it could be under Hagen or Hanson  or Earl even as he was born out of wedlock.
Pictures of my Dad would be just wonderful even his rodeo photos back in the 30's
I am getting very old and would like to see some photo of my Dad's roots—-aND OR WITH HIS WIFE fRANCES.
Thank you so much for helping me find my family
Respectfully submitted—-Pamela Pilloud
Reply to above Pilloud posting
From Ginger LaRocque Poitra ('65): Belcourt, ND
Gary,
I realize that the names are not the same as mentioned in the email but Neola got a picture from the Wondrasek Studio to disperse to people who had their pictures taken at the studio.
Neola added info to a picture.   She might know which picture I am speaking about. It is an old picture.
Ernest and Ruth Pilloud / Parents of Louise Pilloud ( Glen Schneiderman and Patsy ( Patricia) Pilloud.
I don't know how to send a picture from my note book.  Sorry
Ginger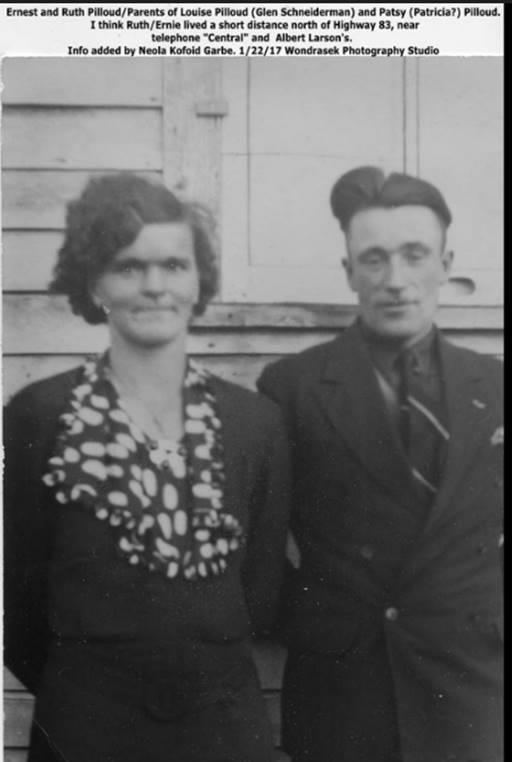 ==============================================
Blog (557) posted on September 22, 2009
Posted on September 22, 2009
Folks, Bernadette and I got back today, Wednesday, from our trip to Boracay, Philippines. We had a wonderful trip. Boracay is for sure a paradise vacation resort island. The Boracay Regency Beach resort where we stayed is a fabulous place spread out over about 7 Acres with over 500′ of ocean front beach. They do not have a parking lot, because POV's are not allowed on the island. The Boracay beaches have some of the finest sands with the clearest, warmest and shallowest waters anywhere in the world. After swimming in the ocean, it was refreshing to take a dip in one of the Regency's pools. I have attached several pictures at the bottom of this message.
Since I have this ready, I will send it out tonight rather than in the morning Filipino time. Gary
Email address change for Marvel Hill Thompson (69): Bottineau, ND.
Gary,
It is great all you do, but for some odd reason I quit getting your emails. Could you please put my address back on. I did change emails August 1 but have been getting them until last week.
Thanks.
Marvel (Hill) Thompson
Class of 1969
My new address is:
Request from Randy Hiatt: North Bend, WA.
Gary, when you get back from your very interesting sounding trip please add Delmar Fugere (my first cousin, Lois (Hiatt) and Orelle Fugere's son to the blog. Lois was my mothers (Delores Hiatt) sister.
Thanks,
Randy Hiatt
Delmar, with all the wonderful things folks have had to say about your mother with previous postings, it is my pleasure to add you to our distribution list. You certainly have a whole lot of relatives included with the distribution of these daily messages too. I found a listing for you living at Bonney Lake, WA. Would that be correct? I believe your dad is living up in Mason county west of Bremerton, WA. I lived in Bremerton for over 35 years. Gary
Jerome Allard's picture
Posted by Neola Kofoid Garbe: Minot & Bottineau, ND.
Hi,
Gary, I think Jerome Allard was mentioned in one of your emails awhile ago. I think Jerome is Arlene Allard's brother. She is my classmate. The dad passed away within the last year, I think. Jerome's mother was, I think, one of the four/five sisters who lived at Good Sam within the last year, or so.
Neola
Neola, Jerome Allard graduated with the DHS class of 1958. Arlene is his sister. Without doing some research, I don't remember if their mother was one of the 5 cote sisters. If she was that would, I think, make her a double cousin to Carol, Mary & Larry Allard. I may be all hosed up with what I remember. Mel Kuhn and some of you others, please verify all this. I do know for a fact though that Jerome is married to Donna LaCroix (64). I remember his sister Corliss Allard (66) very well too. Gary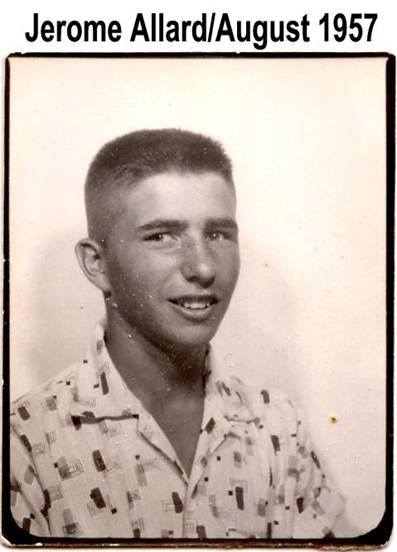 Cruise pictures from Geri Metcalfe Munro (59): Fargo, ND.
Nancy Hosmer Baldwin (62) with her fiancé Keith Kontzie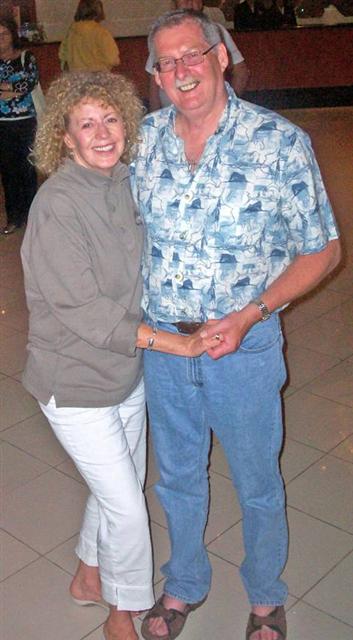 Cousins: Ardis, daughter of Lucky and Jennie (Nelson) Metcalfe;
Dianne, daughter of Jean (Metcalfe) Maki; Geri; Ken, son of Leona (Metcalfe) Oswell;
and brother, Gary Metcalfe.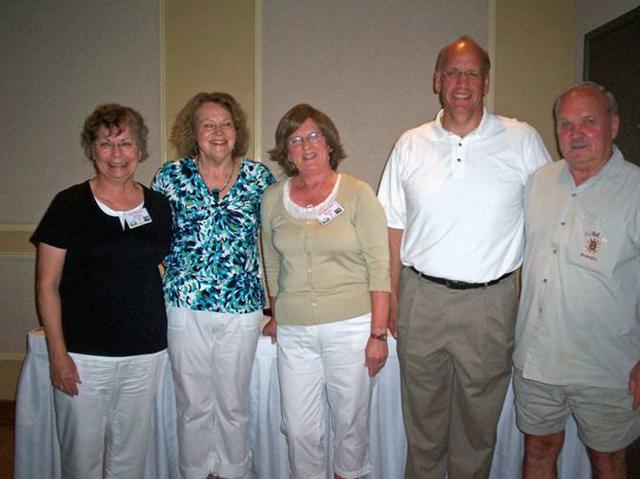 Phyllis McKay (65), Bill (Willie 60) & Al-lyn Longie

Cheryl Haagenson (71) with the judges after winning the singing contest on the cruise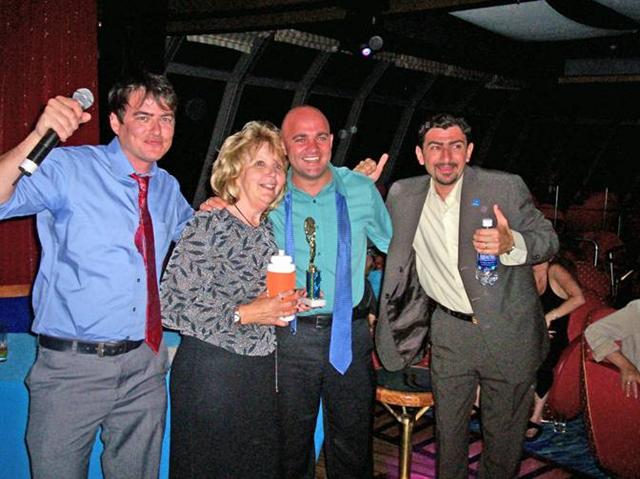 Gary's note/question
This sure looks like Mike and Sandra Zeiler (62) Vandal?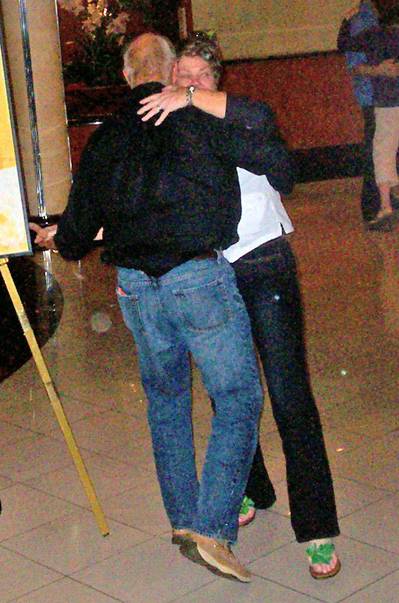 Message/Picture from Dick Johnson (68): Dunseith, ND.
Gary and Friends,
I ran across a picture that is obviously very old. It was actually a
postcard, which was common in the early to mid '20s. People could have
their pictures printed in postcard form and then mail them to friends
easily. This was in with my grandparent's pictures and several others
are postcards and are dated in this same time period. With the recent
loss of our friend Thurman Parrill, and LeaRae Parrill Espe's many
contributions to this blog, this old picture might be of special
interest to her family. The hand written inscription on the back
says–'Parrill's barn in the Turtle Mountains'. Actually it
says–'Parels barn in the Turtal Mountains', but then some of my
ancestors weren't the best at grammar and phonics! I can only assume it
is LeaRae's grandparent's barn, and before the death of her grandfather
when the family moved to Mountain, ND. I don't know the exact dates but
I assume it was in the '20s. Can you fill in the blanks LeaRae? Thanks Gary!
Dick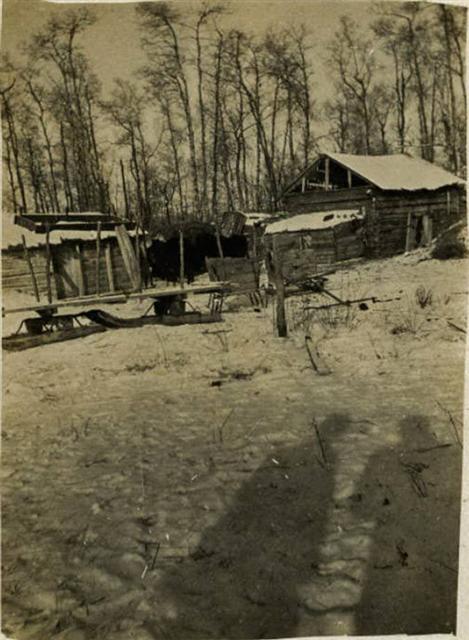 Made out of sand on the beach – Boracay Island, Philippines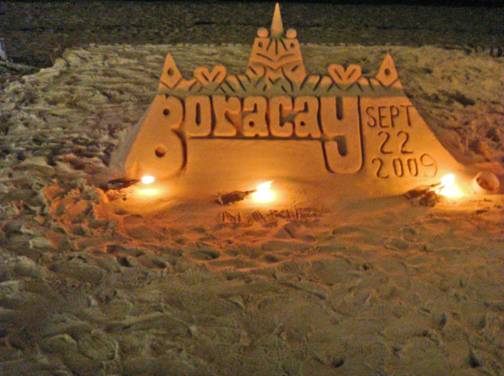 Dinner buffet at one of the Boracay Regency restaurants on the beach.
This buffet only cost $12.00 net with taxes and gratuities. The Breakfast
Buffet was free. Restaurant food is cheap on Boracay.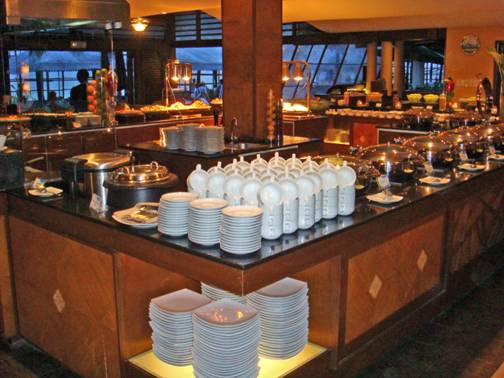 Bernadette in the seating area of the Buffet pictured above.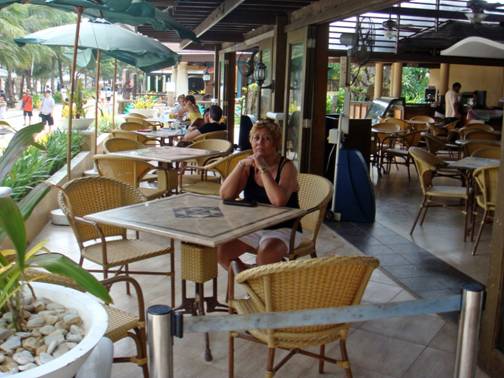 Bernadette at the Boracay Regency. The beach is to the left behind the trees.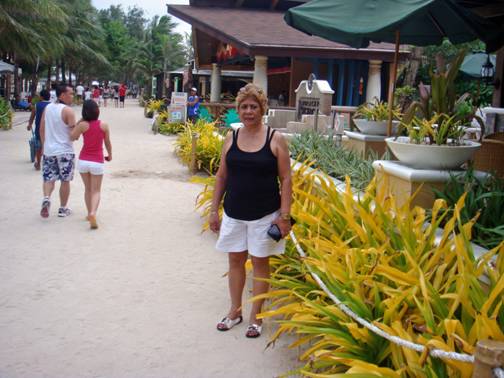 Me (Gary) on the Beach. Later on I did go swimming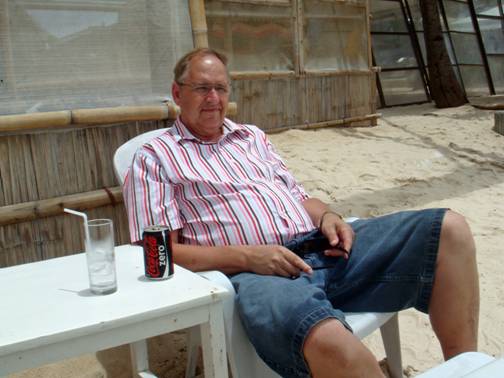 Bernadette on the Beach. That water is as warm as heated bath tub water.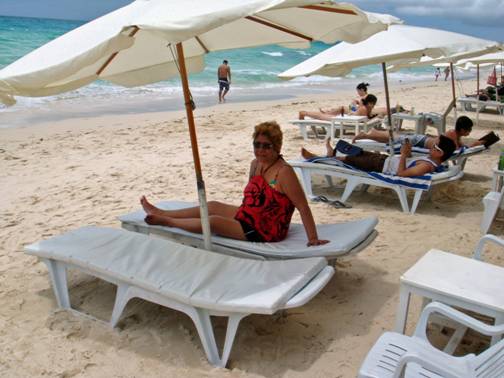 One of the 3 pools at the Boracay Regency. That is a bar in the lower right
of the picture with bar stools about 6″ under the water in the pool.
later on in the
afternoon all the stools were taken.