A little update on Bernadette.
Bernadette's condition has deteriorated quite a lot the past several months. She just isn't rebounding back either. It takes two of us stronger folks to hold her when she walks. Today she is having problems chewing and swallowing her food. With persistence we managed to get her to intake food and water.
I have made arrangements, next week, to have a feeding tube surgically inserted into her stomach. They said it's a simple overnight procedure in the hospital. She will still be able to eat and drink normal, even with the tube. She'll have the tube for use in times of need.
It's very hard to understand her now too. She gets easily upset when we don't understand her. She remembers most everyone, but it's very hard for her to following along with or comprehend anything other than simple subject matters.
She sleeps well at night so that is a real plus.
Gary
Clifford Allery
Reply from Judy Allery Azure (65):  Bismarck, ND
Ginger, Thank You for the kinds words…it was one of the saddest days of our lives when we lost our dear brother Clifford.  He passed from cancer as that is such a killer disease…we will always have our memories of him and will love him like he is still with us…One day we will be all together again….Thanks again.
Undefeated Dunseith Football teams Reply from Dennis Dubois ('63): dlpmd@comcast.net Minneapolis, MN
Upon reading about that 1950's football team. They surmised it to be the last undefeated Dunseith team. Well, the 1959-60 football team was also undefeated. It was my freshman year and we had a great coach. Bill Allen. I can't remember everyone, but here are the ones I remember. Jerry Strong, Ronnie Strong, Willie Longie, Rick Henriksen, Dwight Lang, John Morgan, Lyle Zeiler,  Lowell Bad Heart Bull, George Gottbrett, Gary pigeon, Bruce Pigeon, Russell Pigeon. Bradley Solmonson, Stan Solmonson, Nick Bedard, Jim Bedard, Jim Evans, David Shelver, Bill Henry, Ronnie Morin, Johnny Leonard, Leland Stickland, Donald Egbert, Lyle Lamourex, etc. We lost one game the next year, when Rolla had the eternal clock that drove Virgil Vanorny to a premature demise, or at least temporary insanity. Maybe this was the last undefeated football team???
Reply from Vickie Metcalfe ('70):  Bottineau, ND Gary,  Ron and Friends of Dunseith,
Thankyou Ron Longie on your reply about Chaga. Now I know it was an important source in the hills.
Did you ever sample the tea?
I  believe  there is merit in  the study of  wild medicinal and healing plants.
It would be a wonderful Turtle Mountain summer class.
Mr. Vaughn, an elderly friend of my maternal grandparents and  parents would pick tender pigweed and dandelion greens in  early spring.
He'd  show mom how to prepare them.
He  and his wife also made dandelion, rhubarb  and potato wines which they would treat my parents whenever we visited them.
We curious  kids weren't allowed to taste wine.   Years later,  I acquired the Dandelion Wine  recipe from their son.
I haven't quite managed to pick my yard free of dandelions and brew it.
I suppose am one of  those dreaded neighbors with a robust lawn of yellow all summer!
Each fall, mom  made chokecherry wine which in rare times she allowed us a frugal  sip.  She said it was to be used to wrap her holiday 'fruitcakes'
she shared.  Mom also shared her homemade wine with the Vaughn's, Uncle Bill and  neighbors, Art and Eva or Emil and Genevieve  usually after a little lunch.
Oh how, I wish I had  listened and asked more questions of those wise elders!
Until Later,
Vickie Metcalfe
NORTH DAKOTA IMAGE OF THE DAY
Posted by Karen Loeb Mhyre ('65):  Bellevue, WA/
This photo was today's picture in the daily ND posting!

Like a vast snowy ocean, the North Dakota prairie is illuminated by an early morning sun dog in this photo taken in Rolette County. Photo by Rick Craig via Facebook.
It is so beautiful !
Karen
==============================================
Blog (769) posted on April 10, 2010
Ed Milligan:
From Neola Kofoid Garbe: Minot & Bottineau, ND
Hi Gary,
I don't know if this is of interest, but one of my classmates said Ed Milligan is mentioned in the last North Dakota Horizons magazine. I think Dad subscribed to this magazine when he was alive, but I haven't seen a copy since then.
Thanks.
Neola
Have any of you seen this article? Gary
Football:
Reply from Lyle Olson (75): West Fargo, ND
Reading the football edition of your archives brought back some good memories regarding my time playing football at Dunseith. We played Rolette in 1973 and beat them 73 – 0!!! Curt Berg was the star of that team and I remember he was in on the tackle on the opening kick-off that broke the leg of Brian Berube, one of Rolette's star players. Everyone on the field heard the leg break and everyone in Rolette heard the howl that followed! Rolette folded like a cheap suit after that play. I don't know how many points David Hagel scored on running touchdowns that game, or how many touchdown passes Terry Counts caught, but both players sure were tired come the 4th quarter.
That same year we played against Walhalla, ND. They had a football player named Daniel St.Vincent and he was the biggest high school running back I ever saw. We beat them 8 – 6, but the most impressive part of the game was that we did it with 13 players. Actually, we started the game with 13 players, but Curt Berg hurt his knee early in the game so I guess you can say we beat them with only 12 players (Dunseith was still in 11 man football at that time).
We had a pretty good football team in 1974 as well. Jesse Marion was the quarterback and David Hagel was the main running back, with Mark Fugere and Gary Poitra running the ball too. Sam Tooke was on that team and he was a mean noseguard. He once had the great idea to rattle the center for Cando that sort of backfired. His plan was to pounce on this rather small center well before the ball was to be hiked. He thought that if he did this enough, it would lead to a fumble or two. Well, Sam threw all his considerable weight on that poor kid for about 8 plays in a row, being penalized 5 yeards each time. However, that kid just pulled himself out of about 6 inches of dirt each time and went back to the huddle without saying a word to anyone. Jim Berube and Red Johnson were referees at that game and I remember Jim asking Sam what the heck he was doing. Sam just grinned and lined up to crush the kid again. By the time this played out, Sam had amassed about 40 yards in penalties and Cando was at the 5 yard line. The next play they scored and they didn't look back. I later met that center and he laughed and laughed when I mentioned the game. He told me his big brothers had been doing that to him for years whenever they played football at home!
Football season was always a fun time in Dunseith. The warm nights were not as frequent as the cool, crisp nights, but it did not seem to matter then. I remember running all over town in "snake" lines lead by the older football players at homecoming time, and the homecoming parades and bonfires. I wonder if they do that anymore???
Thanks for all you do, Gary!
Lyle Olson – 1975
Folks, I just ran across these pictures. I have some extra room today, so thought I share. Gary
Stokes farmstead in the 70's

 Stokes Farmstead – Easter Sunday, 1979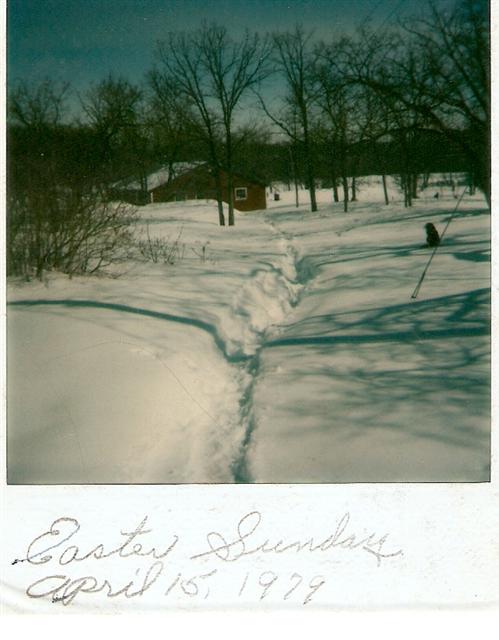 Stokes Farmstead the way it looks today, now owned by Larry & Mona Marchus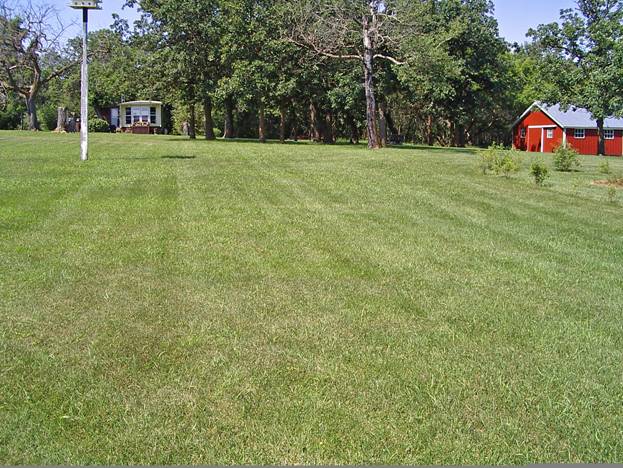 Folks, I thought I'd throw this one in too. This is My brother Darrel (Bud) and our cousin, Alice Petterson Hahn(deceased). Alice's parents were Hans and Gerda Petterson. Dad and Hans were brothers. Alice was the oldest of the 26 Petterson cousins and Bud the youngest.