Requested biographies of former DHS Students-(Day 4)
"Lillian Thompson Bergstrom(DHS '36) – 309 Homecroft Court, Superior, Wisconsin  54880 – (715) 394-2189"
Keith Pladson, Lillian is your aunt. Can you give us a brief history of Lillian's life from the time she graduated from DHS in 1936 to the present?
"Jean Radley Thomas (DHS '36) – Lives in Meza Arizona"
Jean is the sister of Maxine Radley Hiatt (deceased). Hopefully someone from Maxine's family can give us an update on Jean. Jean was not well when I was putting class lists together in 2007.
====================================
Blog (167) posted on July 21, 2008
Reply from Diane Wenstad Wiebe (69):
This is reply to all the Dunseith & Co., group and Neola's email; thanks for the obit of Beryl Satrang. Yes, Alfred is mother's brother and there were three boys and two girls in the Satrang family. There was Alfred, Berdella, Lela, John and Clyde.
I was able to attend Beryl's funeral along with Melvin and Terry, my bothers that live in Michigan, N.D. It was a very nice funeral and seen family that we do not see and how sad it is to loose contact with everyone. Gary as it has been said so many times before and often how great this emailing has brought the community of Dunseith back together. It is nice to know as we loose our love ones that somehow out there knows  the people of the families, friends and community can share the good and bad of daily good news like so many have had, ex. Tim Hill, the Morinville family, Hanson family, etc. and the trouble of others.
Ester Evenson became a very good friend to my dad in the senior apartments until he passed away. She often cooked, baked and visited with him everyday.
We always make time to drive up to the hills again like we did when we were back for Alberta's funeral the end of May. The hills sure are pretty and so green. To all you that can still live in the hills, we think of you. You all continue writing to keep us wonder what will be on the next email.
Diane Wiebe (Wenstad)
From Sandra Zeiler Vandal (62): 
Had to reply to Larry,and Saturday Night Fever.  Dunseith had to be the best when it came to gathering together as a community on Saturday evenings. The cream, eggs, nickle, was it the same for us all?  My memories go back before graded , graveled roads.  Going out to the hwy 3 with the horses.  Dad had a shed on Howard Foss' approch where he parked the car, then he would leave the horses in the shed until we came back.  That was winter, in the summer when it was wet we would drive through the Peace Garden, and park by the fence.  Our house was  at the west side of the garden .  When I was just a little girl? I would pretend to be sleeping, and Dad would carry me over the fence to the house.  Way past my bedtime ofcourse.
.What a great time and place to grow up.  The Turtle Mts. are still great, and really enjoyed my last visit home. Celebrated Dads 88th Birthday (Arnold ) and a good 4th of July.  So, Larry, your story did bring a smile and maybe a little tear to my eye, so thanks for the Memories.                  Thanks also to you Gary for your time and effort, this hi-speed rocks, good to be in the 21st Century!       Greetings to all, Sandra Vandal
From Gary Metcalfe (57): 
Thank you to Larry, Terry, Janice and Dick for the great stories about the nostalgia of Dunseith at that time.  Janice, I wonder where I was on that fateful day??? Sorry I missed out on the fun!!
I remember my first stroll down the street of Dunseith, somewhere near LaMoureux's garage, I noticed a guy fall in behind us in the next row of people coming down the street, he must have had engineer boots on, I found out later that his name was Kenny Hill.  Janice, do you remember Kenny Hill's first car?  He had what a he called a "cut out" in it, I thought it was really cool.
My sentaments exactly, high school days were FUN, FUN, FUN!!
Bill Hosmer, if it wasn't for the diversity of the area that you mentioned, these memories would not be nearly as interesting.
Gary Metcalfe
From Dick Johnson (68): 
Gary, Larry, Tim, and Friends,
The farm memories are great, keep them coming! Tim's recollection of
milking is so true. I stayed at the farm with my grandparents a lot when
I was young. Milking cows by hand was just part of life back then,
everyone did. In the summer of 1961 a group called the 'Helldrivers'
came to the Bottineau fair. They did stunts with cars and motorcycles
and when I saw their ad in the local newspaper I was really excited.
Grandma  said that if I wanted to go they would take me, because I had
worked pretty hard with the chores all week. We milked 15 to 20 cows
twice a day and carried the milk up to the house to separate the cream,
and then carried the separated milk back to the barn to pail feed the
calves. We did the chores on the day of the show and then got all
cleaned up and headed for the fair. The 'Helldrivers' were great and
could drive cars on two wheels and over jumps and rolled vehicles in
front of the crowd! We stayed until about 11 PM and then got back in the
old Ford for the long ride home, about 32 miles. When we got home they
said to change my clothes as we had to milk! By the time we were done
with the routine, it must have been 2 AM! This was the price we had to
pay for a day at the fair! I remember thinking, it's no wonder Grandpa
never wants to go anywhere! Thanks Gary!
Dick
Folks, I have thrown in several Viet Nam pictures with today's message.
Gary Wall and I were stationed together in Viet Nam in 1969.  We both worked in the same small Dental clinic in Cam Rhan Bay.  Gary was a Dentist and I was a Dental Tech/Assistant/Hygienist & Motor pool mechanic.  Having been born and raised on a farm I was mechanically inclined and was able to keep the company Jeeps & Duce and a half's (2 1/2 ton trucks) running. I worked mornings in the clinic and afternoons on vehicles.
Gary Wall was a Bottineau boy and I Dunseith.  We met for the first time in Viet Nam.  Gary had a Dental practice in Bottineau for a few years, I think in the late 70's early 80's, when he purchased Dr. Troyer's office. Gary is married to Loretta Neameyer from the DHS class of 72.  Gary and Loretta recently built a new home, in Bottineau, across the street from Connie Halvorson Kester.
Gary Wall along with Lloyd Awalt and Neola's brother Jim Kofoid are very active Bottineau VFW members. Gary was the Bottineau VFW commander for a number of years.
Gary
           Gary Wall & Gary Stokes – Viet Nam – October 1969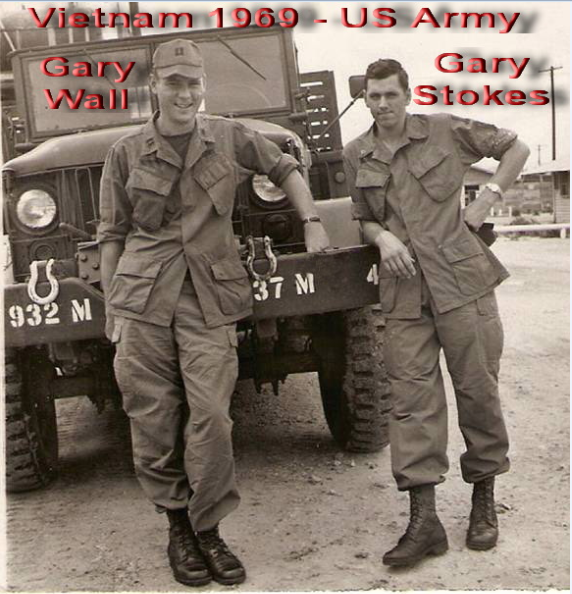 Warren Anderson (65) – Viet Nam