Reply from Marsha Getzlaff Bakken ('74):  Anchorage, AK
Hi all
On the photos Jimmy is right it is LeRae.
I want to say thanks for all the hard work in putting together blog. I read it always.
Thank you. Marsha (Getzlaff) Bakken
Thank You Marsha for the nice compliment.  Gary
Reply to the class of 73 pictures posted by Trish Larson Clayburgh
From LeaRae Parrill Espe ('67):  Bottineau, ND
Trish,
Just to let you know on the class of '73.  #5 is definitely not my brother Clark Parrill.  He was in the Class of '70
with your brother Greg. He never wore glasses until well into his 40s and he had curly  hair at that time .  e
My brother Joel was in the Class of '75, but #5 is not him either..
Our folks used to play some tense games of whist.  Mom and Dad were just starting to learn bridge when your mom got sick.  Your parents were master bridge players and my folks really enjoyed those games.  Mom still enjoys an occasional game of whist, but the other partners are gone.
LeaRae Parrill  Espe Class of '67
Three Forks, Montana
Reply/Picture from Neola Kofoid Garbe: Bottinea & Minot, ND
Gary,
Being Three Forks, Montana was mentioned in one of your recent blogs, I thought I'd send this picture of Mom that was taken in Three Forks MANY years ago—I think! LOL.  I see I've written it was taken between 1936-1939;  now think it was taken 1937-1938.
Neola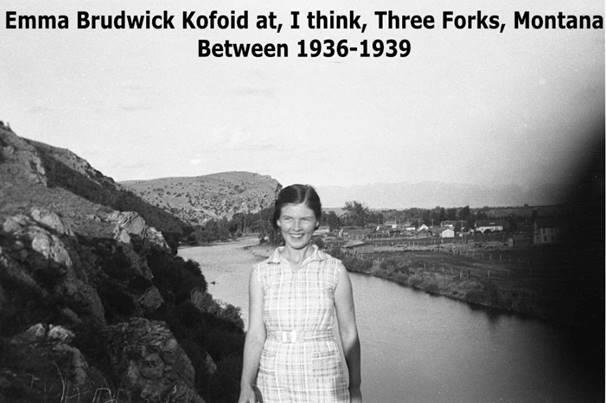 ====================================
Blog (308) posted on December 14, 2008
We were talking about errors with yesterday's message and lone behold when reading my returned copy I made another big one. What I meant to say was:
"In fact giving public address' is not my thing.  I will leave all that up to the professionals, Bill Grimme and company."
Folks, in regards to the Seattle Dunseith reunion, if you are thinking of going, to be assured of getting a reservation, please make your reservations ASAP with Bill Grimme. If for some reason you are unable to attend, Bill will refund your money up to 4 days before the reunion.  We have 150 slots reserved, but down the road, if the Best Western has another request for that same evening they may take some of those slots, down to the number we have signed up at that time, away from us. Right now we have the whole ball room with a capacity of 275. If you have misplaced your reservation form, Bill or I will gladly forward it to you.  Following this reunion, this event, with a group picture and a detailed write up, will be published in the Rolla, Bottineau and Belcourt papers.  If some of you folks, not going on the cruise, living outside of the Washington/Oregon area can make this reunion too, it would be wonderful.  Gary
With the death of Lois, I should have posted Orelle's address and phone earlier. Gary
| | | | | | | |
| --- | --- | --- | --- | --- | --- | --- |
| Hiatt Fugere | Lois/Orelle | 1790 W Star Lake Dr | Elma, WA 98541 | (360) 482-3010 | Died 12/06/08 | 56 |
Request from Clark Crum (54): 

Gary,

I was hoping to get on your mailing list.  I have heard some very positive comments.

Thanks

Clark Crum

Crum
Clark A.
7550 Ojibway Park Bay
Woodbury, MN 55125
(651) 414-0799
54
Clark, It is my pleasure to add you to our distribution list.  Gary
Reply from Joyce Boardman Smith (53): 
Hi Gary:
Please forward reply to
Tom Hagen.
Yes Tom I certainly do remember playing the Black Hawk waltz on the Piano.  Those were good times.  Many good memories from those days.
I now play piano for our Baptist church here in Chicago.
Mom was a wonderful woman.  After dad passed away we took her on vacations.  Most years we went fishing and she Loved it.  Also took her to the Grand Canyon, Smokey Mts., Blue Ridge Mts., etc.  Jim and I have many great memories of time spent with her.
Hope you and Dot have a very Merry Christmas and happy holiday season.
Thanks Gary and Merry Christmas to you and your lovely wife.
Joyce Boardman-Smith
Reply from Lois Lilleby Fielding (51): 
To Larry Hackman:  Phil Larson is my cousin who lived in Phoenix, but moved to Houston TX, where of couse, it is very hot and also very humid.  His mother was my mom's sister.  Phil's sister Lynn and brother Lee live in AZ.
My Mom's family was from south of Barton, Swedes among mostly Norwegians, but all friends.  I remember as a very young child going by horses and sleigh to the farms of my grandfather's brothers –all half a mile apart. I can remember being wrapped in a huge quilt and that is was very exciting.  Great Uncle Ola would give me a coin and we probably ate lutefisk.  My daughters and I still make lefse and kaldomars for Christmas.  Thanks for interesting stories.  Lois Lilleby Fielding
Reply from Bill Hosmer (48): 
Gary and Larry, and Good Friends,    That was a classic take of the Thanksgiving trek.  The description of the new snow, and how it changed the attitude should be published, along with that equine check valve you talked about.  Again, it was 1961 for my time over Dunseith. Can't take the blame for any other similar event.
Gary, I hope the sauce and book made it all the way.  Cheers, Bill Hosmer
Bill, I have not yet received your package. Priority mail normally comes through within a week or so, but things are slower this time of the year with all of the Christmas packages.  Bill Grimme sent me a CD well over a year ago that I have not yet received.  I'm assuming he sent it regular mail though.  I have never experienced any problems with priority mail coming to the PI.  FedEx, UPS, DHL, etc are guaranteed deliveries, but very expensive.  Gary
From Dick Johnson (68): 
Gary and Friends,
The cold north wind is howling and the snow is blowing here in the
Turtle Mts. It would seem like a good time to reminisce about days gone
by. Larry's memory of taking the horses and bunk sleigh down to Walters
for Thanksgiving got me thinking about the trail they would have taken.
I will bet they went west from Gus's and then south past Stowell lake
past Carlsons and Seims. That trail is the same one Floyd Lamb told me
about hauling hay on back in the '30s. I hunted deer with Floyd and his
son Dean back in the late '60s. I would drive up from town and be at
Lamb's by about 5AM. Dorothy and Martha served breakfast, like none you
have ever experienced! We would eat and then go down in the basement to
put on our outdoor gear for the hunt. One day as I was putting on my
stuff, I looked up in the ceiling and spotted an old Winchester carbine
between the floor joists. I made some comment about the little rifle and
Floyd took it down and handed it to me. It had a saddle ring on the side
and showed a lot of honest wear, being worn to a shine on the outside. I
asked what the saddle ring was really for? That was when Floyd told me
the story. He said he didn't know what others used the ring for, but
back in the '30s his dad and he would have to go down the afore mentioned
trail to the Seim meadow to get hay. The snow was so deep that many wild
animals were having a hard time to survive. Coyotes were starving and
when the horses got into the deep snow, the coyotes would actually
ignore the humans and attempt to take the horses. He said the little
rifle hung by a leather strap on the rein post and the strap went
through the saddle ring. They had to shoot the coyotes to stop them from
trying to kill the horses. Coyotes normally run at the sound or scent of
humans, so these must have been on a' last ditch' effort to survive. The
depression years of the 30s were also well known for vicious cold and
nearly unmatched snow depths. This sounds similar to other stories of
those years of hard times. I have often wondered what became of the
little Winchester 25-20 with the desperate past. I sure hope the family
has been able to pass this gun down to some of the younger generation.
It certainly earned it's keep! Thanks Gary!
Dick
Hiatt picture reply from Dave Slyter (70): 
Here is who's who in the Walter Hiatt family
Back row:  Freddie Hiatt, Delores Hiatt (Birkland) Eldon Hiatt
Front row: Bernard Hiatt, Julia Hiatt, Lois Hiatt,(Fugure),Walter Hiatt, Wallace Hiatt
What a great picture.  Thanks for sharing Stan, Joan and Dick.
Also thank you everyone for thinking of the Hiatt/Slyter family during our loss of Lois.  It is much appreciated.
Dave Slyter (70)
Hiatt picture reply from Rhonda Hiatt (75): 
Gary,
Thanks Dick and Stan for the great picture of the Hiatt family. The back row from the left is Freddie (Dad), Delores, Eldon. The front row from the left is Bernard, Julia, Lois, Walter and Wallace. I have seen this picture before, but I don't think I have a copy so will print it out. Thanks so much!!
Rhonda
Hiatt picture reply from Bobby Slyter (70):
Hiatt picture reply from Evon Lagerquist (77): lagerquist@srt.com
From left to right in the back: Freddie, Delores, Eldon
In front from left to right: Bernard, Aunt Julia, Lois, Uncle Walter, and Wallice.
Thanks Gary!
Evon
Evon, with your mother, Leola, being a Hiatt, Walter and Julia were indeed her first degree uncle and aunt.  Gary
Hiatt picture reply from Stan Solmonson (61): 
Hi Gary,
Photo family order:  Back Row- Freddie, Delores, Eldon; Frist Row: Bernard, Julia, Lois, Walter, Wallice.
Juila and my Grandmother Arla Millang were sisters.
Sounds like you had a great time on celebrating your 30 th Anniversary.  We're happy for you.  Steve had
an enjoyable time in Hong Kong too and got home safely.  He appreciated your phone call and regretted that
you were unable to get together.
We're having a really cold, snowy and windy storm here with -14 degrees.
Thanks for all you do.
Stan (61)
Stan, I thought I knew most all the relationships of the folks up in our neck of the woods, but I never new that your mother, Agnes, was related to the Borre Johnson family. With the Hiatt's and Johnson's many of our readers are related the Walter & Julia Hiatt family.
Speaking of weather, last night when we were sitting outside chatting with the folks in our compound, they were chilled and started covering their arms with towels to keep warm.  The temperature was 81F.  I talked to Warren Anderson, in Rolette, yesterday and he said there was a big storm headed for the area with predicted -65 degree temps, with the wind chill factor, to follow the storm. I think it would be neat to experience the cold and snow again.  The last time I was in ND, in the winter, was 1970.  Gary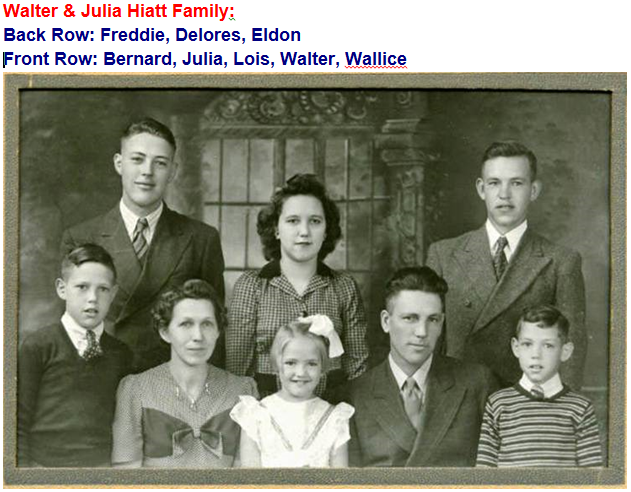 From Cecile Gouin Craig (61): 
How many of us remember the aprons? All our grandma's or Mother's had aprons. Cecile
The History of APRONS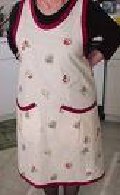 I don't think our kids know what an apron is.
The principal use of Grandma's apron was toprotect the dress underneath, because she only had a few, it was easier to wash aprons than dresses and they usedless material, but along with that, it served as a potholder for removing hot pans from the oven.
It was wonderful for drying children's tears, and on occasion was even used for cleaning out dirty ears.
From the chicken coop, the apron was used for carrying eggs, fussy chicks, and sometimes half-hatched eggs to be finished in the warming oven.
When company came, those aprons were ideal hiding places for shy kids.
And when the weather was cold, grandma wrapped it around her arms.
Those big old aprons wiped many a perspiring brow, bent over the hot wood stove.
Chips and kindling wood were brought into the kitchen in that apron.
From the garden, it carried all sorts of vegetables. After the peas had been shelled, it carried out the hulls.
In the fall, the apron was used to bring in apples that had fallen from the trees.
When unexpected company drove up the road, it was surprising how much furniture that old apron could dust in a matter of seconds.
When dinner was ready, Grandma walked out onto the porch, waved her apron, and the men knew it was time to come in from the fields to dinner.
It will be a long time before someone invents something that will replace that 'old-time apron' that served so many purposes.
Send this to those who would know, and love, the story about Grandma's aprons.  Or it can be a good history lesson for those that have no idea how the apron played a part in our lives.
REMEMBER:
Grandma used to set her hot baked apple pies on the window sill to 'cool'. Her granddaughters set theirs on the window sill to 'thaw'.
They would go crazy now trying to figure out how many germs were on that apron; however, I don't  think I ever caught anything from an apron.
Cebu City, Philippines:
Folks, We took this picture out the front windshield of our car on the way to the mall the other day.  This picture was taken on the main highway that runs north and south on this island.  Can you imagine this little Daihatsu going down one of the main freeways with more than a dozen folks in the back, in the USA?  I can count a dozen folks, but there are probably more underneath, that we can not see. There were also 4 or 5 passengers in the cab.  These folks like togetherness.  Gary
Note:  Take note of the Motorcycle on the left going down the oncoming traffic lane. Cars will do the same when there is an opening.  Somehow they always manage to squeeze back into their lane of traffic.  I have never seen anyone get a ticket for doing this either.  They give lots of tickets for the less hazardous offenses like making an illegal turn or stopping in a no stopping zone.  These roads are wild and as you can see there are 3 lines of car traffic going our direction on 2 lanes of road. With the two motor cycles there are 5 lines of traffic.  Folks will often times go up on the sidewalk to pass on the right.  I have gotten used to it and can bully my way through with the rest of them. In spite of all this, there is very little road rage.  This was noon.  The traffic gets a lot heavier towards late afternon and evening.