No blog the past two days
For the record I did not get a blog posted for the past two days.
Gary
Louise Boucher
Posting from Debbie Fugere Fauske ('75):  Minot, ND
Hi Gary:
I met Louise Boucher and her daughter, Janice Pederson, today.  Louise is married to Elmer Boucher's brother (now deceased), and she's also a sister to Ernie Cote.  Of course, she knew my parents as well as the Casavant's, Boucher's, Cote's, Fugere's, etc., from the Dunseith/Rolette/Bottineau area.  She is very interested in receiving the daily blog and any prior blogs you could send.  Louise doesn't have email; however, her daughter Janice does.  Can you please add bobp@ to your list and they will pass along the daily blog emails to Louise. 
Thanks for everything you do, Gary!
Debbie Fauske
Thanks Debbie,
I have added Louise/Janice to our distribution.
Gary
Frances Hanson Morinville's Brother (Five Generations)
Picture posted by Dewy Morinville ('72): Dunseith, ND
Need some help Identifying several of these folks.
   Five generations: Great Grandma, Harriet, Harry. Young boy?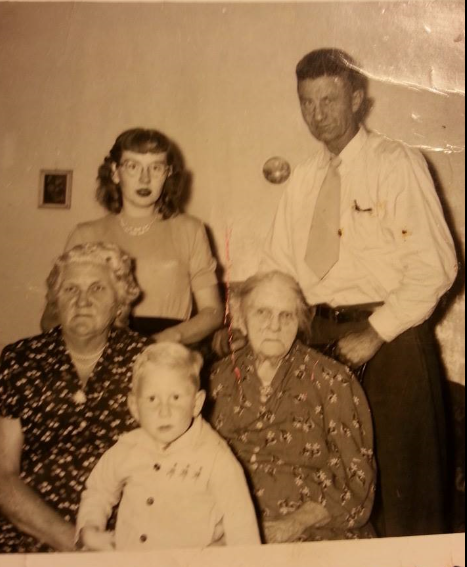 Posting of the day
From Vickie Metcalfe ('70):  Bottineau, ND
Gary and friends,
            Only fellow North Dakotan's would "get" this bit of  humor! 
The following  advertisement appeared  this weekend  on the bulletin board 
of Bottineau's very own Hometown Market, which is located on North Main Street. 
__________________________________________________________________________________________________________                                                             
                                                COD
            The piece that surpasses all understanding.
 Lutefisk Dinner(more information about the  annual Fall supper including potatoes,
lefse and pie on October 26 at the Towner Lutheran church)
 Remember, Lutefisk is the other white meat.
            ____________________________________________________________________
            I have been 'smilin' every since reading this.         I had to go back and read again
            NO, I'm not of Norweigian descent but I do enjoy my lutefisk,   fruit suppe'
            sandbakkles and lefse.
            Until later, Vicki
====================================
Blog (185) posted on August 8, 2008
From Neola Kofoid Garbe: 
Hi Gary,
The world is indeed getting smaller.  I just read Sybil Johnson has been added to your list (I've already sent an email to her.).  She/Auggie and family lived about four houses south of Wally/me in Minot when they/we lived on 22nd St. N.W.  Her youngest son was in my class.  I'm embarrassed I can't think of his name.  Kelly is the only name that comes to mind, but that was Auggie/Sybils's older son.  I believe he was killed in an accident at the Air Force Base when he was working there. Sad,  I remember their daughter well, too, but her name also eludes me.  I'm hoping she will reply and "fill me in" on what's been going on in their lives these last years.  I can tell the years have passed since the Johnson family and I first met.  I see Sybil is a great grandmother.  When I first met them, her daughter was in elementary school.  Hi, Sybil.

I am so happy to hear Ann's lung transplant went well.  As you know, the Birchwood, besides having a beautiful setting/decor, serves excellent food.  You most likely remember Floyd bought Dad's garage in Bottineau when Dad retired.
Back to sorting pictures.

Neola

Request from Jean Eurich Roland:
Hi Gary.  I'm Jean (Eurich) Roland, a former Dunseithian!  I've heard oodles about your efforts and was wondering if you can add me to your mailing list.  My email addresses are:
I understand that my sister-in-law, Ann Pritchard, will be a topic of your communications in the coming days.
Thank you so much.  I look forward to further communication with you.
Regards – Jean
Jean L. Roland, RN, BSN, CPHQ
HCQIP Inpatient Project Coordinator
NDHCRI
800 31st Ave SW
Minot, ND  58701
phone: 701-852-4231
fax: 701-838-6009
e-mail:
Jean, Yes, Mona Johnson is keeping us updated with Ann's Lung transplant.  Floyd/Ann are on our distribution list as well. Your family raised Floyd, so he is truly your brother.  Your cousin's Dale and Carl Pritchard are also on this distribution list.  Gary

Ann Prichard's updated condition from Mona Dionne Johnson (48):
Gary:
I am told that Ann Pritchard is still in critical, but stable condition, but is showing slight improvement, following her lung transplant.
Mona Dionne Johnson
From Keith Pladson (66): 
Gary,
Thanks for the 1940 input on Ackworth.  One of the persons mentioned was my Uncle Willie Thompson.  Willie died at a fairly young age and thus I don't remember him in person at all.  My mother spoke often of him.  He clearly was very important to her during her childhood.  I was not aware that he was ever at the Kramer CCC, so I found this rather interesting.   Uncle Willie was married and him and his wife (Rose?) had two children.  However, they lived in Wisconsin, so we had virtually no contact with them.  To the delight of all of my siblings and myself, Willie's son (our cousin) Matthew attended our mother's funeral in 2001.  It was the first time most of us had ever met him.  What a wonderful surprise and blessing that was.
Also mentioned in the item were my Grandmother Alice, my Aunt Esther and my Mother Ella.  I'm sure some of the readers of this blog remember my mother and all of her family.  Except for my Aunt Lillian who lives in Superior, WI, all of my mother's family is now gone (the older generation, that is).  Interestingly, my mother and her older sister Esther were as close as sibling can be and until my mother's death, they spoke to each other every day (either in person or by phone).
Thanks again, Gary, for including that little item.
Keith Pladson (Class of 66)

From Keith Pladson (66):
In reply to Crystal Fassett Andersen's input on No. 81 (did you mean it to read No. 181 Gary?), my sister Fern Pladson Beaver (class of 67) is a member of the cast in some community theater production in the Devil's Lake area.  Though I have not been able to attend any of the presentations (it's a long drive from Virginia), she says she really enjoys her role and invites all friends, relatives or old acquaintances to come and enjoy their work.  My sister Florence Pladson Sime (class of 62) has been to one of the productions and could probably tell more about it.  How about some input Florence?
Keith Pladson (Class of 66)
Keith, That was meant to be issue No. (181), not (81). I noticed the mistake after I had sent the first two lists.  I have 7 distribution lists for sending these daily messages.  I am limited to 99 folks with each sending, so I have all you folks divided up into 7 distribution lists. I have a return copy sent to myself on each list, so I can monitor if they go through.  Gary
From Gary Morgan (54):
Gary & All,
A while back Mr. Lykins mentioned that Third Culture people often feel more comfortable  living overseas and that he had a heck of a time adjusting to living in the States.  Who isn't uncomfortable living in our society of Godless schools and government, alternate lifestyles, political correctness and litigation hungry lawyers?  I've lived in the U.S. all my life and I still haven't adjusted.
Gary Morgan

From Randy Flynn (70):
Gary Morgan and Lola Vanorney,

Reading the story of the DHS Football teams after WW II and Glen Williams response about your father (Kenny Morgan) and Virgil Vanorney working with the football team, I would like to hear any stories you have about either of these men's athletic experience.  As a boy, I remember both men officiating football and baseball games.  At that time I assumed both men grew up in Dunseith or Rolette County as I did in the 60s.  Sometime after I graduated from High School,  I hear a story that Kenny Morgan was a great athlete in Minnesota before moving to Dunseith.  I also thought I read where Virgil Vanorney was on several ND State Championship Teams.

Can either of you share any information about their experience?  It would be interesting?

Thank you.

Randy Flynn

From Rod Hiatt (69): 

Here is a picture of Brian Fauske on his 56 th Birthday. Brian lives just north of our cabin on Long Lake so we generally are fishing, riding his Rhino or at least having coffee 4-5 evenings a week. Kind of brings back some of the old memories when we use to run together back in our younger days.

We would have gotten him a real cake with all the candles but there was a burn ban in Bottineau at that time.
I hope you enjoy the photos that I shared from my HP Photosmart software.

Get your free version today at
From Evon Lagerquist (77): 
Gary, the man in the picture with Mary Ann Hagen is Alvin Haagenson. He is Cheryl's dad….

From Dick Johnson (68): 
Gary, the guy sitting by Mary Ann Hagen is Elvin Haagenson. This is in the
other photo from Neola. Thanks Gary!
Dick

From Cheryl Haagenson (71): 
That handsome gentleman with Mary .Ann Hagen is Elvin Haagenson, my Dad.  He is 95 and lives at home with me in Dunseith.  He has lost most of his eye sight due to Glacoma
but still does well.  He stopped his Sun!day afternoon poker games a couple  months ago. Thanks for asking. He was surprised to hear that his picture was on the "machine" and said to get it out there who he was!  Thanks again Gary for all you do!
Cheryl Haagenson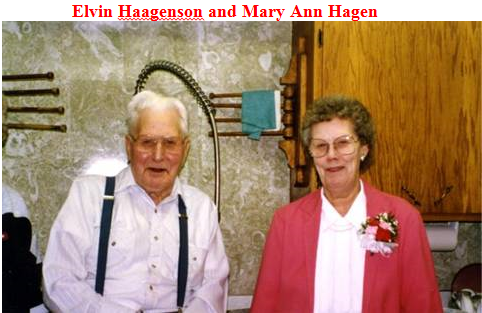 From Florence Pladson Sime (62): 
Hi, the gal in the front row on the Azure picture is Christine,
who is a beautician. She has the white sweater on. The gal in the
back row with the red top on is Viola. She was married to Hartley
Carlson from Bottineau. She was a teacher at the Dunseith Day
School for many years.
From Dick Johnson (68): 
Gary, the picture of the Azure family has several I know–Red sweater in
the back row is Viola who was married to Hartley Carlson in Bottineau.
The gal on the front far right is Carol who runs Azure's Store on the
Jack Rabbit road. The gal with the light hair runs a beauty shop next
door to the store, but I'm not sure of her name.Thanks Gary!
Dick

From Debbie Poitra Rondeau (77): 
Hi Gary

This is in reply to the Fred Azure and Belcourt Police pictures.

Top Row: Viola,Lois,Morris,Rosalie (Azure )Thomas And sitting from right sideis: Cecelia (Azure) Thomas,Delia,Fred,Christina and Carol Azure. Rosalie and Cecelia both licve in Rolette.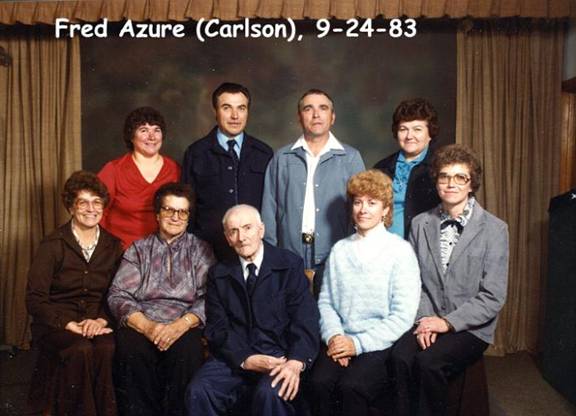 Belcourt Police Department:
Sitting: From left to right is
Doug Manson-George Longie-Chuck Laducer-Kent Sayers-Leroy Jeannotte-Darly Laducer-and Daune Gourneau
2nd row: Starting from the right side
don't know the first name? Wessel's -Lillian Lafountain-Maryann Delorme-Pewe Jeannotte-Ron Trottier-Jeantte Grant-_______________?Freddie Blue
Standing: Left to right
Francis Thomas-Bob Gourneau-Duke Vettleson-Gary Falcon-Howard Longie-Joe Blue.
Top Row: Viola, Lois, Morris, Rosalie (Azure )Thomas
Sitting: Cecelia (Azure) Thomas, Delia, Fred, Christina and Carol Azure.             
Sitting L to R: Doug Manson-George Longie-Chuck Laducer-Kent Sayers-Leroy Jeannotte-Darly Laducer-and Daune Gourneau
2nd row: don't know the first name? Wessel's -Lillian Lafountain-Maryann Delorme-Pewe Jeannotte-Ron Trottier-Jeantte Grant-_______________?Freddie Blue
Standing L to R: Francis Thomas-Bob Gourneau-Duke Vettleson-Gary Falcon-Howard Longie-Joe Blue.