Cora (Warren '65) Anderson Passed away.
Posting from Vickie Metcalfe ('70):  Bottineau, ND
Gary and Dunseith Alumni,
Todays (July 18)  Minot Daily Today
I read of t the passing of Cora ANderson.
I offer sincere sympathy to her  family on their  loss .
Vickie L. Metcalfe
Gary's Comments
Warren; I was so saddened to hear of Cora's passing. She was a good person and a nice person married to one of the finest guys on the face of this earth too. She will be missed. We extend our condolences to you and all of your families with her passing.
 SHARON (CORA) ANDERSON'S OBITUARY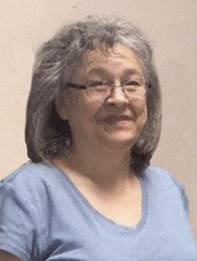 Sharon Cora Marion-Anderson
March 22, 1950 – July 11, 2019
Sharon Cora Marion-Anderson, 69, Minot, ND, formerly of Rolette, ND, passed away Thursday, July 11, 2019, a Trinity Medical Center of Minot.
Sharon was born March 22, 1950, the youngest of 12 children born to Herman Marion and Georgianna Smith-Marion, in Belcourt, ND. During her early years of education, she attended St. Ann's Catholic Mission in Belcourt. For her freshman year, she attended Stephan Boarding School in South Dakota. Sharon's education continued at Belcourt High School, where she graduated in 1968.
She attended Haskell Indian Nations College in Haskell, KS and graduated with an Associate's Degree in Business. Her first employment in the workforce was at the State Capital in Bismarck, ND with the Driver's License Division. She then began a 17 year career with Indian Health Service in Belcourt, which extended it to Washington D.C., Aberdeen, SD and Billings, MT. While in Billings, she attended college and received a four year degree in Business. She then moved back to Belcourt and was employed at the Turtle Mountain Community College.
While attending Haskell, Sharon met Wales Chester Bulltail and they were married in 1971. They had one child, a son, Conrad. The marriage was later dissolved.
In 1999, Sharon married Warren Anderson. They made their home in Rolette, ND for 20 years, where they enjoyed retirement.
Sharon loved her pets: George, her cat, and Lucy and Sassy, her two overprotective dogs. She had a soft heart for all animals. She spoke up when her husband went hunting. They enjoyed traveling, and visited Vietnam in 2012 and Israel and Turkey in 2017.
Sharon's hobbies included growing flowers, reading and attending school sports, especially when her nephews or grandchildren were playing. She always had a book by her side. She loved playing cards, especially with her cousins, the "trickster" Marion girls. She loved family and get-togethers for birthdays and holidays.
Surviving family includes: Husband, Warren Anderson; son, Conrad (Kim) Bulltail and their daughter, Illyanna; sister, Phyllis (Dave) Jollie; brothers, Clark (Shirley) Marion and Frank (LaVina) Marion; step-brother-in-laws, Lawrence (Shirley) Anderson and Charles (Mona) Anderson; step-sister-in law, Mary Millang; 13 step-grandchildren; and many nieces, nephews, and great-nieces and nephews. She loved all family with a big heart.
Sharon was preceded in death by her parents; 8 brothers and sisters; and her step-sister-in-law, Shirley Doan.
Mass of Christian Burial: Saturday, July 20, 2019, at 11:00 a.m. at Sacred Heart Catholic Church, Rolette, ND.
Visitation:  Friday from 5 to 7 p.m. followed by a Vigil Prayer Service and Recitation of the Holy Rosary at 7 p.m. at Sacred Heart Catholic Church, Rolette, ND.
Memorials: are preferred to the Rolette County Veterans Service Officer in Rolla, ND.
Sharon Haakenson, Bottineau, Passed away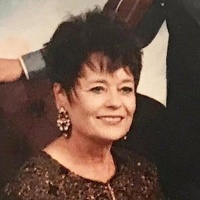 Sharon was married to Dennis (Hawkeye) Haakenson. Dennis is a 2nd cousin to both Neola Kofoid Garbe and me. I believe Sharon and Sandy (Rick) Gottbreht are first cousins too.
Dennis and Sharron are/were very well known throughout the area. They are known for their horses.
Sharon's death was sudden. Not expected.
Please follow the link below for her obituary
https://www.nerofuneralhome.net/obituary/sharon-haakenson

Elusive Juneberry is Season____ somewhere in ND
Posting from Vickie Metcalfe ('70):  Bottineau, ND
Gary, Alumni and Friends of Dunseith,
July 14, 2019
The Elusive, Juneberry
I was a child, in the era before a freezer in every home. The root cellar held vast quanities of treasure; jars lined the shelves within walls. Mom pressure canned produce from her garden; vegetables including tomatoes, cabbage, cucumber, carrots, green and yellow beans.
The little dry but cool & dark corner of the cellar held a colourful calico plethora of quart jars filled with  vegetables, rhubarb juice, as well as stewed beef, deer and chicken.
Mom had a nose for finding and processing juice, jams jellies, pickles, and various fruits of the wild; including plums, pin cherries, raspberries, high bush cranberries, chokecherries and ___JUNEBERRIES. And come winter. It was always tempting to crawl down into the cellar an raid the fruit.
May and June brings spring's fragrant promise of renewal. However in nature there always "lurks possibility of a hard freeze".
I base this on a man with extraordinary memory and knowledge, who lived into his 90's, Uncle Bill Metcalfe. Uncle Bill, Spring, Summer, Fall, and Winter wore long handled woolies. One July.  I said, "Uncle, Bill," "Do you wear those all the time, why?" He replied, "They insulate from the heat and are warm in the cold." " "One time I took them off the fourth of July but put them back on the fifth of July. He also said, (In his long life) " I have seen a hard freeze in every month."  Uncle Bill was always well prepared, wise, and carried within him, simple deep faith.
I was told, One spring, June day, although heavy with child, Mary, adamently insisted Bill to hook up the team. For a long drive. They were to drive South and west to pick berries and camp.  Mary, had been told about the heavy leaden Juneberry trees were plentiful in the foot hills above the prairie. Once there while picking juneberries, daughter Alice, was borne in June at Butte St Paul.
Through the years juneberries patches seem become more elusive. In the last few years it seems the berries are are not ready until July.   I hear, many people hold on and don't share  the  secrets. One secret always well kept is the location of…_a Juneberry patch.
My mom's  favorite pie was juneberry.
I was not fond of juneberry pie. But, her last summer, one July, with the aid of Wayne Barbot of Waynes Grocery Store in Dunseith, I purchased berries for many pies.  Armed with purchased frozen crust I picked berries clean and sought recipes from expert bakers I knew.
I found out how simple pie baking is when…..a-hem…. okay… whole _truth.  Actually, quite simple.  Me and Pillsbury Frozen crust!
Yesterday prior to Eleanor's funeral, whilst in Rugby, a former Bottineau co-worker greeted me at Cenex. He and his family  now live in Bismarck. He told me he was on road trip to Pembina. _ To _____pick elusive ___Juneberries.  He was told they were abundant.
He shared a juneberry recipe which he said he uses on his from scratch cheese cakes.
2 C. juneberries, ¾ C. Sugar, 1 T. cornstarch,
¾ C. Water, 1 T. almond extract stir together,thicken stirring over heat.
When thick, cool, spoon gently over cheese cake.
He kindly said, "Vickie You could just spoon it into a crust if you can't make a cheese cake."
Hmm. "I don't have to go searching for elusive berries, my insurance man thought it odd when I requested to up the insurance to apply to my freezer.
He didn't know.          It was all about elusive JUNEBERRYS! Those little treasures are well packaged hidden in the deep in the well issured_ freezer.
Until later,
Vickie Leona Metcalfe
Sometime in Ellusive Juneberry Season 2019
==============================================
Blog (786) posted on April 27, 2010
Lester & Marion Johnson:
Congratulations from Joan Richard (Teacher): Dunseith, ND
I would like to congratulate Lester and Marian on a milestone anniversary,
Happy 60th Anniversary. It was great that the family could be together
and enjoy each others presence. God Bless You all. Joan Richard,
Dunseith.
Lester & Marian Johnson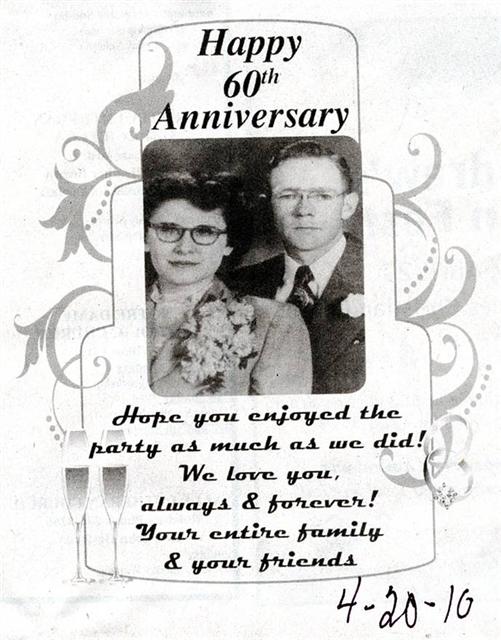 Reply from Keith Pladson (66): Stafford, VA
You are so right about not knowing where you are calling anymore. Several months ago, I had been dragging my feet on making some calls on a few things. None of them were real serious, but after putting them off for several days, I finally decided it was time to make the calls.We had been having some trouble with our computer firewall package, so called their number for customer service. The lady I spoke with was very helpful and was able to diagnose and fix the problem. She spoke with a very heavy accent, so I asked her where she was located, to which she responded with the name of a city in India.
Next our dishwasher had been acting weird when you ran it through it's cycle. We have an extended warranty on it so I called the warranty company and the gentleman I spoke with ran me through the steps to reset the computerized electronics that control the cycling of it and it's run fine ever since. In any case, he spoke very good English, but had a distinctive accent. So I inquired where he was located and he said in Honduras.
My final call that day was to the Credit Union through which we have our credit card and I ended up speaking with a lady in Omaha, NB.
Then, a few days later our house phone went dead, so I used my cell phone to make a "local" call to Verizon to report the outage. I really thought I was speaking to someone right here in Stafford county, VA and couldn't understand why she didn't seem to understand where I was located. So I asked her "aren't you here in Stafford, VA?" She laughed a little and said, "Oh no, I'm in Dallas, TX.
Yeah, it's a small world … and getting smaller every day.
Thanks Gary.
Keith (66)
 1983 Dunseith Dragons Boys Basket Ball Team L to R:
Back: Brother to George Bruce, #40 Gerald Counts, #24 Mark Peltier, #14 Roger Cree, #44 Pat Peltier, #42 Travis Davis, #32 Mitchell Cree, #30 Brian Azure & Gilbert Peltier
Front: #12 George Bruce, Coach James Keating & #34 Dean Gillis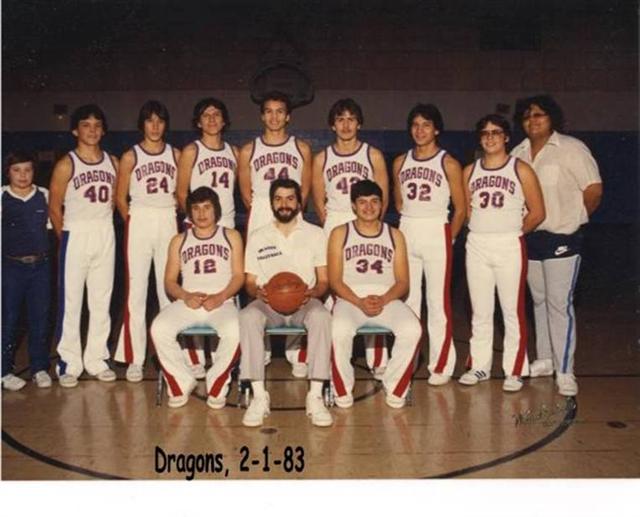 Cebu, Philippines
Several have been asking where we are located in the world, so I thought today would be a good day for reposting this map that Bill Grimme provided about 3 years ago. We are located in Cebu with the big red star. We are about 400 miles north of the Equator. The island of Cebu is nestled between several other islands. It's kind of hard to tell looking at the map. The island of Cebu is banana shape. It's about 150 miles tip to tip with a girth of about 20 miles at the widest point near the center. There are about 4 million folks living on this island, so we are not lacking for people. Gary