Condolences to the Nelson Family
From Marlys Hiatt ('71): Dunseith, ND
My condolences to the family and friends of Mrs. Nelson.  She was a wonderful teacher.  I never ever forgot her and after my return to the Dunseith area I often tried to look her up.  With the help of Ann (Boppre) Perry I was finally able to make contact with her by telephone.  I am so glad we were able to have a couple conversations.  I had seen her at a funeral years before and was so touched that she remembered  my name.
I would love to tell some stories about Mrs. Nelson but right now what I remember most is her beautiful smile that always welcomed you to her classroom and her gentle sweet spirit that made learning fun and we did learn so much from her.  My mother was a very skilled cook but there were still things to learn from Mrs. Nelson and I had a lot of fun sharing that information with my mom.  No matter how much time passes I will never forget what a wonderful teacher Mrs. Nelson was.
I have been a worker in the educational system for about 15 years and there are times when I and other staff think about previous students and wonder how they are or what they are doing.  Sometimes we pass on information to each other about success of our past students.  For you teachers out there I want to let you know your students are doing the same.  Thing about you, wondering how your doing, and remembering the things that happened in your classroom.  Students that will never forget you and what you meat to them.
Marlys Hiatt
School Social Worker
Recent pictures at Parties and Dinners in Cebu.  Lots of social gatherings.
Marco Polo:  Gary, Rose and Bernadette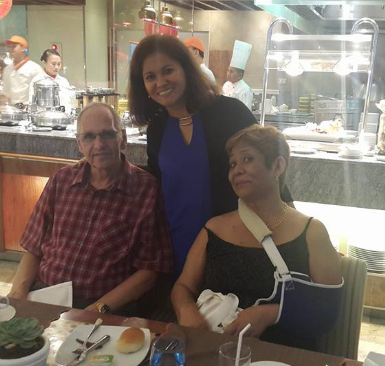 Ian Craven's 70th Birthday Party:  Gary, Sharon, Rose and Michael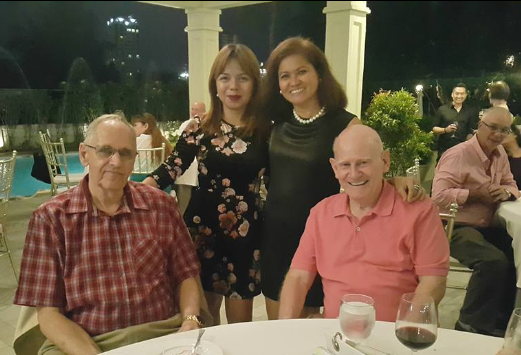 ==============================================
Blog (567) posted on October 3, 2009
Posted on October 3, 2009
Reply from Erling Landsverk (44): Portage, WI
Hi Gary and Everyone:
After reading your last message today, I couldn't get Aggie Cassavants letter out of my mind, where she described the reception she and her colleagues received in Dunlap, Tennessee. I grew up in the turtle Mountains, and of course we were not exposed to other races very much, but I know both Mother and Dad were color blind when it came to race or religion. I am very grateful to them for their tolerance for everyone, and I am sure it made an impression on me that has made it much easier for me to make friends, and communicate with people of every race or creed. A case in point; the V A sent me to Hines, Ill. to the V A Hospital for the blind to receive training to help me deal with the disability. I met many African American veterans, and during my stay i got to know them well and became friends, and some of them still had the old slave dialect that we come to recognize them. . Some were very articulate, but I wouldn't be able to tell whether they were black or caucasion. My wife and oldest son came to visit me one day and I had extolled to them about how much i enjoyed working with a particular instructor, who also happened to be my coordinator. He knew they were coming and I asked him to stop by my room so I could introduce him to them. Sure enough, he came to my room and i introduced him and we enjoyed a short but informative conversation. After he left, my wife turned to me and said, you never told me he was black. I told her truthfully that i didn;t know, but that the thought had not entered my mind. I think if more people who have racist notions would simply put on a blindfold before they meet someone of a different race, that they may put aside foolish notions about superiority and other foolish thoughts. His name was Emery, and He was an outstanding instructor. I went back for some additional training 2 years later. When he met me in the hall he called me by name , came over, shook my hand and renewed our relationship with some cheery remarks. I feel truly sorry that Aggie had to witness the type of ignorant racism that must have terrified the little girls with her. It is my hope that people like that will eventually discover the error of their way, but unfortunately this type of mentality will more than likely crop up again. There is good and bad in every race or religion, and it is our duty to separate the good from the bad, and teach our children the right way. Sorry for the long sermon, It is one of my pet peeves.
Erling Landsverk
Message that Neola Kofoid Garbe sent out to her folks
neola@min.midco.net Minot & Bottineau, ND.
Hi Bottineau Bunch/Brudwick's,
Many of you know Virgil Rude, son of Alfred/Viola Bjornseth Rude. Virgil suffered a stroke on September 18. The enclosed email came from his wife, Gerry.
Neola
Neola,
Sorry I haven't got back to you sooner. Virgil has no problem with you
sharing information about him. His right side is weaker than the left,
and his speech
was affected some. He can walk, but we stay close by so he doesn't
fall. He can also talk and we have no problem understanding him, but
certain sounds have to be worked on. His stroke was on the 18th. He
noticed he couldn't make certain sounds and asked me to take him to the
emergency room. He has therapy 2-3 hours every other day and is
already making progress.
Gerry
Neola, Many of our folks know Virgil Rude, so I am posting this. His parents were Alfred and Viola (Bjornseth) Rude. I talked to Virgil recently too. Virgil was in the National Guard with Larry Liere (55) and C Emerson Murry (42). I called Virgil when Larry posted the picture of him and Emerson. That had to have been just a few days prior to when Virgil had his stroke.

Virgil, I have am including you with this message today. I am so sorry to hear of all this that has happened to you. On the bright side, you are getting better.
Folks, Virgil lives in Minot and is a retired school teacher/administrator from the Minot schools. When I talked to Virgil he told me he worked directly for C Emerson Murry for a number of years. C Emerson Murry was a Two Star General in the guard. Virgil was a bird Colonel. Gary
Virgil's email
Reply from Louise Pigeon Horsman (43): Bothell, WA
I was reading the message from Bill Hosmer about the Tennancour girls. I will be seeing Eileen within the next month. Harold passed away and she is living in a retirement home in Bothell. Louise Pigeon Horsman
Louise, I believe Eileen Tennacour was married to Harold Korbel. Harold's brother, Albert, was married to Mildred Bjornseth. They lived in Edmonds and I think Harold & Eileen may have lived there too. Dad knew Mildred well and also the Kobel's. With his visits to see us he'd always call Mildred and we'd stop by their house in Edmonds on our way up to Everett from Bremerton. We'd take the Kingston / Edmonds ferry. Dad's brothers, Nels and Pete Petterson lived in Everett. Gary
Lorette Berube Leonard & Bernadette Stokes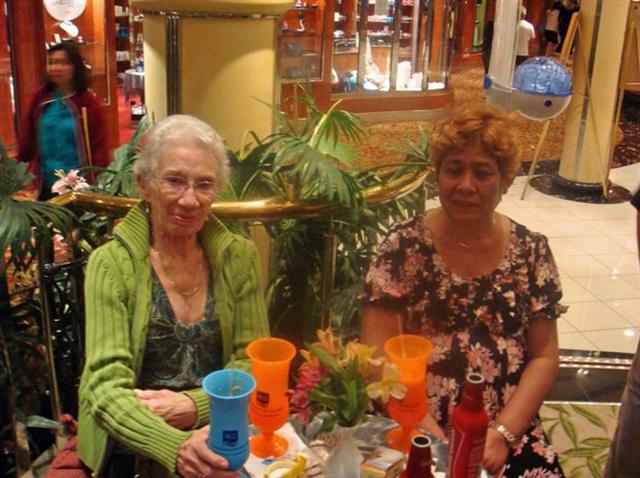 Leo (Phyllis McKay's special friend) with Marvin & Marie Iverson Staub (60)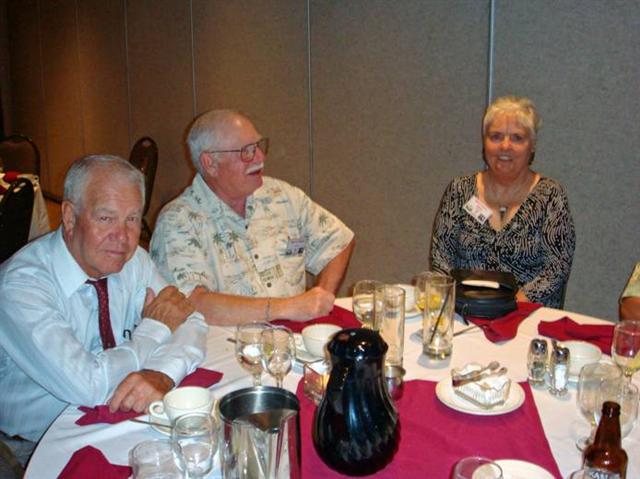 This is a birthday party that we celebrated at Shakey's in the mall for Bernadette's Great Niece in yellow on the right. With exception of our two helpers and the little boy in front on the end, these are a few of Bernadette's relatives. Bernadette's sister, Berlinda, is on the right in blue. As you can tell, I'm the minority in this group. I don't speak their language, but they can speak mine, so that's OK.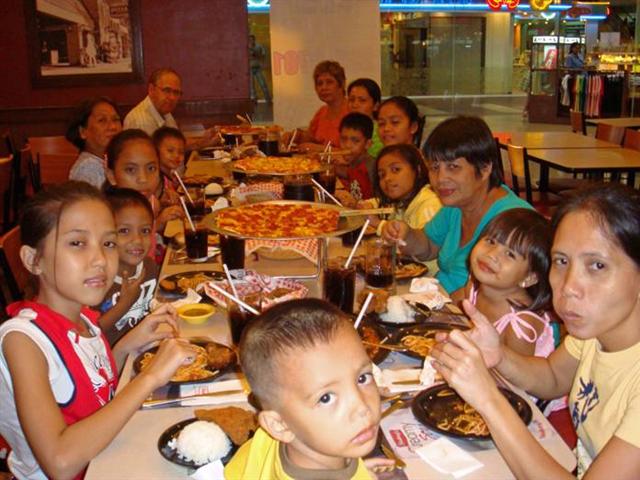 The lady of the house, Benadette, with her helpers below.

Sisters – Our helpers Gaga and Tata. Tata's husband, Aldren, works for us too. He takes care of the outside.