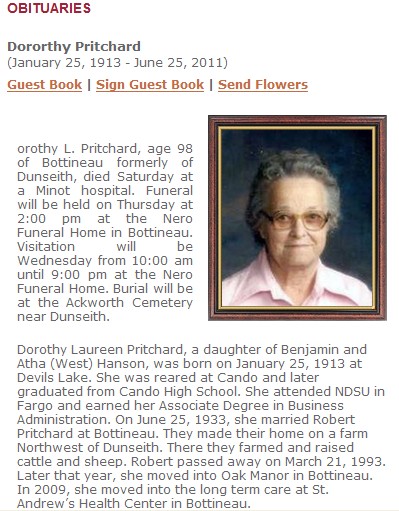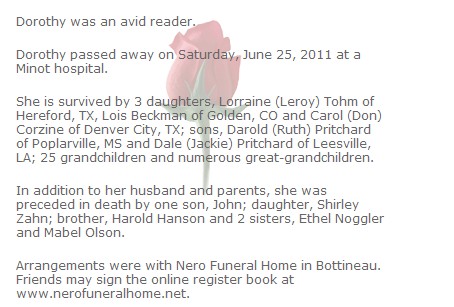 Diane Hill Moline's house is under water.
Message from Diane Hill Moline (75): Burlington, ND
Friends & Family:
We are fortunate to have a camper we are currently staying in, parked at Karl's sisters place northeast of Burlington. We will be moving our camper on Saturday to park it behind my work, Central Trenching "CTI". There is water and sewer hookup there. It will be fine for the warmer months!
With all north-south roads being closed except for the 83 bypass, it currently takes me 40 minutes to commute to work, which used to take me 5 minutes! Karl is able to get to work through the north route.
Our house has taken on water of up to around two feet below the roof. You cannot see our house or shed from any of the photos, however this is a picture of the house & condo's across the street from us. This is the closest we can get to our home and have heard reports the level of water will be constant for two weeks.
Water in the City of Minot and surrounding areas has been contaminated. We are using bottled water as it is accessible.
It's hard to believe this is happening to everyone. It feels as if you are watching this movie about someone else, and in the morning you will wake up and it will all be a dream.
Please keep everyone in your prayers, it will be a long road ahead.
Diane Moline
Diane, how devastating. Words can not adequately express what is happening to you and all your neighbors. I can not imagine being in your situation. You are most defiantly in our thoughts and prayers. Gary
Birthday Greetings to Bernadette
From Dick Johnson (68): Dunseith, ND
Gary and Friends,

We would like to wish Bernadette a HAPPY BIRTHDAY too. She looked
to be enjoying herself at her party. One observation though—on the
one picture she switched the '63' on the cake to '36'. Bernadette, if
it works for you, go for it! Have a good one.

Dick
Birthday Greetings to Bernadette
From Paulette LaCroix Chisholm (68): Newark, Delaware
Happy Birthday Bernadette! Looks like you have many good friends, great fun, tasty food and a devoted husband. Wishing you many years of the same!Paulette Chisholm
Pictures from Bernadette's Birthday Party
The Indian guy, Randell, sitting next to me works for JP Morgan and Chase. Being an American based company he works nights. He took the night off to help Bernadette celebrate her birthday. He had just gotten back the day before from a whirl wind trip attending meetings up and down the Atlantic states and Texas too for his company. We learned to know his parents really well when they spent time with him here. JP Morgan provides him a nice big house to live in here, so his parents have a nice place to stay when they come. They live in India.
The guy to my right, Ben, is from Holland. He is retired from the Holland Army. The guy sitting at the back table behind is from England. He is sitting with folks from Ireland, Holland and the USA. English is the common Language.