Folks,
Sorry for the delay getting these blogs posted. I have been kind of busy and just haven't gotten them issued. The older we get the faster time flies by too.
Gary
Condolences to Carol Pritchard Corzine (67) for the loss of her husband Don.
From Brenda Hoffman ('68):  Taylors, SC
Dear Gary,
I'm so sorry to hear of your loss, Carol. May loving memories sustain you and your family during this difficult time.
Brenda Hoffman class of 1968
Beverly Handeland Hamnes 90th birthday Celebration (DHS '1948)
Belated Happy birthday Bev.
Gary's Comments.
I told Deb Knudson Busta that I would post this for her mother, but I'm late with my postings. So sorry about that Deb. From your FB postings I can tell you had a wonderful celebration for your Mother's 90th.
 Bev and her husband Mel were on several Dunseith cruises, Alaska and the Caribbean,  with us. We had some nice chats too. Lovely couple. So friendly and nice. Mel owned the New Holland machinery dealership in Bottineau for a number of years too.
 Jenny Handeland was Bev's mother. They lived a short distance north of Kelvin. In my childhood days, Jenny, a lovely woman, was very well known throughout the whole area. Everyone knew Jenny.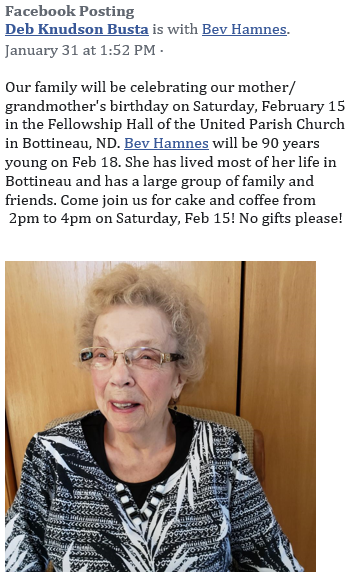 Clayton Lider (DHS '1954) Passing
Posted by Neola Kofoid Garbe:  Minot, ND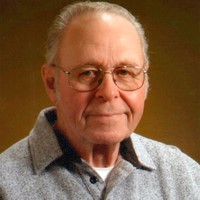 Clayton Lider, age 84 of Bottineau, died Friday at a Bottineau hospital.  His funeral will be held on Thursday, February 20, 2020 at 10:30 am at the Peace Lutheran Church in Dunseith.  Visitation will be Wednesday from 1:00 pm until 9:00 pm at the Nero Funeral Home in Bottineau.  Burial will be at the Oak Creek Cemetery in Bottineau.
 Clayton LeRoy Lider, a son of Carl and Gladys (Loken) Lider, was born on March 16, 1935 at Rock Lake, ND.  He attended school in Rock Lake and graduated from Dunseith High School in 1954.  He then attended Wahpeton School of Science.  On June 22, 1958, he married his classmate Arliss Halvorson.  He worked at Hosmer's Dry Goods Store in Dunseith, John's Standard Station for his uncle, John Wurgler, before working for North Central Electric in Bottineau for 40 years before retiring in 1997.  They moved to Lake Metigoshe. Eleven years later they moved a half mile east of Bottineau, where he spent many hours working in his woodshop making eagles, wall chime clocks and many other projects for family and friends.  They later moved into Bottineau where they have resided since.
Clayton was a Boy Scout and a member of his school choir where he sang tenor.  He was active in the Bottineau Jaycees and the Eagles Club where he served as president for a time.  He was also active in First Lutheran Men's Organization and helped with the Lutefisk Supper for several years.
He is survived by his wife Arliss of Bottineau; sons, Jeff Lider of Hatton, Greg (Peggy) Lider of Bottineau and Donavon (Kelli) Lider of Mohall; 7 grandchildren, Jayson (Sarah) Lider of Tea, SD; Shane (Heather) Lider of Minot,  ND, Alexander (Ashley Jorgensen) Lider of West Fargo, ND, Heather (Lucas) Underdahl of Makoti, ND, Christopher (Allison) Lider of Hillsboro, ND, Heidi (Ross Tordsen) Lider of Fargo, ND and Carleigh Lider of Denver, CO; seven great grandchildren, Braden, Kote, Abby, Lane, Nadia, Maggie and Lena; 2 sisters, Georgine Buck of Los Angeles and Caroleen Williams of Minot, ND; brother-in-law, Curt (Denise) Halvorson of Dunseith, ND, and numerous nieces, nephews and cousins.
In addition to his parents, he was preceded in death by a son, Douglas Lider, daughter-in-law, Gayle Lider, parents-in-law Clifford and Alma Halvorson, sister, Eileen Todd, brothers, Darold and Vondell Lider; brothers-in-law, Jim Todd, Danny Buck and Don Williams and nephews, Rodney Todd and Boyd Williams.
Arrangements were with Nero Funeral Home in Bottineau.  Friends may sign the online register book at www.nerofuneralhome.net.
Gary's Comment
We extend our condolence to Arliss and all of Clayton's family with his passing.
Alfred and Rebecca Cote and Jim Metcalfe Jr.
Question from Margaret Metcalfe Leonard Casavant ('65):  
Folks,
Many of you remember Alfred and Rebecca Cote and of course the Metcalfe's too . I want to share part of personal message I received from Margaret Metcalfe with my reply, that I think will be of interest to many of you.
Hi Gary,
Just returned from a vacation in AZ.  Spent a remarkable time with my brother Jim and his wife, Yoli. We talked at length about the "olden days" and our growing up years with family and neighbors.
He also reminisced about Boeing and Seattle.  He had an excellent friend, Leo Brillon (sp)? who was related to Alfred and Rebecca Cote.  I remember that you have told about your friendship with their son, Urbane Cote.  Just wondering if by chance you had an opportunity to meet Leo and his wife.  Jim worked with him for many years and they visited many times after they retired from Boeing, sadly, Leo has passed away.
God bless you and yours,
Margaret
Gary's Reply Hello Margaret,
Yes, I knew Leo Brillion.  I know his brother Les and his wife Debbie very well too. We are very close friends. Their mother, Liz was a sister to Loretta (Laureus) Cote.  Laureus was a brother to Fern Berube.  Of course, you know Laureus and Fern's parents were Alfred and Rebecca Cote. That's Leo and Les Brillion's connection to the Cote's. The story doesn't end there. Now my connections to the Loretta Cote and Liz Billion. Loretta and Liz's brother's wife Mary, was a very close friend to my mother and my Grandparents in her growing up days in Walhalla. Mary actually lived with my Grandparents for a number of years too. With our summer visits to Walhalla to visit My mother's sister-in-law and our cousins, we'd always stop by Mary's farm to see her and her family too. How I met the Cote's and Brillion's in Bremerton. On the very first day of my employment at Puget Sound Naval Shipyard, February 1967, the very first guy I met in my assigned area was Laureus Cote. He asked me where I was from. When I said ND, he asked me what town. I told him Bottineau thinking he'd be more familiar with Bottineau than Dunseith. Hearing that, he told me he was from Willow City. Surprised us both to discover we were both from Dunseith. We had never heard of each other. Of course, I Knew Fern and who his parents were too. When he told Loretta he had met me, she said "I know very well who he is". Laureus had the phone number of my uncle and aunt where I was staying. Loretta immediately called me. From that moment on Laureus and Loretta took me in and treated me as one of their family. A relationship that lasted the rest of their lives. I was included with all of their family gatherings, etc.  Bernadette too after she came into the picture. They were wonderful people. Mary Ermer, Leo and Les's aunt, recently passed away too. She was living in a Nursing home near her daughter Betty in Grand Forks.  She was in her 90's. My grandparents owned and operated a bakery in Walhalla. They hired my dad as a baker. He fell in love with the owner's daughter and the rest is history. They were married in June 1941. I'm a war baby, the first born after my dad returned from WWII, Pacific theater. Take care, Gary