Eleanore (Stubby) Fauske Passed away.
Posting from Glenda (Russell) Fauske ('64):  Dunseith, ND
Gary,
I just got a call from the Nero Funeral Home they will "live stream" the family service on Tuesday and that link will be added to their website under Eleanore when it is set up.
https://www.nerofuneralhome.net/index.cfm
Glenda
Hi Gary,
We wanted to inform you Eleanore Fauske passed away and her "Celebration of Life" for the immediate family will be Tuesday, October 27.  There is a public visitation time set at the Nero Funeral Home on Monday, October 26 from 4 – 9 p.m.  A Memorial Service may be planned for the summer of 2021.  I've attached a jpg of the photo and a Word document of the information below.
Thank you for sharing it on the Dunseith Blog as she was known by many in the community.  She did not die of Covid, but probably because of it.  The isolation and lack of personal engagement impacted her and many of our loved ones in our desire to protect the most vulnerable.
Our best wishes to you and Bernadette.  We pray you folks there have peace and strength to endure during this challenging time for the entire world.
Glenda and Russell
Gary's Comments:
I was so saddened to hear of Stubby's passing. She always looked so healthy and vibrant, even in her later years. Elwood too. In my mind they'd live forever. The Fauske's were our only neighbors to the North between us and Canada. In our School days, Stubby took a liking to me, trusting my judgement and always treated me as Family, even in my adult years too of which I so admired her for doing.  
She was a firm loving mother with four beautiful daughters. They were good kids, but none the less, for the love of mother, she kept a tight rein on them.
Connie, Carrole, Beth and Lindy, does this ring any bells? Your mother was very firm and protective, probably much more so than needed. You were good kids. You had your Aunt Charlotte Lang (Teacher) keeping an eye on you at school too. The likes of being pretty and popular. You have all lead good productive lives too.   
Obituary Eleanore Fauske
October 23, 2020
Eleanore Lois (Hiatt) Fauske, 97, went home to be with her Lord on Wednesday, October 21, 2020, in the local health care center.  A private celebration of her life will be held at the Nero Funeral Home in Bottineau on Tuesday, October 27, for the immediate family only.  Burial will follow at the Ackworth Cemetery in rural Dunseith, ND.  A public Memorial Service may be planned in the summer of 2021.  A public visitation time has been set for Monday, October 26, from 4 – 9 p.m. at the Nero Funeral Home.
Eleanore "Stubby" was born on April 9, 1923, to John and Margaret (Randall) Hiatt on the family farm north of Dunseith.  She grew up in the Turtle Mountains and attended the Ackworth School and graduated from Dunseith High School.
On October 31, 1942, she married Elwood Fauske in Bottineau, ND.  After their marriage, they moved to Thompson, ND, where Elwood worked as a farm laborer.  In 1946, they moved back to Dunseith and Elwood worked for the Rolette County Soil Conservation Service as a heavy equipment and caterpillar operator.  Eleanore worked as a pastry chef at Dale's Café.  They raised six children.
Eleanore always had a deep, personal faith in God and was an excellent example to her children. She and Elwood attended Grace Lutheran Church in Bottineau for many years where they enjoyed many Bible studies.  She was a member of the Kelvin Homemakers and TOPS for many years.  She was a 4-H leader and reached out to share the love of God with children.  She loved to read, bake, garden and sew.  She worked at and sold numerous embroidery items at the Front Porch on Cranberry Creek in Bottineau for many years.  However, her favorite times were "family gatherings" and spending time with her children and grandchildren.  They said she also knew how to yodel.
They purchased the Hiatt family farm in 1962 and had a diversified farm where Elwood raised beef cattle and small grains.  Eleanore took a position with the U.S. Post Office in Dunseith and retired after 30 years.  Elwood retired at the age of 80 and they moved to Bottineau in 2000.  Elwood passed away in 2017.
Eleanore was proceeded in death by her parents; husband, Elwood: their son, Steven: son-in-law, Robert Monte; and all her siblings.  Her loving family includes:  Connie Monte of Lexington, Kentucky; Russell (Glenda) Fauske of Dunseith; Carrole (LaVerne) Rude of Vancouver, WA; Beth (Al) Duncan of Yorkville, IL, Arlinda (Tom) Van Eynde of Yorkville IL; Brian (Deb) Fauske of Minot; 16 grandchildren; 35 great-grandchildren; and 9 great-great-grandchildren.
In lieu of flowers or plants, the family requests memorials be sent to the Ackworth Cemetery.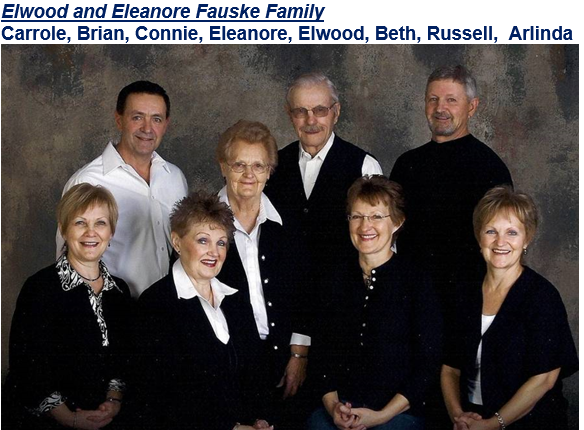 2013: Eleanore "Stubby's" 90th birthday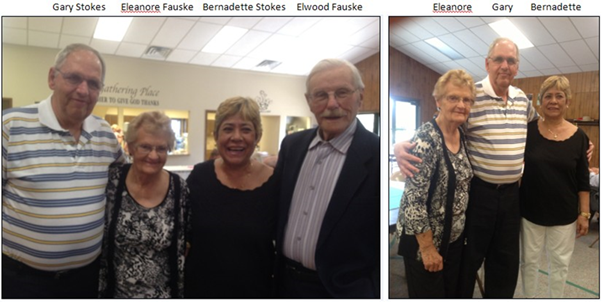 Condolences: Joyce Evans Passing
From Cheryl Larson Dakin ('71):  Bedford, TX
I am so sorry to hear of the passing of Joyce Evans. She and my mom were lifelong friends. I pray for the health and well-being of the remaining residents and staff at Good Samaritan.
Cheryl Larson Dakin
Condolences to the family of Joyce Evans.
From Ginger LaRocque Poitra ('65):  Belcourt, ND
So sorry to hear of the passing of Joyce Evans. She and my parents were close neighbors since 1975 when my parents moved up town. Joyce and her husband of course knew my parents years before 1975. They visited back and forth living down the same street from one another. Joyce was so pleasant as her husband was. 
This is so sad , this covid is taking so many lovely people from this earth. I sure hope the end is near for this pandemic.
Joyce, I am sure you are in a beautiful place like the beautiful person you. You will be dearly missed.
God Bless you Joyce, 
 Ginger Poitra
Attached: Omaha Beach…… a MUST WATCH
Posted by Vickie Metcalfe ('70):  Bottineau, ND
October 22, 2020
Gary and Dunseith Alumni friends,
I just received this from Carroll's nephew, Don.
It is a story that resonates for anyone who knew those
who laid their lives on the line in service to our country.
Please remember and honor their memories on Veterans Day.
I won't  forget.
Thanks Gary.
As ever Vickie
The combination room on the stage…..
Posted by Vickie Metcalfe ('70):  Bottineau, ND
October  22, 2020
Gary, and friends of Dunseith Alumni,
After a middling Indian Summer, Old Man Winter and his sidekick, Jack Frost arrived over the past weekend. They did not keep Covid-19 distance, dancing around for about 12 hours resulting in  my 'Carlson' the apple tree bending quite fatigued from dancing and tired bearing weight of the snow
Walking became challenging again for me, I "walk like a penguin" bundled into 3 layers. A couple of inches of snow and again I  am forced  to recall North Dakota Ice and snow driving skills.
Since Kathy shared her mom's recipe for chili, I have been slowly stockpiling beans, tomatoes, celery, onions, pulling out the largest iron skillet and locating the crock-pot. Voila! This morning I wept over chopping onions.  The chili is now simmering in the crock-pot.  Holy buckets!  I 'm wondering how many weeks I will eat chili.
While, I wept over onions and celery my thoughts were of Stella.  When do I remember meeting her?
I was in Mrs. Hansen's second grade class of 9, at the time, it was a combination class as  she taught, as about 20 first graders.
For Mrs. Hansen's combination room;
Our domain was  on the stage.
The 9-second graders desks were on against the wall,
the 1st graders sat closer to Mrs. Hansen.
We'd go down steps into the gym, up steps to the seating, then out the door to the main bathroom.
To eat lunch we got into  the never-ending line with students of all ages, walk down the hall and  down, down steps into the basement of the big white school    Under the steps was a little kitchen where we were handed a plate of rather bland tuna wiggle hot ,  chipped beef over potatoes or boiled well boiled, rather colorless hotdogs  and other forgettable  sometimes other questionable food,
At recess time we  go out the exit doors off the stage.
The hallway into the classroom, which was useful in our imagination free play. Dragon's or witches lairs HOME FREE place for the girls chase boys or boys chase girls games
My second grade class was comprised of 4 girls and 5 boys.  Many of us were 'of the hills' farm kids; there were a couple prairie farm boys, and 1 town boy.  Many of the boys had 1st grade brothers.  As did Mark.  His little brother name was Reid.
I thought, it was so special, when the town children's mothers walked over after school and  walk their children home from school.
One particular mother, was petite Stella Schimetz.
Often accompanied by two quiet little girls with big brown eyes, long brown hair curled hair with big bows. Hand in hand with their mom.  I learned these sweet little girls with the petite lady were Mark and Reid's young sisters, Kathy and Kim.
A few short years later that mom became the  Dunseith Public  school  head cook.  And school children reaped the benefit for years.
Hmm, I realized something missing.
Stella always served commodity cheese on white bread with chili. I don't think I can find that anymore.
Until Later,
May Jack  Frost and Old Man Winter find you Dancing away from Covid.