Folks,
I don't have any posting for today so I've included several pictures from Last night.
Last night was this month's Cebu Expat dinner that was held at the Marco Polo. We only had about 80 attend last night's dinner.
Bernadette really isn't doing well. She has become very forgetful, both long and short term. Today she doesn't remember being at the Marco Polo last night. No matter how much we coach her memory she doesn't remember. She forgets about 50% of the recent and has forgotten about 25% of the past. The past several months she has slipped the most. She still has a strong desire to visit the USA again and she still thinks she can drive. She can barely get in the car let alone drive. She is unable to fasten her seat belt too. She pages or calls me many time each day. She will ask what I'm doing or where I'm going of which most often she doesn't understand when I tell her. She still knows all of us though, so that is good. She does forget some of the kids names though. Our help comes on at 8 AM and leaves at 9 PM. We have three with staggered shifts.
I'm very thankful I have such good help. They are a god send. Tata, the gal holding and behind the wheelchair, has been with us for 15 years. She knows us well. Next to me Tata is the most important person in Bernadette's life. Tata is Novie's aunt. Her husband, Aldren, is a brother to Novie's dad. I have now hired Aldren back full time too. He takes care of the outside cleaning and maintenance, painting, etc. Without a doubt we have the cleanest maintain residence in all of Cebu. Aldren loves to clean and he is an excellent painter too, inclusive of all the painting preps.
Leaving for the Marco Polo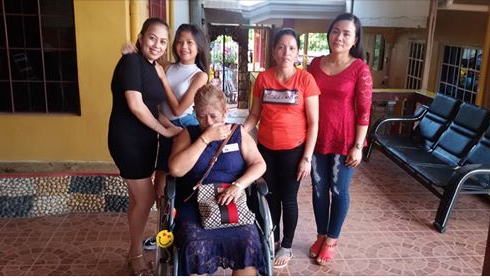 At the Marco Polo
Mirasol, Tata, Bernadette, (Novie and Jasmine mother daughter)
Novie is 36 years old and Jasmine is 13. Mirasol is 38 and Tata 44.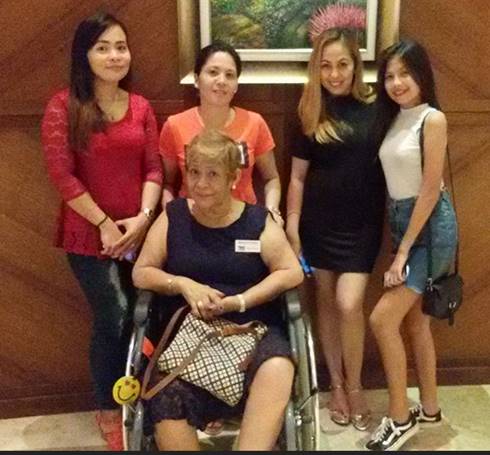 ==============================================
Blog (711) posted on February 10, 2010
Posted on February 10, 2010
Reunion Reply:
From Vickie Hiatt LaFontaine (73): Grafton, ND
I have some great concern: WHERE IS THE CLASS OF 1973, as of today it is myself and Jeff Evans Im sure Jeff and I can party enough for everyone lol but it would sure be nice to see more of you at the reunion. As I remember we had a great class. So glad to hear you are coming Gary be great to see you.
Vickie, I have attached the reunion list in a class sort again today so folks can see who among their class mates plan on attending. Gary
The Schwabe & Schniederman Families:
Reply Mary Eruich Knutson (62): Dunseith, ND
Hi Gary
I called Erma Eurich Peltier last night to see if she could add anything to the Schwabe info. She remembers them well. They were apparently very close neighbors. She named the kids. Forest, Dale, Howard, Florence. She said Florence was quite a bit younger than she was and she thought forest was the oldest. They went to school together. Forest had a glass eye and it would freak her out when he'd take it out and apparently he knew this and during school he'd take it out and roll it around on his desk.
I figured Art Schneiderman's wife would turn out to be a Schwabe but apparently not. She actually couldn't remember who she was. She did remember that her name was Marie. Mary
Dorothy Pritchard/picture/write-up, The Schwabe & Schniederman Families:
From Mary Eruich Knutson (62): Dunseith, ND
Gary
Today Marie Eurich Beachler called me regarding the Schwabe family. She said the Schwabes lived in the area for some time when they were kids. And they visited back and forth a lot. Mrs. Schwabe and Mrs. Art Schneiderman were sisters. Schwabe's went west when the war broke out and would come back occassionally and would always pay them a visit when back here.
Art Schneiderman lived with us for quite awhile after his wife had died. He had broken a leg and it wouldn't heal right and he couldn't take care of himself. At that time welfare wasn't that easy to get and you had to live in a county so long before you were eligible to draw. I don't know all the details but I know he stayed with us till he was eligible in Rolette county then he an Earl found a place to stay but it didn't last as the Dr said his leg wasn't healing right and they would have to rebreak it. I don't remember all the details but I think he came back to live with us a couple of times. If Earl was in the area he'd stay with us to.
Dorothy really enjoyed her cards and letters. She said, They just kept coming and coming. Thought you'd enjoy some of her history she shared earlier with staff in Bottineau. That is the cabin her a Robert were in the proces of building when Shirley was born.
Here's a couple more pictures. I thought Gary Metcalfe might enjoy the Clint and Hatty (ie) Anderson one and Leona
Metcalfe. I remember the old cream station. The stove set on a little platform. I remember Ma leaving me at the cream station while she run to Hassen's for groceries. I sat on that little platform by the stove and never moved.
Thought you and Kay and Keith and Dale would enjoy the picture of the Stoke's again. Kay gave me an address for the Canadian relatives so I will be trying to make contact to get the Pritchard side identified also. I hope you can do a better job of naming the folks on that picture. They are not standing in the order that the names are stated thats for sure. I 'm going to lay low for awhile and enjoy others input for awhile. Thanks Mary K
Mary,
I am cramped for time again today, so I'll post those other pictures tomorrow.
Thank you so much for Dorothy's write-up. Dale or someone sent this several years ago before we got you on line, but it truly deserves another re-run.
Folks, I am so glad to hear of all the cards Dorothy received from all of us for her 97th Birthday last month.
Gary
PS – Mary, I'm hoping your laying low is short lived. We really enjoy all that you have to contribute.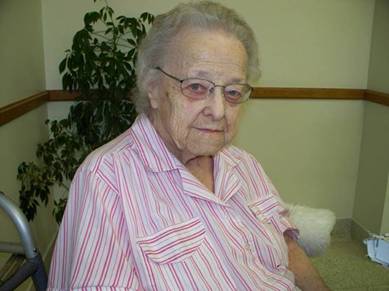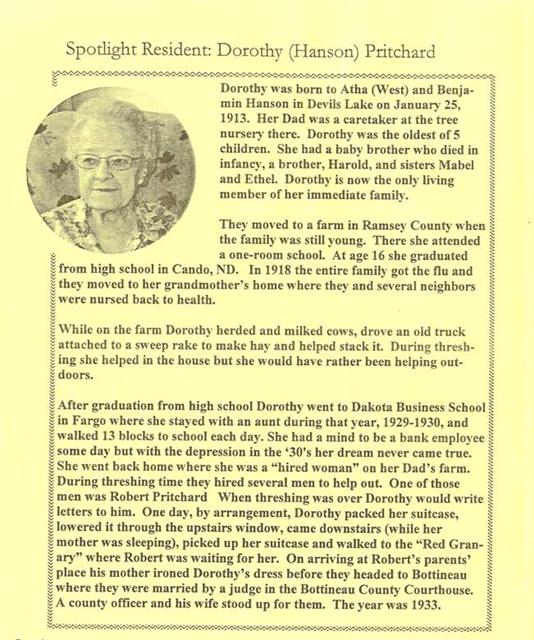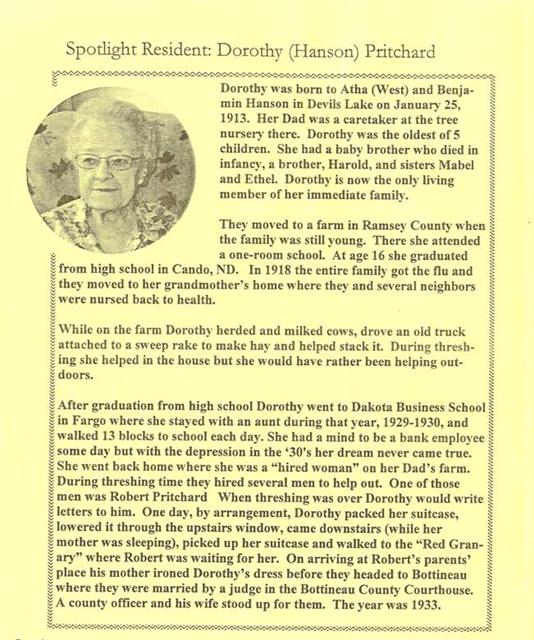 Posted by Neola Kofoid Garbe: Minot & Bottineau, ND
Obituaries
Gladys Rosberg
(Died February 4, 2010) 
Guest Book | Sign Guest Book
Send Flowers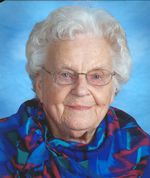 Gladys Eva RosbergFuneral services for Gladys Rosberg, age 98 of Bottineau, were held on Wednesday at 10:00 am at the First Lutheran Church in Bottineau. Officiating at the service was the Reverend Glenn Berge. Dianna Bullinger was the soloist and Nancy Olson was the organist. Casket bearers were Dean Rosberg, Erok Rosberg, Larry Rosberg, Kreg Rosberg, Rory Holmes, Dana Larson, Drew Holmes and Joshua Heisler. Honorary casket bearers were all of Gladys' grandchildren. Burial was at the Oak Creek Cemetery in Bottineau.
Gladys Rosberg, a daughter of Eugene and Anna (Grimstead) McGhan was born on February 28, 1911 at Jackson, MN. In 1916, she moved with her family by train to Bottineau County and settled near Souris. She attended grade school in Peabody Township and graduated from Souris High School in 1929. On June 20, 1931, she married John Oliver Rosberg at the Bottineau County Courthouse. They made their home in Carbury for 10 years and during that time eight children were born. Johnny worked as a carpenter and also did painting and paper hanging. In 1942 they moved a one-room school house into Bottineau. They enlarged it and made it their home. They also added to more children to the family. John passed away on April 7, 1957 from a brain tumor. Gladys continued to live in the family home where she raised the children. In 2002 Gladys moved into the Bottineau Good Samaritan Center and in 2009 she moved to a Wichita, KS nursing home to be closer to family.
She was a member of the First Lutheran Church in Bottineau where she was active in the WELCA and the quilters group. Gladys was the matriarch of her family and kept everyone in touch by writing interesting letters and by faithfully sending birthday cards. She always had a baked item ready for friends and family when they stopped by for coffee. Her hospitality, listening skills and gentle, loving personality made everyone feel welcome.
She passed away on Thursday, February 4, 2010 at a Wichita, KS nursing home.
She is survived by 6 daughters, Darlene (George) Gillies of Bremerton, WA, Margaret (Dave) Dawson of Casper, WY, Cheryl Larson of Kent, WA, Olive (Max) Burdick of Overland Park, KS, Glenda (Don) Heisler of Hokes Bluff, AL, and Alysia (Mark) Runnells of Newton, KS; 3 sons, Lonnie (Eunice) Rosberg of Mohall, John (Eleanor) Rosberg of Mills, WY and Dennis (Audrey) Rosberg of Billings, MT; 25 grandchildren; 36 great-grandchildren; 10 great-great grandchildren; sisters, Mabel Mosing of Bottineau, Evelyn "Sally" Guttu, Tacoma, WA; sister-in-law, Ilene McGhan, Crosby, ND and several nieces and nephews.
In addition to her husband, she was preceded in death by a daughter Yvonne Turner; twin brother, Glen McGhan; brothers, Marion McGhan, Art McGhan, Cecil McGhan, Edwin McGhan and Eugene McGhan; sisters, Margaret Van Eckhout, Alma Lexa, Lucille Magnuson, Alice Rebich and Luella Thomas; 3 grandchildren and one great-grandchild