Happy 102nd  Birthday Lillian Thompson Bergstrom (DHS '36): Superior, WN
From Vickie Hiatt LaFontaine ('73):   Grafton, ND
Happy birthday Lillian.
Vickie
Dunseith Bicycle Classes
Question/posting from Ginger LaRocque Poitra ('65):  Belcourt, ND
Gary,
I was wondering if anyone remembers who lived in the city of Dunseith, taking classes to ride a bicycle?  I  remember,  had to learn all the hand signals what side of the road to ride and whatever else is involved in riding a bike. That was pretty neat! I was a bike rider!  I rode bike everyday all day!  After the work I had to do at home. I would at times  have to go shopping for mom for an item or two. Which was a learning experience money wise as well. I  remember this one time she sent me to the Red Owl to get some ground beef. She gave me $2 , so I  put the money in my jean pocket the pockets were slanted. I got on my bike and off I went to the store over the railroad tracks across the Kalks yard on to the store. I  got to the store,  NO MONEY! I cannot explain how I  felt to have lost mom's hard earned money. So off home I went to tell mom I lost her money, after telling her she pulls out 2 more dollars handed them to me, I took that money held it in my hand and held on to the handle bar. The next day I think it was Barbara Kalk who said that they found $2 in their yard yesterday.
I sure had strong legs back in the day.
Ginger
Hockey/Olympics/Lamoureux Sisters
Reply Ellen Graff Myrick (58): Grand Forks, ND
Hi Gary,
Jocelyn and Monique are from Grand Forks.  They pronounce their last name 'Lamb e row"
I asked them once if they had relatives in Dunseith and they said they didn't. Apparently they
both work at Altru hospital here in Grand Forks.
Ellen S. Myrick
Hockey/Olympics/Lamoureux Sisters
Reply from Vickie Metcalfe ('70): Bottineau, ND
Gary, Larry Liere,  and Dunseith Friends,
I was told  the Lamoureux sisters grew up in Grand Forks. ND.
I understand, the Lamoureux sisters chose to  attend learn and play  hockey on the women's Hockey team at UND.
UND women's Hockey team was strong and known in national championships, which put eager anticipation in other young women to continue pursuing hockey.
ND mens' hockey continues to be  a national treasure.
The UND Women' s hockey team  was an up and coming   "player" in the world of women's hockey.
Unfortunately, the UND women's hockey program  was eliminated last year.
I was and I continue to be very disgusted with the decision by UND  (wise ? leaders)  to eliminate  the women's hockey program.
(That comment is  just an opinion, for what it's worth)
I graduated from UND earning a  Bachelor of Science  degree in education  followed  later by earning  a  Masters of Science  degree in Counseling,
At this time, I know several young ladies attending Bottineau School who play hockey for  the Bottineau Green Line  Girls Hockey Team.
The girls are physically fit, understand the importance of  cooperating  and work  together.
Kids involved in hockey have unyielding support of their parents
Hockey parents work hard (with sacrifice give up their own  time and material things/stuff' ) supporting  their  kid.
These 'kids' are connected to famiiy, teammates and community.
I think the women's Olympic hockey team  was built by the similar experiences.
And, I am proud of the USA team and I am also privileged to know young ladies who will also be future leaders in what ever they choose.
Children who know their identity, are connected  to family and community,  will use their power in positive ways.
Please support 'kids' with Many Thanks.
Vickie L. Metcalfe
February 23, 2018
Condolences to the Betty Delorme Peltier family
Posting and Obit from Vickie Metcalfe ('70):  Bottineau, ND
Gary and Dunseith School Friends,
I wish to extend  belated sympathy to the family  and extended family of Betty (Delorme) Peltier.
Betty's  father Janes,  was  brother to our family's  friend and neighbor Genevive Morin.
I  recall her husband,  Tom Belgarde and his son's, hauling hay and straw  bales for dad in the evenings after their work.
I believe many of the her children attended Dunseith Public School .
With respect .
Vickie L. Metcalfe
2/27/18
Betty Peltier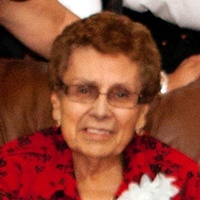 April 17, 1933 – February 16, 2018
Betty M. Peltier, age 84 of Dunseith, died Friday February 16, 2018 at Sanford Hospital in Fargo, North Dakota. Funeral services will be held on Monday, February 26, 2018 at 10:00 A.M. in the St. Michael's Catholic Church in Dunseith, North Dakota. Burial will be in the spring in the St. Mary's Cemetery. A wake service will be held on Sunday February 25, 2018 beginning at 5:00 P.M. with a prayer service at 7:00 P.M. in the Church.
Betty M. Peltier, a daughter of James and Mildred (Allery) Delorme, was born on April 17, 1933 at Belcourt. She was reared and educated in the rural Dunseith area. Betty attended a little Country School in the Rural Dunseith Area. On September 20, 1949 Betty married Louis (Tom) Belgarde at St. Mary's Church in Dunseith. Together they raised 8 children and they also helped raise a very special nephew Robbie Delorme. They made their home together in the Dunseith Area they started and owned a gas station, she also had many jobs growing up, from working at San Haven, after a long illness Tom passed away in 1985 and Betty remained at home in the rural Dunseith she then worked at the Turtle Mountain Corporation where she retired in 1989. Betty married Joseph Peltier from Langdon, North Dakota on June 30, 1989 together they traveled and spent a lot of time seeing the Country. They served as foster parents for 10 years.  Betty loved traveling and telling her family about the many things of the world that she encountered and had the opportunity to experience. Joseph passed away on March 17, 2009. Betty loved to spend time with her children and grand-children and go out and socialize and visit with her many friends at the Bingo and Casino. .
She was a member of St. Michael's Catholic Church
She is survived by sons, Dennis (Gail) Belgarde of Fargo, Tom (Paula) Belgarde of Belcourt, Sylvester (Ginger) Belgarde of Dunseith, and daughters, Janice (Larry) Morin, of Fargo, Debbie (Elvis) Gladue, of Dunseith and Betty Jean Belgarde of Dunseith; foster daughters, Robin St. Claire Lopez, Raelynn St. Claire, Jolene DeCoteau and Shyleen Crissler and a very special nephew, Robbie (Debbie) Delorme Fargo, 28 grandchildren; 70 great-grandchildren; and numerous great-great grandchildren and her sister: Verna Poitra of Dunseith, North Dakota.
Betty was preceded in death by her parents; Joseph; her husband Tom; daughter Linda Bjugstad, her son Kenneth Belgarde her granddaughter Amy Gladue and her great granddaughter Jolinda Vivier; brothers, Clifford, Leonard, Larry Delorme and her sisters; Doris Gunville and Leona Poitra.
Arrangements were with Nero Funeral Home in Bottineau.  Friends may sign the online register book at www.nerfouneralhome.net.
==============================================
Blog (679) posted on January 11, 2010

Posted on January 11, 2010
Question from Harlyn Oppeboen (51): Colorado Springs, CO
Gary as a kid growing up in Dunseith, I remember picking potatoes for someone. I don't remember who it was or where the potato fields were. Do you remember or possibly some of your reader? I do remember there were several kids involved. I would guess it was in 1945 when I was about 13.
Harlyn Oppeboen
Reply to a personal message about the Traffic in the PI
From Brenda Hoffman (68): Greenville, SC
Whoa! Didn't realize that you lived in such a large city or that traffic was that congested during rush hour. I wouldn't want to go too many places with traffic like that! I did my rough traffic time during the last ten or so years that I lived and worked in Minneapolis. When Terry and I first moved there in 1974, we could drive to any place in twenty minutes. By the time I moved to St. Cloud 26 years later, some roads we just didn't drive on and others were parking lots much of the day. Back roads were the fastest.
Here in Greenville, SC getting to the main shopping center is relatively easy, but there is a four mile area called Woodruff Road filled with trendy strip malls and restaurants where most people shop. Whoever designed that area should have bodily harm done to them. At Christmas, it's best not even to attempt Woodruff Road – stop lights at most intersections and traffic backed up onto the interstates. Fortunately I don't like shopping that much so I only am on Woodruff a couple of times a month – and only during working hours.
I wish you could attend the upcoming Dunseith reunion. Since you have initiated this blog, you have become Mr. Dunseith!!!!!! I don't think you know how important your blogs are to those of us who have Dunseith connections. Your blog is like a daily cup of coffee at Dale's Cafe '"shooting the breeze." It's a warm, loving connection that ties all of us to so many people. Because of you, I've connected with Lola, Dick, Charlene, you and others – heart attachments that would hot have happened otherwise. Your "work" is extremely valuable. Thank you.
Brenda
Brenda, I thanked you with a personal reply for these nice comments, but I want to do so again with the blog. I try to keep things focused on topics of interest to the Dunseith Alumni. That includes topics/pictures of the Alumni folks both past and present and any history and stories that folks would like to share. We can not loose that focus. I will slip a forward in here and there, but I try to keep them to a minimum. Yes, I too have connected & reconnected with so many great folks doing this. Those connections are invaluable. The older we get the more invaluable these connections become. Gary
From Gwen Struck Dumas (68): Havre, MT
Hi Gary,
I thought in one of the blogs I saw Kelly Woods as attending the May reunion, but don't see him on this list. If he is indeed attending I would like to add my son Michael (Mike, as he prefers) Stevenson to the list. He and Kelly have started communicating due to this blog and haven't seen each other in nearly 25 years. They played together constantly when I still lived in Dunseith and he always came with Charlene to visit in Bottineau. They were just the cutest little buddy's!! And could I tell some funny stories about the two of them. Anyway thank you for all you do and Blessings to the two of you in the new year.
Gwen
Kelly Woods (89) Reply: Massena, NY
Gary, 
As much as I would love to come, I cannot attend this year.
Leave restrictions at work will only allow me to attend my nephew's graduation in Olalla Washington this June.
Mike and I had some pretty good times as children in Dunseith. I remember playing in the store that his grandparents used to own, and all the times I would visit my own grandmother in Bottineau and take off and see Mike at his mother's house. A lot of memories your blog has refreshed.
Thank you for all your hard work.
Kelly Woods
Class of 1989
Kelly, This must be your brother Jeff's son who is graduating. He lives in Olalla. Olalla is about 20 miles south of Bremerton. Having lived there for 37 years, I know that area well.
Gwen, I will add your son Mike to the reunion list. Gary
Country school reunion date correction posted yesterday
Reply from Linda Gardner: Vienna, VA
HI Gary – I had a wonderfully long conversation this afternoon with Orvin Hagen. Not only did he yodel for me but he sang in Norwegian as well. Maybe we can get him to yodel at the Country School Reunion. BTW, the date of the reunion is July 10.
Linda, I really goofed with yesterday's posting. The Country School Reunion date is July 10th as stated in your registration form. I quickly misread June 1st as being the reunion date when in fact that is when you'd like to have all the applications returned by. I have attached your sign up form again with this message.
I'm glad to hear that you had a nice visit with Orvin. Orvin told me he has had recent requests to yodel in some of the many community affairs he is associated with. I'm sure, if requested, he will Yodel for you guys at the reunion. Yodeling is a natural talent of his of which he is very good at. Orvin was one of the few neighbors who could converse with Mrs. Ole Rispa too, who pretty spoke only Norwegian. There is only one Orvin Hagan on the face of this earth, the one we love and remember so well. He is a guy with many perfected natural talents. He'll be 89 years old this coming July and still going strong. In 2007 he still had his fast walk. Gary
Reposting of the G.R. Gleason Co. post card June 29, 1928
From Alan Poitra (76): Bloomington, MN
Hi Gary, I thought the readers would enjoy this tidbit of history in the automobile business back in the day. I know I have seen this ad before but was not sure if it was on the blog… very interesting compared to todays prices and I wonder if this would still be honored…:)
Alan,
Yes, it was on this blog that you saw this. I first got this from Sharron Gottbreht Shen posted with message 387 on 3/2/09. At the time I was thinking she actually had the post card with the Bottineau post markings. Then on 3/18/09 I received this same post card from Bill Hosmer (48) of which I reposted with message 403. When received it from Bill I knew it had to be posted on the NET.
This is so interesting, I received this same card several days ago from a good friend of mine who lives in AZ that sends out 6 forwards each day. This was one of his forwards to his list of 50 or so folks. This guy has never heard of Bottineau and I don't think realizes I came from ND either. So this card is making it's rounds. I remember lots of talk about the C.R. Gleason dealership in Bottineau, but they had been bought out by Theels from the time I can remember back too. You are like me, you see these things knowing you've seen them before but have forgotten where.
It's been nearly a year since this was last posted, so I thinks it's due for another posting.
It's great hearing from you.
Gary

1928 Car Repair Mailer
Automotive repair in 1928……… and on a penny postcard…….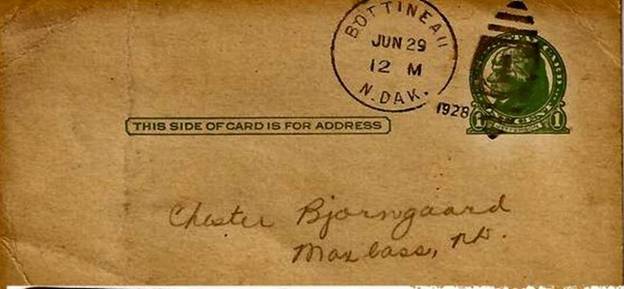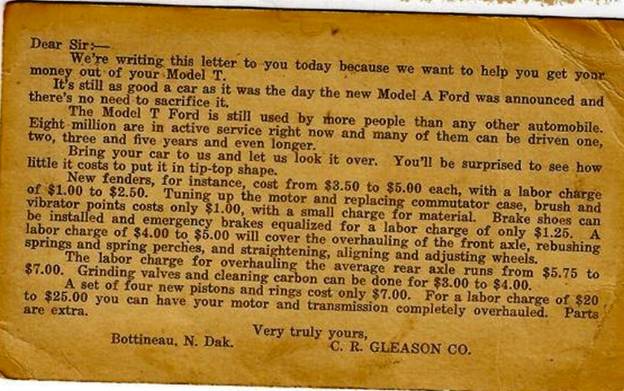 Folks,
As what's been usual practice the last while, I've been taking the two laptop computers along with Bernadette's nephew's 3 kids, ages 3, 5 & 6, outside on the porch when they show up in the mornings to play on the computers. They just get too noisy for me.
It was so cute a few minutes ago. Isa, short for Isabella, the 3 year old girl, came in the office telling me low bat. She knows I have the charger and will connect it up to her computer of which I did. She then turned it back on getting back into the internet and into her game. Those 3 kids are giving computer lessons, not only to the other kids, but the adults as well. Her brothers have momentarily taken a computer break and are playing with the other kids. Gary
Isabella