Happy Birthday Colette Hosmer ('64): Santa Fe, NM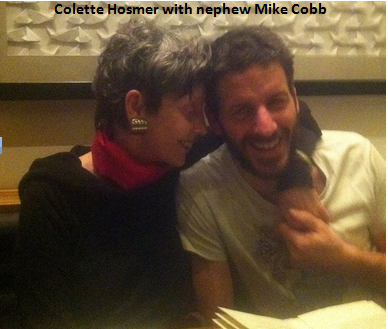 Happy Birthday Cheryl Sebelius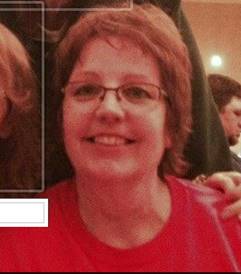 Darrel (Bud)('70) and Debby Stokes' twin Granddaughters
Posted by Neola Kofoid Garbe:  Bottineau & Minot, ND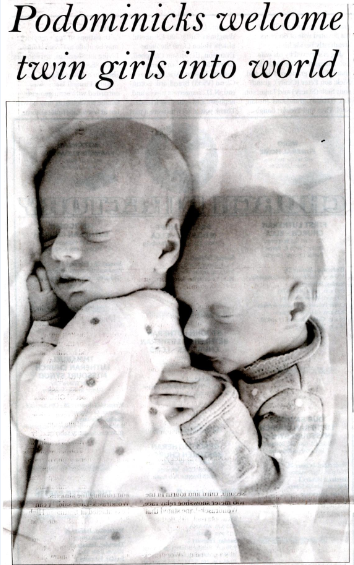 Alison Bjorky, daughter of Rolla High School graduate, at the Grammys
Posting from Brenda Hoffman ('68):  Greenville, SC
Cheer on Alison Bjorky, daughter of Rolla High School graduate, at the Grammys
G. Ann and Al Bjorky, are friends of Dave and me via Greenville, SC Newcomers (small world). Their daughter, Alison, lives in Los Angeles and often plays harp for television and movies including a piece on the Jay Leno show shortly before he retired. As I remember her history, Alison didn't start playing harp until high school in Washington State. She has to be extremely talented. The following is a short piece about Alison that I asked G.Ann to write so we could all cheer Alison on next week. Brenda (class of 68).
The ​Los Angeles ensemble Partch is nominated for a Grammy in Chamber Music
Allison​ doesn't play the harp with ​this particular group​, her instrument is​ the Kirthara which is based on an ancient Greek instrument.  All the instruments in this group were created by Harry Partch 1901-1974.
Dr. ​Alison Bjorkedal http://www.alisonbjorkedal.com/ is the daughter of G.Ann Krech Bjorkedal (Rolla, 1964) and granddaughter of Leonard and Georgiann Krech of Rolla.  She has​ two uncles who live in Rolla, Gordon and Gerald.
​Alison's ​undergraduate degree is from the University of Oregon and Masters and Doctorate of Harp performance from Thornton School of Music University of Southern California.
She is a free lance musician and professor at Pasadena Community College.  Among some of the more interesting
​jobs​ she has had​ are:  Playing at the Playboy mansion for Hugh Hefners'​
wedding, playing for one of Mariah Carey/Nick Cannon specials​, performing​ on stage during Silent Night in Andre Boucle PBS Christmas special and going on a State Department exchange to Vietnam.
I'm (G.Ann)​ sending a lot of pictures.  Use what you want.  The black lace dress is a photo ​at the Playboy mansion.  The big funny instrument is the Kirthara.  The gold harp she owns belonged to Harpo Marx.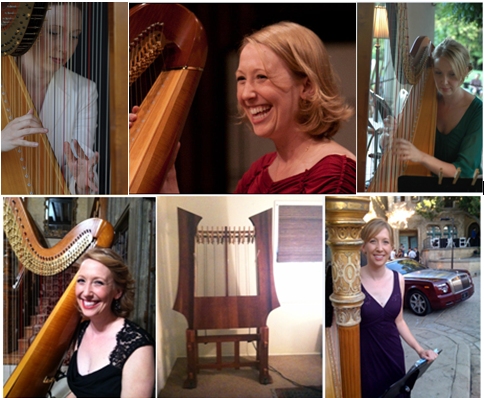 Posted by Neola Kofoid Garbe: Bottineau & Minot, ND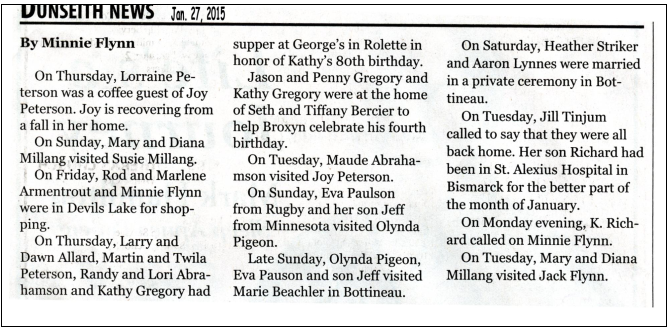 Joke of the day
Posted by Keith Pladson ('66): Roanoke Rapids, NC
A man received the following text from his neighbor:
"I am so sorry Bob. I've been riddled with guilt and I have to confess. I have been helping myself to your wife, day and night when you're not around. In fact, I have probably been getting more than you.  I do not get it at home — but that's no excuse.
I can no longer live with the guilt and I hope you will accept my sincerest apology with my promise that it won't, ever happen again.
Bob, anguished and betrayed, went directly into his bedroom, grabbed his gun, and without a word, shot his wife dead.
A few moments later, a second text came in, "Damn Auto spell!! Sorry Bob, the second sentence should refer to your WiFi, not wife."
====================================
Blog (241) posted on October 4, 2008
Reply from Louise Pigeon Horsman (43): 
I talked to Martha Jolibois Wilkie's (34) sister today (my cousins) and got some info. Martha was born March 2, 1917 and died July 1984. She lived in Tacoma, Wa. for some time.
                                    Dunseith High School Class of 1938
 
Last
First
Address
City / State / ZIP
Phone
Email
1
Bedard Serumgard
Antoinette
3389 SQUIRE OAK DR
LEXINGTON, KY  40515
 Sister Georgette (248)960-7565
Antoinette is suffering from advance stages of Alzheimer's
2
Boguslawski
Rose
141 Bryant St
Ketchikan, AK 99901
(907) 225-3268
No Email Address
3
Boucher
Delbert
Born July 26, 1917    –    Died November 29, 2002
Deceased
4
Boucher
Ovide
Born June 12, 1918    –    Died January 18, 1999
Deceased
5
Bowers Carlson
Mildred
Born June 21, 1920    –    Died January 6, 1995
Deceased
6
Christianson Struck
Florence
823 Railroad Ave
Bottineau, ND 58318
(701) 228-2759
Note: Florence attended country school with some of these folks.
7
Dailly Johnson
Beatrice
823 Railroad Ave, Apt 11
Bottineau, ND 58318
(701) 228-2449
No Email Address
8
Dale
Charlotte
 Unable to locate
9
Evans
Myron
Born April 9, 1920   –    Died March 30, 1968
Deceased
10
Hagen Arends
Choral
Died in 1972 in Oregon
Deceased
11
Hagen Larson
Clara
Good Samaritan Nursing home
Bottineau, ND 58318
(701) 228-5823
No Email Address
12
Hagen
Orvin
261 Maple St
Kindred, ND 58051
(701) 428-3125
Note: Orvin attended country school with some of these folks.
13
Hiatt Pratt
Sovia
Born October 26, 1919    –    Died August 1986
Deceased
14
Kester
Charles
Born April 18, 1919    –    Died March 3, 1999
Deceased
15
Landsverk Filas
Borghild
150 Hess Ave
Golden, CO 80401
(303) 526-4495
FILAS@COMCAST.NET
16
Landsverk
Rolf
Born May 25, 1919    –    Died January 27, 2003
Deceased
17
Lucht
Nellie
18
Martin
Alvin
Born January 25, 1921    –    Died February 1973
Deceased
19
Millang Salmonson
Agnes
Born January 7, 1921    –    Died April 27, 2007
Deceased
20
Nelson Molstad
Arlene
1371 Parkside Dr. #146
San Bernardino, CA 92404
(909) 884-4062
No Email Address
21
Nerpel Bishop
Eleanor
6111 W Arrowhead Ave
Kennewick, WA 99336-
(509) 783-9921
abmyers2@verizon.net (Daughter Ann's email)
22
Peltier
Vincent
Plano, TX?
 Unable to locate
23
Petty
Caprice
 Unable to locate
24
Radley Hiatt
Maxine
823 Railroad Ave, Apt 9
Bottineau, ND 58318
(701) 228-2767
No Email Address
25
Rohrer
George
PO Box 431
Sitka, AK 99835
(907) 747-8204
No Email Address
26
Ryan
Anthony
Born June 5, 1918    –    Died October 25, 2006
Deceased
27
Ryan
Dary
Born July 1, 1916    –    Died June 6, 1997
Deceased
28
Salmonson
Henry
RR 1  Box 134
Dunseith, ND 58329
(701) 263-4338
No Email Address
29
Satrang Wenstad
Lela
Born March 24, 1920    –    Died December 29, 1981
Deceased
30
Schirmer
Darwin
Oak Harbor, WA.?
unable to locate
31
Seim Metcalfe Lindberg
Bernice
Born September 30, 1919    –    Died November 10, 1993
Deceased
32
Smith
Ishem
Born May 4, 1919    –    Died July 29, 2001
Deceased
33
Stadheim
Russell
Born January 17, 1922    –    Died June 1979
Deceased
34
Stickland Beaudry
Delma
Born October 23, 1919    –    Died January 1994
Deceased
35
Tennancour Evans Berube
Alice
Born August 29, 1919    –    Died February 25, 2008
Deceased
36
Tennancour Nermyr
Violette
Born December 28, 1918    –    Died July 2, 1978
Deceased
37
Wicks
Henry
Born June 15, 1920    –    Died June 6, 1986
Deceased
Butte Saint Paul – Provided by Neola Kofoid Garbe: 
Hi Gary,
I sent an email earlier today that included Flora Cameron Burr's poems.  When I checked the site, I saw one of the poems was "Butte St. Paul".  The following URL takes you directly to this article/poem.  I don't know if you have checked the site out, but I'd like your opinion on the info that's written about Butte St. Paul.  I know the mileage of how far you go east from Bottineau before you turn right, is incorrect.  Also, was Bottineau County  interested in putting up a monument, or was it Rolette County?  My education is never complete!!
http://geocities.com/floraspoems/index
Neola
Neola, I pasted the Butte Saint Paul history below from the WEB site you listed above. Butte Saint Paul has been discussed different times, so I know there's interest in Butte Saint Paul among our folks.  I'm not sure of the answers to your questions, but I'm sure someone will know. Ann Marie Boppre Perry (72) lives next to Butte Saint Paul.  She told me the exact miles west and north of Dunseith, but off the top of my head I forgot the exact miles. I believe Butte Saint Paul is one mile into Bottineau county. The county line I believe is 5 miles west of Dunseith. I think it's 18 miles from Dunseith to Bottineau, so my calculations are that Butte Saint Paul would be 12 miles east of Bottineau and 5 or so miles north.  Ann Marie, can you give us the exact location again please?  Gary
Butte Saint Paul

Fr. George Anthony Belcourt




Alexander G. Burr
(In his Bottineau years)

      "About 1850 Father Belcourt, with some Indian guides made a trip in January from Pembina country to the Turtle Mountains, to undertake missionary work among the Indians. Reaching what is now called Butte St. Paul in Bottineau County, he was overtaken by a blizzard and sought shelter on the side of a friendly hill. Here they remained all night, almost smothered by the snow. In the morning the storm lifted and they saw the hill that had protected them. In grateful acknowledgement of the mercy afforded him the priest named it Butte St. Paul.
"In June Fr. Belcourt returned and erected a cross as a memorial. That cross remained for years and in 1885 another was erected in its place. This second cross was a distinctive symbol for many years."
– A. G Burr June 28, 1933
      The Bottineau County Old Settler's Association became interested in preserving the Butte St. Paul site. Based on this interest, the N. D. State Historical Society secured a plot on the summit and slope of the Butte as a state park. In June 1933 a permanent marker was dedicated. Supreme Court Justice Alexander G. Burr gave the address at the dedication. Mr. Burr was unfailing in support of his old home town.
Four years prior to the dedication, Justice Burr's sister, Flora, wrote the following poem.
The Legend of Butte Saint Paul – 1929


Harken, O Holy Father,
The scouts move not a foot!
We rest until the blizzard abateth
In the lee of the friendly butte.

'Tis the wraiths of our great ancestors
Who utter their horrible wail,
Many moons since White Cloud has witnessed
Such lashings of springtime gale.

May the Paleface comprehend
What cometh for our sake?
O'er that painted and feathered Dakota
Another storm doth break.

Wrapped deep in the snows I shall understand
The language of our land.
The good priest bound by the bitter blast
Heareth the Voice from above;
What are the man-made bound'ries and lines
To the Mighty Father of Love?

United States and the Canadas
Fashioned alike by my hand –
Rear ye a cross when the tempest stays
To the Christ of the friendly lands!

Cometh not death from this icy breath
Still work thou must do for Me,
When the cross is seen midst frosty sheen
My word shall rest on thee.

On the day that the blizzard abated
The priest with his little band
A green cross hewed of the mountain wood
For the Christ of the friendly lands:
"Now witness one and all
The cross on Butte Saint Paul!"

Dear Christ thine aid I sought;
Thou great deliverance wrought;
Through night of awful storm
I saw Thy mangled form.
Where Thy crimson footsteps led
That trail I too shall tread.

I shall return again
With my little band of men.
To me revealed Thy thought
To dedicate this spot.

Unto thy cause, till time doth cease
To Indian and the Paleface, Peace;
In the appointed time, by hands not mine
Be raised to Christ a greater shrine*.
Till hills and prairies hear,
The chanting of the pioneer.
Woe to this shire if cross shall fall,
Be snow or green on Butte Saint Paul.

* Tarsus Church


Butte St. Paul
Dedication – 1933


Tarsus Catholic Church
19 July 1908

      The Great American Trails website states: "Butte St. Paul is one of the must-see sites on North Dakota's Scenic Byway… one of the highest points in the Turtle Mountains, offering spectacular views…" It is located about 10 miles east of Bottineau and then 1 to 2 miles north of Highway-5. But, please don't get caught in a blizzard like Father Belcourt!
All photos on this page were obtained from Historical Highlights of Bottineau County, 1977.