Pictures
I have attached all pictures that are pasted below.
Not everyone is able to view pictures posted in the body of my email message.

Passing of Mary Rose Morin
Posted by Vickie Metcalfe('70):  Bottineau, ND
Dear Alice Renault,  Gary and Alumni  friends of Dunseith  Public School,
I offer sympathy to  former  Dunseith Elementary co-worker, Alice Renault on the passing of her sister Mary Rose.
May you find the  warmth of comfort  Alice,  in your  unending  faith,  your loving family and friends.
Sincerely,
Vickie L. Metcalfe
August 20, 2019
https://prod1.meaningfulfunerals.net/obituary/mary-morin?fh_id=14585
Spectrum Store on Bottineau Main street is closing
Posting from Vickie Metcalfe('70): Bottineau, ND
Gary, Karen Larson is shutting down the Spectrum.
I hope others will be bolstered by the photos and story  the tale/story, to go in and see Karen and do the same. Losing the Spectrum and the  expertise of Karen Larson  will be a  great loss to Bottineau and Dunseith. Thanks and take care. Sincerely, Vickie
Gary's comments
I totally agree with everything you said Vickie. Bottineau and Dunseith too, will be at a loss without the expertise services of Karen and Spectrum.
Thank you Karen for all the services you have provided us and also for the entire community. You are a saint. I for one will miss visiting and seeing you in Spectrum with my visits back to the area.  
Posted by Vickie Metcalfe('70):  Bottineau, ND
Note: This Picture is also attached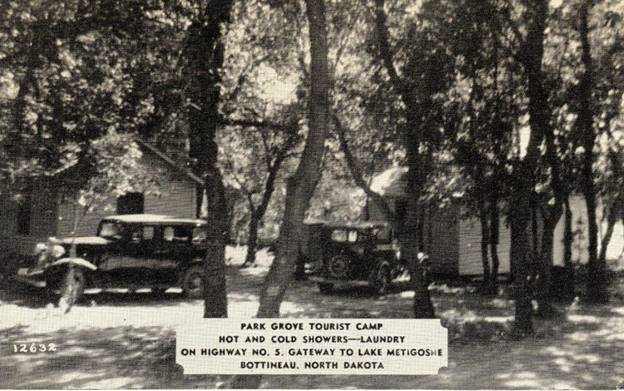 Bottineau Cabins by Oak Creek: Memories from the past
Posting from Vickie Metcalfe('70):  Bottineau, ND
Gary and Dunseith Alumni Friends
May through August is prime for walking a dog.  Lochbuie my diabetic senior  Westie when hurting or tired uses a pet stroller.  Aka 'Buie's Cadillac'. I purchased for him because it reminded me of the D-John Deere I used in hayfields of summers long past..
My preference is early morning; at least 6:00 am dawn moseying along the walking path.   Much loved are North Dakota's Changeling Morns. Be it,
-Calm, and quiet
-Gentle misting soft rain.
-Chilling dam p breeze  w in d.
Strong winds bring the hoody up, hat tucked away, with feet amping up to brisk strides whilst the stroller  hood comes down  for Buie's protection.   Doggedly, I wander like  'the bear 'went over the mountain to see what he can see.'
Halfway destination is arrived at the walking bridge where the D John Deere is pushed to the edges of the walking bridge and we mindfully gaze in all directions of the flowing or …. Not flowing Oak Creek.
I believe, Water is life.
Life in the hearing, seeing, smelling….'and the feel
-Wee shy cotton tails or startled gigantic  Jack rabbits,
-splish/splash of the Beaver or Muskrat.
-Shushing, trickling, rushing of water where tiny bugs or microisms call water home.
-Various color birds calling the sun to wake up his sleepy head.
Final focus is on a huge many branched thick willow tree. And I wonder back to 72 years ago if a small-determined  willow branch was here, as my parents began their married life witnessed in the company of friends and family at Dunseith Lutheran Church on September 17, 1947.
Once,  while a child my Mom pointed out the area cabins, saying she and Dad's wedding night was spent in a little cabin.  Hmm, close to  the flowing water, where the huge willow now has grown so strong and tall.
Given into history, I hauled out moms stuff which was long ago packed away, then,  asking Karen at the "Spectrum" to fwd copies of my parents wedding photo graph, signed guest list, and a yellowed curling clipping from the Star. ( I shall miss Karen as she is closing up shop soon)
Wholly Cow! upon sharing the photo's' Karen pulled out an old  photo of the cabins at Oak Creek.
My mom all those years kept in her possession every gift card she received at her wedding.
…I wept as I read them………so sincerely personal and kind.  Many of those folks continued to lend laughter, tears and support through to my parents passing.  Friendship treasured-endures.
Many think clutter. Clutter? I think not.   Frail yellow paper scraps of the past symbolize the strong spirituality of  a woman who treasured her marriage vows.    She and dad lived it together, through glad times and bad times, good health and sickness.
Dad was her one and only love.
Mom also valued family and friends kind and gentle folks who witnessed and supported her and her beloved.She never forgot a kindness.
In summary, for what it's worth I share pieces of  my family history with y'all.  And, thank you  all kindly.
I dare you all, take a walk  mindfully  at dawn.
Sincerely,
Vickie Leona Metcalfe
August 20, 2019
Wedding of Clifford  David and Charlotte Harriet  (Lamb ) Metcalfe: September 17, 1947
Posted by their Daughter Vickie Metcalfe ('70):
Note: These Pictures are also attached
 My parents were: Clifford  David and Charlotte Harriet  (Lamb ) Metcalfe
Mom's roots were primarily English, Irish and ..Penn Dutch…..
.Mom's name.
Charlotte ……….named in  honor of    Maternal  Irish/Penn Dutch …great-grand mother Charlotte Anne (Plymire )Welch,          and  Charlotte  Ann  (O'Moran) Plymire  Irish immigrant  ( early 1700's) great- great grand mother.
Midle name Harriet is after her English grandmother Harriet Lamb……..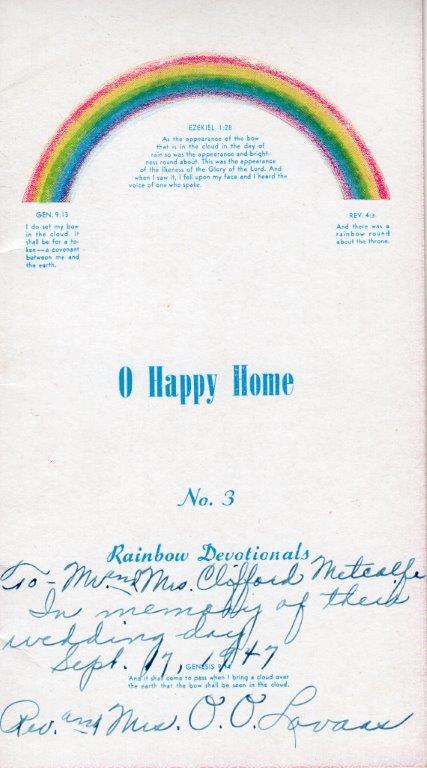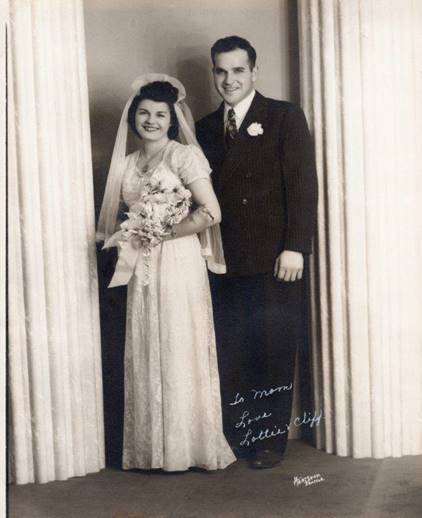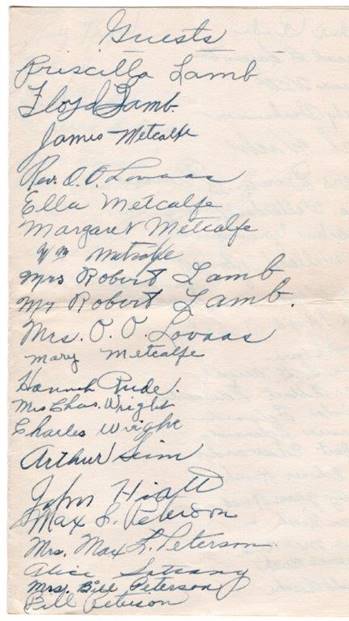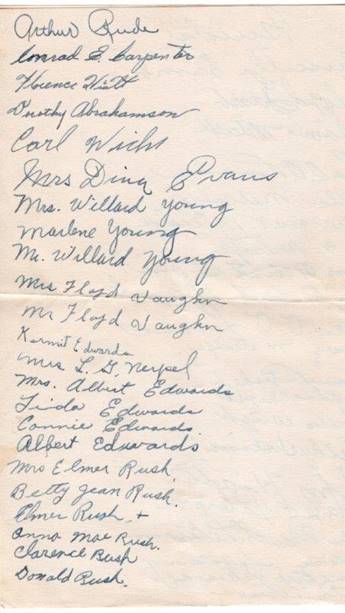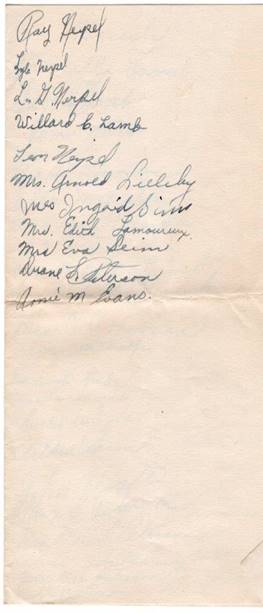 ==============================================
Blog (789) posted on April 30, 2010
Tommy Belgarde Passed away
Forward from Neola Kofoid Garbe: Minot & Bottineau, ND
Note: I am not familiar with Tommy. I'm pretty sure some of you are though. Please fill us in with Tommy and where he lived etc. Our condolences are with his family with his passing. They are in our prayers. Gary
From:Keplin, Denise S.
Date: 4/29/2010 11:09:20 AM
Subject: #2 Prayer requests 4-29-10
Tommy Belgarde died early this morning. Please pray for his family and friends. Will let you know about services when I hear.
Reply from Cheryl Kester Gaugler (69): North Brunswick, NJ
Gary,
After seeing the map you sent today, I realized how close I was to you a couple of weeks ago – my husband and I visited our son in Yogyakarta, Indonesia. He's taking a year-long language course at Utma Jaya University learning Bahasa Indonesia. He loves the country and may end up staying longer. We saw many sites, one of the most amazing was standing at the top of Borobudur when the mist was rising from the jungle at sunrise – absolute breathtaking.
Just want to thank you again for all the coordinating you do keeping us in touch.
Cheryl Kester Gaugler – Class of 1969 Yes, Indonesia is just to the west of us. We have not yet visited Indonesia. Many folks from here have business connections in Viet Nam which is also a hop skip and a jump to the west of us as well. It's hard to believe, but labor costs are less in Viet Nam than here in the Philippines.
Reunion reply from Shelley Sime Fossen (84): ?????, ND.
Gary – I read the updates all of the time and went to school in Dunseith till the 8th grade. You really are a saint for all you do with this blog. Just when is the date of the banquet? I am wondering if I could take my mom, Connie Burcham Sime, to the meal? I know that this is last minute but she is much too shy to just go on her own and Dad isn't much of a social butterfly.
Thanks either way :o) Shelley Sime Fossen 1984 Bottineau
PS: Mom would have graduated about 1963 but I am not certain of that year (close). :o)
It's great to hear from you Shelley. I have your mother listed with the class of 1962 in my records. It's wonderful that you and your mother plan on attending the reunion. We have added you to our lists for attending. You can just send your payment, payable to Verena.
 Verena Gillis

Angela Berube Malget (65): Minneapolis, MN
 Folks, I just got a message from Angela Berube Malget (65) letting me know that she and Greg will be attending the reunion.