Condolences to the Shirley Belgarde family
From Vickie Metcalfe ('70):  Bottineau, ND
Gary and Dunseith friends,,
          I wish to express  condolences of sympathy to the family of Shirley Belgarde.
Her siblings, twins, Melinda and Margaret were former classmates at Dunseith School.
The Belgarde girls were all  kind, carried great smiles and sense of humor.
          Also, I had the pleasure of Shirley's daughter, Donna (Belgarde) Gunville  in my  third grade classroom.
          It is always nice to visit with James and Donna,  and hear and see the pride they have in their children. 
 I  believe, Donna mentioned, one son recently  graduated from Wapehton.
          Sincerely, Vickie L. Metcalfe
Winter picture from about 1963
The Ackworth school was ½ mile from our houses. The Mile like from our house is in-between the Norman Hiatt and Norris Knutson farms
Gary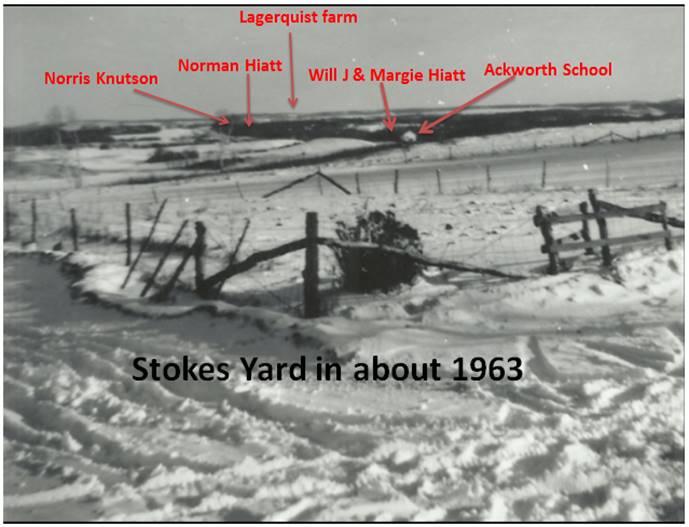 Posted by Neola Kofoid:  Bottineau & Minot, ND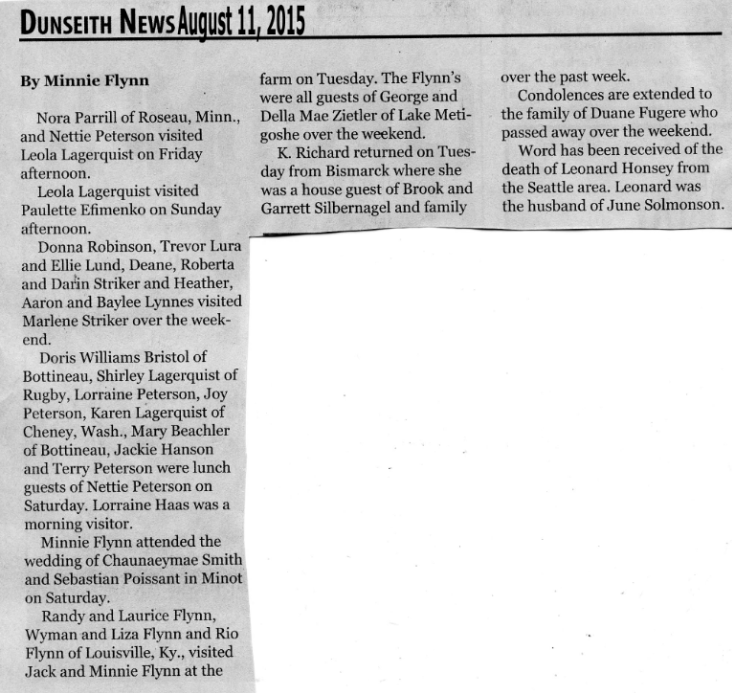 ====================================
Blog (460) posted on May 16, 2009
05/16/2009
Posted on May 16, 2009
Reply from Bill & Betty Schneider Lamb (54): Grand Forks, ND

Gary: Our condolences to the Brudwick family. We are sorry to learn of Gerald's passing. My sister was married to Gerald's brother, Kenneth.

A correction on Gary Metcalfe's note on #458. The barn was built on the Lamb farm and then sold to Hans Johnson who moved it to his farm after Priscilla and Bill Lamb left the farm in 1955. ( Bill preferred selling insurance to farming.) Carl Wicks was my favorite uncle, a very kind man. He was not related to the other Wicks family though our family knew them very well.

Thank you for all your work. We enjoy hearing from you every day. Betty and Bill Lamb

Reply from Cheryl Larson Dakin (70): BEDFORD, TX

Hi Everyone
This is in reply to Jean Eurich Roland…..my sisters and I still joke when
we take pictures about Mrs. Wondrasek licking her fingers and smoothing our
hair. It makes for a great jerking reaction. Besides, maybe we artfully
caused our hair to float a little bit. Also, I remember Norman used to work
for my dad in Bottineau and I was working at St. Andrews when he and his
wife had their first child. It was my turn in labor and delivery so I got
to work the nursery when the baby was born and bring the baby in to the
parents for their first visit. It was very cool.

Cheryl Larson Dakin

Janice Striker (47) located:

Eileen Brudwick, with all of her ingenuity and knowledge, managed trace Janice's marriage records and locate her. She is living in California. Eileen forwarded all this info she found to me hoping she had the right Janice. I left a message with Janice's voice mail and several days later he daughter left a message with my voice mail letting me know that her mother is in dead the Janice Striker from Dunseith. Janice fell and broke her hip or pelvic bone and is currently convalescing in a nursing home. She gave me her mothers direct number in the home, but she has not been in her room when I've called. I will post a message letting you everyone know when do finely reach her.

Eileen, You do great work. Thank you so much for all that you do. Gary

Eileen Brudwick's reply to Gary: Fargo, ND

This is fantastic news, Gary!!! Happy Days!!! Much of the time, I use ancestry.com to find records of people, and this is how I was able to help find Janice Striker. I am so happy it worked out this time. Hope you find out as much as possible about Janice, and pass it on to me. Sorry to hear she's having problems, but it sounds like she's doing okay.

We spent the evening with our wonderful cousin, Neola last night after arriving in Bottineau, and viewing Gerald at the funeral home. Mike even took a few pictures of Neola and me that I will share with you once we get back home. We took Neola out to eat once we finished at the funeral home, and had a wonderful visit. We love spending time with Neola!! She so easy to talk with, and we love her company. In a few hours we'll be at the funeral. It's always so hard to say goodbye to the people you love, and Gerald sure is no exception. What a wonderful man he was, as was his brother, Milen. It's never quite the same coming home now with so many family members passing away.

Have a wonderful day, Gary. Talk to you soon.

Eileen

Posted by Neola Kofoid Garbe: Minot & Bottineau, Nd

In Loving Memory of Gerald Brudwick (1931 – 2009):



 

Replies to the 1945 Basket Ball Photo:

Reply from Mona Dionne Johnson (48): Lake Metigoshe, ND

Gary:
The '45 Team with Glen Shelver as coach: back row – Glen Shelver,
Raymond Haagenson, Wayne Molgard, Bill Hosmer,
Ralph Thiel, Derald Dion. Front row – Leo Murray, Allison Fiske, Darrel
Fassett, Don Johnson, Bob Molgard.
Mona Johnson '48

Reply From Clark Crum (54) Woodbury, MN

# 7 on the bb players is Darrel Fassett

Clark Crum

Reply from Dick Johnson (68): Dunseith, ND

Gary and Friends,

The basketball team is from DHS in 1946. I can name most of the players
for you but may need help on a couple.

L-R Front row: ? , Alison Fiske, Darrell Fassett, Don Johnson, Bob
Molgard.
Back row: Coach Glen Shelver, John Aitcheson, Wayne Molgard, Bill
Hosmer, Lyle Johnson ?, Derold Dion.

Attached is an article from the 1946 'Wahoo' school annual describing
the basketball season of this team. This is in a ragged annual that was
given to me. I can't take the time to look for my mom's annual which
would have the picture with the names. That page is missing from this
book. Bill Hosmer can name these guys without a doubt and so can others
I sure. I may be wrong on some of my guesses too, so please correct
them, folks. Thanks Gary!

Dick

1945 Basket Ball Photo:

Mona & Dick, the 2nd guy and #9 in the back you guys have identified differently highlighted in red. The rest are the same. Great Job on both of your parts. I'll bet Bill Hosmer, Floyd Dion and a few others can help us out with who these guys are. Gary

Back row – Glen Shelver, Raymond Haagenson or John Aitcheson, Wayne Molgard, Bill Hosmer,

Ralph Thiel or Lyle Johnson, Derald Dion.

Front row – Leo Murray, Allison Fiske, Darrel Fassett, Don Johnson, Bob Molgard.