Happy Birthday Vickie Hiatt LaFontaine ('73): Grafton, ND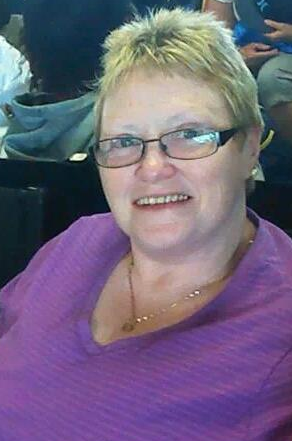 Randy Kelly ('69)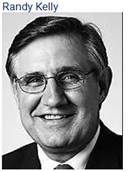 Former St, Paul Mayor and former Personal staff of President George W. Bush.
I am sure most of you know or have heard of Randy Kelly. Randy's mother was a Fauske, sister to Elwood Fauske and Lydia Fauske LaCroix. Randy was with the DHS class of 1969. His family moved to the twin cities before he graduated. From what I understand, Randy spend a lot of his childhood days staying with the Ernest and Lydia LaCroix family west of Dunseith.
Anyway, what brings Randy's name into the picture is at our Cebu Expat dinner last night at the Marco Polo, one of our newer members told me he was from St. Paul. So I asked him if he knew Randy Kelly and of course he did. He wasn't sure if Randy would remember him, even though he had run for a Legislature office in Randy's district. Last night when I got home I zapped Randy a message with this guy's name and  picture and Randy knows him.  Small world. With Randy having been a past Mayor of St. Paul, I was nearly 100% positive this guy would know who Randy is and he did. Not being from the Twin Cities area he was very surprised when I brought up Randy's name.
Gary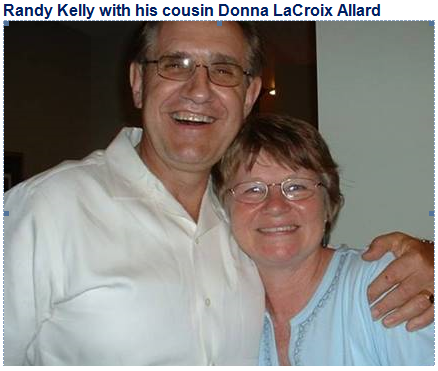 DHS 68 Prom – Randy Kelly and Toni Morinville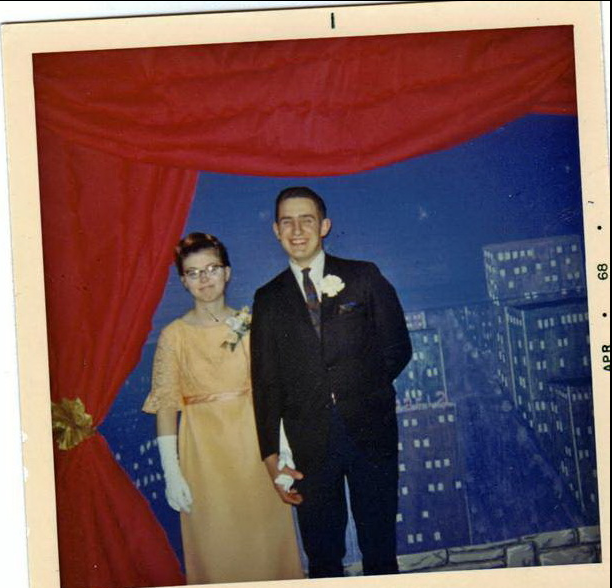 Jack Flynn Memories
Reply from Bob Lykins (60's HS teacher):  Hutto, TX.
Gary,
I was deeply saddened to read of Jack Flynn's passing.  Jack and Minnie were among our very first friends in Dunseith.  They took us into their hearts and helped us to not only adjust to living in a new community but also married life as we were newly-weds when we first lived there.  Jack had the greatest sense of humor and many a laugh was shared at the American-Canadian Bar when Jack was there.  His stories and photos of his experiences during WWII and his participation in the liberating of some of the concentration camps was so interesting and enlightening to a young man who's passion was, and still is, history.  With his passing another part of the "greatest generation" is lost to the future.  My sympathies go out to Minnie and the family.  This is one man who will certainly be missed.
Bob Lykins
Francis Peter (Jack) Flynn



Born: July 15, 1921
Died: September 25, 2015
FRANCIS PETER (JACK) FLYNN
Francis Peter "Jack" Flynn, age 94 of Dunseith, died Friday, September 25, 2015 in the VA Hospital in Fargo. A memorial service will be held on Friday October 2, 2015 at 2:00 P.M. in the Peace Lutheran Church of Dunseith. Cremation has taken place. There will be no visitation.
Jack was born July 15, 1921 Fonda, ND (east of Rolette) to Hugh Francis "Frank" and Mathilda (Marcotte) Flynn, the youngest of five children. Jack grew up in Rolette County and attended country school and then Rolette Public School, graduating in 1938. As a kid he worked at many jobs including Billy Murry's pool hall in Rolette and for area farmers. He was a truck driver in the CCC camp at Kramer, ND and was part of their champion North Dakota basketball team, winning over Montana and South Dakota teams. His service in World War II was operating big radar equipment and truck driving in the U. S. Army from 1942 to 1945. His division landed in North Africa and made their way north through Europe. At the end of the war, they were among those liberating Dachau concentration camp.
Returning to the United States, he settled with his parents in Dunseith. He had jobs at a cream station, bakery in carpentry, and at gas stations before many years at American- Canadian Bar. He was a member of American Legion and other veterans organizations. He often reminisced about playing on the 1947 ND Independent Basketball team champions. Jack loved life and his family, growing crops and gardens, all sports, and was a fan of Barbershop Quartet music. Jack loved life and his family, growing crops and gardens, as well as all sports (Go TWINS!!). He was an ardent supporter of Dunseith baseball. He was a fan of Barbershop Quarter music. In his 90's he raised pigs and chicken in an unused grain bin."
Jack married Minnie Knox Dec. 28, 1948. They made their home in Dunseith and later Willow Lake Township on their farm.
Jack's family: wife, Minnie, Dunseith; daughters, K. Jacqueline Richard, Dunseith and Jill(Larry) Tinjum, Powers Lake; son: Randy(Laurice)Flynn, Happy valley , Oregon. Grandchildren: Patrick(Elizabeth) Richard, Brooke(Garrett) Silbernagel, Richard Tinjum, John (Tally) Tinjum, Stephanie(Carter) Fong, Sonja Tinjum, Wyman(Liza) Flynn, Greir Flynn, Rio Flynn. Great-grandchildren: Julia, Autumn, Brody, Karys, Kolie, Sydney, and Parker and two nieces; Marlene Jorgenson and Tara Martinson and a nephew; Tim Martinson.
Preceded in death by family: parents-Frank and Mathilda Flynn, brother-Harold Flynn,
sisters- Evelyn Foster, Isabelle Burgan, and Pearl Martinson.
The family requests memorials to the American Legion Foundation.
 Print ObituaryView Guest Book Entries 
====================================
Blog (357) posted on February 1, 2009
02/01/2009
Posted on February 1, 2009
Message/Request from James Egbert's (39) daughter Eileen:
I am the daughter of James Egbert and since iI did not get the pleasure of knowing my father and his
family and history due to his death in WWll, I am looking for information on his classmates and
friends as well as relatives on the Egbert side. I live in Fargo so it is not convenient for me to come
there to search for this information. I would like information on the reunion planned for this summer
as I may be able to attend that. Eileen Egbert Spitzer.
Folks, James Egbert was a son of Adrian's. He was Killed early on in WW II. Eileen is his daughter. James was with the Dunseith High School class of 39. I have included several of you, with this distribution, from the class of 39 that are not normally on our daily distribution. Eileen is seeking any info that any of you may have about her dad and also of the Egbert family. Her grandfather, Adrian Egbert, was a pretty well known guy in the Dunseith community in his day. Living way up in the sticks, in the hills, and not having attended Dunseith until my High School days, I have known the name Adrian Egbert my entire life. Gary
Reply from Gary Metcalfe (57):
The Native Americans were first, what would Dunseith have done without them? Then maybe San Haven, what would Dunseith have done without them, people in the CCC's brought prosperity and new settlers. The farm people from four directions brought their business and recreation to add the spice to that little settlement. Most every person has a little different take on most everything.
My parents were raised with the Bailey's, Anderson's, Bergan's, Poitra's, and a host of Native Americans, including Alcide Lagimodier. My dad always called Roy Poitra the Peacemaker, a very kind man.
Alcidede, as my dad called Alcide, was a life long friend from the old days.. He worked at our place for a number of years. One January morning , the ambulance from Belcourt, came and took Alcide to the Belcourt Hospital for about a week. That was the only time I'd ever seen Alcide "under the weather", as the old timers called sick. He was diagnosised with diabetes. His first day back with us Alcide (Dr. Lagimodier) was down in my dad's bedroom with the equipment necessary to take his blood sugar. As well as people liked to tease, no one to my knowledge, ever teased Alcide. He was my hero for a lot of reasons, one of them was he bought me a pack of Camels when we stopped at Kelvin at the end of his work week as I would take him back to Clayton Bergan's. Alcide had a good home there.
Thanks to the Fassett Boys, as Casey called you, for a very candid tribute to Elaine Watkins. She was a friend to this old pin setter, country boy. You described her so well. Her mother, Helen was the greatest, her attitude was always upbeat, through those hard times, she was everyone's friend.
I might say that without the benevolence of a few people like Janice and Bonnie and others from a class ahead of me, I could have been a real outsider too. Hillbilly you know. This country has just moved toward tolerance, that says a lot for this younger generation.
Gary Metcalfe
PS Gary is gone driving semi from Springfield, Mo. to Kingman, Az. tonight.. He left this letter written out so I could get it typed in for him. He told me as he was leaving that this blog has brought back so many memories that it gives him lots to think about as he is traveling through states like Ok., Tx.,N.M., & Az. where there can be lots of miles between places. …..Sue
Reply from Bob Hosmer (56):
Hi Gary,
I'm enjoying your communique' immensely.
In response to Gary Metcalfe's inquiry about Bud Myer and Elaine Watkins, as most know, they both were disabled mentally. Bud Meyer lived next door to us and was older than me by a number of years. Unfortunately, I mostly avoided him, because I was afraid of him. I wish now someone would have helped me make a connection with him. I think he was a very lonely man.
Elaine Watkins was in first grade when I was in second. In second grade, I was given a high school desk in which to sit because I to tall to fit in the regular seats-attached-to desk type desks that were fasten to slats that were fasten to the floor.
Elaine was sitting in one of those desks in the first grade section and she sat at the very front. For some reason, I can't recall, Elaine became very frustrated with the subject matter under consideration and began throwing papers and books off her desk unto he floor and yelling. Miss Egge in her frustration in failing to calm her, took out a cat o'nine tails she had in her desk drawer and whipped it across her face. Principal Sterns finally came in and the matter and the matter get settled.
I was so agitated by the matter, I walked up to the teacher at her desk (I was actually about as tall as the teacher in second grade) and told her as flat out as I dared, "you cut Elaine's face and it's bleeding." I could tell Miss Egge was still upset when she responded, "I don't care." This is not a nice memory to share, but from that time on for many years that action made me very cautious of those in authority over me. My tendency was always to keep quiet and to be as unnoticeable as possible.
On the other hand it made me more responsive to those who had to manage mental disabilities.
When I was pastoring a church outside Calgary, Alberta, we formed a ministry called "Friendship Club" for mentally handicap young adults. And saw many positive things happen in the lives of about 12 young adults who were part of that Bible class geared for them and in other interactive activities.
My wife and I saw Elaine last in the mid '70′s and later we heard she had died.
Others, I'm sure will have more memories of both Bud and Elaine. I'm looking forward to hearing about them.
Bob
Bob Hosmer, WA Chaplain
Marketplace Chaplains USA
Cell: 425-299-0928
Email:
www.MChapUSA.com
Reply from Dick Johnson (68):
Gary and Friends,
Paula's story of Elaine Watkin's perseverance needs to be expanded on.
Paula is absolutely right that Elaine looked through the Grand Forks
phone book to find our address, where Tim Hill and I were staying at
2022 2nd Ave N. The part that is the most amazing is that the phone was
listed in the 'w' section under Jack Widdell, our landlord's name! She
didn't know his name so had to go through the entire book to find it. He
answered the phone upstairs and then had to come down to the basement
and get us, so we couldn't give poor Elaine the number as we knew she
would call often and really upset the landlord. She did ride home to
Dunseith on some weekends with us and was fun to have along. I still
remember the day she called and said, "Tim, I found your number!" I
remain baffled how mentally challenged people can somehow clear the
'debris' from their minds and do nearly amazing things, that would seem
insurmountable to most of us who are thought to be at least somewhat
'unchallenged'. There are probably some readers who might question my
assumption of which category I would be included in, after some of the
stories I have posted
about the stunts we pulled as kids in old Dunseith! Thanks Gary!
Dick

Reply from Bonnie Awalt Houle (56):
Good Morning Gary,
Received all the missing messages and certainly appreciate all your extra time. Today we are headed to Fargo to meet with my Brother Bill and his family for the week-end. Our Grandson is going to college in Fargo so they are all going with us. Scott Awalt is in a play in Fargo tonight.
Thanks and Blessings to you and your family
Bonnie Awalt Houle