Happy Birthday Jeff Gottbreht: Dunseith, ND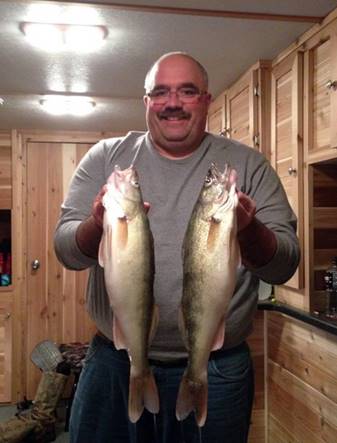 Happy Birthday LaVerne Rude (BHS '63): Vancouver, WA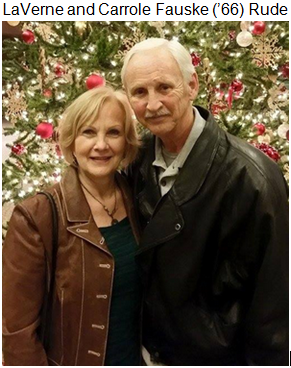 Happy Birthday Janet Houle: Kensington, MN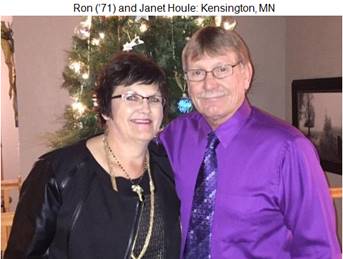 Jim and Ruby Birkland's 80th birthday party.
Message from Mel Kuhn ('70):  St. John, ND
Gary,
Today I went to my Uncle Jimmy and Aunt Ruby Birklands 80th Birthday party over in Dunseith and of all the people to run into there was Larry Hackman. I should've known he'd be there with the free sloppy joes and chocolate cake. I was in line after Larry and I had to wait for my cake while they ran over to Dales to get some Ding Dongs for the rest of us. I haven't saw Larry for a while so he had a whole bunch of new lies to try and get me to believe. I just go along with him and nod my head like I believe him. It probably was a good thing that Dick Johnson wasn't there or my poor old head probably would have exploded with all the knowledge they would have tried to force upon me. They know that I can only take in so much for one day. It's hard to tell which one of them is "smarter". Anyway-there were a lot of people there at the party. Some I hadn't seen for a long time and some that I didn't recognize. Then there were some like that DuWight Poitra that I didn't want to recognize. Bernard Morin even made a guest appearance. Then Uncle Jimmy dug out the old fiddle and him and some of his kids and grandkids played a few good old tunes for us. Jimmy still know which end of the fiddle to tuck under his chin. When all that was done Larry and I got to visiting and he wanted to know if the old Berginski barn up on Hwy 43 was still standing. Kenny Nerpel used to take a picture now and then and keep us informed as to its condition. Kenny has seemed to have dropped off the face of the earth. We were wondering if we should be concerned or not. So I stopped on the way back home and took a picture of it with my phone. It kind of came out. Maybe Gary can doctor it up some seeing as it took me about three hours and seventeen minutes to figure out how to get it downloaded onto my computer. Downloaded-that's the proper term isn't it? Boy I don't know, that's a lot for me to try and understand. That's about all I got to say I guess and every word I put down here is the honest truth. And Larry should know that 'cause he took a picture of me there at the church in front of a picture of the last supper and there was a glow that just formed around me. There Larry I beat you to it, you was going to try and tell everybody some kind of lie about that too weren't you? Later.
Mel
Mel Kuhn's recently taken – 2015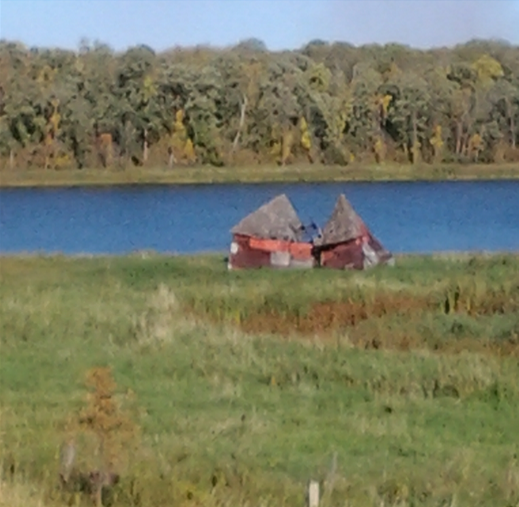 Kenny Nerpel's picture taken five years ago in 2010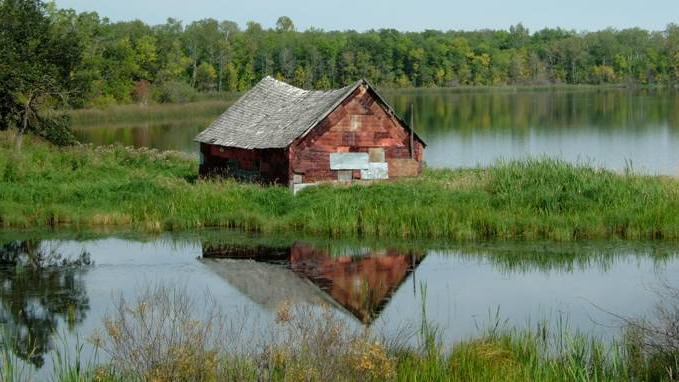 Jim and Ruby Birkland's 80th birthday party.
Message from Vickie Metcalfe ('70): Bottineau, ND
Gary and Dunseith Friends,
Today, It seemed nature knew she had to be wearing  her best, to celebrate Jim and Ruby's 80th birthdays. The foot of the Turtles, was a gloriously,  beautiful  on one of the last days of summer!  The leaves are beginning to  slowly crown the trees with colour, along with  berries of roses, cranberries  and mountain ash  splashed in  abundant shades.
Jim and Ruby's three children, Larry, Brenda, and Brian were in attendance as well as many of their families;  children and grandchildren. Many neighbors came out for the occasion;as well as family and friends from Bismarck, Minot, St. John,  Bottineau, Belcourt,  and Boissevain, Manitoba.
One  of the last to eat lunch; I d  sat with Brenda's grand children, (5 boys).  Questioning them what the best things they ate were?  Because,  I trust kids  judgement of the   "good stuff".   The  five tow headed boys ranging from eleven down to two each gave me a response of what they thought the best stuff was.  They  finally came to agree, "sloppy joes"! Brian then asked if I'd eaten yet. I went for the sloppy joe.   …….".Mmmm."  I said.  "Who made this? They are really good."   The boys said, "Grandma Ruby."
Everywhere, around the white circular tables in the  parish hall; old neighbors, family and kids ate that wonderful lunch and  enjoyed good visiting.
Many family photographs were taken with the birthday  guests of honor, a.k.a  Jim and Ruby.  I kicked  myself many times,  because I had forgotten my camera. Uffda….but I did remember the birthday card!
Jim, Brian, Brian's son, and Brenda's granddaughter jammed a wee bit .    Now , "Your Cheating Heart",  and " I'll Waltz across Texas with You" are replaying in my head! And will be all week. Nothing like a great music jam session to get the fingers and toes tapping.
And Yes! Jim did fiddle!, The others played guitar. Reluctantly, I found myself needing to say farewell, ( my boys were waiting in the car).
As I hugged Brenda good bye,  I said to her,  "I was charmed by your  grand babies".! I 'd told her grandsons, " I will see you back in 10 years for Great grandpapa  and Great Grandmama's 90th.  They each told me what  instrument they will  be playing  then. All those boys are currently  taking piano lessons.
I figure,  when I see them in 10 years they will be playing with Great Grandpapa Jimmy!
Until Later.  Vickie
Posting of the day from my good Expat Netherland's friend Leo Tacke.
This took place in Charlotte North Carolina .
A lawyer purchased a box of very rare and expensive cigars, then insured them against, among other things, fire.
Within a month, having smoked his entire stockpile of these great cigars, the lawyer filed a claim against the insurance company.
In his claim, the lawyer stated the cigars were lost 'in a series of small fires.'
The insurance company refused to pay, citing the obvious reason, that the man had consumed the cigars in the normal fashion.
The lawyer sued and WON! (Stay with me.)
Delivering the ruling, the judge agreed with the insurance company that the claim was frivolous. The judge stated nevertheless, that the lawyer held a policy from the company, in which it had warranted that the cigars were insurable and also guaranteed that it would insure them against fire, without defining what is considered to be unacceptable 'fire' and was obligated to pay the claim.
Rather than endure a lengthy and costly appeal process, the insurance company accepted the ruling and paid $15,000 to the lawyer for his loss of the cigars that perished in the 'fires'.
NOW ..FOR THE BEST PART….
After the lawyer cashed the check, the insurance company had him arrested on 24 counts of ARSON!!!
With his own insurance claim and testimony from the previous case being used against him, the lawyer was convicted of intentionally burning his insured property and was sentenced to 24 months in jail
and a $24,000 fine.
This true story won First Place in last year's Criminal Lawyers Award contest.
ONLY IN AMERICA ….
NO WONDER THE REST OF THE WORLD THINKS WE'RE NUTS
====================================
Blog (353) posted on January 28, 2009
Folks, with yesterday's message we (I) skipped message 351, so there is no message 351.  Gary
Correction to Jerry Williams message posted with message 350.
Folks,  I miss read Jerry's message thinking, in my mind, that he had been back to Dunseith many times since 1954. I sent Jerry a message telling him I was going to edit out the word 'not' in his message.  I told him if it was wrong, I'd post a correction.  Well I was wrong, so I'm posting the correction below.  Gary
Jerry's reply:
I have only been back to Dunseith a few times after I Graduated in 1954.  I guess that is the way I should have composed the message.  Oh well you did good to catch a potential mistake.  Thanks.
Jerry
Jerry's original message:
I graduated with Viola with the class of 1954,  a graduating class of 8, I think the smallest to ever graduate from good old DHS.  Anyway I have not been back to Dunseith many times since 1954 myself and Viola is one of those people that I have not seen in now 55 years.  I don't know if  our class is going to get together for a 55 year reunion this summer or not but it would be fun to get to see her again.  How about it class of "54" are we going to have a class reunion this summer?
Reply from Bob Lykins (DHS teacher – mid 60's): 
Herzlich glueckwunch zum Geburtstag, Allen!
Speaking about collecting Social Security.  A little bit of information for those retireing from Federal Service.  I started collecting full Social Security benefits when I turned 65.  My 10 year old son (at the time) started collecting an amount equal to half of my benefits because he was under 18 and (get this) my ex-wife, because we were married for more than ten years, also began collecting benefits amounting to 50% of my benefit. My current wife doesn't get anything which is a bone contention on occasion.  When I retired at age 68, because I am under the Civil Service Retirement System (CSRS) The Social Security Windfall Act applied to me as it does to all Federal employees under CSRS.  As a result, just when we really need full Social Security benefits when we retire, they are cut, in some cases,  by as much as  75-80%.  The rationale being that we have been working all these years and paying into another retirement plan and not paying in to Social Security.  I wonder if this also applies to people in private business and industry?  It has taken the Social Security Administration a full year to catch up to me as I have been receiving full benefits during my first year of retirement and not eligible to do so.  I lucked out in that they only cut me about 45% but I have to pay back what they overpaid me this past year.  Not a problem since I knew this was going to happen and with each monthly payment dropped 50% into a savings account.  In other words I had a nice loan for a year from Social Security.  My son and ex-wife also have to pay back.  Good luck on them getting money back from the ex.  It's no wonder that outfit is going broke.
Again, Allen, Happy Birthday.
Bob Lykins
Gary's reply
Yes Bob, you fell into the social security off set rule when you started collecting your federal retirement. For me the bulk of my Social Security entitlement comes from my Army reserve years.  In my case the off set rule I feel is fare, because I did not pay that much into the system to get my qualifying quarters.  I don't necessarily like it, but I can see the rational behind the rule for folks like me.  It's not a fare rule for those that had substantial years social security before going to work for the government.  This rule only applies to those hired into federal service before 1984. To maximize my retirement, I learned the Government, Reserve and Social Security laws well.  Gary