For the record I did not get a blot posted yesterday
We celebrated Lorelie's birthday.
Gary
.
.
Happy Birthday Joan LaCroix Lannie (DHS '67) Olive Branch, Mississippi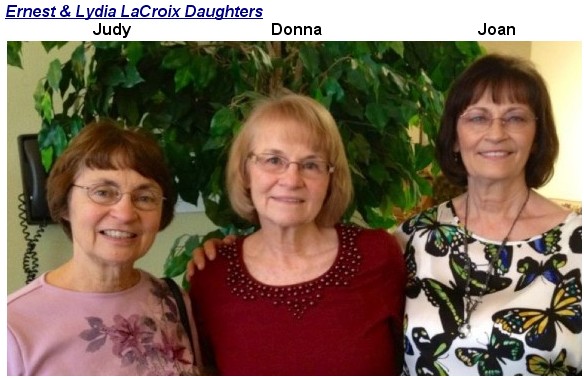 .
.
Dick Johnson's Norway pictures
Reply from Jim Kofoid:  Bottineau, ND
Ref Dick's 1st picture:  He could pass for a close relative of the man in a blue and white jacket standing in the front center row!!Jim K
.
.
Happy belated b,day,lorie (Hiatt)!!!
From Connie Zorn Landsverk:  Bottineau, ND
.
.
.
==========================================================================
Blog (128) posted on June 10, 2008
.
.
Folks,  I would like to mention that I had a really nice visit with Sandra Zeiler Vandal (62) yesterday when I called her about messages they were not getting. Sandra and Mike are living in Elk River MN.  Her parents, Arnold and Lorna are living in Rugby.  She said considering their ages they are doing OK.  Sandra mentioned that she plans on jumping in some day with some comments and replies of her own.  I told her we'd love to hear from her.  She is signed up for our cruise along with Nancy Hosmer Baldwin (62).
Sandra, I did not realize when we talked yesterday that your mother is a Casavant. Are you related to Rene, Joe, Gerald and that family of 16 wonderful siblings?  Gary
Gary and Friends,
Everyone has a wild night to remember, some of us more than others, I
imagine. One such night that I will never forget was August 22, 1961. I
was staying at the farm with my grandparents and had gone upstairs to
bed after a hot day and had opened a window to hopefully cool of the
room so I could sleep. I was sleeping like any 11 year old, without a
care in the world, when all at once rain water was hitting my face and
the wind had the curtains standing straight out in the room! Grandpa
Hans came running into the room and grabbed my arm and dragged me down
the stairs and down into the cellar! He shut the trapdoor above us and
said we may be in a tornado! It roared like crazy above us for a few
minutes and then we heard a loud crashing sound followed by a boom!
Grandpa said, "That was the barn." It got still within a few minutes,
except for a slight wind, and we came up from the cellar. Looking out in
the night we could see a big pile of debris where the barn had been! The
overhead wires were laying on the rubble and rubbing together making a
constant shower of sparks, so Grandpa ran out to the power pole and shut
off the master switch so what was left wouldn't burn. He was soaked to
the skin within seconds from the downpour, but didn't want to see a fire
too! Well guess what! The insurance company said he had insurance for
fire but that they had written off wind coverage because the barn was
looking old and possibly not sturdy!! There is a story about how good
guys finish last, and this sort of fits! Oh,by the way, my memory isn't
quite as good as it seems. The date is on the back of the picture, even
though the picture was taken later in the fall. I did cut a hole in the
debris and found my saddle unharmed! Not to good for most of Grandma's
chickens though! The picture shows the aftermath of one of the strongest
winds I can ever remember! Thanks Gary!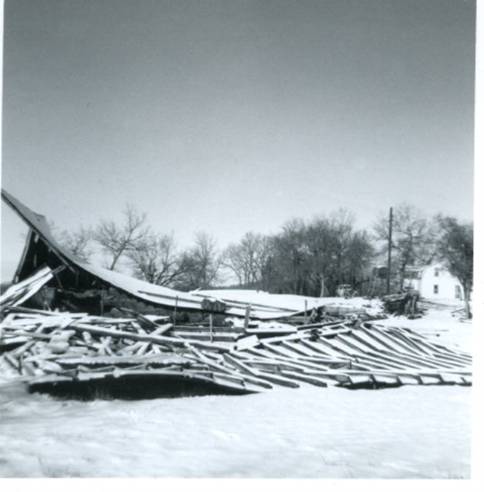 .
.
From Dale Pritchard (63):
Dale, that does look like your mother.  Gary
The picture is pretty dark but I believe that's my Mother, Dorothy Pritchard, seated on Edmar Tangen's right side.  This is a good picture of your Mother, Gary.  In some close ups of you, I see you inherited her eyes.
Dale
Standing: Glenda (Mrs. Russell) Fauske
Seated R to L: Elaine Stokes, Alice Hiatt, Charlotte Hiatt Lang, Esther Tangen, Edmar Tangen,
Hi GARY I wanted to comment on the band picture, The girls on either side of Susan are
Connie Bedard , Susan, Shirley LaRocque. Thank you Gary
God Bless  Shirley (LaRocque) Wendt
Picture L to R:  1956 DHS Band
Front row: Gayle Bedard, Caroleen Lider, Janice Lacroix, Marjorie Landsverk ?, Lowell Williams,Lois Hiatt.
Row two: Karen Woodford, Coleen Conroy?, Gerald Lamoureux, Girl??, Duane  Woodford, Guy with tuba??,
Connie Bedard, Susan Brew, Shirley LaRocque, Joanne Kester.
Back row: Director??, Flute player?, Small person?, Luella Kalk??, Ronnie Link, Short kid?, Dwight Lang,