Pam Fugere Schmidt ('73) Picture
Reply from Flavia Moraes ('73):  Brazil, South America
Dear, Gary
So happy to see Pam´s photo. She was my classmate and friend.
I will never forget her.
Flavia
It is so nice hearing from you all the way from Brazil. I know many of our readers are Face Books friends of yours too.  

Folks, Flavia was an exchange student living with the Campbell's.
.
.
Reply to yesterday's postings
From Lola Metcalfe Vanorny ('68):  Dunseith, ND
Pam Fugere just as cute as ever-  —  !!!
also i hear stories of Floyd Dion always doing things for others and never mentioning or getting recognition for it —  what an awesome  couple he and Luella–  !!!_  Angels  unaware- !!
Yes Dick keep the pictures and stories coming-  very interesting !!_ and i am sure half the hills would love to see parts of Norway and your stories and they almost all have relatives there-  my  Mom begged me to go to Norway with her back in 86  -she said she would pay for all of it if would go with her and  I said let's wait a year as the kids were younger and lots of  school etc stuff going on — why?– they would have managed just fine- !!_  and Jay with them!!!  –  but right after she got the brain tumor and then it was too late-  !!_ NEVER  put off  something like that~~~~  that is one big regret i have is not going right then-  but we always think we have to plan!!!_  —  Happy Birthday DIck but I  always thought your birthday was the 24th of July !!_ cause i figured you were only 3 weeks older than me and now i find out you are a WHOLE LOT OLDER THAN  ME MORE THAN A MONTH OLDER– LOL!!!–  makes me fell young again !!!_-  LOL!!–Oh and by the way we were comparing our aching hands one day i saw you in town and I found a product called "Two Old Goats"- yup that is the name !!!and for anyone else out there with arthritis pain or fibromyalgia-  it works the best of anything i have found!!_  I found it in the Rolla Drug or the Belcourt Drug or maybe online-  but it really sees to help especially at night  —  to get some sleep !!!!_    
And i see another one us old "San Bags" as we called ourselves have left us !– Telephene  – she was  a sweetheart !!_  my condolences to her family !_ she was a   a great  caregiver to our residents-  !!_   
Gary praying for you and Bernadette that she continues to feel better-  or even for a miracle for her that it all passes —   Art Hagen looks very happy !!_ good for him !!!_  he has been through the fire too as they say and deserves some happiness in his life – his wife Mavis was a wonderful person – !!_ but as Margartet  ( my sister says0   you "can't bring them back"  and have to move on after a while-  !!- hard to believe Margaret lost Chuck 14 years ago last Christmas!!!
.
.
Reply from Brenda Hoffman ('68):

   Greenville, SC
Happy birthday Gary. I'm hoping you and Burnadette, family and new daughter-in-law are having one of your wonderful get togethers – with lots of fattening cake (ok that's my dream – I love cake!)
I had a lovely birthday. Bernadette treated me to dinner along with Lorelie, our daughter-in-law,  and Edelyn, her niece, at TGI Friday's in the Aylala mall.

I'd like to take this opportunity to thank everyone for the many "Happy Birthday" wishes too. It was so kind and thoughtful. I tried to reply to each and everyone, but I think I missed a few.
.
.
Jim Kofoid's "Yard of the Week" Bottineau, ND July 22, 2014
Posted by Neola Kofoid Garbe: Bottineau & Minot, ND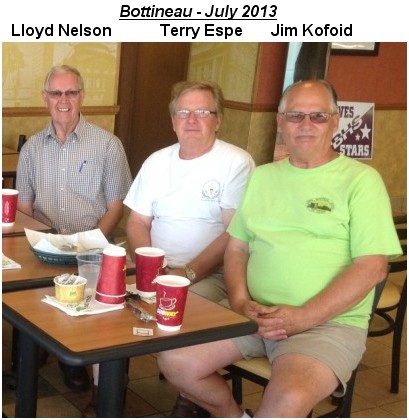 Jim Kofoid's (my brother) yard was chosen as Bottineau's "Yard of the Week".  His house is located at 1014 Ohmer St.  Those of you who lived in Bottineau years ago, might remember this as Oscar (His wife's name eludes me at this time.  She taught 4th grade (and other grades) in the Bottineau Public Schools for many years.).  Kleven's home.  I think it was when Oscar/Mrs. VandeWalle married, the house was sold.
Congratulations, Jim!!!!!  I know all this beautiful yard (as do all "Yards of the Week") require a LOT of time/effort to reach this point. 
As I told Jim, each week, I wonder if his yard will be chosen as Bottineau's "Yard of the Week".  This is the week.

Relatives who are in Bottineau for the Petterson/Kofoid/Hovland Reunion this weekend, drive past Jim's place/check out the yard and house.
Looking great Jim !  Recognition very well deserved.  Gary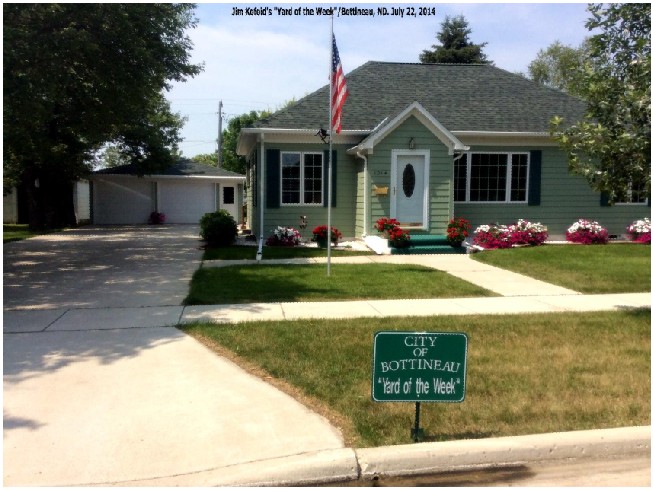 .
.
Norway trip: (Repost with missing picture. I hate it when that happens)
Reply from Dick Johnson ('68):
 Dunseith, ND
Gary and Friends,

Thanks to everyone for all the nice birthday greetings.  I think
I've nearly passed everyone in age, if my memory serves me.  It's been a
good run though and I hope I can keep on for a while yet.  We took a
trip to Norway in June and spent time seeing some of our extended
families.  I got to where my Grandfather Hans Johnson was born and where
he had lived for the first nine years of his life before coming to
America.  We found one of my third cousins who invited us to come over
so he could show us around and introduce us to many of my relatives.  We
were also invited to my wife's cousin's place on the far west side of
Norway so she could do the same.  It was an interesting trip and we have
hundreds of pictures to remember it all.  My relatives are near Hamar
and Brumunddal which is north of Oslo.  Brenda's family lives North of
Bergen at Voss and Aarhus. I would like to send a few pictures now and
then and some interesting stories about the people and the history of
both Norway and our family.  The fellow in the picture with me is Terje
Ottesen.  His mother is my dad's second cousin.  He showed us many many
interesting things and spent four days driving us all over the area.
The other picture is of Brenda and her second cousin Tove Reime who did
the same for us on the other side of the country.  I hope not too many
of the readers find this uninteresting.  Thanks Gary!

Dick
.
.
==========================================================================
Blog (123) posted on June 5, 2008
.
.
   Good Afternoon Gary and everybody that's from Dunseith area. I'm just looking to see if anybody is living in Minn. area. I don't know if alot of you know my son, Christopher Leo Rondeau, grandson of the Betty Counts Poitra and the Late Leo Poitra. My son plays and sings and his on tour right now, the reason I'm writing this letter is to see if anybody knows where the 331 club is in Minn.  stop and listen to him on june 5 he will be there, from there he heads back to Texas. You could also look him up on his web site: my space.com
http://www.leorondeau.net/  check out his site you purchase cd's and t-shirts. He graduated the class of 1998. 
Thank You
Debbie Poitra Rondeau Class of 1977
.
.
From Randy Flynn (70):
.
.
A question for Floyd Dion.  When I saw the picture of you with Harvey in the electric wheel chair, I remember, as a youngin', hearing that you had been awarded a Golden Hammer Award from Popular Mechanics.  Did you receive such an award.  Is this the wheel chair that was submitted to Popular Mechanics.  You were always extremely handy and I am certain you made modifications to the original designs. 
To Bill and Irene Fassett's daughters and Dick Johnson – Your scrapbooks articles and pictures are great.  Please keep sharing your saved memories of Dunseith.  The background of each picture is as important as the subject to recreate our lives in Dunseith.  Thank you.
Randy Flynn
.
.
Thanks for posting the picture of Eldon Hiatt and Dad, Susan.  It's always fun to see a person's parent/parents in clippings.

Whenever I see this clipping, my first thought is always that the fellow with Dad is Jack Peterson, as he worked for Dad.  In fact, it was while Jack (It seems to me I called him Jackie.) was working for Dad that he lost sight in his eye.  Apparently, a sliver of steel lodged in his eye.  I remember what a terrible/sad accident it was.  I can still picture him with the bandage over his eye.  He was such a young fellow to have something like this happen to him.  When we happen to think/talk about the accident, Mom/I still feel bad.
Susan, if I were put in a room with all your old newspapers, you wouldn't see me for months!  I absolutely love reading the old newspapers.  My problem is I want to scan/send/share so many of the articles with everyone.  I think the articles/stories/etc. are so great, I'm just positive others feel the same as I do about them!! Ha!
Even though I don't know everyone mentioned in the emails, I enjoy all the clippings, stories, pictures so many of you share through Gary.  I'm with the rest of the people, Gary; I add my thanks to you, too.

.
.
Dick,
Your remark about most 18 year olds not being up at that time of the
morning is partly true…many of them were just going to
bed..
.
.
From Mona Dionne Johnson (48):

Don't recognize them all as this would have in the year (43-44), before
I started at BHS, but here's most of them –
Coach W.Schultz,  ? on first one,  Wayne Molgard,  Freddie Hiatt, Bob
Molgard, Leo Murray, student Mgr. Howard Landsverk.
Fr.  Roger Johnson, Don Johnson, Lyle Johnson ?,  Bruce Cornell, Allison
Fiske
That's all but one and I'm guessing on Lyle, but looks like his grad.
pic to me.
Mona Johnson (48)