Happy Birthday Pamela Fugere Schmidt (DHS '73): Mandan, ND
.
.
Happy Birthday Julie Hiatt (DHS '81): Rugby, ND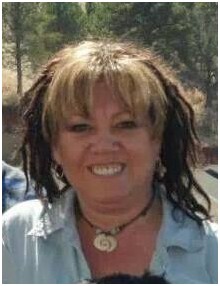 .
.
Reply from Toni Morinville Gredesky ('68):  Fairmount, ND
Thanks, Gary. Best wishes to you as well. It's nice that we share a birthday.
Also, happy belated birthday to Dick J. We were born a day apart in the same
.
.
Old Time Gospel music – Rendahl Cassette
Available from Art Rude ('71): 

 

Bismarck, ND
If people want a Rendahl cassette, just have them email me their address to artrude@hotmail.com and how many copies they want and I'll mail them to them. I think I still have quite a few, and cassettes don't sell any more. Most people who like old time gospel like them real well. I recorded Scotty and Thelma in my studio, as I did the rest, so I think you will be hard pressed to find a better quality recording of them. Scotty was totally deaf by the time I got them in the studio, but he could feel the vibrations from Thelma's guitar. It was a recording experience I won't forget.
Follow up message from Art
Ok, the box of Cassettes was right where I thought they were, collecting dust in my garage. They were commercially made, as hopefully you can see from the pictures. As I said before I do not have the ability to record the material on CD, as my good cassette player died. I think I have one copy of that material on CD somewhere, but I haven't been able to find it yet.
.
.
Harvey Halvorson's wheel chair and Happy birthday to Toni
From Diane Larson Sjol ('70):
 Minot, ND
Floyd,
I was going through some of dad's old papers and ran across that clipping about you making the wheelchair for Harvey…he kept it all this time.  That was a great thing you did for Harvey.
Diane
Toni Lou!
  Happy birthday and many more.  Sure hope to see you one of these days soon.  Give us a call if you end up back in North Dakota.
Take care.
Diane
.
.
Message from Diane Larson Sjol ('70):  Minot, ND
Hi everyone,
This is just an FYI…..I  wanted to let you all know that I have resigned my position at Dakota College at Bottineau effective July 31.  Although I love my job there, this past year, after the death of my husband's brother Jack, has been a tough one for us with me spending 4 days in Bottineau and Scott in Minot.  There are so many legal things going on with the murder investigation, the will, their business etc.  I would have resigned to stay in Minot after it happened but with my dad living in Bottineau and in ill health,  I decided to stay another year.  Now that my dad has passed away, it is time for me to spend the time in Minot with my husband so that we can get both estates settled and spend more time together.   
I have taken a position at Minot State University as a nursing instructor there…a 9 month position so I will have the entire summer off…that will be great.  We still plan on spending our weekends up at the lake so come on  up and see us.
.
.
Reply from Dick Johnson ('68):  Dunseith, ND
Gary and Friends,

Thanks to everyone for all the nice birthday greetings.  I think
I've nearly passed everyone in age, if my memory serves me.  It's been a
good run though and I hope I can keep on for a while yet.  We took a
trip to Norway in June and spent time seeing some of our extended
families.  I got to where my Grandfather Hans Johnson was born and where
he had lived for the first nine years of his life before coming to
America.  We found one of my third cousins who invited us to come over
so he could show us around and introduce us to many of my relatives.  We
were also invited to my wife's cousin's place on the far west side of
Norway so she could do the same.  It was an interesting trip and we have
hundreds of pictures to remember it all.  My relatives are near Hamar
and Brumunddal which is north of Oslo.  Brenda's family lives North of
Bergen at Voss and Aarhus. I would like to send a few pictures now and
then and some interesting stories about the people and the history of
both Norway and our family.  The fellow in the picture with me is Terje
Ottesen.  His mother is my dad's second cousin.  He showed us many many
interesting things and spent four days driving us all over the area.
The other picture is of Brenda and her second cousin Tove Reime who did
the same for us on the other side of the country.  I hope not too many
of the readers find this uninteresting.  Thanks Gary!

Dick
.
.
Posted by Neola Kofoid Garbe:  Bottineau & Minot, ND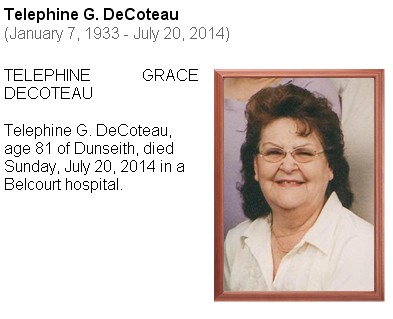 .
.
==========================================================================
Blog (122) posted on June 4, 2008
.
.
Gary and Friends,
Thanks Susan for the article on the City Hall fire. That seems to be
exactly the way it happened. In the picture you can see how the west
wall had fallen outwards, this nearly blew Terry Martinson off his feet!
The picture was taken a 9 AM according to the article and was before the
big chimney was pulled over into the basement by the Rural Electric
workmen. The part about the siren being saved is not totally correct
though, we retrieved it but I think it was shot. After the roof fell in,
we could see the siren hanging  on the wires, just inside the front
doors! I don't remember who cut the wires and brought it out but I think
it had been burned badly enough to not be any good anyway. I remember it
sitting on the sidewalk in front of the hall after it was all over. I
talked to Helen Metcalfe this past weekend and she said she and her
husband had the hall rented for their wedding dance that next weekend
but when they drove into town it was just smoldering ruins! They rented
the Odd Fellows hall in Bottineau and had their dance there. The reason
I was up that early that morning was that I worked at Dunseith Sand and
Gravel that summer and I had to be there at 6:30. I worked mornings
until about 2:30 and then went to the farm. Lowell Leonard came to work
then and worked until late evening. The reason I am mentioning this is
that most 18 year olds probably weren't up at that time, then, either!
Thanks Susan and Gary!
Dick
.
.
Gary and Friends,
The attached picture is the 1944 DHS basketball team. I know most of
them but I bet Mona and the others can name them all. So that is your
assignment, Mona! Thanks for the help on the 1945 team. Being the
packrat that I am, I still have the leather knee pads Dad is wearing in
this picture! I also have a leather football helmet from DHS. We were
told to haul a bunch of football gear to the dumpground but I kept one
football helmet and a band cap. The band cap has the name "Lois" printed
on the inside. Could be either Lois Lilleby or Lois Hiatt, the only two
I know with that name. Anybody want to inform us on who?? I also have a
leather basketball from 1950 or 1951 that my uncle Cliff got when he was
in high school. That ball is in bad shape from being played with on
concrete and mud and wet conditions when I was young, but I still have
it nearly sixty years later! Thanks to all who have helped put the names
on these pictures and to Gary for everything!!
Dick