For the record I did not get a blog posted yesterday.
Gary
.
.
Arthur Martel, former DHS teacher, Accidentally shot
Postings from Don Martel:   Rosemount, MN
My brother, Arthur Martel, former English teacher at Dunseith High School, was accidently shoot and died on July 3, 2014.
This is  the press release.
Accidental shooting in Becker County kills 70-year-old

BECKER COUNTY, Minn. – A 70-year-old Bismarck man was killed in an accidental shooting Thursday evening north of Detroit Lakes, according to the Becker County Sheriff's Department.

Advertisement

A 911 caller reported the shooting about 9:30 p.m., and officers were sent to the scene of the accident near Floyd Lake by County Road 131, the department said in a news release.

Officers performed CPR on Arthur Albert Martel until medics arrived and took him to Essentia Health St. Mary's Hospital in Detroit Lakes. Martel was pronounced dead at the hospital, the department said.

Investigators were told that Martel had been looking at a .38-special handgun, and when he was handing the gun to its owner, the gun fired and a bullet struck Martel in the chest, the department said.

The shooting is still under investigation.
This is his obituary.
 

Art Martel, 70, Bismarck, died July 3, 2014, in Detroit Lakes, Minn. Mass of Christian burial will be held at 11:30 a.m. Friday, July 11, at Church of St. Mary, Bismarck, with Monsignor Gene Lindemann officiating.

Visitation will be held from 5 to 7 p.m. Thursday at Eastgate Funeral Service, Bismarck, where a vigil service will begin at 7 p.m.

Art was born on June 21, 1944, and grew up in Rolette. After high school he attended college at UND and completed his bachelor's degree at Mayville State University. Art began teaching English and Speech in Dunseith, after graduation. He worked as a seasonal immigration officer at the Dunseith, N.D. U.S./Canada Port of Entry. Art met Verla in 1967 and they were married on June 7, 1968.

Art moved to full-time employment with the Department of Homeland Security. He served at several ports of entry including, Raymond, Mont., Fortuna, Sherwood, and Antler. Art protected our country for 35 years through the roles of officer, supervisor, fire arms instructor and port director. He lived by the border and kept a loyal, watchful eye, even when not on duty.

Art and Verla had three children, Rachel, Doug and Greg. All of whom currently live in the Bismarck-Mandan area. Art retired from U.S. Customs and Border Protection on Oct. 1, 2005. He and Verla purchased land east of Bismarck and built a beautiful home to share with family and friends as a haven to live out retirement.

Art was an amazing woodworker, creator and artist. He loved animals and with his skilled hands could turn a block of wood into any one of God's creatures — in beautiful detail and full of color. He also loved the art of taxidermy and could create a look to animals as though he breathed life back into them.

Art was a fisherman, hunter, and loved gardening. Art would have done anything for his wife, children, grandchildren, or anyone he saw in need. He was a private and humble man. He was very proud of his years of Federal service. Art loved this country, and prayed for the U.S. to remain strong and free.

Art stated many times that he would be lost without his wife, Verla, beside him. He lovingly referred to her as "The Boss." He bragged about how lucky he was to have found such a beautiful bride, and frequently told us that she is still as beautiful as the day they met.

Art loved his children and was so proud of them. He organized gatherings to keep his family close. His children loved him more than words could ever express. They have lost their hunting guide and partner. They have lost their fishing buddy. They have lost the man that they go to for help, advice, and most of all, for companionship and love.

Art loved his brothers and sisters and held exceptional pride in how close they were when they were young.

Art is survived by his wife, Verla Martel; his daughter, Rachel Southam and her husband, Bernie, and their children, Veronica (Jeremy), Natasha and George, and great-grandchild, Charlie; his son, Doug Martel and his wife, Larreta and their children, Serena and Isaiah; his son, Greg Martel and his wife, Angela, and their children, Emma, Nolan, and Alec; and Art's five living siblings.

He was preceded in death by his parents, Albert and Irene Martel; a brother, Ricky; and sister, Joyce.

Art was very knowledgeable about gun safety. His respect for the danger of a mishandled weapon was taught to his co-workers and children over and over. Art held a tremendous respect for the power of a firearm. His life was ended by the tragic misjudgment and mishandling of a loaded weapon by another man. We believe that Art would want this loss of life to be a reminder and a plea to all of you to never underestimate the danger of a weapon.

Go to www.eastgatefuneral.com to share memories of Art and sign the online guest book.
Don Martel
We extend our condolence to you and all of Art's family with this terrible tragedy. What an afoul thing to happen. So so sad. Art came in the system after I left, so don't remember him, but many of our readers will.
.
.
From Vickie Metcalfe ('70):  Bottineau, Nd
Gary and friends,
I was saddened to read today July 9, 2013, Bismarck Tribune, the untimely passing of Mr. Art Martel.
Mr. Art Martel had a remarkably positive, encouraging motivating demeanor which he demonstrated  daily in his interaction with students in his classes.
He allowed expression of creative writing supplying positive worthwhile feedback.
I recall him encouraging and allowing students to write creative plays which allowed each of us as students to discover, expand and stretch learning way beyond an educational task to excelling.
While he pushed us to develop keen appreciation of poetry, literature and Shakespearian plays, at times a mistake was made in pronunciation or spelling he never made a student feel "small."
With a respectful farewell, thank you, Mr. Art Martel, a Class Act English and Speech Teacher, Dunseith Public School!
Vickie L. Metcalfe
.
.
Posted by Keith Houle:   Becker, MN
Identifications Posted by Jim Vandal
Jim Vandal
: Gary: back L to R, Ron Houle and wife Janet, Then Allen Houle and his wife Carol behind/R of him, then Gary Houle in the middle with mustache, his wife to his left rear Roberta 'Bobbi', then Kenny Houle, then Bonnie "Awalt: Houle and Keith Houle. Front, our L to R: John and Doreen 'Houle' Deschene, Pam 'Houle' Hagen, Shirley 'Houle' Vandal and Norman Vandal, and Sr. Sharon Houle
.
.
.
Carlyle Nelson & Gail Lee Auction sale:

Please see attachments
Posted by Neola Kofoid Garbe:  Bottineau & Minot, ND
Edna Mae (Nelson) Olufson-Smith is in Bottineau visiting her brother, Carlyle Nelson.  I was blessed to spend about 45 very enjoyable minutes visiting with both of them at Carlyle's home (The house that is for sale.)–2 blocks north of my apartment in Bottineau–earlier this evening.  They gave this sale bill to me to scan/send to you and to my lists.  I told EdnaMae I was going to include this message with the sale bill; she said she'll be watching for it in your newsletter.

.
.
Turtle Mountain Highway 43 pictures
I hope your not going through to much withdrawal since the kids left?
Maybe this will help to take your mind off the kids leaving?
My son Larry Jr., My brother Henry, and I made a little trip down Memory Highway 43 lane, ND a few days ago.
Took a few photos for all to enjoy.
No, I'm not getting a commission but I'm thinking about asking somebody.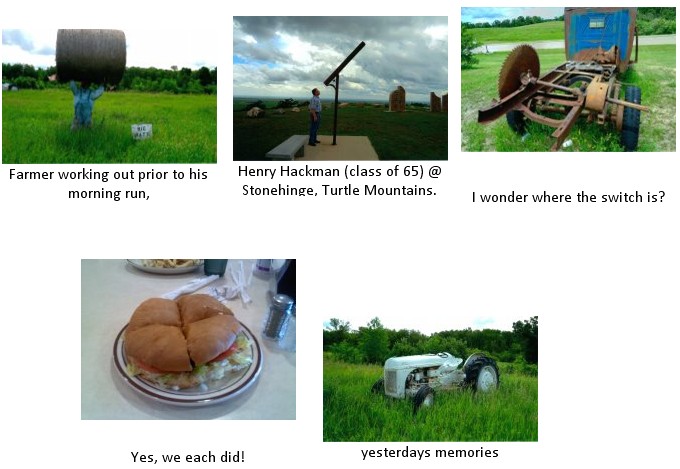 .
.
==========================================================================
Blog (113) posted on May 26, 2008
.
.
From Esther Murray Fleming (65):
Hi Gary
We are not rich and we cannot afford it. Maybe when I hit the lottery.  Thought I'd drop a note to let you know that I am not going to make the Alaskan Cruise. We are not rich and we cannot afford it.  Maybe if I ever hit the lottery, lol but I guess not in this lifetime.   But whoever is going , please enjoy yourselves and have a lot of fun and think about me, hehehe.   Got to go for now     love you all
Esther and family
.
.
Prairie Past and Mountain Memories is a masterpiece book, just compare with other county history, I guess we had a more diverse settlement.  However we can't begin to retain the nostalgia of the years after the war, 1946-1950's, young men settling issues, bar tenders tending, cops busy, Frank Flynn, John Hiatt, Walter Hiatt and more.  Frank had an old Chevy pickup with a spotlight on the cab, it was quite impressive.  Neighbors visiting, sidewalks jammed, we younger guys needed the bootleggers just as bad as did the Native Americans.  The cops were great, they did not make us feel comfortable in town after midnight, but they didn't take our beer away or arrest us either, that was Saturday night.  All of a sudden it was Friday night dances in the fifties they had bands that even the drummer could entertain the crowd, standing ovation. Tommy Collins from that western part of Ok. that produced so many great country, western stars, was in Willow City one night.  Gary Metcalfe
.
.
Gary and Friends,
How many of you remember when Isadore "Zike" Boguslawski was the town
cop? He used to cruise town in his pink and white 57 Chevy four door
doing what cops do. There was one night though that Zike nearly met his
"Waterloo"! It was after midnight when Dad was up getting a drink of
water and he just happened to look out our south kitchen window toward
the back of Hosmer's store. He saw Zike in the rear parking lot of
Hosmer's, standing by his car and it appeared he was talking to someone.
There was a guy on the roof of the grocery store and Dad watched as he
got down and approached Zike. About that time Dad saw another guy come
around the rear of Zike's car and start to hit Zike with some object he
had in his hand! Dad jerked on his boots and ran down the alley toward
the ruckus, yelling at the guys at the top of his lungs! They were not
only hitting Zike, but one was stabbing him with a screwdriver! Dad said
the guys saw him coming and took off to the south on the dead run! Zike
was hurt pretty bad and was really bleeding from his many wounds. Dad
thought about putting him in Zike's car and taking him to the hospital,
but he wasn't sure the old Chevy was up to the task, so he ran back and
got his black 62 Cadillac and loaded Zike and took off for Rolette as
fast as he dared drive, which I would guess was fast! He said even
though Zike was bleeding from everywhere there wasn't one drop of blood
on the seat when they got to Rolette, not that Dad was worried under the
circumstances! There was a huge number of cop cars and investigators
that showed up within a short while and they found a bag of what they
considered "professional" burglary tools on the roof, where these guys
had tried to break in through a vent window or closure of some kind. As
far as I know, nobody was ever charged with the attempted burglary and
assault on a policeman. I suppose this was in about 1965 or 1966, if my
memory serves me correctly. Can anyone remember this incident and add
any details I may have missed? Thanks Gary!
Dick
.
.
Obituary's provided by Neola Kofoid Garbe:
Folks, Neola was going through some of her stuff the other day and ran across these two
Obit's of Hannah Nerpel Bedard and Ray Nerpel.  Neola never throws anything away and
most of time can find what ever she is looking for.  She has provide us with a lot of
interesting Dunseith memorabilia and Dunseith news.  She enjoys all these messages and
said she feels as though she has learned to know you guys quite well, just by reading these
daily messages.  She reads everyone of them.  Neola's father was Johnny Kofoid.  He owned
the Corner Garage, back in the 50's and 60's, in Dunseith.  Johnny and my dad were first cousins.
Neola graduated from Bottineau HS in 1957.  She retired several years ago from
a career of 40 plus years teaching.  Most of those years were spent in Minot.  She has a home
in Minot, but also rents an apartment in Bottineau. She goes back and forth.
Back to these Two Obit's. Hannah and Ray were Brother/Sister.  Looking at the their dates of
death, they passed on within one day of each other.  Many of you folks are children or relatives
of Hannah & Ray.  Hannah & Ray were very well known in the Dunseith Community.  The vast majority
of you probably remember them well.
Gary