Replies to Leland Stickland's 1960 DHS Football Picture:
First off, I want to make it very clear that Leland Identified Lowell Bad heart Bull correctly. I am the one that changed it thinking he was wrong. My apologies Leland. With the over whelming replies that is for sure Bad heart Bull. You all agreed that the unidentified guy on the top left is Ron Longie, so we know it's him. Ron and Donald Egbert would have been 8th graders too. They must have been really good to have been chosen to participate in High School Football.   Thank you, folks, for all the replies and thank you Leland for sharing. I think we now have everyone identified Correctly too. Gary

Reply from Dennis Dubois ('63):
Good morning Gary. I just looked at Leland Stickland's football picture and he has a couple of mistakes. I don't know who Jim Trevor is, but that is me. Bruce pigeon is actually Russell Pigeon and Lowell Leonard is actually Lowell Bad Heart Bull. I don't know who that is on the top left. It could be Greg LaCroix. The deceased are: Don Egbert, Russell Pigeon, Don Prouty, Lowell Bad Heart Bull, John Morgan, Dwight Lang, Bob Jury and Dan Machipiness.
Gary's reply Thanks Dennis for the corrections and listing those deceased too. We now have you correctly Identified too.
Reply from Ron Peltier ('70):  Dunseith, ND
I don't think #53 was Lowell Leonard, probably a Bad Heart Bull.  And Donald Egbert is the second guy from the left in the back row. Gary's reply Thanks Ron for the corrections. Reply from Ken Nerpel ('65): snerpel@gmail.com Rugby, ND Re: DHS 1960 Football team
I believe the unidentified player to be (class of 65er) Ron Longie and the player identified as Lowell Leonard is actually Lowell Bad Heart Bull.
Regards
Kenneth Nerpel
Gary's reply Thanks Ken for the corrections
Reply from Wayne Smith ("61):  Lake Metigoshe, ND
I believe Number 53 is Lowell Bad Heart Bull.
Wayne Smith
Gary's reply Thanks Wayne for the correction
Reply from Susan Fassett Martin ('65): Spearfish, SD I think that is Ron Longie first one in the back row.  I think #53 is Lowell Bad Heart Bull, not Lowell Leonard
Gary's reply Thanks Susan for the corrections
Bruce Pigeon ('61):  Garrison, ND
Hi Gary Hope all is well and life is good.  On Lee Strickland 1960 Football picture.  My name is listed where it should have been Russell Pigeon listed.  I sat out that year because of a injury that had plagued me for several years.  Still have fond memories of those times.
Take care
Bruce Pigeon
Gary's reply Thanks Bruce this reply and the corrections.
Reply from Dick Johnson ('68):  Dunseith, ND
Gary and Friends,   Leland did pretty well on his ID of the teams.  I might throw in a couple thoughts.  In the back row, left side, I think might be one of the Longie boys, then Don Egbert for sure, then I think is Dennis Dubois although it may be Jim Trevors as Leland said?  Next to him looks to be Russell 'Sadie' Pigeon as Bruce wasn't quite as tall, as I remember?  Number 53 next to the coach is Lowell Bad Heart Bull, I believe.  Leland was correct with 'Lowell' just not Leonard.  The fellow on the right end of the front row (60) looks familiar and I at first thought was Dennis Dubois but I think not.  These are just my guesses and may all be wrong so others should correct any that I misidentified.  I do remember when Russell Pigeon played basketball, he was the biggest guy on the team and the biggest white jersey that "Sadie" had to wear, was number '00' and we younger kids used to chuckle at that.  Thanks Gary?
Gary's reply
Thanks Dick for this reply and corrections. Everything you said corelates with all the other replies. Your memory, as always, is fantastic. This class year, 60/61, was 7 years ahead of you too.
Note: For those of you that save this picture, the names will follow.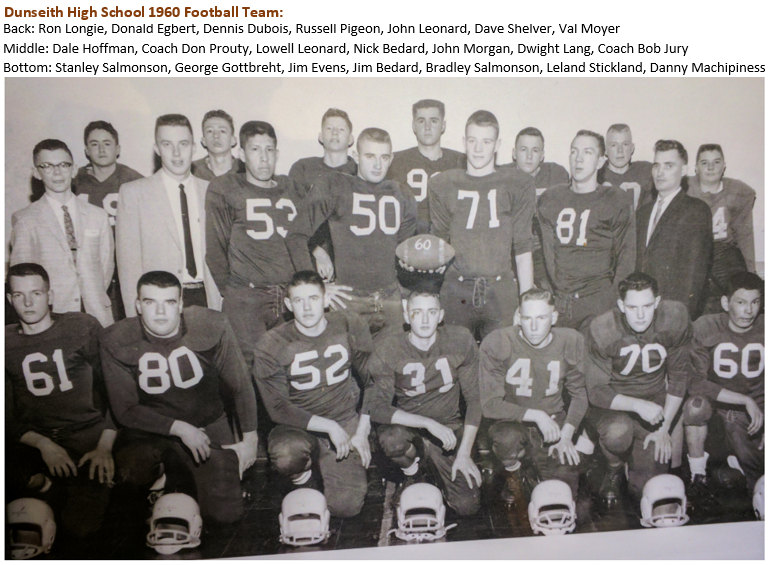 Lyle Lunde Passed away: Former well know Bottineau County Sheriff Posted by Vickie Metcalfe ('70) Bottineau, ND
https://www.nerofuneralhome.net/obituary/lyle-lunde
Lyle Lunde, age 97 of Bottineau, died Saturday at the North Dakota Veteran's Home in Lisbon.
FYI
Sheriff Lundy was  a WWII navy veteran who served this country,  both in ˝ Germany and Pacific fronts.
He was  the former Bottineau County Sheriff.
We connected by discussion of his Navy service and time spent in Scotland.
I  very much enjoyed every visit I had with him.
He had just moved into the  ND  Veterans home at Lisbon a few short  weeks ago.
He was a treasured honourable man who gave and received respect.
A true Exemplary of the Greatest Generation!
Vickie
Sheriff Lyle Lundy
Reply from Travis Metcalfe ('76)   Mesa, AZ
I worked for Lyle Lundy as a Deputy in Bottineau for a year or 2….Great guy to work for….
TRAVIS
https://www.nerofuneralhome.net/obituary/susan-berg
Sue was a first cousin to Don, Curt, Keith and Diane Rheault Berg all DHS graduates. Their father was Erling Berg
Sue's parents were Clarence and Mabel Berg. Clearance and Erling were brothers.
Mabel, Sue's mother, was a Sister to Helga Petterson. She was married to my dad's brother Nels.
Thursday our time, I received the following FB message from Neola Kofoid Garbe
Gary, you probably know this, but Jim just sent this to me.  I feel SO bad about it.  If you haven't heard, Sue Berg the hairdresser at Lk Met didn't survive a bicycle accident yesterday at Met State Park.  She was biking with someone and their bikes collided.    She fell and hit her head on road.  Terrible things happen and fast!
Susan's Obituary Posted by Neola Kofoid Garbe: Susan's Obituary
Sue Berg, age 63 of Lake Metigoshe, died Tuesday, August 25, 2020 at a Minot hospital.  A graveside service will be held on Tuesday, September 1, 2020 at 2:00 pm at the Mouse River Cemetery, Landa.  Visitation will be Monday, August 31, 2020 from 4:00 pm until 8:00 pm at the Nero Funeral Home in Bottineau.
Susan Kristine Berg, a blond hair, blue eyed Norwegian, was born at St. Andrews Hospital in Bottineau, ND on November 7, 1956, to Clarence and Mabel Berg. She was raised on the Berg family farm along with her brother and sister and attended school in Souris, ND. Sue was a Souris "Blue Jay" and graduated from high school in 1975. Her high school summers were spent at Lake Metigoshe carhopping at the Drive Inn.
Sue was always very creative and studied both flower and hair design. She started her life-long career as a hair stylist working at "Diane's Mane Street Salon" in Bottineau, ND. Over 35 years ago, Sue took a leap of faith and started "Wave Maker by Sue" at her home in Whiskey Bay on Lake Metigoshe. Sue wasn't just a hairstylist for most of her customers. She became an extension of their families and a life-long friend.
Sue loved living on the lake and enjoyed all the fun that went along with it. From jet-skiing to boating, Sue loved her time in the water and the warm sun. She wouldn't mind if summer lasted all year as long as the sun was shining. In the winter, Sue tried to get away when she could to a beach in Mexico or somewhere else warm to relax and catch some Vitamin D. For over a decade Sue talked about moving to a warmer destination, but she just couldn't leave the summer paradise she called her home.
Sue was a kind, generous, and warm-hearted gal and a loving friend to many. Although she had no spare time, she still prepared and delivered food for friends and cut hair for the elderly at area nursing homes. Her family has many fond memories of her making them laugh with the wit she inherited from her dad. Sue was a "Cat Whisperer" and enjoyed rescuing and feeding many of them through the years. She was very spiritual and loved Jesus.
Sue left this world on Tuesday, August 25th, 2020 at Trinity Hospital in Minot, ND after sustaining a head injury in a bicycle accident. The Silver Lining in this tragic time of sorrow is that Sue will live on through the donation of her organs by doing what she always did best, helping other people.
She was preceded in death by her parents, and numerous uncles and aunts.
Sue is survived by her sister Cindy (Mike) Pesek of Grand Forks, ND; brother Denis (Marty) Schoonover of Arlington, WA; nephews James (Sherry) Schoonover of Lake Stevens, WA and Adam (Michelle) Lunde of Maple Grove, MN; nieces Kristy (Scott) Olson of Marysville, WA and Bethany (Joe) Benjamin of East Grand Forks, MN; five great nieces and four great nephews; one aunt Delores Berg of Rugby, ND; many cousins; cherished friends and hair clients; and millions of kitty-cats.
Arrangements were with Nero Funeral Home in Bottineau. Friends may sign the online register book at www.nerofuneralhome.net.
In lieu of flowers, the family requests that memorials be given to the Mouse River Cemetery and the Turtle Mountain Animal Rescue.