For the record I didn't not get a blog posted yesterday. I just ran out of time.
.
.
Message from Margaret Metcalfe Leonard ('65):  Rolette, ND
Wishing everyone a happy Thanksgiving from Cleveland OH where Im visiting my son Chris and Lisa and Shamas and Oscar!  These grandchildren are so much fun!  Lisa's patents are  hosting Thanksgiving dinner….it will be a feast!
.
.
From Mel Kuhn ('70):  St. John, ND
You slipped a cog on your numbering. Should be 1990-1991 instead of 1890-1891.
Your are absolutely right. We are approching the 2,000 mark too.
.
.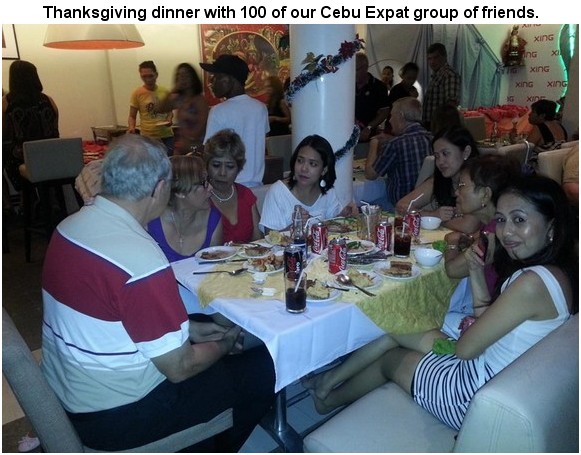 .
.
Posted by Neola Kofoid Garbe:
 Bottineau & Minot, ND
Note: Ron's mother was Yvette Boucher. He is a first cousin to the Gottbreht siblings.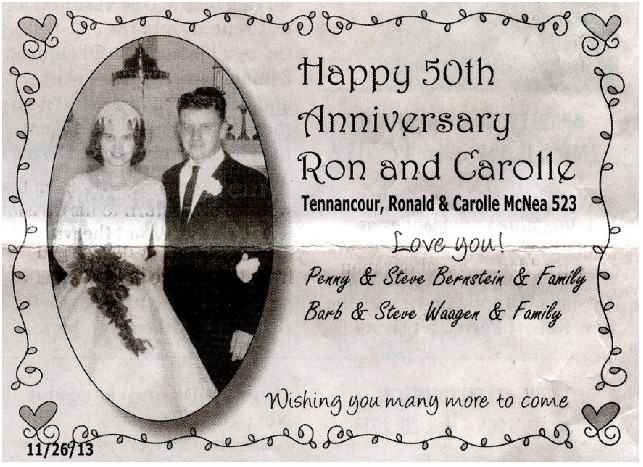 .
.
Posted by Neola Kofoid Garbe:  Bottineau & Minot, ND

.
.
Posted by Neola Kofoid Garbe:
 Bottineau & Minot, ND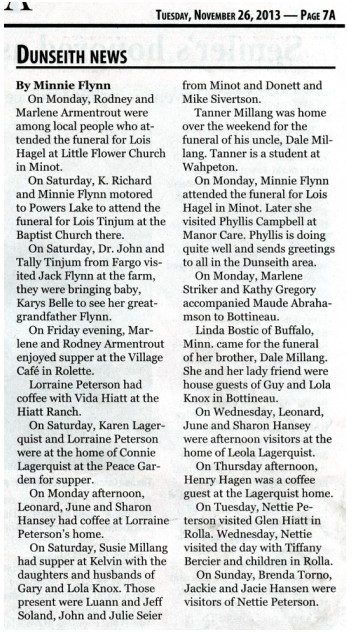 .
.
.
From Dennis Dubois (63):  Minneapolis, MN
Billy Graham is now 92 years-old with Parkinson's disease.  In January, leaders in Charlotte, North Carolina, invited their favorite son, Billy Graham, to a luncheon in his honor.  Billy initially hesitated to accept the invitation because he struggles with Parkinson's disease. But the Charlotte leaders said, 'We don't expect a major address. Just come and let us honor you.' So he agreed.
After wonderful things were said about him, Dr. Graham stepped to the rostrum, looked at the crowd, and said, "I'm reminded today of Albert Einstein, the great physicist who this month has been honored by Time magazine as the Man of the Century. Einstein was once traveling from Princeton on a train when the conductor came down the aisle, punching the tickets of every passenger. When he came to Einstein, Einstein reached in his vest pocket. He couldn't find his ticket, so he reached in his trouser pockets.  It wasn't there.He looked in his briefcase but couldn't find it. Then he looked in the seat beside him. He still couldn't find it.  "The conductor said, 'Dr. Einstein, I know who you are. We all know who you are. I'm sure you bought a ticket. Don't worry about it.'  "Einstein nodded appreciatively. The conductor continued down the aisle punching tickets. As he was ready to move to the next car, he turned around and saw the great physicist down on his hands and knees looking under his seat for his ticket.  "The conductor rushed back and said, 'Dr. Einstein, Dr. Einstein, don't worry, I know who you are; no problem. You don't need a ticket. I'm sure you bought one.'  Einstein looked at him and said, "Young man, I too, know who I am. What I don't know is where I'm going."
Having said that Billy Graham continued, "See the suit I'm wearing? It's a brand new suit. My children and my grandchildren are telling me I've gotten a little slovenly in my old age. I used to be a bit more fastidious. So I went out and bought a new suit for this luncheon and one more occasion. You know what that occasion is? This is the suit in which I'll be buried. But when you hear I'm dead, I don't want you to immediately remember the suit I'm wearing. I want you to remember this:
I not only know who I am. I also know where I'm going."
And may each of us have lived our lives so that when our ticket is punched we don't have to worry about where we are going.
.
.
.
Posted on 12/28/2007
I have forwarded, below, Bill Hosmer's very interesting letter with his side of the air shows as one as a Thunderbird pilot. Thank you Bill for sharing this with us. Folks have been waiting 45 plus years to hear your side of these shows.
I have also included with this message several other comments/messages/requests from Colette Hosmer, Ron Link, Dayna Bailey & a beautiful picture of Larry Hackman with his new granddaughter.
Thank you folks for all the feed back that you have sent regarding a WEB site. I have forwarded all your correspondence to Bob Leonard, Cheryl Haagenson & Bill Hosmer for them to evaluate in choosing a WEB site. They will evaluate and take into consideration all of our comments and requests in choosing this WEB site. Colette Hosmer's comments for a WEB site are included with her message pasted below. I will continue to forward all your requests and comments concerning this WEB site to Bob, Cheryl & Bill. Bill, you mentioned that you know nothing about setting up and maintaining these WEB sites, but I know that you are working with Cheryl & Bob to get this up and running. We have a vast pool of folks within our group that you can turn to with any questions you may have getting this all set up. We trust you guys judgment and will go along with what ever you think is best. Please let us know the costs involved too.
Bill Hosmer's comments & Reply: Thunderbirds
Gary Stokes, Ron Longie, Cousin Colette Hosmer, Larry Hackman, Allen
Richard, Bill Grimme and to Deb Morinville (whose address I did not
have).
Thank you for taking the time to comment on that brief period of
time in a long life. The flattery I'm experiencing is a gift from
you all, and that is important to me. By the way I answered a
direct mailing from Susan Fassett, so she was not included in this
series of observations and impressions response.
Just to clarify a couple of impressions, we did not do any
supersonic maneuvers. The explosive sound that was heard was in all
likelihood, the afterburner which is a loud and sudden explosive
acceleration which that engine incorporated. The solo pilots used
it more than us working guys in the formation, although it's
possible anytime. On one of the South American shows we did in 1961
the President of Paraguay asked our lead to do a supersonic pass.
He explained that the shock wave might possibly break many windows
in the air terminal. The president said, "This is my country, and
those are my windows". So the leader had the solo to open the show
with a boom. No windows were broken, but they had alot of tape
helping to withstand the shock.
What caused KC Sine to fall was not in the plan, but it happened
like this: As lead headed us toward Minot, I asked him permission
to do a slow pass down main street. I wanted to see if my folks
were at our store on main street. I was low and very slow with my
landing gear down. Unknown to me the other wing man pulled out of
the formation, got behind me a good distance then lit the
afterburner, accelerated to nearly 500knots, flew UNDER me as we
passed the bank on the corner. KC explained to me when Dad and I
went to apologize, he had that masterful fast paced dialogue with a
little swearing going on, telling me, that fast one was going to
kill him right in front of his store,etc, etc, then he ended his
tirade, he said, "hey kid, wanna banana?" I'd heard that many
years before that Sept day in 1961. What a piece of work that man
was.
There are Thunderbird reunions every other year in Las Vegas where
we get together with us oldtimers, and all the teams before and
after us, and are treated to a private air show by the current
team in their beautiful F-16 aircraft at Nellis AFB. This year it
was last month. The number of attendees from our earlier teams are
less and less, but it is like being in Dunseith at our famous
100th and125th Celebrations to see all the generations in
attendance, to give the heart a tug, and the mind a blast of
afterburner.
I did eject from the airplane I flew to ND about two weeks after
we had been there. It was not at a show, but during our arrival
maneuvers at a Navy Base in Rhode Island, I had the engine quit
running, tried some emergency airstarts, tried to position the
bird to make a dead stick (engine out) pattern, but was too low,
so ejected without injury, and flew the spare airplane in the show
the next day. The other one exploded in an empty field with no
damage to anything on the ground, except the dirt. I landed in a
tree and I was not as good a tree climber as I was down at Willow
Creek, but shoot.
I'm hoping someone can figure out the best way to get us in
computer contact on a regular basis. I can contribute $$, but my
brain power is limited.
Cheers and Happy New Year to you all, and thank you from my
heart. Bill Hosmer
.
.
Colette Hosmer's comments and reply:
Bill, I began this e-mail (below) this morning but had to leave for an appointment so saved it to send later. I just got back and read the Thunderbird account from your point of view. Guess we're working on mental telepathy now….
Hi Gary and Cousin Bill,
Loved reading your Christmas Day letter, Bill. So many people exchanged their memories of your Dunseith Thunderbird Show….maybe someday you'll tell us your side of the story (?)
Although I don't know anything about building or maintaining a website (I traded art and paid a professional for mine) I will add my 2 cents to the equation. I agree with Gary that we should stick with e-mail for our initial communication — especially since he's so generous in acting as the clearing house for these thousands of messages. However, I would imagine that information could be organized very effectively on a website. And, photographs would be an important addition to the history.
I also agree that if this effort is made, it should be top rate, easy to maneuver and with plenty of room to add info indefinitely.
Colette
.
.
Gary: Please include Don & Colleen(Conroy) Martel's E-mail address to your list of address's on your E-mail's There address is: 
dcmartel@frontiernet.net
 THANK YOU—RON
.
.
Message from Dayna Bailey, Vance's Daughter: Slide show for Vance
GaryThe slide show for Dad's is posted.
Go to 
www.mem.com
Search for
Bailey, Vance
It will take you to his obituary.
On the right side of the screen you see buttons. There is one for 'movie'
Doreen states that she would like to stay on the Dunseith alumni email list.
Also she mentioned old photos of Dunseith. She has a bunch just let her know
if and when you would like to post them.
Thanks
Dayna
.
.
Larry Hackman with his Granddaughter Izzabell (7 Wks):
You can tell this gal is going places and doing things. 
Grandpa says so! She had a list so long for Santa, that he just decided to take her to the North Pole and turned the whole place over to her. I might have to help deliver gifts next year. Oh well, a Grandma's and Grandpa's work is never done
.
larry