Correction
Duane Link pasted away – Son of Phyllis McKay ('65) and the late Joe Link ('63)  
Correction: Joe Link was Duane's dad, not Ron as I previously posted. I knew that very well too, so it was a real dumb mistake on my part. Thanks Phyllis for being so understanding.   Gary
Turtle Mountain Wild Boar
Posting from Raphael Poitra ('65):  Dunseith, ND
Gary, This is a wild boar that Mike Peterson shot across the highway from Kelvin Klinic . The boar was in Mike's pasture. The picture with Mike is my hand holding the pig's mouth to show the tusks.
Thanks Gary!                                                                                                       Raphael Poitra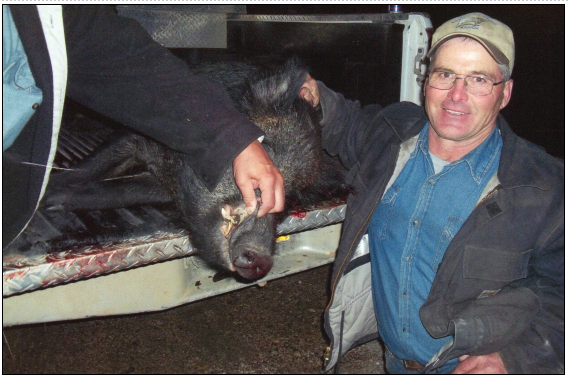 Face Book Posting from Larry Hackman's Daughter,  Angie Hackman Leintz
Larry Hackman ('66) and Marion Schneider Hackman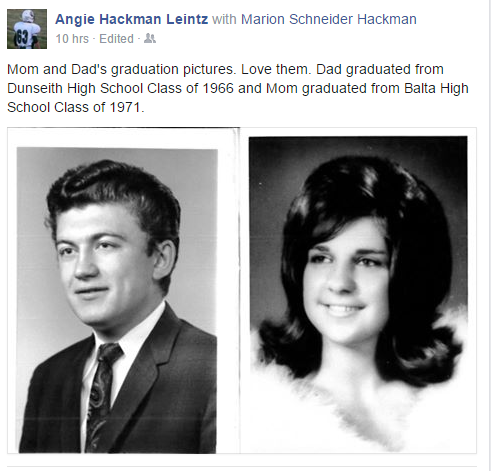 Postings From Neola Kofoid Garbe: Bottineau & Minot, ND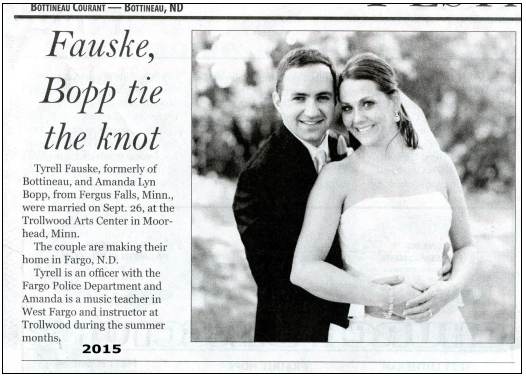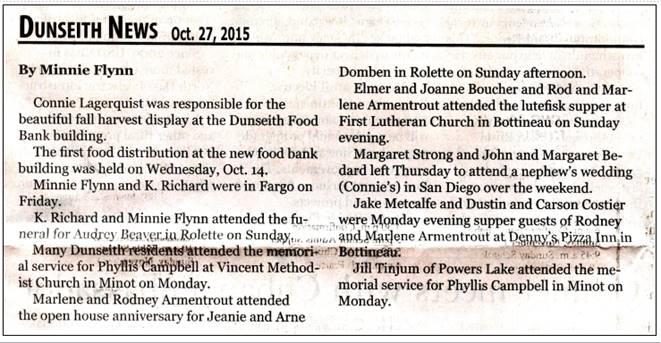 Richard Gunville Obituary
Posting from Vickie Metcalfe ('70):  Bottineau, ND
Gary and friends,
I  extend sympathy to Rick's family and friends.
The John and Helen Gunville family  were neighbors of the hills.
I recall Rick when he was also employed at Dunseith School.
He was  known as a hard worker. dependable and  well liked.
Sincerely, Vickie Metcalfe
Obituaries
Richard James Gunville
(September 5, 1955 – October 25, 2015)

Guest Book | Sign Guest Book | Send Sympathy Card

Richard Gunville, age 60, of Grand Forks, ND, formerly of Dunseith, ND passed away on Sunday, October 25, 2015 at Altru Hospital, Grand Forks, ND.

Richard James Gunville was born on September 5, 1955 to John and Helen (DuBois) Gunville in Belcourt, ND. He was raised and educated in Dunseith and graduated from Dunseith High School in 1974. After graduating, he worked construction, worked as a basketball coach for two years, drove bus for the school, and worked at Dunseith Elementary School as a maintenance worker and custodian. In 2003, Richard moved from Dunseith to Grand Forks to be with his family and started working at the Ramada. He stayed there for about a year and went on the work construction at the UND paint shop for five years. UND offered him a position with them as a maintenance worker, which he accepted and remained employed.

Richard married Elaine Gunville on October 22, 1976 and became the proud father of four children, Ryan, Cody, Skyler, and Ricanda. He was the very proud "papa" of his three grandchildren, Analeigh Gunville, Sky Chaske, and Baby Gunville.

Richard's favorite pastime was a loving family man. He loved spending time with his wife, children, and grandchildren. He loved to work on cars and going to car shows. He enjoyed spending time outdoors and spending time with his dog, Bailey. He loved to watch sports especially football, as he was an avid Minnesota Vikings fan. His family was the most important thing to him and loved to have family close together. He was blessed with a great work ethic and worked hard all of his life to raise his family and he was very independent and strong. Richard has touched the lives of many and will be remembered fondly by all who knew him in any way.

Richard is survived by his wife, Elaine Gunville of Grand Forks; four children, Ryan (Hiedi) Gunville of Grand Forks, Cody (Carrie) Gunville of Grand Forks, Skyler (Amber) Gunville of Grand Forks, and Ricanda (Reginald) Chaske of Grand Forks; grandchildren, Analeigh Gunville and one on way due in March; brothers, Robert Gunville, Mark (Val) Gunville, and Jerry (Ann) Gunville; sisters, Sharon (Virgil) Poitra and Debbie (Darrell) Champagne; several nieces, nephews, great nephews and nieces, and great great nephews and nieces.

He was preceded in death by his parents, his grandchild, Sky Chaske, brothers, Timothy and James Gunville, sister, Florence Dodgion, nephews, Bob Dodgion, Dustin Champagne, and William Gunville, and nieces, Sherry Poitra, and Sherry and Mary Gunville.

Casket Bearers are Ryan, Cody, and Skyler Gunville, Devon Champagne, Darrell Champagne, Reginald Chaske, Aaron Gunville, and David Gunville. Honorary Bearers are all Richard's family and friends. Music by Pat and Linda Peltier and family.

A visitation will begin at 6:30 PM on Wednesday, October 28, 2015 at St. Michael the Archangel Catholic Church, Dunseith, ND with a Rosary Service at 7:00 PM. Funeral Mass will be Thursday, October 29, 2015 at 10 AM in the church with Fr. Dennis Mary Dugan presiding. Burial will follow at St. Mary's Catholic Cemetery, Dunseith, ND.

Elick Funeral Home, Rolla, ND.
Posting from Vickie Metcalfe ('70):  Bottineau, ND
Gary and Friends,
While  a student at Dunseith School, I was an avid reader.
I checked  out  and brought home  many books on  American history which I shared with my dad to read.
We discussed  books at the supper table; Dad  favored Bat Masterson while I  favored, Wyatt Earp.
As an adult, one for my bucket was filled when I visited Chief Joseph and  Big Horn Battle fields in Montana with my nephews and nieces.
Recently, I found it interesting  Billings,  Montana school patrons honored  another hero, Doctor Medicine Crow by naming a school after him.
Now I know how  someone becomes a war chief.
Later, Vickie
http://www.krtv.com/story/30372763/dr-joe-medicine-crow-the-last-living-plains-indian-war-chief-celebrates-102nd-birthday
"It was on the European battlefields Medicine Crow completed all of the four tasks needed to become a Crow War Chief. As a scout he led several successful war parties deep behind enemy lines; he stole German horses; he disarmed an enemy; and he touched an enemy (counted coup) without killing him."
====================================
Blog (375) posted on February 20 , 2009
Posted on February 20, 2009
Happy Birthday greetings to Mildred Fulsebakke from Erling Landsverk (44):
HI GARY:
WHEN I LEARNED THAT MILDRED FULSEBAKKE WAS CELEBRATING HER 90TH BIRTHDAY WITH HER FAMILY, I WANTED TO ADD MY GREETING ALONG WITH A BIG HAPPY BIRTHDAY WISH. YOU SEE, HER HUSBAND JAMES ALONG WITH THREE OF HIS SIBLINGS AND ALL OF OUR FAMILY ATTENDED THE SAME ONE ROOM SCHOOL. IT WAS THE LOON LAKE SCHOOL #2, ABOUT A HALF MILE WEST OF THE FULSEBAKKE HOME
DURING THE WINTER MONTHS, WE OFTEN STOPPED AT THEIR HOUSE TO WARM UP BEFORE GOING ON TO SCHOOL, BECCAUSE THE TEMPERATURE AS YOU KNOW USUALLY HOVERED AT OR BELOW ZERO, AND FOR LITTLE KIDS WE GOT PRETTY COLD AFTER TRUDGING A MILE THROUGH THE DEEP SNOW. THE LAST AND ONLY TIME THAT I SAW MILDRED WAS AT THEIR HOME IN 1970 I BELIEVE, MY WIFE AND I AND THREE OF MY SIBLINGS DROVE OUT FROM WISCONSIN TO VISIT OUR OLD HOME SITE, VISIT SIGRID FULSEBAKKE AND AS MANY OF HER FAMILY AS WERE AROUND, OUR OWN NELS LANDSVERK FAMILY AND OTHER FRIENDS, AND WHEN WE LEARNED THAT JAMES AND MILDRED HAD A FARM NEAR THE PEACE GARDEN, WE STOPPED TO GREET THEM, AND OF COURSE MILDRED INVITED US IN WITH A BIG SMILE AND HER AND JAMES AND ALL OF US TALKED ABOUT OLD TIMES. IT WAS A GREAT VISIT. UNFORTUNATELY WE NEVER DID SEE THEM AGAIN, NOR DID WE HAVE THE OPPORTUNITY TO MEET THEIR CHILDREN. TO ALL OF THEM I MUST SAY, YOU HAVE A WONDERFUL MOTHER AND YOUR FATHER WAS ONE IN A MILLION. WE ALL HAVE LASTING FOND MEMORIES OF THE FULSEBAKKE FAMILY.
HAPPY BIRTHDAY MILDRED!
JO ANN AND ERLING LANDSVERK
Reply from Geri Metcalfe Munro (59):
To Gary Stokes:
In blog #375, I meant to send my email to Gary Fulsebakke, and I did; somehow, I must have clicked on Gary Stokes, as well.
I was wishing Gary Fulsebakke's mom, Mid (Mildred) a HAPPY BIRTHDAY 90th birthday this weekend. Gary F. and I have shared some stories back and forth this week.
Geri Metcalfe Munro
James & Mildred Fulsebakke Family:
Back: Gary Mid & Jim
From Jim Jr. Joel & Shelly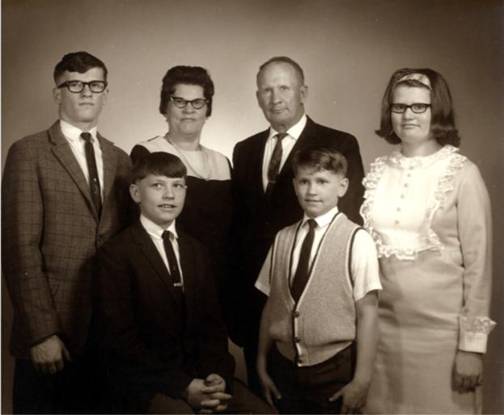 For general info – The Forestry is now MSU-Bottineau
Brittney Fulsebakke is Mid's Granddaughter. Her parents are Jim Jr. (75) and Marlee Rae (Reing). Marlee Rae's mother, Marlene (Oliver) Reing is a sister to my sister-in-law Debby (Darrel) Stokes.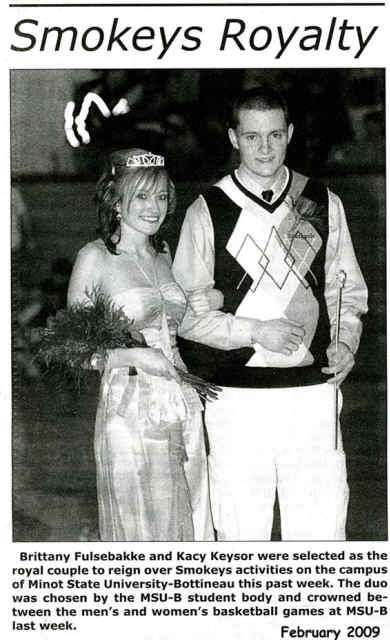 Reply from David Slyter (70):
My thoughts and prayers are with Marilyn, Richard and their children. I use to work with Richard at the school when we were both custodians there. What a great family. I pray you have a speedy recovery Marilyn. Great things can be cured through the help of prayer.
To Dick:
Thank You for the great picture of your grandpa, Glenn and Dad. I am thinking that your Grandpa must have sold his share to my Dad as there was a few years when Dad and Glenn owned the bar. I don't know if a lot of you remember the kids leagues they use to have on Saturdays when Glenn and Dad owned the bowling alley. It was great. I think they had like three or four teams of kids bowling on Saturday mornings. Again thanks Dick and Gary. Good memories