Folks,
Today is Bernadette's 67th Birthday.  We are the same age for 3 weeks.  
We have reservations for her Birthday dinner at the Ching Palace Chinese Restaurant this evening at 6:00 PM with the blood relatives of her full blooded siblings and of course our Daughter-in-Law Lorelie and her daughter, now our granddaughter, Nika. There will be 28 of us, 22 of whom live here in our compound. We have hired a Jeepney to get everyone to the restaurant.
Several days ago when Bernadette was not well, we cancelled today's dinner reservation and made plans to have a catered dinner at our house.  The next day when Bernadette was coherent, she was very upset that we had done that, so we turned it all back on again for dinner at the Ching Palace. She said she would be there even if she had to go in an ambulance. She is better today, so I think her wheel chair will do, at least we will have it alone. It is noon now. With all of the activities going on with everyone around her for her birthday, she is feeling pretty good and is charged. In the Philippines, Birthdays are very big deals.
====================================
Blog (322) posted on December 29, 2008

Thunderbirds buzz Dunseith in July 1962 – posted by Gary Morgan (54): 
Gary & All,
     Please note the first item in the attached copy of the July 26, 1962 issue of the Turtle Mountain Star.
     Enough said.
From Dick Johnson (68): 
Gary and Friends,
Last evening at a restaurant in Bottineau, I had a chance to visit with
Ann Carbonneau O'Connell and during our reminiscing I mentioned having a
couple school pictures of her mother, Carol Watkins Carbonneau. These
are from the early 40's when she was a classmate of my mom, Bernice
Olson Johnson. I'm sending the originals to Ann but would like to post
them for others to see as well. She sure was a cutie! Thanks Gary!
Dick
Dick, Ann Caronneau O'Connell is on our distribution list and she shares these daily messages with her mother Carol.
Carol, this is a beautiful picture of you. You were a very pretty girl and are a beautiful lady today. I'll bet Emery was the envy of the town courting you.  With the several conversations I have had with you, you are equally beautiful on the inside.  You are so friendly with such a sharp mind.  You have excellent recall of the past too.  Gary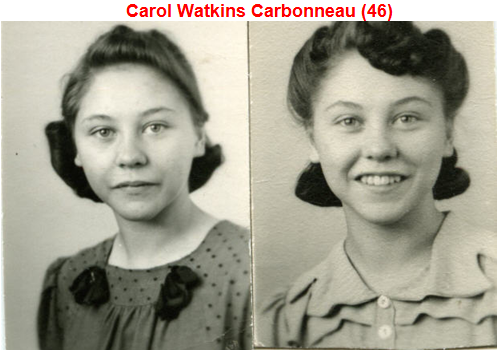 Reply from Diane Larson Sjol (70): 
To Bob Lykins and all,
Bob, I am very jealous that you are in Germany right now, especially
over Christmas….Some of my most wonderful Christmases were spent in
Deutschland when my dad was stationed there.  It seems as if Germany
is transformed during the holidays or maybe it was just because I was
a kid…..but when I smell an evergreen tree, it takes me back to the
sleepy little village close to the post where we were stationed.  I
spent a couple of Christmases there in my early twenties and even
though I was away from family, they were very majical.  One of these
days, I would like to experience that again….so enjoy the snow and
to make you feel better, we are shoveling snow in ND too….it is
snowing again tonight and my husband just groaned when he saw it; took
three motrin and went upstairs with the heating pad…he is so sick of
shoveling…
Oh, when I was a kid in about the sixth grade, we used to play in the
old German bunkers (we were stationed in Wildflecken) and found all
kinds of things in there….old shells etc.
Reply from Dick Johnson (68):
Gary and Friends,
Thanks again for Bob Lykin's personal insight from his travels to WWII
battle sights. This may not be as interesting to some of the readers as
it is to me, but it ranks high in my interest. The caves on Mt.
Suribachi, on the island of Iwo Jima were said to be linked throughout
the inside of the mountain by tunnels. My father-in-law, Trygve Knutson,
said the ships and planes bombed and shelled the Island until they
thought nothing could survive. The invasion forces said the sand was
actually hot from the continuous shelling. They tried to use shell holes
for cover but the sand was nearly too hot to lay against. After all
that, there were still thousands of Japanese soldiers unharmed in the
tunnels and caves. My old buddy, Carroll Carlson, believed the war could
have ended sooner but the Japanese would not surrender because we
demanded an 'unconditional' surrender. He said they thought the US may
make them slaves or worse. They supposedly indoctrinated the Japanese
people to believe the US was totally bloodthirsty and would reign over
them without pity. This may have made it plausible for the willingness
of the Kamikaze pilots to die without regret. At any rate, it certainly
gave them more reason to fight to the last man. History is full of half
truths and questions of political nature, but for the average man sent
into action it was  real and  vicious no matter what  the government
said. That has been the nature of war since the beginning of time.
Politicians start it and then send other peoples sons to finish it—my
humble opinion. Thanks Gary!
Dick
Reply from Vickie Metcalfe (70): 
Greetings Gary, from the last cold North Dakotan breath of 2008.  I am
sharing my 2009 Years Resolution.
Thank You,  Dick Johnson for sharing about your father-in-law's WWII
service in the Pacific and Mr. Lykins for  information regarding the
many battle fields,which sound quite familiar from listening to dad's
and Carroll's oral histories.   My dad Cliff, spoke of many of the
same places while he was in the Pacific on the USS Hamlin.  He
recalled Tokyo Rose, the Kamakazees, and  men he served with.  He too
watched the flag raising at Iwo Jima…… And, he put soldiers on
many of those places while piloting a PTO boat…….then, with a
grappling hook…..picked up many of those brave soldiers as…
bodies in the unforgiving sea…. memories… which he wrestled with
for years.
Dad also shared the same opinion as Carroll Carlson on General
MacArthur which was definitely not what I read about in any history
book.
Yesterday, I received a Christmas card from the man who served along
side my dad all those years ago.  Dads friend, George, was closer to
him than a brother for the hellish experiences they shared. Our
family never went through Montana unless we stopped to visit George
and Betty Johnson.  His children were honorary cousins for my
siblings and I.  And, all 5 of us hold George in high esteem because
our dad did.
So, my 2009 New Years  resolution  will be to honor dad's memory by
continuing to reach out to WWII veterans.  God Bless cousin Gary
Metcalfe who's never given up on honoring the memories of  his
maternal uncles Bing and Ole Evans.
To  each  of you, Dunseith Alumni who listen and acknowledge the
voice of veterans, all the best of 2009!
Vickie
—
Vickie L. Metcalfe
Posted by Gary Stokes
USS Hamlin (AV-15)
Kenneth Whiting Class Seaplane Tender:
Laid down, at Todd Pacific Shipyards, Inc., Tacoma, WA; Launched, 11 January 1944
Commissioned USS Hamlin (AV-15), 26 June 1944, CAPT. G. A. McLean in command
Decommissioned, 18 January 1947 at San Diego, CA
Laid up in the Pacific Reserve Fleet, San Diego, CA.
Custody transferred to the Maritime Administration, September 1962 for lay up in the National Defense Reserve Fleet, Suisun Bay, Benecia, CA.
Stuck from the Naval Register, 1 July 1963
Final Disposition, sold for scrapping, 8 March 1962, to National Minerals & Alloys Corp. <LI.Hamlin received three battle stars for service in World War II
Specifications:
Displacement 8,510 t.(lt) 12,610 t.(fl)
Length 492′
Beam 69′ 5″
Draft 22′
Speed 18.7 kts.
Complement 1,077
Armament
two single 5″/38 dual purpose gun mounts
two quad 40mm AA gun mounts
two dual 40mm AA gun mounts
sixteen single 20mm AA gun mounts
Propulsion steam turbine, two boilers, one shaft, 8,500hp.
History of the USS Hamlin (CVE-15)
http://www.historycentral.com/NAVY/MISC/hamlin.html