Happy  Birthday  David  Roussin  (DHS '77):  Fort  Worth,  Texas
.
.
Reply to the Urbain Cote Picture below
From Darrel Fassett ('48):  Boynton Beach, FL
The people in the Urbain Cote picture are:  Back row:Ydola Pigeon, Dorothy Strietzel Fassett, Betty Watshke and Urbain Cote.
Middle row Howard Landsverk, Bernice Olsen Johnson, Bob Molgard and Shirley Sunderland.
Front row: Patty McAtee and Andre Berube.
Your ID's matched all the others that replied to this photo back in April 2008 listed below.  Good memory.
.
.
Bernadette with her Niece's
These are several pictures that were taken at our Cebu Expat dinner this past Tuesday.
Novie and Edelyn are Bernadette's sister's girls. Novie is 32 and Edelyn 35.
Novie has 4 children and Edelyn 1.
Since Bernadette got sick, 1 1/2 years ago, Novie has worked for us full time. She takes
good care of her Tita (Aunt). Unless we are going out, she is off at 6:00 PM.
With Bernadette, for Novie, the fringe benefits are good.
We have hired Bernadette's cousin to be with her every evening from 6 to 10.  
.
.
==========================================================================
.
.
Blog (87) posted on April 27, 2008
.
.
From Al-lyn [Mrs. Bill (Willie) Longie (60)]:
My name is Al-lyn and from all I have heard about you from my husband Bill I feel I could already know you.  I would be surprised to find out that you have heard from Bill as he rarely finds time to correspond but I have certainly heard plenty about the reunion last summer and the time he spent with valued friends.  I can easily say it was one of the most significant and moving personal experiences Bill has had in the 40 years we have been married.  He came back from seeing all of you with a "new lease on life" and re-energized from touching back into his youth. 
Now both he and I are looking forward to the next get together, the Alaskan cruise.  Could you share with me the email address of the travel coordinator so we can start making our plans.  That is half the fun. 
Looking forward to meeting you,
.
.
From Martha Lamb Schepp (68):
Hi Gary,

I was like so many of your followers, wondering if all is well with you and your wife. I look forward to your emails almost every day.
We took our grandsons, Dawson and Gavin to their home in Rugby tonight. There were snow flurries on and off in the Rugby area. We need moisture, we'll take any kind, but sorta wanted to put in an order for a warm rain. Just happy for the day!! Martha Lamb Schepp (68)
.
.
To Vickie Hiatt LaFountaine

Prayers are with you and your family!!  Always!!
The people in the picture above are:  Back row:Ydola Pigeon, Dorothy Strietzel Fassett and Urbain Cote.
Middle row Howard Landsverk, Bernice Olsen Johnson, Bob Molgard and Shirley Sunderland.
Front row: Patty McAtee and Andre Berube.

Sharon Longie Dana
.
.
From Pyllis & Alan Campbell (42):
To help complete the names that are still missing from that Methodist/Lutheran church choir picture – I can fill in a couple of the names ….the young man  who wasn't identified is Don Keplar – son of the Rugby minister who was supplying the Methodist church – and the un-identified lady is Mrs Charles Keplar – the minister's wife.
As an additional personal note, Gary,  we want to tell you how much we appreciated all the help your Dad Bob gave to Alan's aunt and uncle Anne and Glen Campbell all the years they lived in Botno.  He was a wonderful neighbor who shoveled their sidewalks and saw that the grass was always cut. He always went in for a visit too and they also enjoyed visits from your mother Elaine. 
 Phyllis and Alan Campbell
Phyllis & Alan: I would like to share your personal note with the group, because we have many Dunseith Alumni Bottineau folks on our list that knew Ann Campbell.  Many of these folks are married to spouses or have relatives that had Ann for a teacher.  She taught school for many years at various schools in Bottineau county.  Most folks that knew my dad knew that he loved to talk.  With his visiting, he mentioned Ann many times and he was asked, real often, if she was related to Alan.  I heard that question asked many times, with my annual visits back to ND, when I'd be out with my father.  A lot of folks never made the connection of Alan & Ann.  Dad spoke highly of Ann and he thoroughly enjoyed doing the things that he did for her. I too learned to know Ann quite well with my annual visits.  She was a wonderful lady. Glen was gone by the time I came into the picture, so I never really knew him. Gary
.
Methodist/Lutheran Choir Picture:
 .
Back Row: Don Johnson, Findel Helgeson (immigration Inspector who replaced Les Greener), Gary Morgan (young man about town), Don Hosmer, Alan Campbell, Don Kepler, Jerry Williams, Clark Crum, Glen Williams Jr.
Middle Row: Florence Conroy, Jennie Cook, Inez Hosmer, Millie Crum, Don Conroy, Rod Armentrout, Duane Lang.
Front Row: Marjorie Morgan, Elsie Schneider, Mrs. Charles Keplar, Irene Teal, Betty Jane Schneider, Elaine Schneider.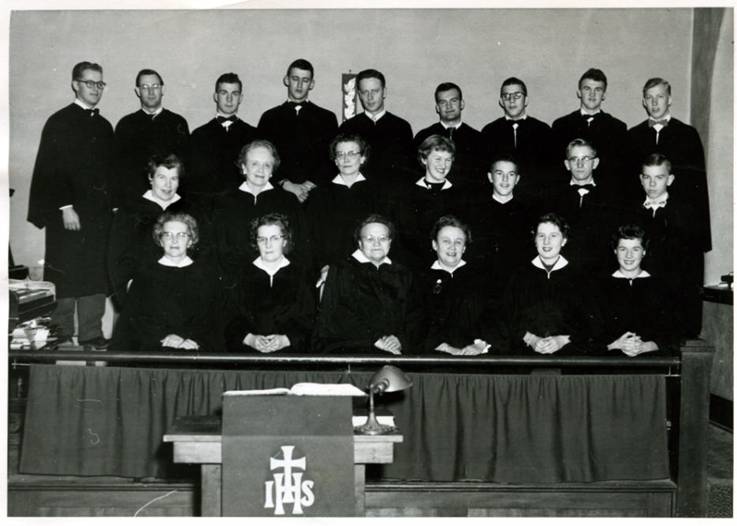 .
.
         I wish I, or "Snookie", could be more help with identifying people in the picture in E-mail 86, but I'm just not sure who the girl in the front row is–could it be Patty McAtee?  I couldn't find a single picture of her in the Centennial Book.  The top row people are identified correctly.  The middle row, from the left, is as stated, probably Howard or Erling (I'm not sure which), then Bernice, Bobby Molgard, and Shirley Sunderland.
I'll check with "Snookie" again to see if she has had any miraculous memory recovery!!!   Don't hold your breath though,  she doesn't seem to remember any better than I do!!  (Actually, that Snookie moniker makes me feel a few years younger–but it doesn't seem to help my memory.)  Gary, once again, many thanks for the joy you're bringing to so many people.  I enjoy reading all of the accounts of "Dunseith happenings" — they're a bright spot in my day! 
.
.
Gary, the picture of the group with a few unknowns include Bob Molgard
sitting next to Bernice Olson and Shirley Sunderland on the other
side.  The girl in front looks alot like Patty McAtee, whose dad had
the bakery earlier, and who was our scout master when WWII started.
She was in the class of '47.  Bill Hosmer
.
.
Note: Mona, I see you and Bill Hosmer are both from the class of 48 and you are also Metigoshe neighbors.  Gary
Next to Bernice Olson Johnson,  Bob Molgard, Shirley Sunderland
Front row:  Patty McAtee (right)  and Andre Berube
That Pic was taken either in the fall of '45 or the spring of '46 before Betty and Bob graduated ('46)
Mona Johnson
.
Note: Shirley, Bill & Mona; you guys all agree with who's who in this picture.  You are all undecided if that is Howard or Erling Landsverk in the Middle row. If this picture was taken in the 1945 or 1946, we'll assume this is Howard Landsverk because Erling left Dunseith in 1943.  Gary
.
.
Back row:  Ydola Pigeon,  Dorothy Strietzel Fassett  , Betty Watshke, Urbain Cote.
Middle row:  Howard Landsverk, Bernice Olson Johnson,   
Bob Molgard, Shirley Sunderland
Front row: 
Patty McAtee,
Andre Berube
.
.
I thought just copper and wiring was stolen off of roof tops here! What a pain. We miss you when you're gone and happy to have you back! You rock!
.
.
Talking about the jumbo burger at Dale's….when Deb and Bev
Morinville and Dennis Dion and my sister Cheryl and I were in the 4th
and 5th grades, we gathered up what change we could find and earn (had
a puppet show and made 35 cents) and finally had the $1.10 we needed
for a jumbo burger.  We walked what seemed like miles from town to
Dale's and shared our burger.  Every time my sisters come home or
someone new comes to visit, we take a trip to Dale's for a jumbo….no
one makes a burger quite like that anymore.
.
.
Gary and Friends

Thanks to Crystal for the 1966 snowstorm pictures. I just can't quit
looking at the old main street stores the way I remember them! The one
of the drug store also shows the little gas station in front of the
Dakota Hotel. It's the little building with upturned eaves that sat
between the hotel and the cabins. These pictures are treasures!! This is
the storm of 66, I think, as there were cars stuck on top of the drifts
on Main street, some 4-5 feet off the street! They actually drove on top
of the drifts and then fell in! I remember how strange they looked the
next day when the storm was over. During the 66 storm, I walked all the
way over to John Boguslawski's, just for kicks. It was nasty! I stood
along side the Stone Garage for a while just to rest and get out of the
wind for a bit. The snow was blowing so bad I needed the leeward sides
of the buildings to see where I was! Yes I know, crazy!! But when you
are 16, you are daring! When it got toward evening and was time to go
home, I called home to tell the folks that I was on the way. Mom asked
me to stop at the Crystal Cafe and get a large order of French fries as
she had a craving. The cafe was empty except for the cook and Marian
Hackman, who was the waitress. I told them," Mom wants a large order of
fries". They brought out a grocery bag nearly full of fries!! They must
have thought we were starving at home!! The storm of March 69 was
similar in many ways, blizzard conditions and big snowfall amounts. I
was going to college in Bottineau and they shut down the classes even
though the students were mostly on campus. The streets there, too, were
several feet deep! It took the local National Guard unit to help open
the streets. We do have storms here in the winter but not like the
blizzards of 66 and 69! Two to remember!!!

Dick
.
.