Happy Birthday Roberta Hagen Striker ('75): Dunseith, ND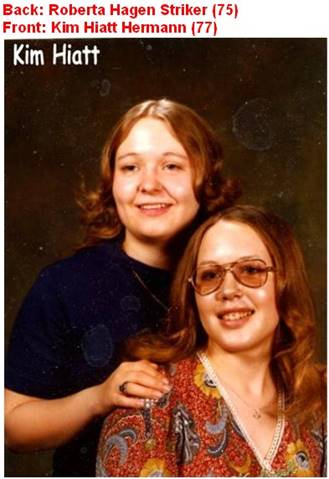 Happy Birthday Minnie Mary McKay Merrill ('48): Kent, WA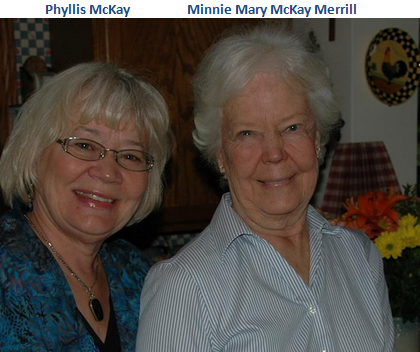 Cebu Expat dinner at the Marco Polo on Tuesday evening.
Bernadette and Lorelie Stokes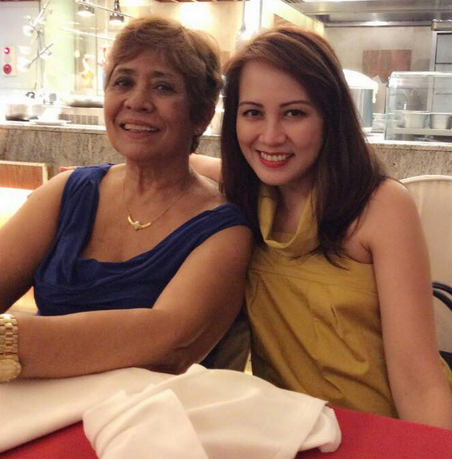 Francois Dubois – Reply to Gordon Phillips
From Sharron Gottbreht Shen ('59):  Watertown, NJ
Hi Gordon,
There was an FX Dubois and a Francois Dubois in Rolette county. I do not know if they were the same person. Francois Xavier Dubois was probably the first among the many French Canadians there before land available in Rollett Co. Interesting fellow. I think his wife was also a Dubois and named Francoise. Not home now but will check sources and get back to you.
Alcide Marcile lived in the very nw segment of Russell Twp(about 40 acres), think Almaide Lamoureaux was post mistress at his store located across the road from St Antoine church. No resident RC priest-was served by Tarsus, Dunseith , Thorne, St John, Belcourt. I have found baptism records in Dunseith where the priest had performed same in the home at the time of birth in Russell Twp!
Sent from my iPhone
On Apr 27, 2015, at 12:48 AM, Gordon Phillips  wrote:
I have the idea that you are connected to Francois Dubois.  Someone of that name lived just north of Sifroid Marcil on the NW quarter of section 10 of Wolf Creek township.  Do you know anything about him?
Postings from Neola Kofoid Garbe: Bottineau & Minot, ND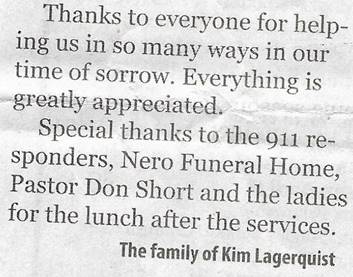 Hi Gary,
Another interesting newsletter.

  Dad's garage was called either Corner Service or Corner Garage (I've seen it written both ways.)  I think the Stone Garage was owned by the Lamoureux family–or not.


Neola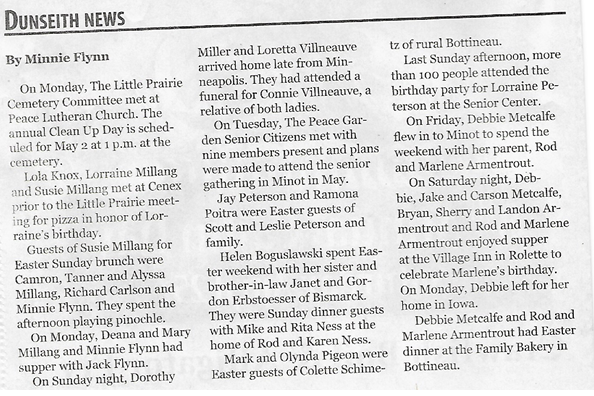 Posting of the day: Dick (68) and Brenda Johnson
Posted by Larry Hackman ('66):Bismarck, ND 
Dick's reply
I won't play with you guys any more.  You pick on me too much.
Dick
Larry's reply
Dick,
I agree with you.  I think Mel owes you an apology.
To think that Mel would think that you would
allow something like this to happen. But, I know
everything will turn out just fine.  I know everyone that sees this picture will know that just isn't you.
We all know that your wife would be driving the ATV and that you would be sitting in that easy chair.
Lets get it right next time, Mel.  You could have hurt Dicks feelings?  I'm just glad I was here to correct
the situation while it was still correctable.
Larry
====================================
Blog (290) posted on November 22, 2008
Request from Rene Casavant (65): 
Hi Gina           This is Rene Casavant with the Dunseith Alumni Cruise. I just got the message that Dwight Lang is canceling. I still want to go, however with the downturn of my 401k I have to be more frugal so I will have to at minimum find a new cabinmate and downgrade our cabin selection. Gary you can post this for anyone who is interested. I'm easy to get along with, so I'm told.
Folks, For any of you guys wishing to join us on our cruise, in need of a cabin mate, please let us know.  Rene truly is a very nice guy and very easy to get along with. Coming from a family of 16 siblings, all still living, he can not be anything else but.
Reply from Kathy Casavant Ellingson (74): 
Gary, My husband Larry had Mrs. Potratz for a teacher at Bisbee in grades 1st, 2nd & 7th. He said they lived on a farm near Perth,her husband farmed & she was a school teacher.
Reply from Susan Brew Roussin (59): 
A big shout out to Tom Hagen.  I wonder if he remembers when he boarded with our Grandpa Jerry Demo and Grandma Kathryn Demo at Dunseith while he attended high school.  Lorna and I were always after Tom to play school with us, he was always the principal, while he probably tried to do his homework, and  we just thought it was so much fun to have a grown up guy under the same roof as us.  Good old days indeed.  Thanks much.  Susan (Brew) Roussin (59)

Reply from Tom Hagen (51): 

Hi Gary, Tom Hagen here in reply to my friend Minnie Mary McKay Merrill.
Those were some of the "Good Ol' Days" but I was there  "Wetherault)
only in  1955  (the summer I got married) after Millie Parrill had
taught the first three months..   My pupils were Larry Hall, Larry
Metcalfe,  Eva Eurich, Edna (Susie) Knox, Obert Medlang, Jerry,Ron,&Tim
Strong, Lawrence,Warren,Shirley,. and Mary Helen Anderson,  (Tom
Anderson family) and Glenda, Lorenzo, and Gene  Anderson (Bud Anderson
family)   Gene and Mary Helen were the first graders.  I wonder where
they all are now?    Did see Warren, Mary Helen, Ron , and Jerry af
various Dunseith Reunions.

We love E-mail letters,  Love Tom and Dot

Reply from Bill Hosmer (47): 

Gary and other Dunseith friends and historians.   I was so happy to see the mailing by Lloyd Awalt, a man who has done more than many of the readers know about.  I might be a little prejudiced about this guy because I've known him since I was about 5 years old.  What he said about his family is important to me as one of the more senior citizens of Dunseith because I knew his folks, John and Gertrude, and also his Grandpa and Grandma Anderson. His sister Eleanor was one year ahead of me in school and is still in my neighberhood at Lake Metigoshe, living with Leonard Stickland, another pure North Dakota guy.

Part of the reason I was pleased with Lloyd's mailing is that we are on the leading edge , or maybe the trailing edge of the history of our town. There have been so many terrific inputs by all the younger-than-us folks who have shown their respective memories and lessons-learned.  I read every word because even if I don't know the individual, I recognize and remember who their parents are or were and what they did for our town. They are the Gottbrehts,Bedards, Shelvers,  Larsons, Sunderlands, Leonards, Bergs, Morinvilles, Kesters, Campbells, Grimmes, Evans, Cassidys, Nelsons, Simes, Kadrys, Hassens, Evans, Fultons,Gordons, Johnsons, Olsons, Olsens, Fassetts, Stokes, Carlson, Hiatt, and so many more who gave the town and countryside the character and value systems that are real American Stuff.
can be found in Gary Stoke's tremendous gift to us..
In the case of Lloyd Awalt, it was his cousin, Vance Bailey who began to recall his life in our town and wrote a significant remembrance of the things kids did in Dunseith, which I tried to add to and to authenticate  by saying that Vance Bailey started this whole series of recollections and contacting and which has become one of the most remarkable and loving series of words of significance I've ever experienced.

I can also say this about Lloyd Awalt. His activity over many decades as one of the active WWII Veterans in Bottineau in every single event of significant patriotism reaching from school programs, city celebrations and national holidays and the private burial ceremonies of former military members who have "headed west".  Additionally, the flags abounding about Bottineau in huge numbers can be attributed to Lloyd and the other Vets who give of their time to give us a blazing starburst of Americanism along our streets in Bottineau, which still give this old military retiree a shiver of pride and humility .  I guess that old warrior made me say more than I should have, but we can blame it on Lloyd, and I promise not to say so much next time, unless Lloyd does another one.  Thanks Gary, and Lloyd and mostly Theresa!!!!!    Bill Hosmer   PS.  Fulton is the name of a guy named Amos Fulton who used to try to beat me up in the first few grades after school.
Fortunately I could run faster than Amie, except just once.

Bill, You too served a career in the service, the Air Force.  Being a member of and pilot with the famous Air Force Thunder Birds, each and every Dunseith Alum knows or has at least heard of you with the famous show you performed, with the Thunderbirds, over Dunseith in the early 60's.  We have many added viewers since we posted your letter, explaining your side of this event.  I think it's time for a reposting of this famous event.  I will go back through and find that letter and repost it, within the next several days, along with a few of the comments from some of the folks that remember that day.  Gary
Reply from Dick Johnson (68): 
Gary and Friends,
I would like to say thanks to Lloyd Awalt for his very interesting story
on his service during WW II. It was a very close up and personal account
from one of our own. Lloyd had mentioned to me that he wasn't good on
the typewriter so hadn't written yet. I think he did a great job! I said
many of us are two finger typists—just go for it! He certainly did a
fine job! Thanks for the story and thanks Lloyd for doing your part in
'The Big One'!
Dick
Reply/Pictures from Bonnie Awalt Houle (56):
Dear Gary,
Your "Snatches from the Past" make my day.  Thank you so much.
I am attaching a picture of the girl that matches the girl in the band picture.  I thought she was a Smith girl, maybe Lois Smith.  Hopefully someone can tell us for sure.  (She signed the picture for me but she wrote so tiny I can no longer make out the name.)
The picture of the Ladies was taken in the little home that Mae Cota lived in beside Bertha and Earl Myers.  She had a wonderful crab apple tree in her back yard I think many kids tried to get apples from her tree without permission.
Thanks again for all your hard work, it must be like a full time job!!!
Bonnie Awalt Houle 56
Bonnie,  This job is as full time as I choose to make it.  It gives me something to look forward to each and every morning when I get up. In retirement, one has to have something to do and I have chosen to do this.  It keeps me connected to the states and most of all to all of you.  To be honest, when I retired I missed the office atmosphere with a computer on my desk for a purpose.  I now have that.  With my job at Puget Sound Naval Shipyard, in Bremerton, Washington, I communicated schedules and other data for various projects that our yard had going on throughout the world. In a sense, I'm doing the same thing now, but with the Dunseith Alumni. It's fun. Gary
Bonnie, This looks like the same girl standing between Dave Shelver and DuWayne Lang in that 1956 band photo.
Folks, Is this girl familiar to any of you? Bonnie is thinking her name may be Lois Smith. Does that name ring a bell?
Cropped view of the 1956 band picture.
Lois Smith standing in center ????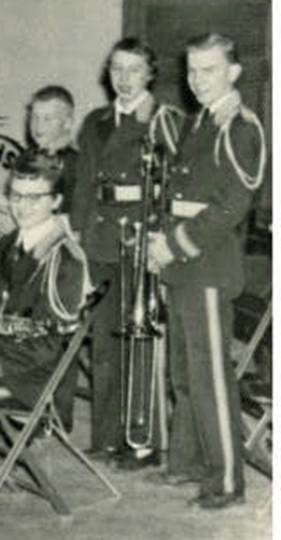 Mae Cota, Myrtle Anderson & Nealy Rasmussen