Lola Metcalfe
Reply from Aggie Casavant ('69):  Fort Mill, SC
Gary
I  too  was  saddened  and  taken  aback  by  Lola's  passing.  Her  and  I  started  chatting  back  and  forth  about  a  year  ago, and  like  you  always  enjoyed  her  stories  on  the  blog  and  the  detail  in  which  she  wrote  them.  My  heart  goes  out  to  Jay and  his  family, and  all  her  brothers  and  sisters. She  was  faithful  in  making  those  trips  to  Kansas  to  see    her  daughter, son-in-law  and  those  grandbabies. She's  going  to  be  missed  alot.  Aggie
Jim Wheeler and Lola Metcalfe
Reply from Brenda Hoffman ('68):  Greenville, SC
Oh no. So much sadness and death. Jim Wheeler, Lola and now Bernadette is not doing well. I'm so sorry.
In Memory of
JAMES R. "JIM" WHEELER 
1950 – 2015
James Robert Wheeler (Jim), 65, of Casper, passed away June 28, 2015 at Wyoming Medical Center in Casper.
Jim was born June 21, 1950 to James & Mildred (Graber) Wheeler in Oakes, N.D. When Jim was in the 5th grade, his family moved to Dunseith, N.D. where he helped run the family farm.
In 1968, Jim graduated from Dunseith High School and married his high school sweetheart, Holly (Myer) Wheeler.
In 1970, Jim became a Doctor of Motors when he graduated (3rd in his class) at Wahpeton State School of Science as a Diesel Mechanic.
Jim and Holly were married for 47 years, raised four children, Kandi, Shannon, Cindy and Angel, and spoiled 5 grandchildren and 2 great-granddaughters.
Throughout the years Jim worked rebuilding antique cars, as a diesel mechanic, farming and home remodeling. He owned Wheeler Construction in Casper, WY. He was a very successful home improvement contractor in Casper. Jim was respected by everyone for his superior quality and performance in his work.
Jim enjoyed the company of his family and friends, loved reminiscing, telling jokes, playing cards, hunting, fishing, camping, snowmobiling, exploring the mountains, working on old cars and gambling.
By 2005, Jim was critically ill with a rare lung disease, which forced him to quit working. He went thru numerous surgeries and had many pneumonias which on June 28, 2015 took his life.
Preceeding Jim in death was his dad, James Robert Wheeler, Sr.
Survivors include his wife, Holly of Casper; daughters, Kandi Kinney of Casper, Cindy Wheeler of Bozeman, MT, Angel Babcock of Wasilla, Alaska and son, Shannon Wheeler of Edgerton, WY; his mom, Mildred Wheeler of Bottineau, N.D.; brother, Richard Wheeler of Ronan, MT; sisters Sharon Sabbe of Surrey , N.D. and Judy Gagnier of Minot, N.D.; 5 grandchildren; 2 great-granddaughters and one on the way.
To share a special memory of Jim or to leave a message of condolence for his family press the share memories button above.
I inadvertently forgot to post Larry Hackman's picture yesterday
Sorry about that Larry. Thanks for the story you posted yesterday too.
It was a real treat seeing you and your brother Henry at Dale's too.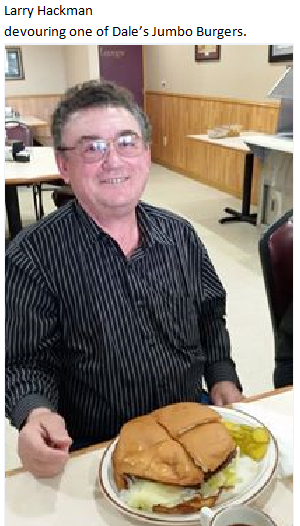 Clayton P Kjos ('39) Death
Posting from J.L. Vinie: Relative 
In trying to locate the name of Clayton's wife, I ran across your blog.
Thought you'd want to know that Clayton passed away in 2010.
J.L. Vinje
Relative
Clayton P Kjos
Birth:
Apr. 2, 19
Bottineau County
North Dakota, USA
Death:
Jan. 3, 2010
Spokane
Spokane County
Washington, USA
Three children: Ann Standiford; David J.; and, Jerry T.Four brothers & sisters: Burnen L. (#20820662); Lois P. Starr Karnes (#68853038); Eileen Morey; and, Donald P.
====================================
Blog (325) posted on January 1, 2009
Reply from Gary Metcalfe (57):
Wow, I guess I have another cousin!!  I tried calling Randy Hiatt tonight to welcome him to the family, but did not get an answer.
It's really something how one letter can tip you off to lots of things you would like to know.  Herman mentioned Cote's outfit, I thought Laureus Cote was somewhere over there, now I know for sure.
Does anyone remember Martin Belgarde?  He was a fixture at Lamoureux Bros. Garage, about like Carroll Carlson was.  Martin was a great storyteller.  I think he actually was in Italy for awhile.  He said he jumped off a ten foot bank hoping to break just one leg and all I broke was my gol dang gun. LOL
Janice and all of you in Seattle area, hope you are staying safe and dry through all of this unusual wet/snowy weather out there.   Gary Metcalfe
Gary, I think you've got a pretty squared away cousin too with Randy.  You mention Laureus Cote.  I knew him well.  He and Loretta included me as if I was one of the family when I went to Bremerton, WA in the fall of 1966. Laureus often mentioned his WWII service years in Europe.  He passed away several years ago. I can get you connected to his children if you wish.  Fern Cote Berube (Mrs. Lawrence) and Laureus are siblings.  Gary Stokes
Request from Marge Langan Wilcox (Ron Longie's (65) sister):
Good morning Gary,
You probably don't remember me.
I am Ron Longie's sister in Vancouver WA…. would like to be added to the Dunseith alumni
I left Dunseith in 1956….. after marrying Hollis Wilcox
I get all of the messages from my brother Ron longie.
Marge Langan Wilcox
Marge, I know a lot of folks will remember you. Ron and Willie are remembered well by many.  You guys come from good stock.  Welcome aboard. I have reposted your family photo below along with a more recent picture of your mother and Hannah Loab. You are a very pretty girl. Gary
Wilbur Longie Family:
Back row: left Wallace, Wilbur, Marge, Ronnie
Front row: left Willie, Patti, Ursula, Donnie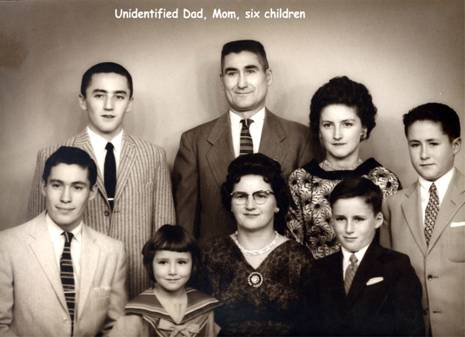 Hannah Higgins Loab & Ursula Longie – 7-13-07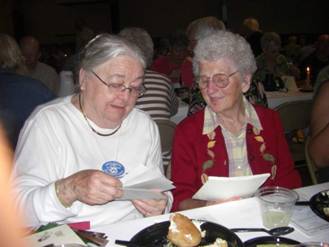 Reply from David Slyter (70): 
To Dick Johnson:
I too enjoy reading the War stories.  It is so interesting to read the letters of the soldiers to their loved ones during a very tough time in their lifes.   Not being a military person myself, I still have a respect for the ones that serve in any of our armed services.   Our dad Fred Hiatt was commander of the American Legion in Dunsieth for many years and as you know we always played or sang at the memorial day programs at the old Duseith city hall or the High School.  It takes people like my dad, or Jack Flynn, or Floyd Dion and the Hosmers and many more to keep things going in a small town like Dunseith.  Those were the good ole days.
To Randy Hiatt:
Welcome to the Dunseith Alumni pages.  Mom always spoke of the day that she delivered you into the world and it was a proud moment for her.  In 98 we took Mom out to Washington on a summer trip with us.  It was great seeing you and the rest of the Hiatt clan at the picnic that everyone thru for us.   I had seen relatives that I hadn't seen in 25 years.   Mom passed the following year in 99 but had always talked about that previous summer.    So again welcome to our world and enjoy.
Dave Slyter (70)
Reply from Sharron Gottbreht Shen (59): 
It is so frustrating that I cannot send mail direct to Gary Metcalfe. Just wish to thank him for the keen insight he has into the 34th. I shall look for the book he recommends. Copies of the camp picture in the mail by Monday; I am sure Aunt Emily and/or Uncle Roland will know fellow soldier. I have no idea what camps behind the lines looked like but the tent structure looks collapsable and screened – good for buggy Louisiana but also important in Italy where fever born disease from mosquitoes was a problem in river areas. Sharron
Reply from Allen Richard (65): 
To Wally Garbe– Yeah this is a weird winter by modern standards for sure.  Saginaw Mi was a couple inches short of its annual snow fall last week– we are supposed to get another 3-4 inches tonight.  Over the Christmas Holiday — in a 10 day period, we went form nearly no snow to two feet of snow to no snow.  We have about 8 inches now.  I hope you don't get another "blizzard of '66"  That was the nastiest in my memory.  I have a few stories about that one– I'm sure a lot of you do too.
Hope everyone had a great holiday season — onward and upward for 2009—not sure if we can get much lower!
Allen
Willie/Maxine Hiatt picture posted by Neola Kofoid Garbe: 
Folks,  Willie and Maxine Radley (38) Hiatt lived in the Ackworth community until moving to Bottineau in about 1955.  Norris Knutson purchased their farm and has lived there ever since.  Willie was a plumber in Bottineau for many years.  Maxine worked for Dr. Sveen, a Dentist in Bottineau, for a number years. Willie pasted away this last year. Maxine is currently living at the Oak Manor Apartments. Their children are Barbara Cote, Harvey, Lawrence & Doug. Doug has been working the Good Samaritan home in Bottineau for quite some time now.  Gary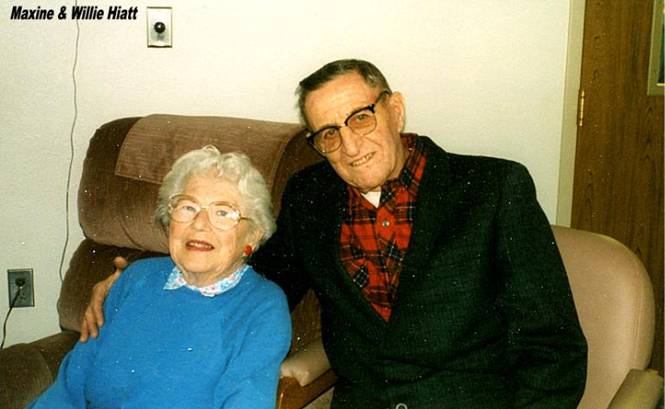 Posted by Neola Kofoid Garbe: 
Jammin' to the oldies      Minot Daily News: December 28, 2008
Frozen Fingers Music Association holds stage show, jam session
The Frozen Fingers Music Association held a stage show and jam session at the Sleep Inn in Minot Saturday. Members of the association entertained an audience with old-time and bluegrass music.
"This organization is for the education of people about old-time music, and it's for fun. The whole purpose is to promote bluegrass and old-time music, to get a few more people interested in it," said Dick Johnson, vice president of the Frozen Fingers Music Association.
Once individuals are interested in the music, it seems to be something that sticks with them. Johnson recalled how he started playing.
"I came down to the concerts three years ago. I went in a jam session with my guitar, and I didn't leave my chair for 14 hours," he said.
The Frozen Fingers Music Association is made up of old-time and bluegrass groups from around the region.
Frozen Fingers hopes to interest more young people in the music, and the association serves the purpose of teaching them how to play.
"The best way to learn how is to sit down with people, and do it. It's something we need to keep doing, or it's going to slowly dwindle away," Johnson said.
Frozen Fingers' next stage show and jam session will be held at the Sleep Inn in Minot Feb. 14-15. A dance will be held Feb. 13, and a guitar clinic will be going on during the stage show and jam session.
"It's a full two days of music groups, old-time or bluegrass. Sunday morning we'll have a polka mass, and during the day we'll have old-time gospel music," Johnson said.
Posted by Neola Kofoid Garbe:
I know some of you know Claudia Harrison Trebas. Gary
Hi Everyone,
Claudia sent the info written in green.  I had "run" the original email by her before I sent it.  I'm including her latest info.  Thanks, Claudia.
FYI:  Claudia has acess to a computer in Bismarck/Bottineau, so you may visit her site/send emails any time, and she'll receive them immediately.  Neola
January 9: Good morning Neola, I am home now, as of last night. Really
glad Bottineau didn't get the snow. I will be in Bismarck
for treatments, 6 chemo, 3 weeks apart and then 6 weeks
radiation. I will be home when I can be. I have to have
hercepin every week until I'm done with chemo, then
herceptin every 3 weeks for a year. Thank you for passing it
on, it is so nice to hear from people and have the support.
How are you? When do you start? Is radiation first? Let me
know how that goes and keep me posted. You are in our
prayers also. Thanks for all the laughs, you know laughter
is the best medicine. God Bless, Claudia
Hi Everyone,
Some of you know Claudia Harrison Trebas/her father and mother, Marvin and Muriel Bergeron/her grandparents, Leo and Claudia DuBois Bergeron (Page 76 in Centennial Book).  Leo and Claudia lived 9 miles east of Bottineau (about half-way between Bottineau/Dunseith; Leonard Neubauer and family lived there later; Leonard's son now lives on "the place".
Claudia is married to Brad Trebas of Bottineau.  Brad/Claudia live in Bottineau.  I copied/pasted the following info I found in Claudia's Caring Bridge site.  I have had two surgeries to achieve clean margins and the lymph nodes were removed after cancer was found in the sentinel node. I will begin chemotherapy treatments January 16th and radiation will follow. Maybe we can't see this as a blessing quite clearly yet, but we do know we are blessed with such loving and supportive family and friends.
It is with Claudia's permission and blessing that I send this email to all of you.  If you click on the link I'm including, it will take you directly to Claudia's journal on Caring Bridges (Hi, Claudia!).  Claudia would love to have you visit her journal/read the information/look at the pictures/sign her guestbook.  Claudia is staying at her daughter's (Chelsey) home in Bismarck.  It's not exactly the way you'd choose to spend more time with your grandson, but, if you have to stay somewhere, you can't do better than seeing your grandson (other family members) every day.

Neola
http://www.caringbridge.org/visit/claudiatrebas
Posted by Neola Kofoid Garbe: 
IPG "Rainy Day" fund.
Gary,
As you can see, this is a little old.  The Courant was lying on the table.  I saw this article and decided to scan/send it.  Now I can throw this part of the paper.


Neola