Condolences to Wilfred Nerpel's family
From Allen Richard '(65):  Grand Rapids, MI
I met him when we were in grade school — like 65 years ago.  Please pass on my condolences.
Allen Richard
Memories of Wilfred Nerpel ('64)
From Lee Stickland ('64): Dickinson, ND

Wilfred and I were in the same grade at Dunseith. The evening of JFK's death I went home with Wilfred. We went out to the electric fence charger to determine who could hold on to it for the longer time; "somehow, I convinced Wilfred he should be first. Interimingly, a cat went close by and had the tail catch the charger and the cat made a dreadful sound. I told Wilfred that I would concede did not touch the hot wires. I and Wilfred always got along well as I feel was a good man. If he yet lived on the place, the Willow Lake Road will miss him.
Gary: I am wearing the dark blue shirt YOU gave me from 2010 ALL-class Reunion. LEE (Stick)
Wilfred Nerpel's ('64) Obituary
Posted by Neola Kofoid Garbe:  Minot, ND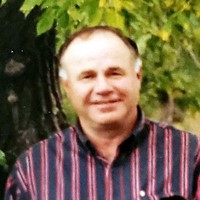 Wilfred Nerpel
October 31, 1945 – June 16, 2020
Wilfred Nerpel
Funeral services for Wilfred Nerpel, age 74 of Dunseith, were held on Friday, June 19, 2020 at 2:00 pm at the Nero Funeral Home in Bottineau.  Officiating at the service was Pastor Casper.  Casket bearers were Jennifer Poitra, Samantha Poitra, Heather Gonzalez, Preston Nerpel, Brady Nerpel and Brendon Nerpel.  Military Honors were presented by the Bottineau County Veterans and the North Dakota National Guard.  Burial was at the Seventh Day Adventist Cemetery north of Bottineau.
Wilfred Nerpel, a son of Raymond and Bette (Eurich) Nerpel, was born on October 31, 1945 at Bottineau.  He grew up near Dunseith and later graduated from Dunseith High School.  He entered the US Army on January 13, 1966 and served in Germany before receiving his Honorable Discharge on December 8, 1967.  He returned to Dunseith.  Wilfred moved to Plymouth, MN where he worked in manufacturing.  He later returned to Dunseith where began farming and working road Construction. 
He was a member of the Seventh Day Adventist Church and the American Legion.  He enjoyed woodworking, gardening, cooking and riding his atv.
Wilfred passed away on Tuesday, June 16, 2020 at his home near Dunseith.
He is survived by his daughter, Jennifer (Dean) Poitra of Dunseith; son, Preston (Lisa) Nerpel of Dunseith; grandchildren, Samantha Poitra of Grafton, Heather (Christian) Gonzalez of Edwards, CA, Brady Nerpel, Brandon Nerpel  and Nick (Bailey) Pfeifer all of Fargo;  great granddaughter, Olivia Mae Gonzalez; brothers, Michael (Marian) Nerpel, Harvey Nerpel, Gordon (Trese) Nerpel and Forest Nerpel; sister, Carol Nerpel; and numerous nieces and nephews.
Arrangements were with Nero Funeral Home in Bottineau.  Friends may sign the online register book at www.nerofuneralhome.net.
Otto Corbin: Former owner of Bottineau's "Corby's Trading Post" I asked Pat Corbin Miller for her permission to post her Facebook Father's Day memory of her father, Otto Corbin. I think most all of us from the 40's, 50's, 60's and into the 70's generations remember Otto Corbin and his store "Corby's Trading Post" in Bottineau. I used to see Otto at Lake Metigoshe very often too. With his involvement with so many activities, he was all over the place. Otto got around well with his wooden leg too.    Otto's son, Don Corbin, was a teacher and Principle at Dunseith High during my school days too. Gary Stokes
Pat Corbin Miller
June 18 at 10:05 AM ·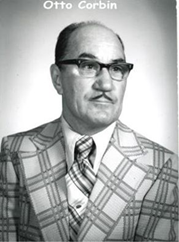 Happy Father's Day in Heaven to my wonderful Dad. He left us 30 years ago and I miss him every day. He was always there when I needed him too.
Love you Dad.