Tom and Jan Bergan Evan ('66)
Message from  Kaye L Lystad Kirk (Btno): Fargo, ND
Hi Gary,
It was an interesting Thanksgiving Day for me. My husband and I, along with his family, decided to eat at the Fargo Holiday Inn that day. While standing in the VERY long buffet line I started making polite conversation with a friendly-looking fellow in front of me. As it turned out, his name was Tom Evans who is married to Janet "Jan" (Bergan) and they're both originally from Dunseith! (They now live in Monticello, Minn.) What a nice surprise to meet someone close to where I was from of Bottineau!
Tom said that he moved away from Dunseith after graduating from DHS in 1966. (Jan graduated that same year.) Also, Tom's dad, Myron, passed away just two years later in 1968 when Tom was only 20 and his dad was just 48.
(BTW, Tom has a brother, Jim, who still lives on the family farm just north of Dunseith. Jim's son,  David, now farms with him.)
Coincidentally, I managed to recognize Jan's maiden name of "Bergan" since my 2nd great uncle, Erick Bjornseth, had married a Bertha Bergan back in 1913. (This was all still very fresh in my memory as we held the Bjornseth-Aasness family reunion just this past summer at Lake Metigoshe.) Jan & I exchanged emails and I've been sending her family photos and genealogy info on Erick & Bertha and their family. (Bertha was a sister to Jan's grandfather, Louis Bergan.)
I was telling Jan what a good-looking couple that Erick and Bertha made, because Bertha was so beautiful and Erick was so handsome. Here is a photo of Erick and Bertha taken around the time of their marriage so readers can judge for themselves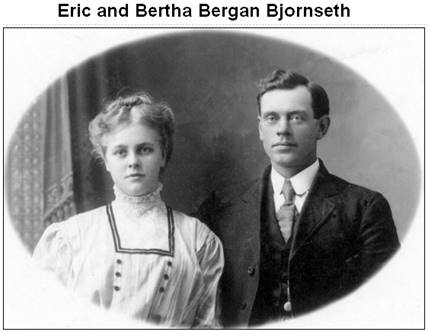 Gary, this is precisely what I love about North Dakota–especially Bottineau County. No matter who you meet, it seems that you will always find someone in common you both know or someone in common to which you're both related! And meeting Tom & Jan was a real treat. They're truly lovely people and talking with them really made time fly by while in that buffet line.
Kaye K. Lystad Kirk
Fargo,ND
Gary's Comments.
What a small world indeed.
What a nice picture too. Very clear. I remember Eric and Bertha very well too. They lived about 3 miles from our place in the hills.  Jacob, his brother and wife Cora lived 1.5 miles west of us. Art, another brother and his wife Emma, live about 4 miles SW of us.  Eric and Bertha passed away in the early 60's. I was in my mid-teens, so I remember them very well.
Oscar Bergan was Bertha's youngest brother. He and his wife Sylvia lived about 6 miles east of Lake Metigoshe. Oscar and Sylvia were like family in my growing up years.
Lasrence Hetle ('67) and Larry Orke ('67) Obituaries
Posted by LeaRae Parrill Espe ('67):  Bottineau, ND
Gary, I just wanted to let you know that the class of 67 lost Lawrence Hetle a couple of weeks ago.  The obituary was published in the Turtle Mountain Star and I also found it on the Evans Funeral Home of Carrington site.
We also lost Larry Orke, formerly of Bottineau.  He and his wife Jeannie had moved to Fargo about a year ago.  They were both such community people here in Bottineau.  I understand that he had some type of heart surgery and passed away during recovery. He was 68 , just about 69.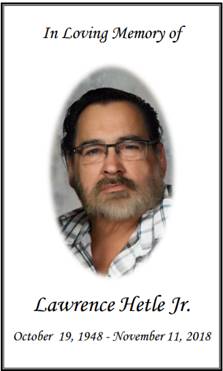 Lawrence Grant Hetle Jr.
October 19, 1948 – Bottineau, ND
November 11, 2018 – Sykeston, ND
VISITATION
Saturday, November 17, 2018 – One Hour Prior to Service
Evans Funeral Home, Carrington
FUNERAL SERVICE
Saturday, November 17, 2018 – 2:00PM
Evans Funeral Home, Carrington
OFFICIATING
Rev. Rick Loewen
MUSIC
Amazing Grace ~ Allen Jackson
Always On My Mind ~ Willie Nelson
Old Rugged Cross ~ Johnny Cash
HONORARY CASKET BEARERS
Lawrence's Brothers, Sisters, and Grandchildren
BURIAL
St. Louis Cemetery, Dunseith, ND
Arrangements by
Evans Funeral Home – Carrington & New Rockford, ND
www.EvansFuneralHomeND.com
Lawrence Grant Hetle Jr., was born on October 19, 1948, at Saint Andrews Hospital in Bottineau, ND, to Lawrence and Ruth Hetle. In 1967, Lawrence graduated from Dunseith High School. In 1972, he was united in marriage to Armella Speldrich. Through their marriage, they were blessed with six children. Lawrence passed away on November 11, 2018, peacefully at his home in Sykeston, ND. He is survived by his wife of 46 years. His children: Lori and Randy Guthmiller, Leeds, ND; Larry and Shandel Hetle, Moorhead, MN; Bob and Korena Hetle, Mesa, AZ; Mark Hetle, Mesa, AZ; and Ashley Hetle (Jordan) Carrington, ND. Seven grandchildren: Christa and Mike Davis, Mandan, ND; Jarrett and Lacey Guthmiller, at home in Leeds, ND; Taylor and Jasmine Hetle, at home in Moorhead, MN; Kenadi Hetle, Jamestown, ND; and Hadley Hetle, Carrington, ND. Two brothers: Veryl (Elaine) Hetle, Underwood, ND; Leonard (Beatice) Hetle, Kansas City, MO. Three sisters: Cheryl Uzeta, Deer Creek, MN; Karen Delorme, West Fargo, ND; Pauline Hetle, Dunseith, ND. He is also survived by many nieces and nephews
Lawrence is preceded in death by his parents, an infant sister and brother, an infant son, Joseph, and two brothers-in-law.
Larry Orke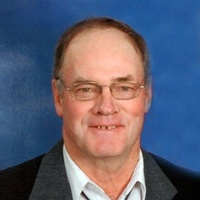 December 19, 1949 – November 27, 2018
Larry Orke, age 68 of Fargo formerly of Bottineau, died Tuesday at a Fargo hospital from complications from open heart surgery.  His funeral will be held on Monday at 10:00 am at the First Lutheran Church in Bottineau.  Visitation will be Sunday from 1:00 pm until 9:00 pm with a prayer service at 7:00 pm at the Nero Funeral Home in Bottineau.  Burial will be at the Oak Creek Cemetery in Bottineau.  In lieu of flowers, the family requests that memorials be given to First Lutheran Church in Bottineau, Bottineau County 4-H or to Turtle Mountain Cancer Support.
(Nero Funeral Home – Bottineau)

Posted by Neola Kofoid Garbe:  Minot, ND
Clifford Baker | 1959 – 2018 | Obituary
Clifford Baker, 59  of Dunseith, passed away Tuesday, November 27, 2018 at his residence. A memorial service will be 10 AM Tuesday, December 4, 2018 at St. Anthony's Catholic Church.
 Clifford was born April 11, 1959 the son of the late Alfred and Joann Bercier Baker. He was preceded in death  by his wife Janet Amyotte Baker and niece Cassandra Morin.
 Clifford attended  Dunseith School High and was a retired construction worker.
 He loved playing cards and watching Netflix, talking sports with Derek, going to visit his sister Eunice and nephew Ryan. and just spending time and joking with his family.
 Clifford is survived by his four children, Kelly Baker of Bottineau, Derek Baker of Dunseith, Shauna Laducer of Belcourt, and Blair Wilson of Dunseith and four grandchildren and two great grandchildren. He is also survived by nine siblings, Eunice Baker of St. John, Claudia Demery of Dunseith, Kenneth Baker Sr. of Belcourt Charlotte Baker of Dunseith, Dennis Baker, Belcourt, Patty Dupuis of Cloquet, MN, Sandra Morin of Dunseith, Pamela Baker of Cloquet, MN and Debra Baker-Morin of Dunseith, and numerous nieces and nephews.
Condolences to the Baker Family
From Vickie Metcalfe ('70):  Bottineau, ND
Gary and Dunseith School Friends,
Sympathy to the Baker Family on the loss of their loved one.
I understand he  also attended Dunseith School.
His sisters, Eunice and Claudia were in many of the  classes as I.
Sincerely,
Vickie M.
==============================================
Blog (756) posted on March 29, 2010
Bill Berube's (69): Obituary
Posted by Eileen Brudwick: Arizona
http://www.montgomerystryker.com/
William G. 'Bill' Berube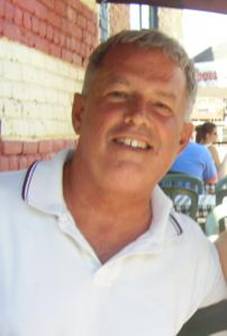 Tuesday, March 30, 2010
William G. "Bill" Berube, 58, Laramie, died Friday, March 26, 2010, at his home. He was born July 12, 1951, in Santa Paula, Calif., the son of Fortune and Katherine (Keefe) Berube. He began school at St. Sebastian's Elementary School until the fourth grade, when the family moved to Dunseith, N.D., in 1960. He graduated from high school in 1969. He earned a B.S. degree in elementary education at Mayville State University in 1973 and was the recipient of the Distinguished Alumni Award. He earned his master's degree from North Dakota State University in 1980. He attended the University of Wyoming, where he earned his doctorate degree in 1985, and then he moved to Gillette, returning to Laramie in 1994. At that time, he took a professorship at the University of Wyoming and was able to receive the Distinguished Alumni Award on April 23.
He married Sherilyn Karlstad on Aug. 19, 1977, in Mayville, N.D. He had a love of his family, education, sports and his profound love for the development of the human spirit within all people, especially young children.
He was a member of St. Paul's Newman Center and a recipient of the Ellbogen Award.
He was preceded in death by his parents; his stepmother, Alice Evans Berube; a brother-in-law, Ronald Reynolds; a step-sister-in-law, Linda Evans Carlson; and a step-nephew, Luke Evans.
He is survived by loving family, including his wife of 32 years, Sherilyn Berube of Laramie; his children, Brooke Y. Berube, Katherine A. Berube and Kelsey A. Berube, all of Laramie and Teri L. Simpson and her husband, Chris, of Chehalis, Wash.; his siblings, Tom Berube, Jim Berube and Cecile Reynolds; step-brothers, Jim Evans and his wife, Cheri, Tom Evans and his wife, Jan, Frank Evans and his wife, LaRae, Mike Evans and his wife, Patty, and Pat Evans; and his three grandchildren, Kennedy, Tanner and Grace Simpson. Also surviving are numerous aunts, uncles, nieces, nephews and cousins.
Funeral liturgy will be at 10 a.m. Wednesday at St. Paul's Newman Center with the Reverend Fr. Carl Gallinger, celebrant. Interment will follow in Green Hill Cemetery.
A celebration of his life will be at 2 p.m. Wednesday at the Hilton Garden Inn.
Visitation will be from 2-7 p.m. today at Montgomery-Stryker Funeral Home.
Memorials may be made to the William Berube Memorial Scholarship Fund in care of the UW College of Education, 1000 University, Dept. 3374, Laramie, WY, 82071.
Services are under the direction Montgomery-Stryker Funeral Home.
Condolences to the Berube Family from the Rober't's:
Posted by Dianne Rober't Johnson (76): Rolla, ND
Our condolences go out to the Berube families.
Dianne (Rober't) Johnson
Vikings:
Posted by Dick Johnson (68): Dunseith, ND
Gary and Friends,
I will post this last section of the story and study of the Vikings possible travel to the area. For those who would like to read the entire book, I think it can be bought through the Spectrum office supply store on Main in Bottineau or probably from the bookstore on the Dakota College-Bottineau (School of Forestry) campus. There are many more technical articles and descriptions that may not be of interest to the entire readership here on the blog. It is interesting to those of us with the defective history gene that makes us ponder these ancient things. Thanks Gary!
Dick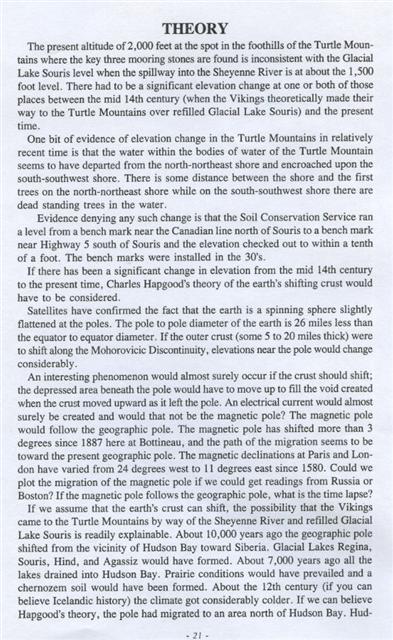 Ed Milligan:
Picture posted by Neola Kofoid Garbe: Minot & Bottineau, ND.
Hi Everyone,
I happened to find this picture of Ed Milligan, which I took in app. 1959. As you can see, I missed the front of the truck. Uff da!! This is the way I remember Mr. Milligan. I attended the Forestry 1957 Winter Quarter-Spring Quarter 1959.
Neola