Phyllis & Alan CampbellBEDFORD, TX
Congratulations from Cheryl Larson Dakin (71): BEDFORD, TX
I want to add my congratulations to Phyllis and Alan Campbell on their anniversary. They were always being so welcoming to us kids when we would be visiting Dunseith and we had such fun playing at their house. And when we got older (7th grade) we would have dance parties in the garage. What fun.
Cheryl Larson Dakin '71

Espe Wedding Anniversaries celebration for
Dennis (56) and Peggy Sime (60) Espe
Terry (64) and LeaRae Parrill (67) Espe
Posted by
Mark Schimetz (70):
Rolette, ND
I just received this. Don't know any of the particulars. I am assuming Terry/LeaRae are celebrating their 40th and Dennis/Peggy their 50th. This is just a wild guess on my part. By the dates in the pictures, it looks like this celebration was last night and to be more precise 6 hours ago.
Congratulations Dennis/Peggy and Terry/LeaRae. Please fill us in with some of the details.
Thank you so much Mark for providing these pictures.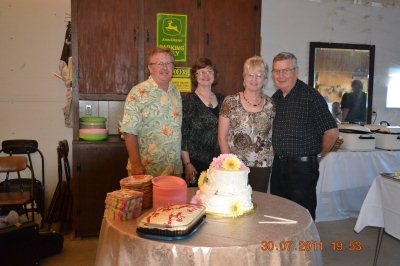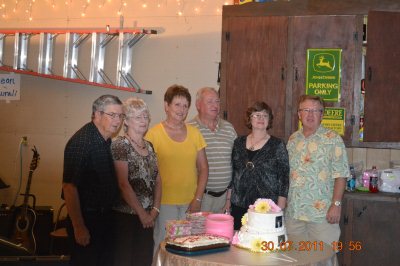 Terry LeRay Peggy and Dennis Espe anniversary Party at Wayne and Marline? Smith residence,
They are in the middle of the 2nd picture. At least a dozen Musicians, Dick Brenda and Ron Hett,
among others. Plenty to eat, drink, play and lots of new people to meet, as well as old friends
and classmates.