Elma Severson, from Bottineau, visits Cebu, Philippines
Elma attended the wedding of a good mutual friend of ours this past Saturday. Beautiful Beach wedding too. We were both primary sponsors. Actually Elma made a special trip just for this wedding. She was only here in Cebu several days. She is now visiting friends and relatives in other parts of the Philippines.
I am sure many of you know Elma. She has a beautiful home, in Bottineau, directly across the Lake Road (North) from the Fair grounds.
Alma taught at the college in Bottineau for a number of years. She is now enjoying retirement. She loves to travel.
With our trips back to the area, we have had numerous invites, from Elma, for dinner or supper at her home.
It's always a pleasure seeing Elma, both here in Cebu and in Bottineau.
Gary
Arlin Pederson (Erma Walter DHS '1955) Passed away
Posted by Neola Kofoid Garbe:  Minot, ND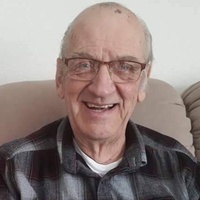 Arlin Pederson
June 15, 1937 – May 12, 2019
Arlin's Obituary
Arlin Pederson, 81, Minot, died Sunday, May 12, 2019 in his home surrounded by his loving family.
Arlin was born June 15, 1937 in Bottineau, ND to Telford and Bertha (Larson) Pederson. He grew up in in Bottineau. Arlin started in the grocery store at age 13 and continued in the business for most of his life. He worked in every department including management. Arlin graduated from Bottineau High School in 1955.
He was united in marriage to Erna Walter on July 3, 1958. They would call Minot home for the rest of their lives. Arlin started work for Wee Haul Trucking. He also served as a manager for Mini Mart Gas Station for a time and worked in sales for General Trading. In the mid 70's he started a part-time position at H&R Block. This work along with the clients/friends would be a staple of his life for the next 43 years until he retired.
Arlin spent his retirement as volunteer at the Lord's Cupboard Food Pantry. He really enjoyed his time there. He had a gift of gab and enjoyed learning about people. Summers were spent camping with his wife and traveling the US and World to see his daughter. Arlin supported his grandchildren's successes in sports and scouting during their youth. He took great pride in the care of his lawn and was often the first to have shoveled the snow in the neighborhood.
He was a member of Bethany Lutheran Church in Minot. Arlin volunteered for many years at Hostfest and treasured every minute spent at the festival. He will be deeply missed by all who were blessed to call him a husband, father, grandfather, uncle and friend.
Arlin is survived by his loving wife of 60 years, Erna, Minot; 4 children, Sandra (Gary) Brown, Bonifay, FL, Bob (Rhonda) Pederson, Minot, Kevin (Julie) Pederson, Minot and Steve (Jodi) Pederson, Minot; 10 grandchildren, David Brown, Shekae (Eric) Hanson, Matthew (Kaydee) Pederson, Jessica (Andy) Rapsavage, Spencer Pederson, Rhett Pederson, Reece Pederson, Ryker Pederson, Jessie (Misty) Brown and Amanda (John) Thomas; 8 great-grandchildren, Haley Howarth, Abigail Brown, Hunter and Kailey Rapsavage, Nolan Brown, Timothy Thomas and Mason and Justice Brown along with numerous nieces and nephews.
Arlin was preceded in death by his parents, grandson, Brendan Pederson, sisters, Bernice Christianson and Thelma Sloan, brothers, Kenneth, Alvin, Louis and Olaf Pederson.
Funeral service will be held at 2:00 p.m. Thursday, May 16, 2019 at Bethany Lutheran Church, Minot. Interment: Rosehill Memorial Park, Minot Visitation will be held on Wednesday, May 15, 2019, from 5:00 p.m. until 7:00 p.m. at the Thomas Family Funeral Home, Minot. In lieu of flowers and plants, memorials are preferred to Bethany Lutheran Church or to Metigoshe Ministries.
 Gary's Comments We extend our condolences to Erna and all of Arlin's family with his passing.
Reply to Ginger LaRocque ('65): Condolences to the Allery Family From Judy Allery Azure ('65):  Bismarck, ND
Ginger, Thank You ever so much…
==============================================
Blog (779) posted on April 20, 2010
Condolences to the Schimetz family
From Judy Morgan (Former Teacher): Edgeley, ND.
Dear Stella and family,
I am so sorry to learn of Bryan's passing. My thoughts and prayers are with you all during this very difficult time.
. .The memory of a life well lived lives on and on. May you remember the love and the happy times and find comfort in these memories. Judy
Condolences to the Schimetz family
From Dick Johnson (68): Dunseith, ND.
Gary and Friends,
I would also like to extend my condolences to the Schimetz family. Bryan fought a long hard battle with this dreaded disease. He was trooper.
Dick
Reply from Keith Pladson (66): Stafford, VA
Gary, This is in response to Ivy Eller Robert's input in the 775 issue. Thank you for that beautiful poem. Keith Pladson
Reply from Gaillord Peltier (80): Turtle Lake, ND.
Mrs. Kofoid;
Yes, Garry Counts Jr. is the son of Garry and Theresa Counts. Garry and Theresa are my Uncle and Aunt, Garry Jr. is my first cousin.
Have a great day!
Gaillord Peltier "Class of 1980"
Reply from Verena (Pete 65) Gillis: Dunseith, ND.
In reply to the Gary Counts question-PVT. Garry W. Counts graduated in 2004 from DHS and entered into the service, his dad is Gary Counts & mom Lucinda Counts. So he would be a grandson to Garry and Theresa (Peltier) Counts. Hoped that helped.
Verena ((*-*))
Reply from Dale Pritchard (63): Leesville, LA
Gary,
You mentioned American TV in the Philippines. In Japan in the late 60s, they had American TV series but they all in Japanese with no English captions at the bottom. I remember "Bonanza" in particular. You had to use your imagination to figure out what was going on!
Dale