Happy New Year Everyone
This will be the last posting for this year.
We are now entering year 10 with the posting of the "Dunseith Alumni Blog". The postings were daily until this year, 2016, when I cut them back to Monday's, Wednesday's and Friday's.
It has been a real pleasure doing this. I have learned so much and have learned to know so many people doing this. I have learned to know well, so many of you whose names I only knew in the past and many others  too. Many of you I have never met face to face, but  thru this we have become good friends and have learned to know each other very well.  What an honor it has been.
See you all next year.
Gary
Some very good pictures of our Christmas 2016 blizzard>>>
Posted by Wally Garbe (Neola's Husband): Minot, ND.
http://www.myndnow.com/news/2016-christmas-blizzard/632172328
====================================
Blog (535) posted on August 30, 2009
Posted on August 30, 2009
Reply from Bev Morinville Azure (72): Dunseith, ND.
I knew that was Ginger LaRocque I worked with Ginger Belgard she must have been thinking of me. lol Sorry for the mix up. I wanted to ask where is Ken Kofoid is at ? I would like to know how his mother is I run into her at Walmart one day about a year ago. His parents and my parents were wonderful friends.In fact they helped build my parents house ,

GOD BLESS YOU …………BEV
Bev, I knew you knew that was Ginger LaRocque in that picture. We are all human and make those kinds of mistakes with me being right at the very top of the list.
Ken Kofoid, I'm assuming your mother is still living in Bottineau. Your folks, Freddie and Wilma, were wonderful people. I saw your dad several months before his passing when I was with my dad up at Bottineau Oil. Your brother Terry was managing Bottineau Oil at the time. Your dad was in good spirits and was very much aware his days were numbered with his cancer. I saw your mother in 2007 at a family reunion in Bottineau. She was looking good. Gary
Reply from Floyd Dion (45): Dunseith, ND.
Hi Gary
You asked for an update of Luella's condition: Its been a year and a half since she broke her hip and shoulder, and cracked the other shoulder. She has been walking with a cane for some time now and she has a limp, she does not think it will get much better. Her arms are good except the one with the broken shoulder, she cannot lift it up all the way.She has a built up shoe, as her leg is 1 inch shorter than the other one, and this is the second time that hip has been broken. As we get older it takes longer to heal and may not get back to normal.
Thanks Gary for sending Erling Landsverk my email. I have heard from him and will write him an email now.
I look forward to your blog every day
Floyd
From Mark Schimetz (70): Rolette, ND.
Gary and friends, I remember Woodfords bar well as I used to deliver the Grand forks Herald there. Also a story I recall as a youngster. On some Saturdays the town was especially live with excitement. On one particular evening at dusk, I watched a couple of inebriated men stumble out merrily from Harold's Bar. One had a jug opened and they had each an arm around each other. The guy without the jug, said to his friend, come on my buddy give me a swig! No! His buddy replied, get ur own! They quickly separated and the man without a jug swung at the man with the jug as he also swung. I watched as the two men's punches miss each other and both rolled off the curb into the street, with the man holding the jug closed with his thumb never breaking the bottle or spilling a drop. When friend and I were struggling to keep from bursting out with laughter and give away our hidden lurking presence, it got worse. When the two men fought their way out and over the gutter back on to the street, the comedy continued; The conversation continues, Oh! My buddy you got a got hook, arms around each other again, You too my buddy the other replies, Here have a swig my buddy. Needless to say we were in tears of laughter as we watched the two men wobble and stagger down the street. Those were the Days.
Reply from Gina Ford, our travel agent.
Folks, With the success and enjoyment endured by our recent cruise and per your requests we presently have plans in the works for another cruise. We are looking at the Western Caribbean in 2012. Bernadette and I are also working with a local travel agency here in Cebu, putting together a 2 week Philippine/Southeastern Asian vacation group tour package. We are planning this for July 2010. I will keep you posted with both of these packages as they are developed. Gary
Gary,
Thank you so much! I love the photo and your blog as well.
It is such a treat to match the faces to your beautiful photo.
Thank you again,
Gina
Gina S. Ford
Cruise At Will, Inc.
Cruise and Travel Planners
1-866-870-6986 (toll free)
703-580-1190 (local)
Kelly & Charlene Pearson Woods' pictures:
Folks, You have nailed these photos identifying them all. Good work!
Kelly, we truely enjoyed these old photo's of your mothers. They truely are priceless. Who would have ever thought when these snap shots were taken that they'd show up 45 years later to be enjoyed by so many.
Kelly & Jeff woods, We'd love to hear from your mother too. Last I talked to her they were moving into a place south of #5 west of Dunseith. I think they go to AZ or south for the winter months. Maybe you guys can talk her into getting email?
Gary
Reply from Dick Johnson (68): Dunseith, ND.
Gary and Friends,
The pictures of the high school kids should be as follows:
Picture 6 L-R Alan Houle, Warren Anderson, Mitch Evenson, Judy
Wheeler, and Virgil Evenson.
Picture 7 L-R Jean Nicholas, Tom Evans, LeaRae Parrill, and Warren
Anderson
Picture 8 Carol Jasper and Kenny Kofoid
Picture 9 L-R Debbie Mongeon, Joanne Houle, and Charlene Pearson
Picture 10 This is probably from a dance in Bottineau. I think the
singer is Merton Johnson from Upham. He had a band and played at the
Forestry in '67-'68. Don't recognize the others. Thanks Gary!
Dick
Reply from Jean Nicholas Miller (66): GLENDALE, AZ
Gary,
Picture 6-Allen Houle on the left, Warren,??, Judy Wheeler, ??. #7 ME, Tom Evans, Lea Rae Parrill, Warren A. #8 Carol Jasper and I guess Ken Kofoid. #9 Debbie Mongeon on the left, Joanne Houle center, Charlene Pearson on the right. # 10 I don't know anyone there either.
Jean Nicholas Miller (66)
Reply from Allen Richard (65): Midland, MI
First — Corado duran was a great guy with a quick wit and fun loving nature. I enjoyed the "noon hour cruises" taking girls to Dales for lunch. I'm sad that we can't find him.
Now to the pictures
#6 –Allen Houle–Warren Anderson –Mitch Evenson– Judy Wheeler Virgil? Evenson
#7 — not sure– then Tom Evans Larae Parrell — Warren A?
#8 — Carol Jasper
#9 Debbie Mongeon– Joanne Houle — Charlene Pearson
#10 — Beats me too
Picture 6:
L to R: Allen Houle (67), Warren Anderson (65), Mitch Evenson,
Judy Wheeler (67), Virgil Evenson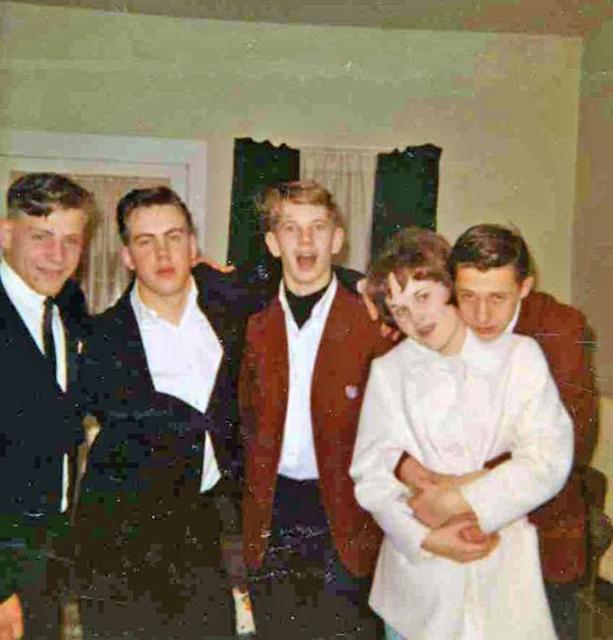 Picture 7:
L to R: Jean Nicholas (66), Tom Evans (66), LeaRae Parrill (67) & Warren Anderson (65)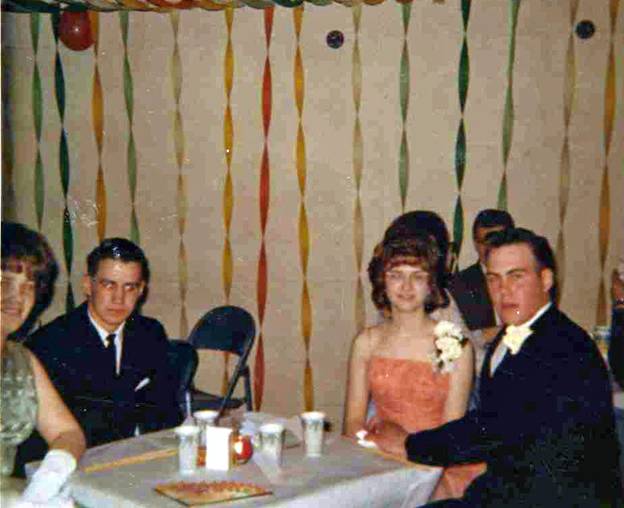 Picture 8:
Carol Jasper (65) & Kenny Kofoid (Bottineau)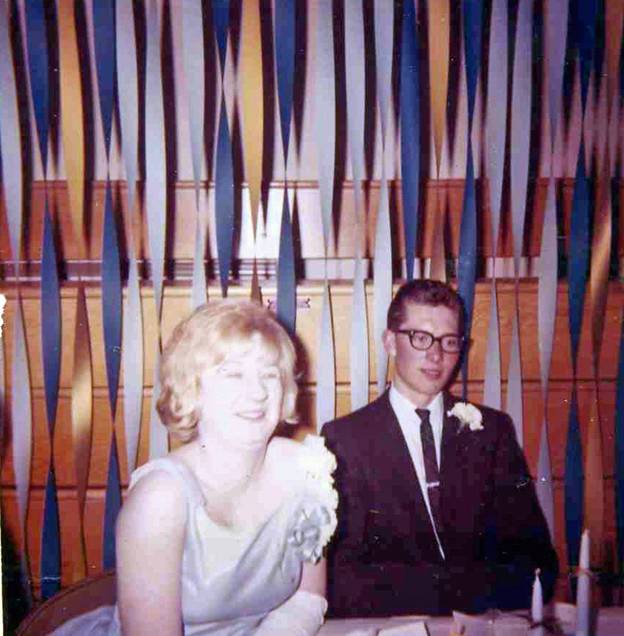 Picture 9:
L to R: Debbie Mongeon (66), Joanne Houle (66) & Charlene Pearson (67)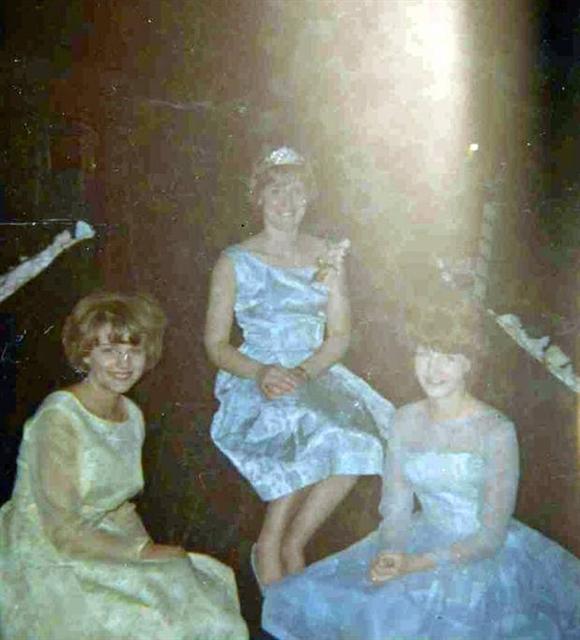 Picture 10:
Singer is Merton Johnson from Upham. This is probably a Bottineau picture?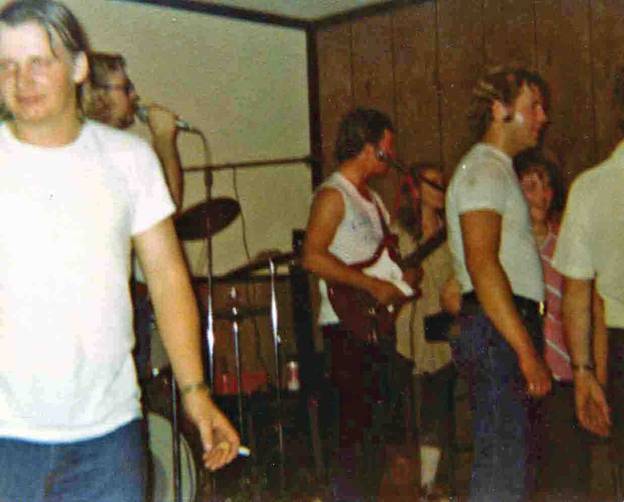 From Allen Richard (65):
In August Nathan and Kristina were inn ND while he was on furlough fro his position in Homeland Security in Alaska. They didn't have time to make it to MI and I couldn't make it to ND. We met in the Minneapple for a fun couple days.
To make an adventure of it by taking the old Charger. Yeah — I still have it. Some of you may remember it as "Dakota Midnight" in CB radio days.
I want to dispel any rumors that my trip caused gas prices to go up — although i could have created a temporary shortage of premium in a couple places —- I re did it mechanically — and watering 450 horses takes a considerable amount of fluid. Yeah–its "baditude" is much worse than ever. (13 MPG on premium–saving up for an overdrive transmission — should get close to 20 mpg then)
The trip was event free and I managed to shave nearly two hours off my usual time from Midland to the Minneapple — partly buy using a GPS and finding a great route. Alaina and I made it in 12.5 hours out and 12 flat back — of course it rained most of the way back mand Ol' Midnight will create a "religious experience" in a split second on wet pavement.
There is a "MOPAR Power Tour" every year and so far I've not been able to participate. So this summer we did one of our own. In the next few years I'd like to drive back to Dunseith for a Peace Garden car show. The Charger hasn't been there for nearly 25 years. Dick — keep me posted OK? In respect to our old friend Jack Smith — I'll drive — not haul it.
Anyway here are a few pictures —
Nathan, Kristina and Alaina — only 5 min from the Mall of America–but she still didn't find a dress for homecoming.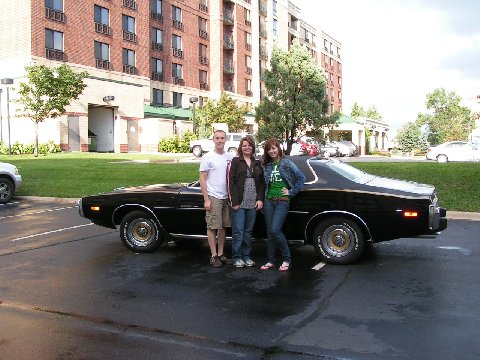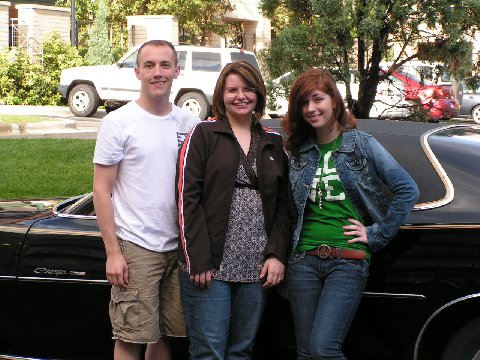 OK — so I always have to get in the picture–must be a throw back to political days
About my T-shirt—The Great Lakes Loons is the name of our minor league baseball team — Clayton Kershaw went straight to the Dodgers from Midland MI.
Dunseith News Posted by Neola Kofoid Garbe: neola@min.midco.net Minot & Bottineau, ND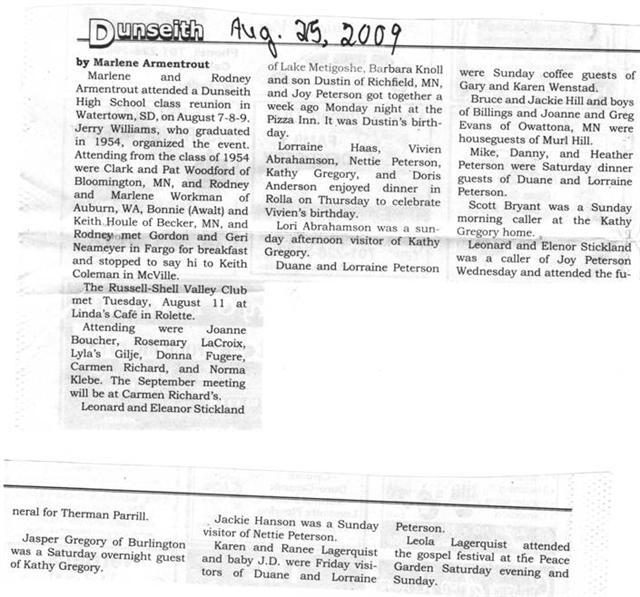 From Bev Morinville Azure (72): ndgal1953@yahoo.com Dunseith, ND.
I thought this was cute and maybe you wanted to share it with the group

GOD BLESS YOU …………BEV
After having dug to a depth of 10 feet last year, New Yorkscientists found traces of copper wire dating back 100 years and came to the conclusion, that their ancestors already had a telephone network more than 100 years ago.
Not to be outdone by the New Yorkers, in the weeks that followed, a Californiaarchaeologist dug to a depth of 20 feet, and shortly after, a story in theLA Times read: 'California archaeologists, finding traces of 200 year old copper wire, have concluded that their ancestors already had an advanced high-tech communications network a hundred years earlier than the New Yorkers.'
One week later, The Fargo Forum, reported the following:
After digging as deep as 30 feet in his pasture near Napolean , North Dakota , Ole Olson, a self-taught archaeologist, reported that he found absolutely nothing.. Ole has therefore concluded that 300 years ago, North Dakota had already gone wireless.
Thank Heaven for Ole.
Who said North Dakotans are hicks?