Manvil Sebelius | 1924 – 2016 | Obituary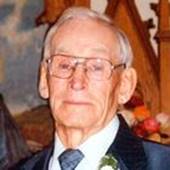 Manvil Sebelius
April 19, 1924 – November 26, 2016
Manvil Harvey Sebelius, age 92 of Dunseith, passed away Saturday at Heart of America Medical Center in Rugby.  His funeral will be held on Friday at 10:00 am, at Peace Lutheran Church in Dunseith.  Visitation will be Thursday from 1:00 pm until 9:00 pm, with a prayer service at 7:00 pm, all at the Nero Funeral Home in Bottineau.  Burial will be at the Willow Creek Cemetery near Overly.
Manvil Sebelius, a son of Peter and Lillie (Olson) Sebelius, was born April 19, 1924, in Dunseith.  Manvil grew up on a farm near Overly, where he attended and later graduated from Overly High School.  He also attended NDSU in Fargo for a time.  Manvil then began working on the family farms near Overly and Detroit Lakes, MN.  In the winter months, he worked ice works in Minnesota, North Dakota, and Montana.  On June 22, 1947, he married Dorothy Gebeke in Detroit Lakes, MN.  They moved to Dunseith in 1948 where they have farmed, ranched, and lived since.
Manvil was a member of the Willow Creek Lutheran Church in Overly.  He served as a 4H leader and was a member of the Overly Pack Snowmobile Club.  Manvil enjoyed antiques, auction sales, carpentry, and horses.  Manvil also enjoyed sharing life lessons and stories with his children and grandchildren.
He is survived by his wife Dorothy of Dunseith; seven sons; Harvey (Eileen) of Overly, David (Darlene) of Leeds, Daryl (Donna) of North Pole, AK, Marvin (Cheryl) of Rolette, Dennis (Donna) of Bottineau, Dean (Sherry) of Rolette, and Jeffrey (Tiffany) of Devils Lake; daughter-in-law, Margaret Sebelius of Bottineau; 24 grandchildren, 21 great-grandchildren and several nieces and nephews.
In addition to his parents, he was preceded in death by; son, Duane; 2 sisters, Melba Sebelius and Lillian O'Brien; brothers, Allen, Wallace and Kenneth; and 2 grandsons, Jamie and Matthew.
Arrangements were made with Nero Funeral Home in Bottineau.  Friends may sign the online register book at www.nerofuneralhome.net
====================================
Blog (526) posted on August 21, 2009
Posted on August 21, 2009
Reply from Bobby Slyter: Wichita, Kansas
GARY: THE ARTICLE ABOUT YOUR DAD PLAYING SANTA CLAUSE WAS GREAT,YA JUST HAVE TO BE PROUD OF A PERSON WHEN THEIR HEART IS AS BIG AS YOUR DADS
Reply from Dick Johnson (68): Dunseith, ND.
Gary and Friends,
Larry's story about driving was great. Living in rural ND, we seem to
know about the driving habits of most people and take special
precautions accordingly. When I was going to college in Bottineau and
driving from up here at the farm, I saw a weird deal happen on Thompson
Street in Bottineau. An elderly lady got in her car in front of the post
office and an older man got in his car directly across from her near the
creamery. As I was driving toward them, they both started to back up
directly at each other. It looked to me they were going to hit each
other and then—BANG! They both just looked over their shoulders
slightly and DROVE AWAY! I just sat there for a couple seconds trying to
absorb what I had just seen. With that, I have to tell a story about
Larry Hackman's uncle, Frank Hackman. Bill Peterson was working in his
field near the highway, when he saw Frank driving east toward the
highway. He said that Frank never stopped at the stop sign when he
crossed the highway, so Bill looked up and down the highway to see if
anyone was coming. Sure enough, here comes a Canadian car. Bill said he
could see what was going to happen—it looked like a tie. Frank went
through the stop sign and right into the side of the Canadian. Bill was
already off his tractor and headed over to the wreck when he heard the
Canadian say, "Why didn't you stop?" Frank said, "Why didn't you stop,
you could see I wasn't going to!" Thanks Gary!
Dick
Alaska Cruise total group picture:
Folks, Bill Grimme has provided us with a picture number key for the group picture located directly below the key. Angelina Metcalfe was not in the original photo, but Bill was able to add her in this copy as number 57. She looks very much a part of the this photo. Great job Bill.
In the remarks column that go with the name sort, I have listed the connections of the folks that were in our group.
Gary
Alaska Cruise Total Group Picture with number key

Key Number Sort

 

Key Name Sort

City, State

Remarks

1

Stokes, Debby

28

Abrahamson, Cindy

Estes Park, Co

Doyle's spouse

2

Reing, Marlene

27

Abrahamson, Doyle

Estes Park, Co

Class of 68

3

Randall, Leona

21

Baldwin, Nancy (Hosmer)

Lake Metigoshe, ND

Class of 62

4

Galloway, Wayne

36

Cavaliere, Cora

Bristol, RI

Friend of Gary/Bernadette Stokes

5

Mjelstad, Carol (Hamnes)

31

Cavaliere, Ronnie

Bristol, RI

Friend of Gary/Bernadette Stokes

6

Mjelstad, Orville

52

Coles, Becky (Sime)

Boise, ID

Class of 83

7

Van Dyne, Dreama

38

Espe, LeaRae (Parrill)

Bottineau, ND

Class of 67

8

Van Dyne, Mark

32

Espe, Terry

Bottineau, ND

Class of 64

9

Sjol, Scott

50

Flynn, Laurice Zeitler

Portland, OR

Randy's spouse

10

Kontzie, Keith

54

Flynn, Minnie (Knox)

Dunseith, ND

Class of 47

11

Stokes, Gary

49

Flynn, Randy

Portland, OR

Class of 70

12

Stokes, Darrel

55

Flynn, Rio

Portland, OR

Randy's Daughter

13

Reing, Oliver

4

Galloway, Wayne

Brandon, Manitoba, CA

friend of Nancy Hosmer Baldwin

14

Millang, Edna (Susie) (Knox)

34

Gottbreht, Patty (Boguslawski)

Dunseith, ND

Class of 65

15

Sjol, Diane (Larson)

18

Grimme, Bill

Birmingham, AL

Class of 65

16

Stokes, Bernadette

22

Haagenson, Cheryl

Dunseith, ND

Class of 71

17

Richard, K. (Flynn)

29

Hamnes, Mel

Bottineau, ND

Spouse of Bev Handland Hamnes

18

Grimme, Bill

51

James, Herb

Clearwater, FL

Doyle Abrahamson's father-in-law

19

Metcalfe, Gary

Klinger, Becky (not in photo)

Seminole, FL

Doyle Abrahamson's sister-in-law

20

Vandal, Mike

Klinger, Chet (not in photo)

Seminole, FL

Doyle Abrahamson's Brother-in-law

21

Baldwin, Nancy (Hosmer)

10

Kontzie, Keith

Elgin, Manitoba, Ca

Nancy Hosmer Baldwin's fiancé

22

Haagenson, Cheryl

42

Leonard, Bill

Mountlake Terrace, WA

Class of 52

23

Munro, Chuck

47

Leonard, Lorette

Mountlake Terrace, WA

Bill Leonard's spouse

24

Protassevitch, Irina

35

Longie, Al-lyn

Vancouver, WA

Bill Longie's spouse

25

Metcalfe, Sue

41

Longie, Bill

Vancouver, WA

Class of 60

26

Vandal, Sandra (Zeiler)

33

Hamnes, Beverly (Handland)

Bottineau, ND

Class of 48

27

Abrahamson, Doyle

Mann, Connor (not in photo)

Largo, FL

Gary/Joni Mann's son

28

Abrahamson, Cindy

Mann, Gary (not in photo)

Largo, FL

Doyle Abrahamson's Brother-in-law

29

Hamnes, Mel

Mann, Joni (not in photo)

Largo, FL

Doyle Abrahamson's sister-in-law

30

Munro, Geri (Metcalfe)

40

McKay, Phyllis

Auburn, WA

Class of 65

31

Cavaliere, Ronnie

57

Metcalfe, Angelina

Holister, MO

Daughter of Leah Metcalfe

32

Espe, Terry

19

Metcalfe, Gary

Holister, MO

Class of 57

33

Mamnes, Beverly (Handland)

37

Metcalfe, Leah

Holister, MO

Daughter of Gary & Sue Metcalfe

34

Gottbreht, Patty (Boguslawski)

25

Metcalfe, Sue

Holister, MO

Spouse of Gary Metcalfe

35

Longie, Al-lyn

14

Millang, Edna (Susie) (Knox)

Dunseith, ND

Class of 60

36

Cavaliere, Cora

5

Mjelstad, Carol (Hamnes)

Arnegard, ND

Mel Hamne's sister

37

Metcalfe, Leah

6

Mjelstad, Orville

Arnegard, ND

Carol Mjelstad's spouse

38

Espe, LeaRae (Parrill)

23

Munro, Chuck

Fargo, ND

Geri Metcalfe Munro's spouse

39

Shull, Leo

30

Munro, Geri (Metcalfe)

Fargo, ND

Class of 59

40

McKay, Phyllis

43

Pflepsen, Gloria

Dickinson, ND

Lee Stickland's friend

41

Longie, Bill

56

Pladson, Alice

Stafford, VA

Keith Pladson's spouse

42

Leonard, Bill

53

Pladson, Keith

Stafford, VA

Class of 66

43

Pflepsen, Gloria

24

Protassevitch, Irina

Birmingham, AL

Bill Grimme;s friend

44

Stickland, Lee (Leland)

3

Randall, Leona

Brandon, Manitoba, CA

Friend of Nancy Hosmer Baldwin

45

Shelver, Dave

2

Reing, Marlene

Bottineau, ND

Debby Stokes's sister

46

Shelver, Linda

13

Reing, Oliver

Bottineau, ND

Merlene Reing's spouse

47

Leonard, Lorette

17

Richard, K. (Flynn)

West Farge, ND

Class of 67

48

Sime, Florence (Pladson)

Roblin, Keith (not in photo)

Elkhorn, Manitoba, CA

Friend of Nancy Hosmer Baldwin

49

Flynn, Randy

Roblin, Marion (not in photo)

Elkhorn, Manitoba, CA

Friend of Nancy Hosmer Baldwin

50

Flynn, Lourice

45

Shelver, Dave

Lake Havasu City, AZ

Class of 63

51

James, Herb

46

Shelver, Linda

Lake Havasu City, AZ

Dave Shelver's Spouse

52

Coles, Becky (Sime)

39

Shull, Leo

Auburn, WA

Phyllis McKay's Friend

53

Pladson, Keith

48

Sime, Florence (Pladson)

Dunseith, ND

Class of 62

54

Flynn, Minnie (Knox)

15

Sjol, Diane (Larson)

Minot, ND

Class of 70

55

Flynn, Rio

9

Sjol, Scott

Minot, ND

Diane Larson Sjol's spouse

56

Pladson, Alice

44

Stickland, Lee (Leland)

Dickinson, ND

Class of 64

57

Metcalfe, Angelina

16

Stokes, Bernadette

Cebu, Philippines

Gary Stokes' spouse